People love to transform their homes into glittering winter wonderlands, spreading holiday cheer from the inside out. Magazine-worthy homes don extravagant wreaths, flourishing greenery, twinkling lights, and a crackling fire that accentuates a beautifully decorated mantle. But if you're hosting Christmas dinner this year or the kids have some pretty pricey items on their gift list, spending a ton of money on holiday decorations might leave you feeling like a Grinch.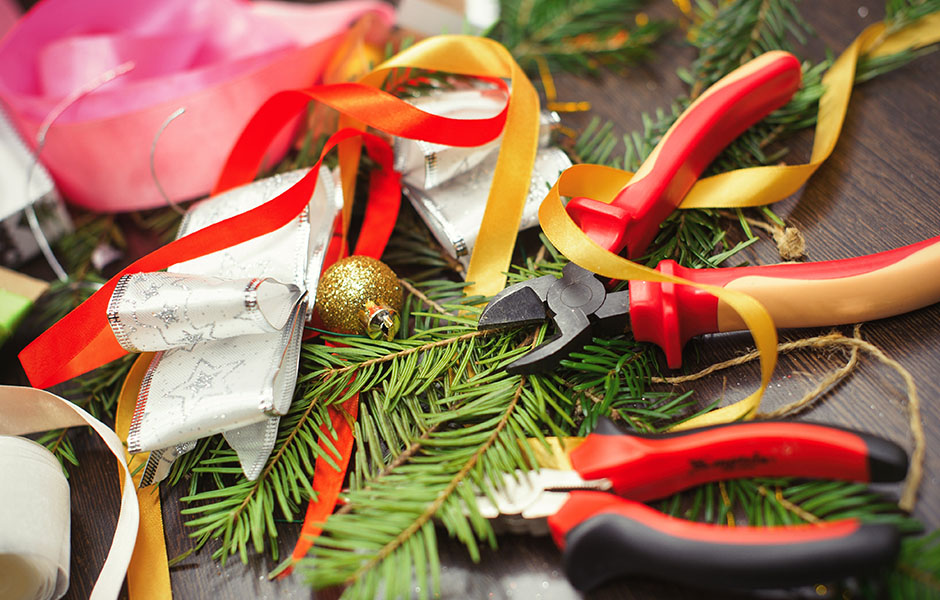 Luckily, these ideas prove that keeping up with the Griswolds doesn't have to be expensive. With these simple DIY holiday decorating ideas and crafting tips, your home will leave your family and guests feeling warm and jolly all season long!
DIY Garland Decorating Ideas
Garlands can make all the difference in your holiday decorations because they can be placed or hung almost anywhere in your home. Fresh garlands smell fantastic, but they can be pricey, especially since you have to buy them every year. Faux garlands will last you a few years, but they aren't as personal and tend to collect dust. However, you can easily create adorable, custom-made garlands for your home from items you probably already have.
All you need is some yarn, thread, or hemp twine and that big bag of buttons you keep tucked away, and you're ready to go! Simply cut your string the length you desire, thread the buttons through, and tie a knot on both ends of the string to keep the buttons from falling off. You can put as many or as few buttons on as you'd like, design a pattern or keep it random, and use them to decorate mantels, walls, staircase railings, or your tree for a cute, cottage holiday ambiance.
Take your garlands a step further by using strips of fabric, too! Whether you have scraps lying around at home or you plan on purchasing some inexpensive fabric to stick with a specific theme, using strips of fabric on your garland is an excellent way to customize your holiday decorations. You can incorporate the fabric strips with your buttons on one garland or make separate fabric garlands to intermingle with your button garlands. All you need to do is double knot the strips around your string; it's so simple, you can enlist your family to help make as many garlands as your house can hold.
Making a DIY garland for the holidays is a fun craft everyone can enjoy, and can easily be done while drinking hot cocoa and watching your favorite holiday movie while cozy on the sofa as the fireplace roars. And if you're eating popcorn with the movie, you can turn the leftovers into a popcorn garland.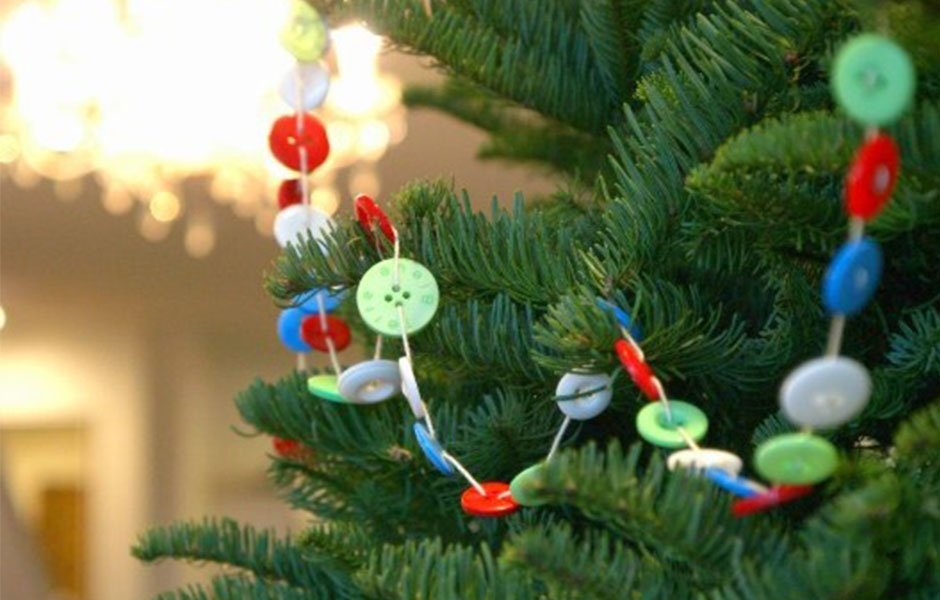 Source: The Magic Onions
Make Your Own Centerpieces
It can be intimidating to make your own centerpiece for the holidays because it's what accentuates the delicious holiday spread on the dining room table… everybody will see it! However, creating a beautiful centerpiece is actually much more attainable than it seems, especially with these easy holiday decorating ideas.
For a fun and whimsical centerpiece, you can make some colorful confetti Christmas trees with a few items from your local craft store. All you need are clear cones, confetti, clear spray adhesive, spray paint, and spray snow. Simply coat the inside of the cones with spray adhesive, sprinkle and roll confetti until it is evenly attached to the cone, spray paint the the exterior caps of the cone with spray paint, and top it off with some spray snow! This is perfect for a trendy setting.
Another stunning DIY centerpiece creation can be made by using wine glasses, a hot glue gun, colorful ornaments, candles, and a small plate. First, fill three or four wine glasses with a variety of ornaments and arrange them to how you'd like them to look for your centerpiece. Next, use your glue gun to put glue along the rim of the wine glasses and gently place the plate on top of the rims of the glasses. Wait a few minutes then carefully turn your centerpieces over so the plate is now the base. Place candles on the bottoms of the glasses and you instantly have a gorgeous candle centerpiece fit for a holiday feast! For a little extra pizzazz, you can even add glitter, ribbon, or foliage as you see fit.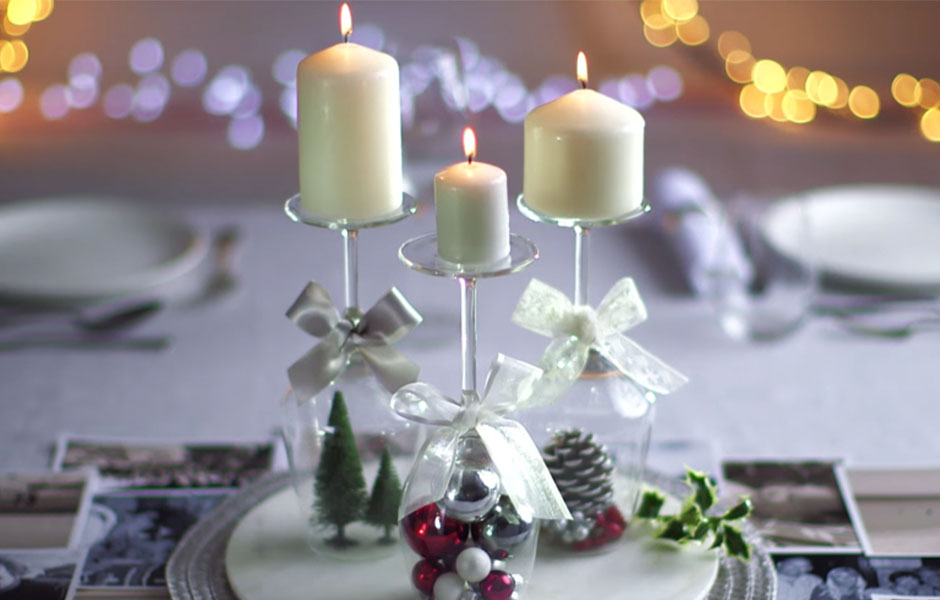 Source: YouTube – Tesco
Outsource
If you're not confident of your crafting skills or you simply don't have the time to set aside to make these DIY holiday decorating ideas on your own, try outsourcing. Chances are, some of the people closest to you can whip up some whimsical decorations that you'll cherish for years to come.
If you have children in the family, nothing will make them prouder than you asking them to help out this holiday season. Simply set out a variety of pine cones, paints, and glitter and let them get messy. They'll love the project, you'll love the outcome, and you both will enjoy seeing the creations around the home. You can also purchase inexpensive, plain Styrofoam wreaths and colorful tinsel garlands and watch the kids work like little elves as they glue and spin the garlands around the Styrofoam rings to make an assortment of festive wreaths.
Everyone has that perfect Pinterest MacGyver friend who can whip up a fully-functioning, cookie-making Santa Claus out of a paperclip and an empty spray bottle. If your bestie is one of these holiday heroes, there's a good chance he or she would be honored if you asked for some help with your decorating woes. Not to mention, it's a great way to bond and create traditions together.
Whether you're up for creating some holiday DIY projects yourself or you need to enlist in the help of loved ones, making holiday decorations on a budget isn't just a penny-save… It's also a chance to have one-of-a-kind items proudly displayed around your home that show your love and devotion for the holidays. Try your hand at these DIY holiday decorating ideas, and make the season merry and bright with your own creations.