The spring and summer seasons offer the perfect time to reevaluate your interior design! As the seasons change, so do the trends and we're here to be your source for unique interior design ideas to spice up the season. But changing the interior design of your home is no simple task. You have to develop a vision, a color scheme, furniture that matches your style and your vision, and a creative mind willing to explore the options. Let's look at some new summertime and spring interior design trends to help get you started.
Unique Interior Design Trend #1: Mixing Masculine and Feminine
"For a house to be successful, the objects in it must communicate with one another, respond and balance one another." -Andre Putman
The days of decorating a room based on girl or boy preferences has passed and we have entered a new design era. What exactly defines design as masculine or feminine anyway? Don't let yourself get caught up in the definitions and mechanics of interior design, but instead look at your new room as a blank canvas for exploration and opportunity. To mix masculine and feminine unique interior designs in one, decide on a primary color and accents in the opposite. Southern Motion offers a variety of accents chairs so you can portray a feminine or masculine touch with your seating.
Whether you're decorating a room for the whole family or a space that's all your own, it helps to keep a few tips in mind. Color is probably the first thing you think of when starting on a new interior design project. When looking at colors and shades, we tend to see dark and earthy tones as masculine and bright and pastel tones as feminine. To design a room that combines both, work off of a two-color scheme to reach a happy medium.
A few other things to keep in mind when creating a room that mixes masculine and feminine design includes:
Accessories – If the colors and furnishings in your room are too masculine, add in some feminine items to balance the mixture of the two themes.
80/20 Rule – Using the 80/20 rule can also translate to spring interior design trends. and new trends as the seasons change. If 80% of your furnishings are in unison, then you can branch out and deviate from the main theme with the other 20%.
Textures – Adding in different textures keeps the eye moving as you enter the room, rather than forcing you to focus on that one masculine or femine furnishing. This is a great way to highlight your love for unique interior design and creates a cozier vibe.
*Hint: Masculine colors are good for walls and/or furniture, whereas feminine colors are good for accents and to add interest.
Unique Interior Design Trend #2: Navy is the New Black
"Design is not just what is looks like and feels like. Design is how it works." -Steve Jobs
Even though it's time for summer and spring interior design trends and you're thinking of pastels and sunshine, one of the hottest design trends that isn't going anywhere is dark, Earthy tones. This season, though, navy blue is the new black. Whether you're looking to switch up the bedroom, the living room, or even the kitchen, color is one of the most impactful ways to change the feeling of your overall space, according to Catherine French Design, LLC.
If you're someone who loves color, but you still enjoy a deep, dark color scheme, navy is the color for you and will keep you up-to-date with the latest interior design trends in 2019. Navy creates that calming, masculine vibe like black does, but it also adds an extra layer of warmth and depth. When using navy in your home, have a game plan before you start. Remember that navy can make a huge impact in a small way. Painting an accent wall, a door, or even purchasing a navy comforter for your bedroom is probably the best route to take. That way, you can add in brighter colors with accent pieces to make sure your room is inviting and warm.
Here are some colors that create a great companion for your navy-inspired and unique interior design room:
Windsor Pink – This dusty pink is a great way to tone down the navy drama and neutralize the space.
Yellow – Statement walls can help balance a room and this bright shade will add depth and warmth.
Pale Purple – Adding pastels can help you live in warmer seasons all year long. Not only does a pale purple create a leisurely vibe, but it also combines youth and maturity.
*Hint: Adding in white decorations and features can really help balance all the colors.
Unique Interior Design Trend #3: Biophilia in Design
"Good design is obvious. Great design is transparent." -Joe Soprano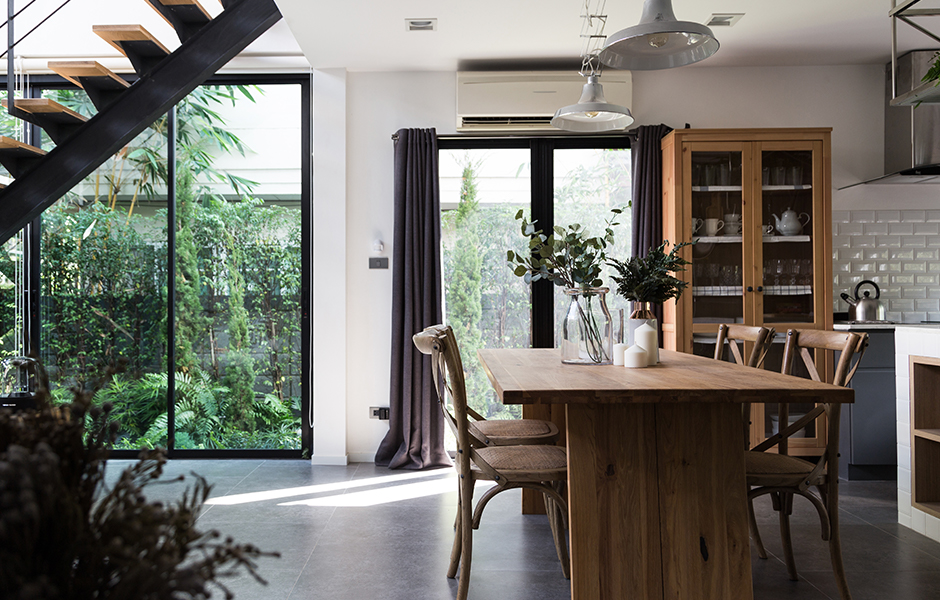 2019 has brought a variety of new and unique interior design trends. One of these trends is Biophilia, or creating a close association and interaction with forms of nature. This form of design can be achieved through stone fixtures, natural lighting, plants, and wood flooring. These natural organic designs and interior design elements can remind you of the outdoors and nature, even when you're inside.
Going along with our natural vibe for our home design, sustainability is a key trend this season, as well. Seeking out recycled materials for your floors or furnishings from a company that uses recycled materials is a great way to be eco-friendly when sticking to summertime and spring interior design trends.
Even though we are a machine and technology driven society, there are days when many of us dream of being outside. With this interior design trend, we can bring the outdoors in. When designing your room with this style in mind, classic accents are your friend. Classic shutters, tables, and comfortable recliners give off the impression of being more environmental rather than disposable. Keep the following in mind when starting your new project:
Vegetation – Incorporating greenery is the best way to achieve this interior design style. Consider adding a plant to your window sill, in your kitchen, or even adding a moss wall to your bathroom if you're feeling crafty.
Natural Light – Let the light shine! Even if you don't have a lot of windows to work with in your home, there are still ways you can achieve natural light. From paint colors to backsplashes, choosing the patterns that complement natural light will help you enhance the sunshine.
Natural Furnishings – Including eco-friendly materials into your home is the ultimate way of achieving a biophilic design. Everything from wood flooring to stone end tables is a great place to start.
*Hint: Biophilic design reduces stress and prompts creativity and an improved well-being.
Unique Interior Design Trend #4: Less is More
"Be faithful to your own taste, because nothing you really like is ever out of style." -Billy Baldwin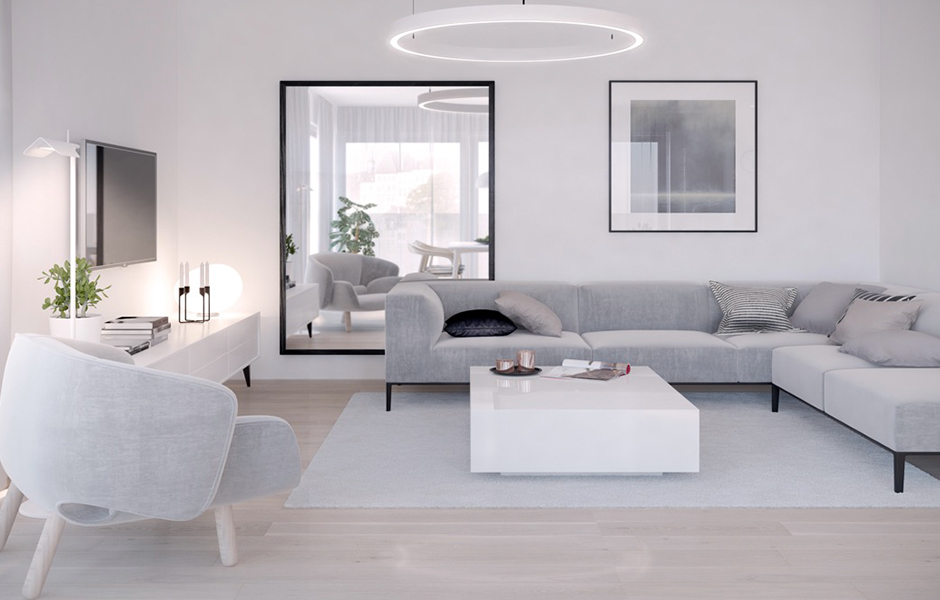 Source: Home Designing
Some design trends never change, and the minimalist style is one of those trends. Not only is this interior design trend practical, but it also screams clean, confident, and modern. So what exactly does minimalist decor entail? Simplicity is key. Look for minimal furnishings, neutral color tones, and only impactful accent fixtures throughout the area. Not only do you live by the motto "less is more," but a minimalist style embraces the concept of "everything in the room needs a place and a reason."
If you keep up with pop culture, then you've probably seen the many articles about Kim Kardashian and Kanye West's house, and how they've taken minimalism to a whole new level. But when it comes to your own home, there are plenty of ways to express your minimalist style. Take these unique interior design recommendations into consideration when styling your favorite room or your entire home:
Think Quality vs. Quantity – When designing your home, approach the room with function in mind. Instead of focusing on how much room you have to fill, focus more on the quality of your purchases such as technology driven furnishings.
It's All in the Details – With a minimalist interior design, there are normally only a few items on display. Take the time to find the perfect accent features that truly represent what you want the room to say.
*Hint: Minimalism is simple. Simple furniture, simple decor, and simple storage. Design your home with simplicity in mind, but also design it with admiration in mind.
Unique Interior Design Trends #5: Bold Backsplashes
"The best rooms have something to say about the people who live in them." -David Hicks
This interior design treat for the spring of 2019 is all about style, art, and statements. Incorporating a bold backsplash into your home, whether that's in the kitchen or bathroom, is a great way to achieve an eye-catching home. Inserting the wow factor into your home through a bold backsplash is an easy but effective project.
Whether you're looking for something modern and bold or your style is dainty and soft, a beautiful backsplash is a great way to achieve this. There are a variety of options such as marble, tile, a solid color, or even an intricate pattern. No matter what summer or spring interior design trends you're going for, your kitchen will thank you once it's done!
In addition to achieving a beautiful and unique interior design, backsplash locations in the kitchen and the bathrooms are often added to hide the possibility of water damage. Backsplashes are not only eye-catching, but they're practical and dynamic additions to your home. Below are some of the additional benefits of including a beautiful backsplash:
A backsplash adds a personal touch to the room of your choice.
A backsplash can serve a double purpose, adding protection to the walls.
A backsplash makes cleaning easy and quick.
*Hint: Use glimmering backsplash tiles to create an optical illusion, making your small kitchen look larger.
Now that you know some of the newest interior design trends for this 2019 season, it's time to look at your home as a blank canvas and implement these beautiful designs in a way that fits your personal style. And if you need additional inspiration, there are a variety of interior design blogs that you should start following right away!
When changing your favorite rooms to keep up with the trends, check out the chairs and sofas available at Southern Motion. At Southern Motion we have products that fit every style and trend!