Whether you just bought a new home or want to refresh a current look, it can be tough to find a design you love at a price you can afford. But how do you know when it's worth it to splurge and when you should save by finding similar items for less?
Here, we'll share some of our simple furniture swaps that can amplify any room. Instead of turning to the traditional pieces, take our advice and splurge on pieces worthwhile and save on some designs that you can find elsewhere.
Buy a Custom Recliner Instead of a Mass-Market Chair
One piece of furniture that's worth splurging on is a custom ordered recliner. Choose your style, upholstery, extra options, and enjoy the recliner made just for you! A beautiful chair can really bring a room together and isn't something you want to skimp on, especially since you might spend a good amount of your relaxation time kicking back in your recliner. Plus, if you invest in a high-quality recliner now, it can last for years.
Buy Designer Look-Alikes Instead of the Real Thing
Sure, designers like West Elm and Pottery Barn have beautiful things, but depending on what you buy, you can find these pieces elsewhere for a lot less. The website Decor Look Alikes shows some of the most common items you can get that look similar to their designer counterparts. Decorative details can also be found at thrift stores, farmers markets, garage sales, and other affordable spots.
Buy an Overlay Instead of Expensive Dressers
Dressers and side tables can get expensive and even though they're useful, they're not a piece you have to spend big money on. But, many consumers get frustrated that the cookie-cutter furniture they can find on a budget lacks the personality they want to include. Enter, overlays. Overlays are custom-made texture piece that you can add to the face of dressers, nightstands, and even walls in your home. Check out this gallery to get some ideas that you can do with a simple overlay. Overlays range in pricing, depending on your style and size requirements.
Another way to spruce up a set of drawers instead of buying new ones is to add new hardware. You can easily replace the knobs on drawers, the legs on a sofa, or other accents.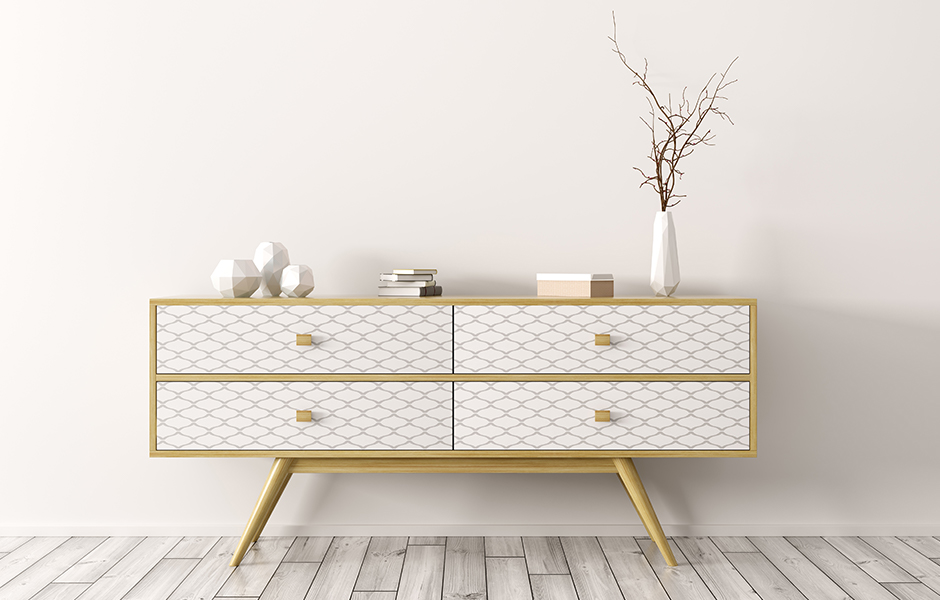 Buy Wallpaper or Contact Paper Instead of Painting
That being said, if you don't want to paint the whole room you can use contact paper or wallpaper to change up the look without having to spend a lot of money. Both come in a wide variety of patterns and colors, including marble, granite, wood, and fun designs.
Buy High-Quality Paint Instead of a Cheap Alternative
One of the best ways to spruce up a room is to add a pop of color, either to the walls or to a piece of furniture. But, if you're embarking on this mission to spice up your interior design, make sure you splurge for a high-quality paint, rather than taking a shortcut with cheaper paint. The nicer paints usually come with a built-in primer, which will save you time and effort. Plus, their coats will last longer and look better on your finished piece.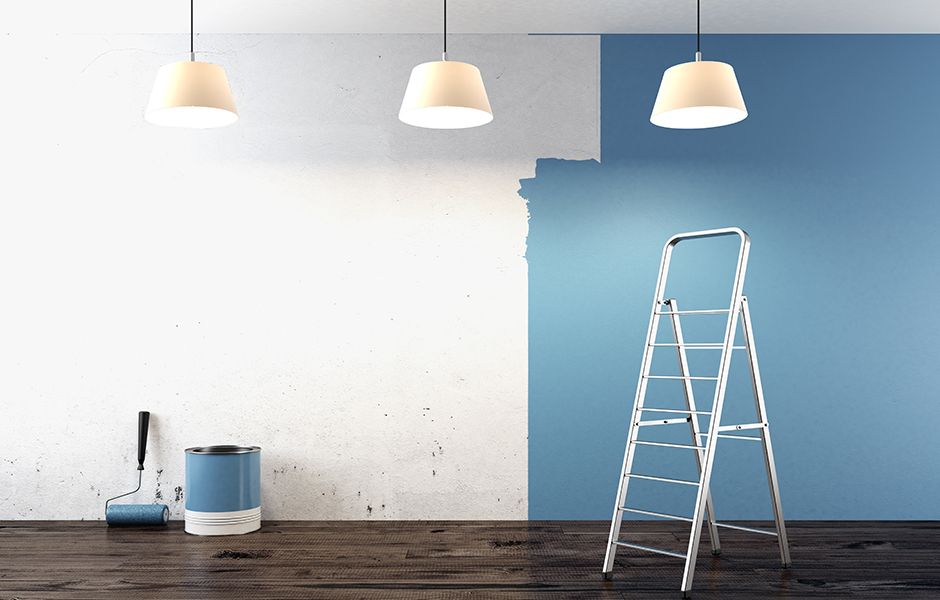 Your interior design doesn't have to cost an arm and a leg, but it can still look great. Splurge on some pieces, like a reclining chair or a paint color you really love, and find easy swaps for things you want to save on. To cut down costs even more, discover how to find furniture on sale throughout the year.