When you walk into a home, the flooring is one of the first interior design elements to grab your attention. From terrazzo flooring in the 1970's to mid-tone hardwood used today, it's clear that flooring trends come and go just like many other facets of interior design. 
Whether you're planning for a future home renovation or simply have a passion for interior design, stay up-to-date on the most popular 2021 flooring trends that are taking the country by storm.
2021 Flooring Trends
1. Hardwood Continues to Dominate
Hardwood has remained at the top of the podium for decades now and continues to dominate the home flooring industry. While the demand for hardwood is soaring even after all these years, it's important to know that there are certain elements that distinguish outdated hardwood flooring from its modern counterparts.
To truly follow today's hardwood flooring trends, you need to focus on color and style. Many designers are pushing modern flooring ideas that include cool and desaturated tones (dark browns, grays, white washes, light browns). On the flip side, some warmer tones are also trending as well. Medium wood in shades like honey, copper, and blonde are gaining popularity because of their light and airy feel.
Wide planks, as well as matte and satin finishes are a couple other 2021 flooring trends commonly seen with this material.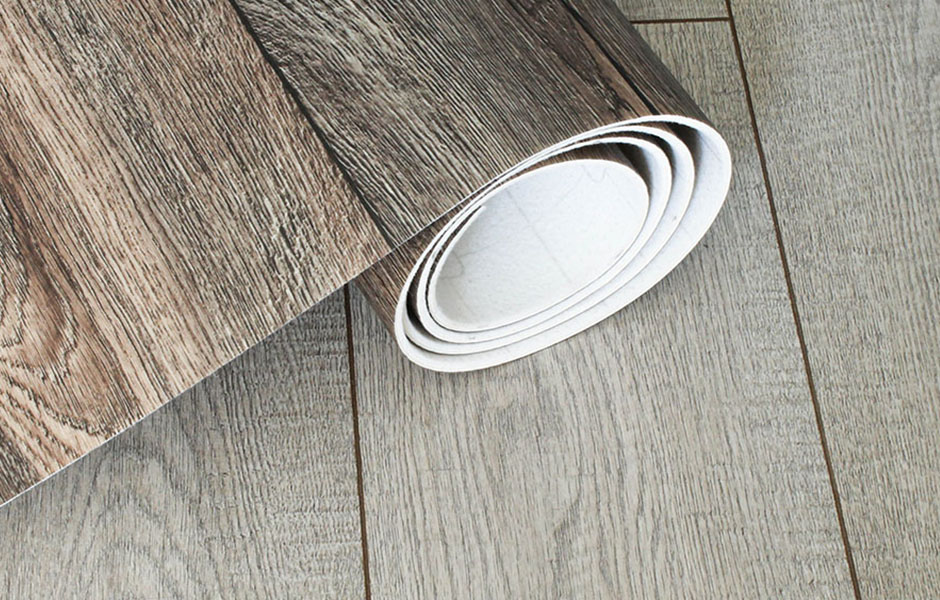 2. Growing Demand for Imitation Hardwood
Because hardwood has a higher price tag, hardwood look-alikes have entered the spotlight. Not only do imitation hardwoods look like the real deal, they cost much less and can be easier to maintain.
Tile planks and engineered vinyl planks are the two standouts for this living room flooring trend. Both of these materials are water-proof which make them great for not just the living room, but other areas that may have moisture like the bathroom and kitchen.
Depending on how real you want your imitation hardwood to look, you can choose options that have embossed grainy textures and distressed styles.
3. Push for Environmentally-Friendly Materials
As with cars, clothes, and food products, there is a major push for environmentally-friendly flooring alternatives in today's society. Green flooring is hot on the market and a great option if you're committed to reducing your impact on the environment.
Wood flooring certified by the Forest Stewardship Council (FSC), non-toxic cork, bamboo, linoleum, and reclaimed wood are a few types of green flooring to consider.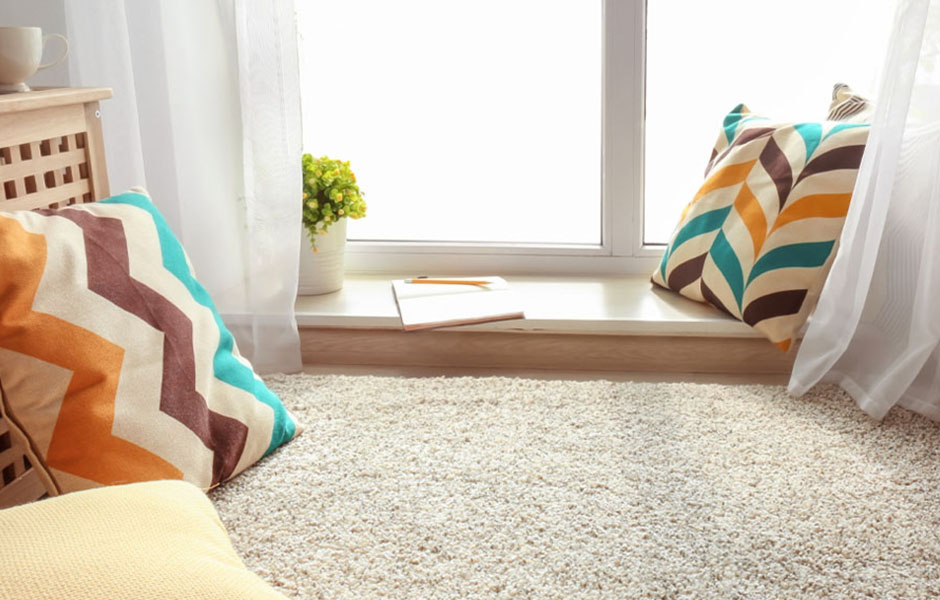 4. Carpet Remains Sought After
Carpet is hands-down a winner for 2021 flooring trends. Accounting for more than 60 percent of retail flooring sales, it seems that carpet will always be a must-have in homes. It offers the softness and warming effect that makes your space feel comfortable and relaxing rather than cold and sterile.
Current carpet trends are favoring flecks of color, more texture, and some pattern. This combination of elements is advantageous in more ways than one. They bring more fashion appeal to your floor, while adding dimension that minimizes the appearance of imperfections.
5. Unique Shapes are In
While you can never go wrong with rectangular subway tile, the most popular flooring trends in new homes are heading in a different direction. Designers are going crazy for unique shapes that bring a fresh and interesting look to interiors. Quirky geometrics and organic shapes, for example, are a good place to start. 
One pro tip to keep in mind when deciding on a striking tile shape is your grout color. If you want your design to pop, choose a grout color with lots of contrast.
6. Designers Love Laid Patterns with Tile
If you want your home's flooring to stand out among the rest, pattern tile is the way to go. What usually comes to mind when you think of pattern tile, is tile with a pattern on it. For this particular modern flooring idea, drop that notion.
Today's pattern tile trend is created strictly by the way that the tile is laid out. For example, you can create a striped pattern with black and white penny tiles by simply laying them out in that fashion.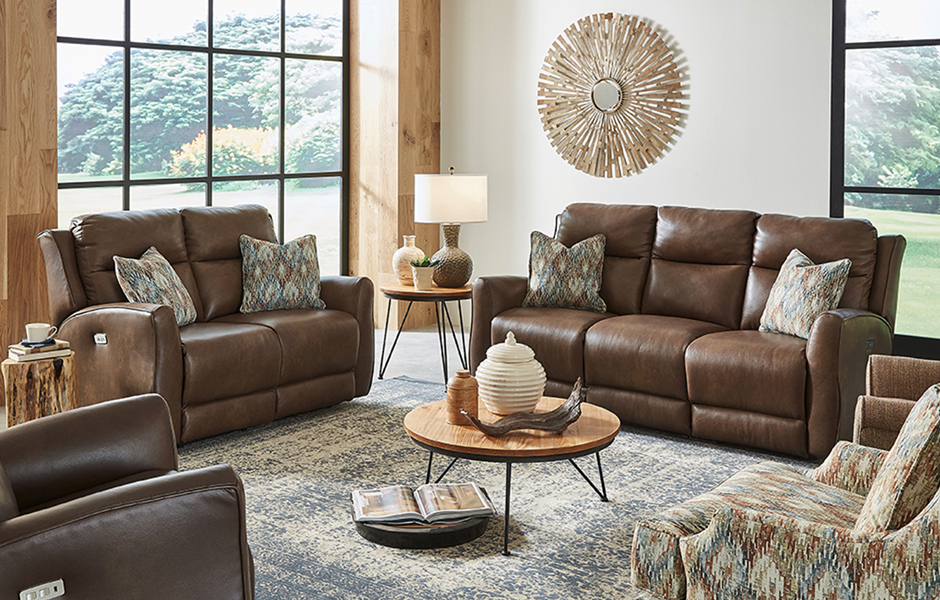 How to Best Complement Flooring with Furniture
Contrast is Key
In order to maximize the overall look and feel of your home's flooring, you need to be strategic with the color of your furniture. The safest way to achieve this is by choosing contrasting colors. For example, if your flooring is light, opt for darker furniture pieces. Alternatively, dark flooring looks good with lighter furnishings.
Creating contrast within your space will not only prevent your room from looking monotonous, it will also help give smaller furniture pieces the chance to shine.
Consider Undertones
For hardwood or hardwood look alike flooring, it's helpful to identify undertones to guide you in furniture color choice. Every real or faux wood flooring option has warm, cool, or neutral undertones that define the space. Here are a few of the most common undertones:
Warm Undertones: Yellow, orange, red
Cool Undertones: Various shades of gray
Neutral Undertones: Both warm and cool shades, or lack of undertone altogether
Once you identify the undertones in your flooring, you can choose sofas, tables, and other furnishings that match in color.
Vary Your Materials
To add more texture and dimension to your space, be sure to choose furniture that varies in material. For example, decor pieces made of woven fabrics, leather, metal, or concrete pair beautifully with hardwood flooring. Including furniture that differs from your flooring material will break up the room and give it a well-balanced look.
There are plenty of modern flooring ideas to choose from, so now it's up to you to decide which one best fits your style preferences! After you've figured out which 2021 flooring trend is meant for you, start thinking about furniture to match by checking out Southern Motion's reclining furniture collections.