What's one of the best ways to get into the holiday spirit? Decorating your home, of course! Say goodbye to fall and hello to the Christmas season with these simple holiday decorating ideas that transform every part of your home into a winter wonderland!
Living Room
Throw Pillows
Swapping out your ordinary throw pillows for holiday-themed ones is a simple holiday decorating idea you can't pass up! For a bold transformation, choose a few solid-colored pillows in seasonal shades like red, white, green, or gold and pair them with pillows that have designs. From holiday quotes to Christmas motifs like Santa Claus, the combination of holiday colors and designs will give your sofa a brand new look.
Advent Calendar
As you think about how to decorate your living room for Christmas, consider including the classic advent calendar. Not only is this a cute addition to your holiday home, it's a blast for the kiddos as they count down the days until Christmas. To save money, you can even turn this simple holiday decorating idea into a cool DIY project to get the whole family involved.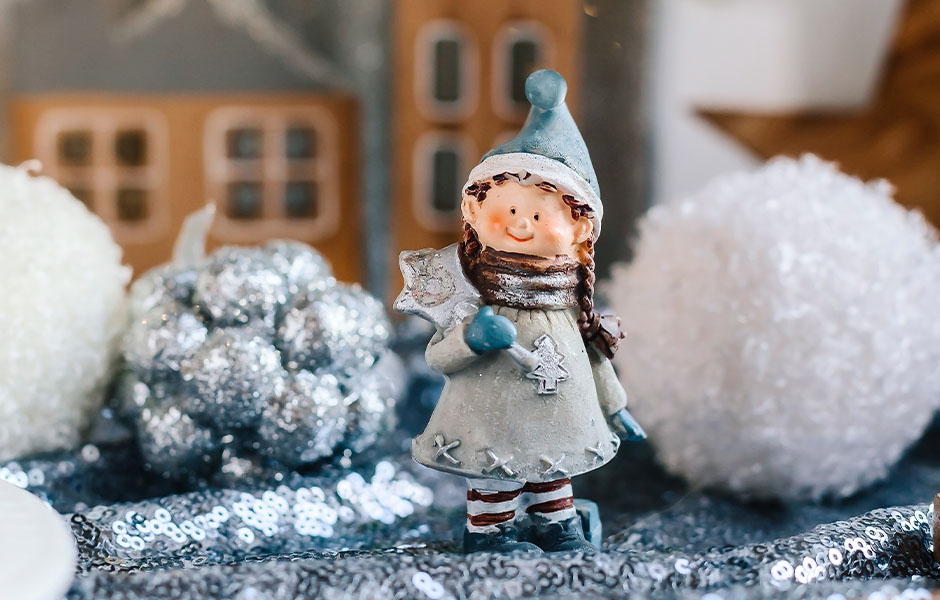 Christmas Display
Whether you choose your coffee table, entertainment stand, or console table, pick a space in your living room to display a fun and festive Christmas scene. From wooden figurines to colorful ceramics, there are hundreds of holiday displays to complement your home's Christmas theme.
Gift Wrapped Books
Need a budget-friendly holiday decor idea? Gift wrapped books are an easy and affordable way to bring cheerful decor to your home during the holiday season. Use leftover wrapping paper to spruce up any books you already have sitting in your bookcase and add a few bows for a bit more sparkle.
Entryway
Mini Tabletop Tree
Who said you can only have one tree during the holidays? Welcome guests into your home with entryway Christmas decor like a mini tabletop tree. Opt for one standout tree or a collection of mini Christmas trees that create a dazzling winter wonderland scene.
Pretty Presents
Take advantage of any unused space on your stairs by arranging wrapped presents in decorative groupings. Not only will it give your staircase a pop of color, it will free up room under the tree for more presents!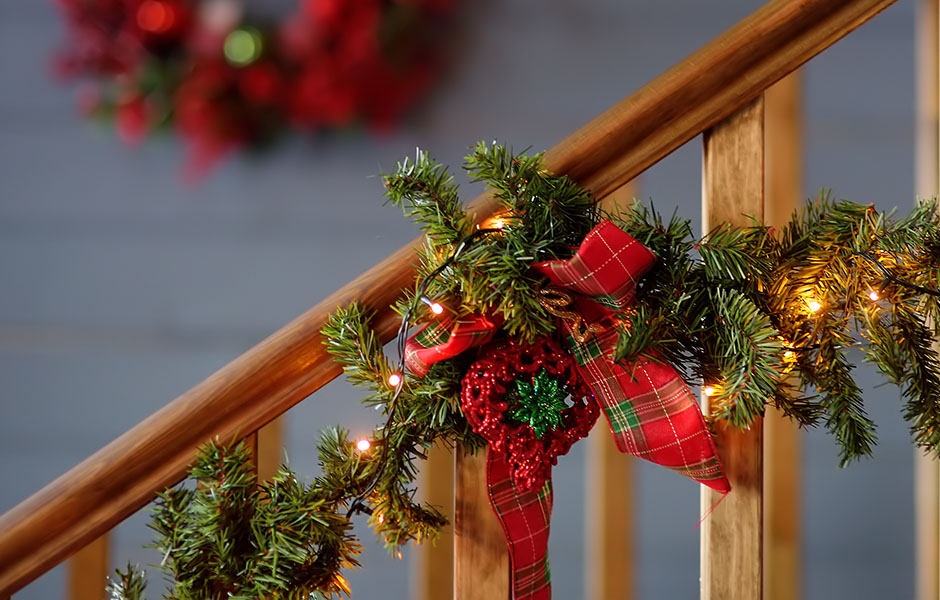 Lined Staircase
The staircase is a perfect place to arrange your entryway Christmas decor. For a timeless look, line your banister with garlands. You can adorn the garlands with faux poinsettias and for bonus points, weave in twinkling lights too.
Eye-Catching Vignette
From holiday signs and figurines to tinsel and Christmas cards, use a variety of decor to create a well-balanced vignette in your entryway. Your foyer table makes a great display area for your arrangement, as well as any benches or chairs.
Kitchen
Wintry Windows
As you're preparing Christmas dinner and drinks for your holiday gatherings, it's nice to have a pretty view to look at. Give your windows the makeover they need by hanging seasonal wreaths, garlands, and other decor like ornaments. 
Festive Florals
Make room for gorgeous floral arrangements in seasonal shades of red, white, and green to bring this Christmas kitchen idea to life! Poinsettias, holly, roses, and pine cones are popular selections for holiday arrangements, but feel free to weave in other greenery that matches your color scheme. To top it off, you can surround your florals with all-white candles for a traditional touch.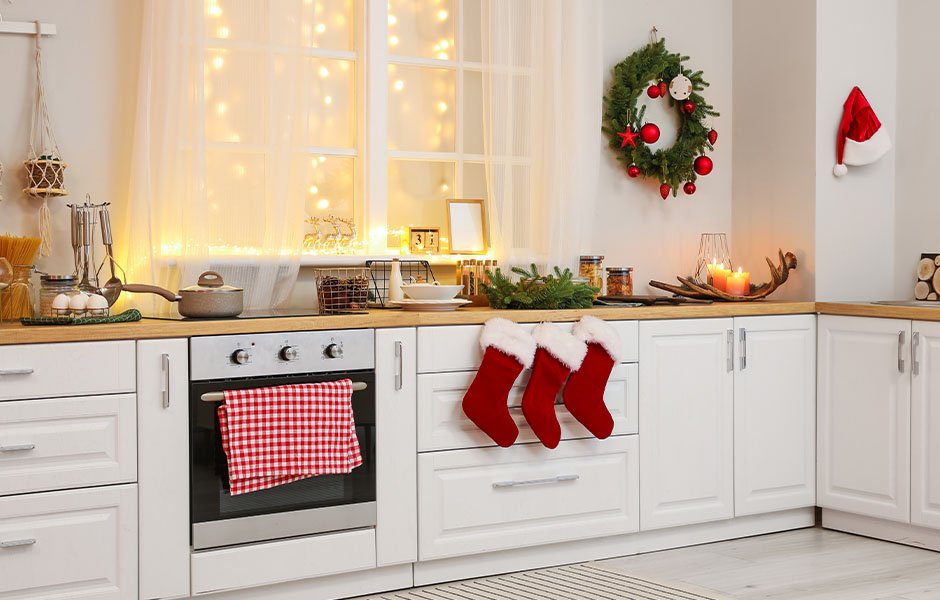 Holiday Kitchen Essentials
It's time to bust out your holiday kitchenware! For this Christmas kitchen idea, switch out your most used supplies and countertop decor to include festive alternatives. Holiday hand towels, pot holders, and soap dispensers are simple and affordable items to replace your everyday kitchenware.
Cute Kitchen Mat
Whether you're a fan of kitchen mats or not, they're undeniably one of the cutest and simplest ways to enhance your space during Christmas. Keep it classic with depictions of Santa and his reindeer or go for a more refined design with seasonal colors.
Dining Room
Striking Ornaments
As you lay out your table runner, greenery, and other decor, consider tossing in a few sparkling ornaments to complete your dining table ensemble. If you happen to have any leftover glass ball ornaments from your tree, nestle them into strands of garland for a vibrant addition.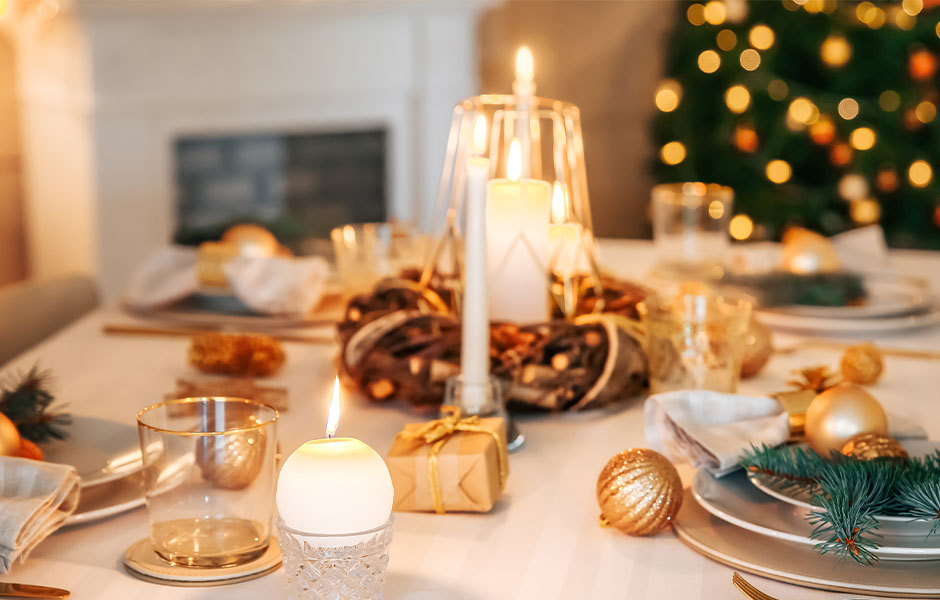 Warm Candles
The holiday season is all about warmth and coziness, which is why candles are a go-to Christmas decorating idea for your dining room. Create an extravagant display with golden candle holders and tapered candles or opt for a more casual design with candle lanterns.
Seasonal Seat Cushions
Seat cushions are a win-win when it comes to Christmas decorating ideas for your dining room. Seat cushions provide an extra layer of festive flair, as well as ensure the comfort of you and your guests. 
If you want to get more use out of them, try to buy cushions that complement your everyday decor. This will make it easier to keep the cushions once the holidays are over.
Mix of Metals
Christmas decorating ideas for your dining room aren't limited to traditional color schemes like red and green. Incorporate the shimmer of metallic decor by mixing in various metals like gold, silver, and bronze. Metallic candle holders, dinnerware, and glassware are a few basic dining room essentials to try. In combination with glowing candles, your metallic accents will look dazzling.
From magical tabletop trees to adorable throw pillows, there are countless ways to enhance your home for the holiday season. For more ideas on how to transform your space for Christmas, read how to Feng Shui your home for the holidays.