Did you know there are over 20 different types of sofas? Most people don't realize there's quite a long list. Most sofa styles are categorized by their size, arm and back shape, and function. From traditional style to mid-century modern, there are plenty of styles and functions to choose from that best fit your comfort needs and interior design taste. Not sure which sofa style is the best for you? We'll help you navigate the world of sofas and let you know what the most popular sofas styles are so you can find the perfect fit for your living space.
Reclining Sofa
Reclining furniture has come a long way from your dad's favorite reclining chair. Now, both modern and classic sofa styles can come with reclining features that make these types of sofas so popular. These sofas are perfect for those looking to create a comfortable living room experience perfect for relaxing, watching movies, or socializing. Some even come with cup holders and center consoles to store items such as remotes and wireless chargers.
Mid-Century Modern Sofa
Simple, clean lines are what define the mid-century modern sofa style. This popular sofa style often features tapered legs and minimalist features reminiscent of design from the 1950s and 1960s. On top of adding comfort and function to the room, this classic often works well as a focal point in your space, especially when paired with a bold-colored fabric or with sleek leather.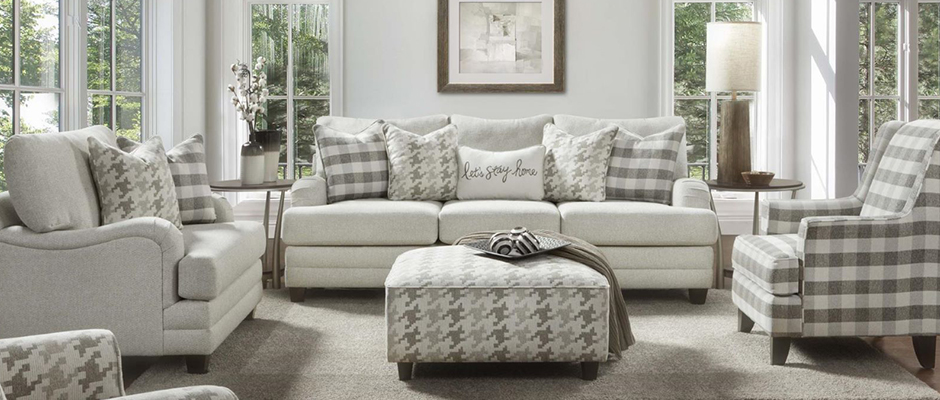 Traditional Style Sofa
The traditional three-seat sofa is the classic sofa style that comes to mind most often and it's one of the most popular. These sofas come in a wide array of colors and covers, including leathers, and give you plenty of style options to fit your design preferences. Some have removable cushions and some even have reclining mechanisms! Traditional sofas pair well with two-seat sofas and accent chairs to add extra seating options in the living room.
Camelback Sofa
As the name implies, this sofa style's main design feature is a "hump" in the center of the back. The back is higher in the center than it is on the sides, adding a bit of elegance to the look of your room. The traditional design of the camelback makes it perfect for a more formal living room. Depending on your living room's decor, this classic sofa style looks great with a subtle print fabric, neutral colors, or a pop of color with velvet.
Chesterfield Sofa
Perhaps one of the most recognizable classic sofa styles, the Chesterfield sofa suggests elegance and dignity. Defined by its tufted back and large rolled arms that are the height of the back, the Chesterfield design will never go out of style. Choose a luxurious velvet or a strong leather to give your living room an extra boost of comfort and style perfect for reading your favorite novel or sitting by the fireplace.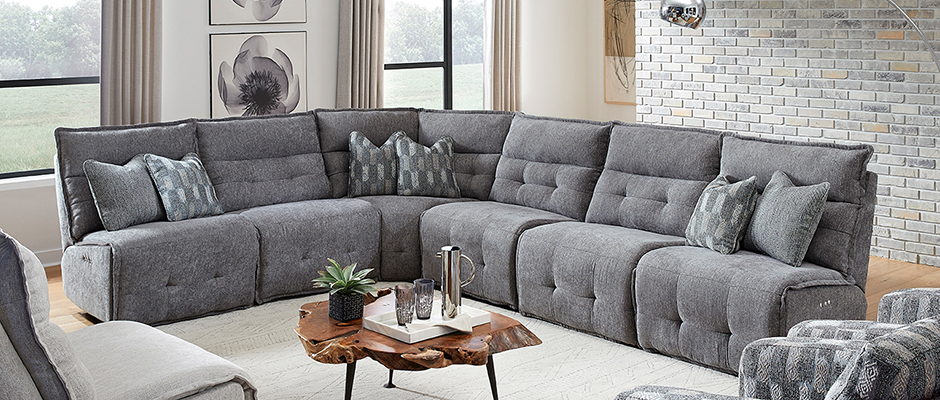 Sectional Sofa
Sectional sofas are one of the most popular sofa styles. Sectionals are made of multiple independent pieces and can often be arranged in different configurations, making them easy to fit into different room layouts and optimize your space as much as possible. This type of sofa is desirable to people who want a lot of seating. Whether you're looking to entertain guests or have a troop of children, sectionals are a practical and versatile sofa style.
Cabriole Sofa
This classic sofa style's most recognizable quality is the exposed, carved wooden frame and legs that give any room a subtle formal look. The arms and back are generally equal-height and the arms curve inward. Cabriole sofas can range from sleek designs to more ornate decorations often found on antique pieces. Recently, the Cabriole sofa style has forgone the exposed frame and adopted a more casual design.
Choosing between different types of sofas might seem overwhelming at first with so many to choose from, but it gets easier once you know the functions, styles, and designs you're looking for. From casual, everyday sofa styles to more formal and classic sofa styles, you're now "in the know" about the most popular sofa styles of today. Keep these styles in mind when you're shopping for your next sofa to create the living room of your dreams!