Are you interested in reclining furniture but don't know how to distinguish between the different types of recliners? Recliners, rockers and chaise loungers may all provide stylish and reclinable seating, but they have significant differences. We will discuss all you need to know about these pieces so you can make an educated decision as to which one is right for you and your home.
What is a Recliner?
A recliner is what the name suggests, an arm chair that reclines. Rooted in relaxation and luxury, some historians believe that Napoleon Bonaparte owned the first recliner. Designers and furniture makers continue to make great strides with this relaxing chair, which now comes in various upholsteries like leather and cloth, both manual and electric options, and with a range of other features. The epitome of comfort in the home, recliners offer lumbar support and allow you to rest in a position that is almost as comfortable as lying down. With so many different types of recliners available in the market, how do you know which one is right for you?
Different Types of Recliners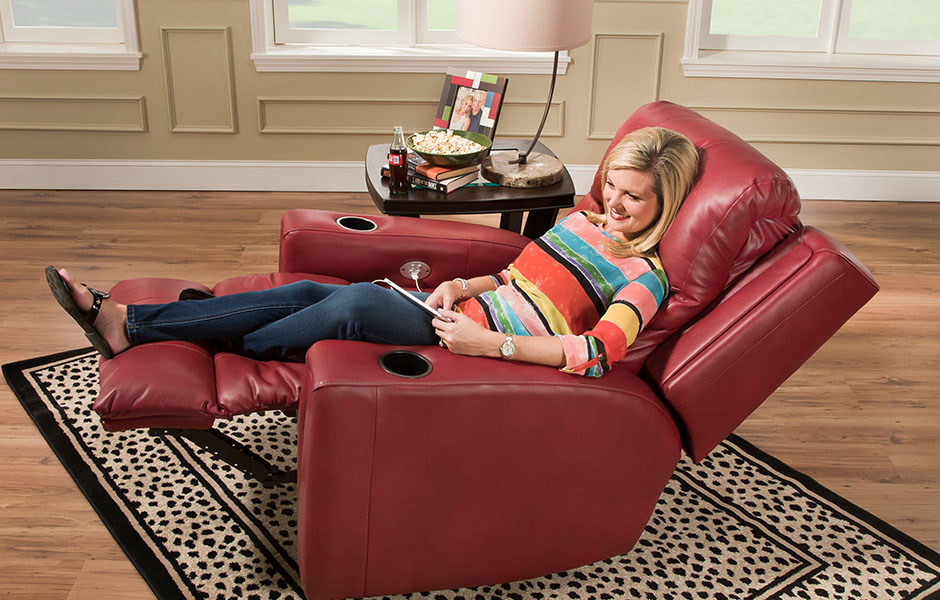 1. Power Recliner. Power recliners are similar to traditional recliners, only instead of a manual lever or button, there's a power button to electrically recline your chair. Many recliners are customizable with other power options like an adjustable power headrest.
2. Rocker Recliner. Rocker recliners are a favorite of nursing mothers and those who suffer from insomnia because they are the best recliners for sleeping. Appropriately named, they recline on arched tracks that allow them to rock back and forth. Because of the soothing rocking motion, rocker recliners are helpful for those who have trouble falling asleep at night.
3. Glider Recliner. Glider recliners are similar to rocker recliners, with the exception that instead of moving along an arched path, glider recliners move forward and backward on a linear path.
4. Lift Recliner. Lift recliners are great for those who struggle getting out of a recliner. These lift-assist recliners make it easier for people with certain disabilities to be more independent in the home. The lift mechanism pushes the chair from a flat seated position to an upright angled position that guides the occupant into the standing position. Lift recliners are often recommended by physicians for people who have trouble with weak knees, legs or hips.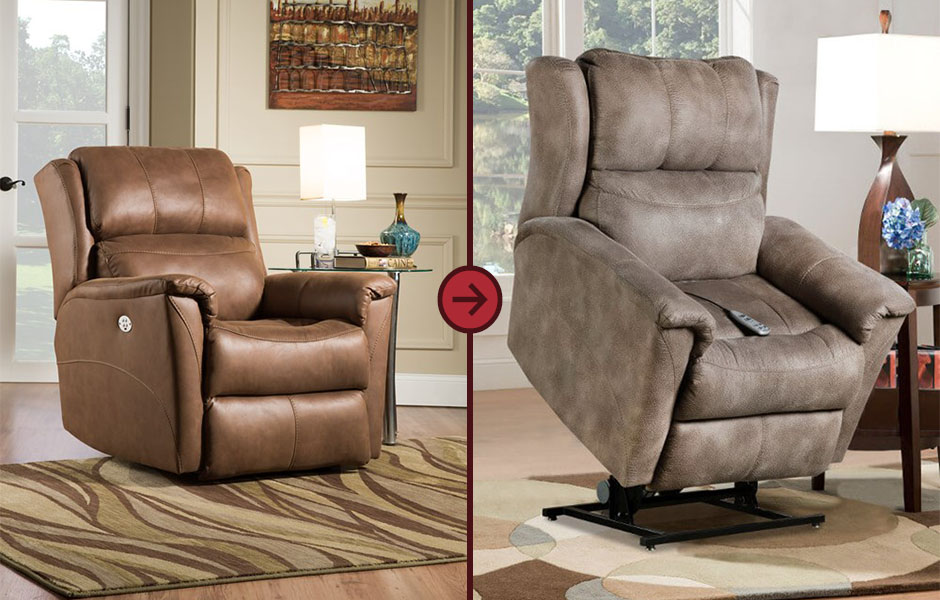 5. Push-back Recliner. Push-back recliners recline without a lever or button, requiring the person sitting in the chair to lean back and exert pressure on the back of the chair.
6. Swivel Recliner. Swivel recliners have a circular base that allows them to swivel left and right. These recliners offer a full range of motion that many prefer over the limited motion of other recliners.
7. Wall-Hugger Recliner. Wall-hugger recliners are great for those with limited space as they only require about 4 to 6 inches of wall clearance. They sit up straighter and often have a limited range of motion and a resting position that is easier to get in and out of.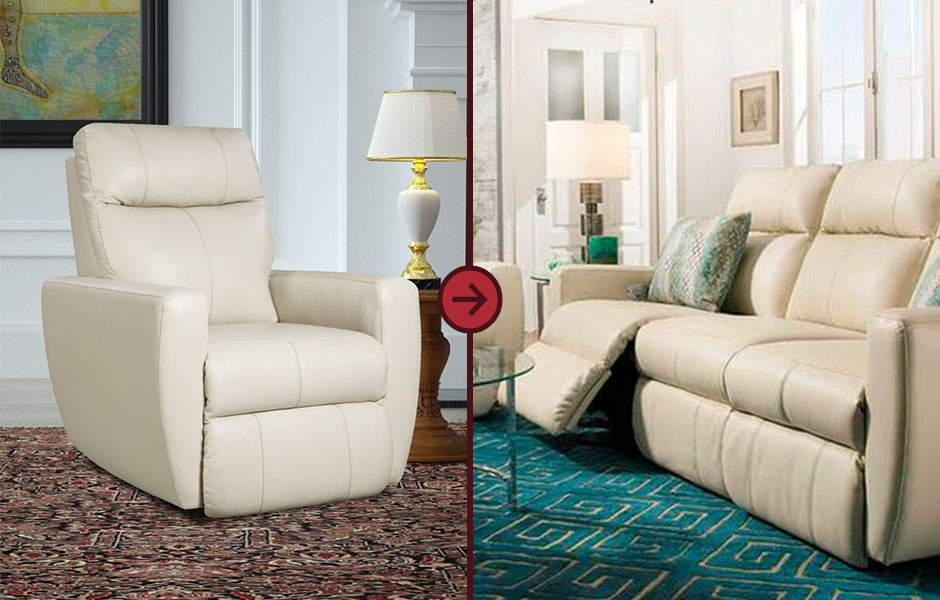 Rocker vs Glider – What's the Difference?
While both are a type of recliner, rockers and gliders vary in their construction methods, movement, and comfort level. Rockers and gliders also differ by motion preferences. A glider slides back and forth in a smooth horizontal motion, while a rocker sways back and forth in a stronger movement. If you favor the gentler feel, a glider may be the right choice for you.
What is a Chaise Lounger?
A chaise lounger is an upholstered sofa in the shape of a chair that is long enough to support the legs. In modern French, the term chaise lounge can refer to any long reclining chair such as a deckchair.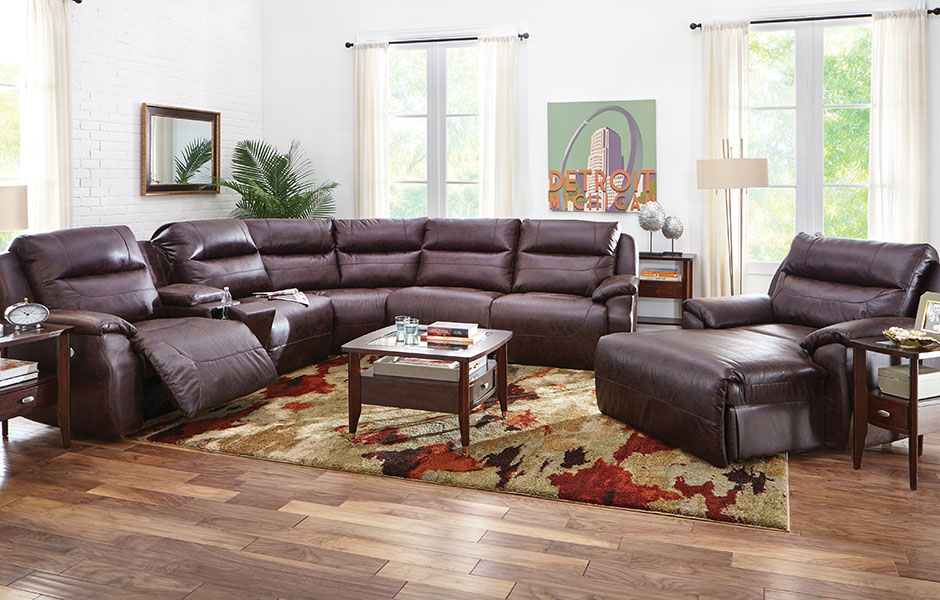 Now that you know the different types of recliners, you should be able to narrow down which options are ideal for you and your home. You can help your shopping process go even smoother by learning more about the best recliners for your lifestyle as well!