When you want to remove yourself from the everyday stressors in life, there's no better way to do this than to retreat back into your own personal man cave. The best man caves have a personalized touch and seek inspiration from all aspects of a man's life. Similar to a wardrobe, this customizable haven is an opportunity to show off unique style and personality. As a result, the personalized sanctuaries can be both relaxing and fun. No matter if your space is large or small, boisterous or relaxing, or just for you and your friends, we have the inspiration for you.
Southern Motion highlights some of the coolest man cave items and furniture ideas to complete the look for your perfect man cave.
Best Man Caves for Families
Many men who have families can identify with the feelings of not having a space to truly call their own. A private space to find solace and relaxation can be the perfect solution to a hard day's work. A man cave is a great way to create a space that is designated solely for male energy and interests. The best man caves for families incorporate the perfect marriage of privacy and inclusion because these male retreats can still accommodate the rest of the family. The best man caves for families have ample seating, so be sure to include a motion sofa or sectional for ultimate comfort. If you have little ones, be sure to choose a kid-friendly fabric like microfiber, stain-resistant fabric, or leather.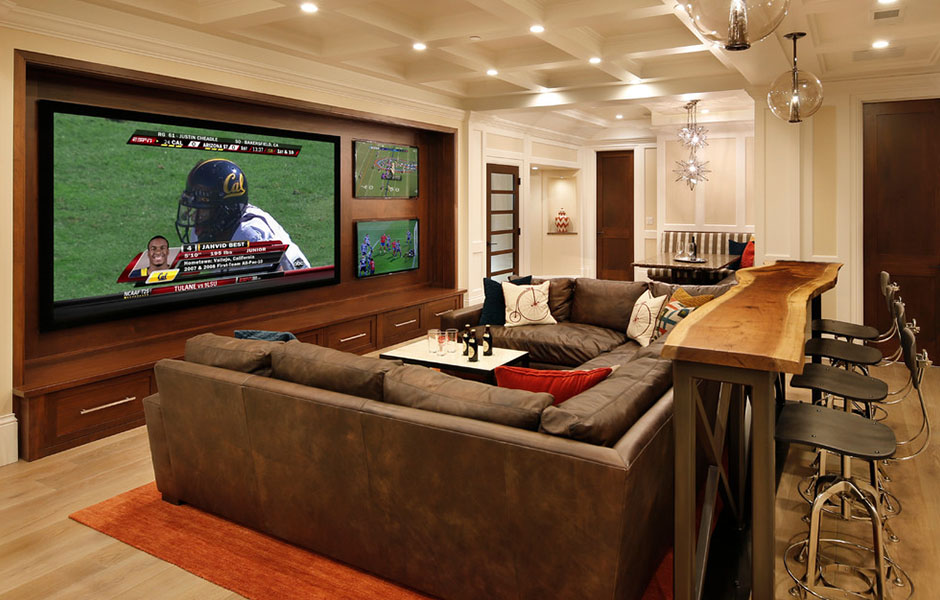 Source: Houzz – TRG Architects
Best Sports Themed Man Caves
Ever wondered where to put all of those old trophies and memorabilia you've collected throughout the years? Man caves can be a place to honor the achievements you've made. Whether it's old jerseys or an collection of baseball cards, a man cave is a great space for you to put your old memories on a shelf (literally).
If you have a flexible budget, consider turning your empty room into a "sports bar". From jerseys and sports memorabilia to TV screens and scoreboards, bring a sports bar to life in your home. Imagine one area of the room with a standing bar and bar stools to create a friendly and relaxed neighborhood bar feel. The other area of the room could be dedicated to a cozy hangout, the ideal spot to kick back and watch a game.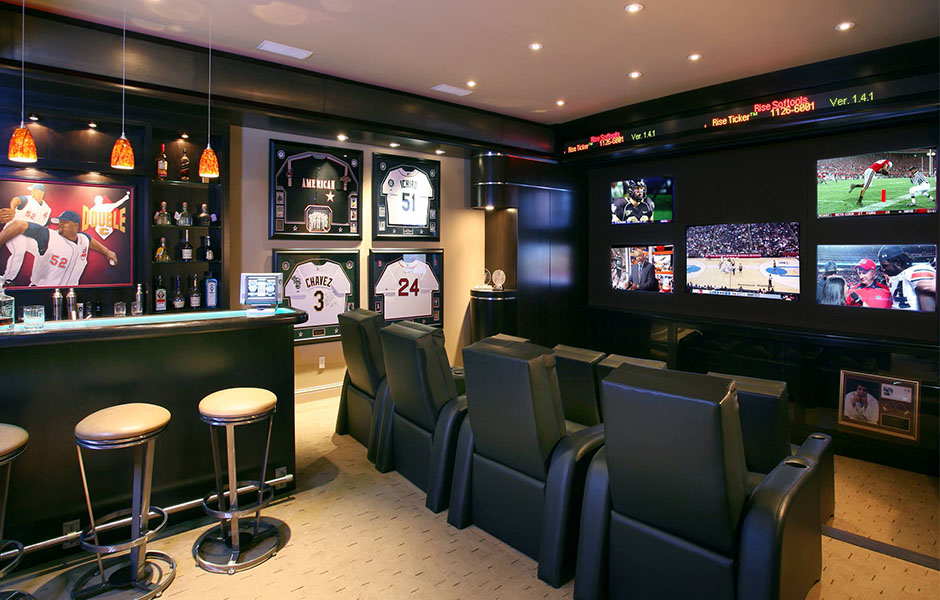 Source: Houzz – Sight and Sounds
Best Music Themed Man Caves
Not all man caves need to be centered around a sports room or home theater. The music lover will have his heart strings tugged by a room dedicated to his favorite instruments. Decorate the walls with album covers and posters that pay tribute to your favorite bands, or include a soundproof recording area where you can practice your favorite musical instrument (without disturbing the rest of the household!).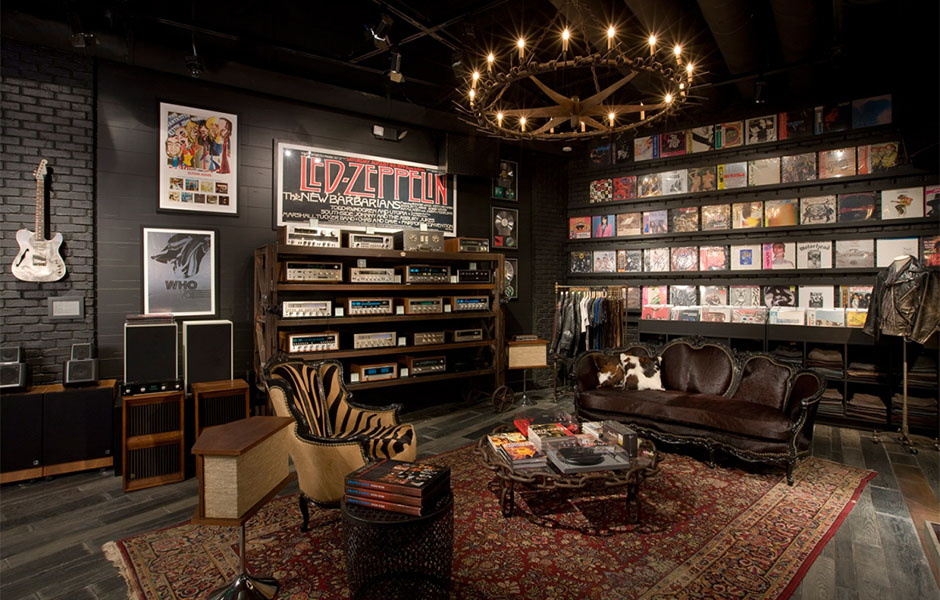 Source: MeyerDavis.com – John Varvatos
Best Arcade Themed Man Caves
If you want to build a man cave focused on gaming and arcades, look to bold colors and bright lighting to create the perfect atmosphere. Most man caves are designed to blend recreation and relaxation. To do this in your gaming-themed man cave, include plenty of comfortable seating and fun games like pinball, foosball, and arcade machines. The bigger the space, the better for this exciting man cave.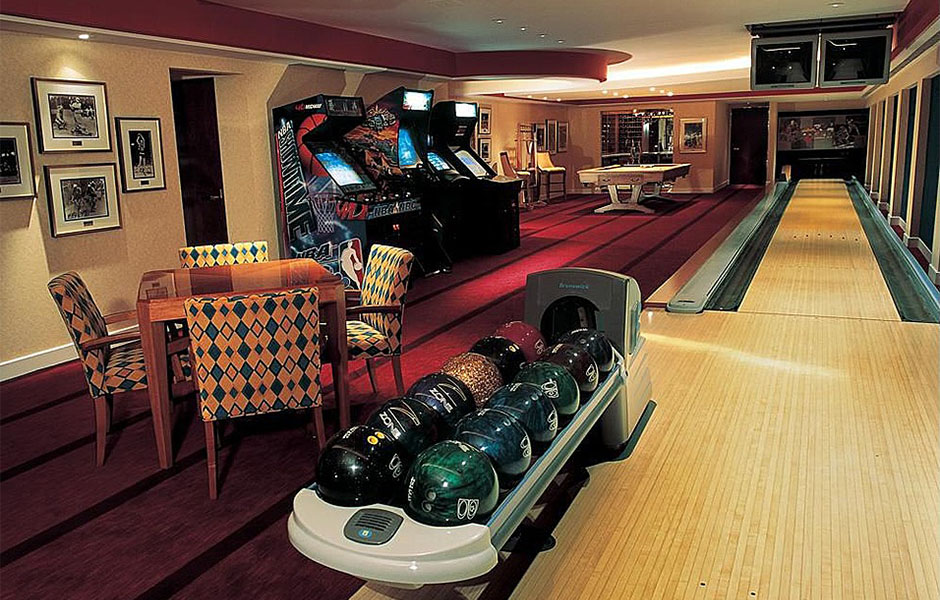 Source: HomeBNC
Best Casino Themed Man Caves
Are late night poker games calling your name? Bring the high rollers into your home and transform your space into a 24-hour casino. Whether you're looking for a sophisticated Monaco style or a more cost effective "Vegas" casino, be sure to include the most popular casino-based table games in your hideaway.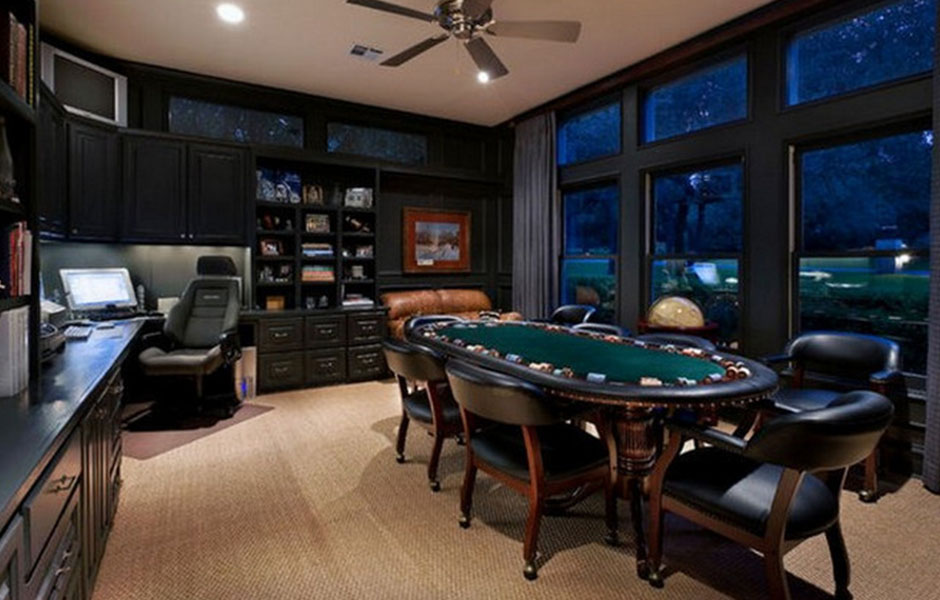 Source: SuburbanMen
Best Man Caves for Entertaining
It's no secret that man caves are also popular spaces for entertaining. In-home theaters, pool tables, video games, and multiple TVs scream social get together. Add in a bar for good measure and you'll soon be host to the year's coolest party.
The special ingredients of a man cave meant for entertaining include a fridge stocked with beverages and snacks, ample seating, and a host that's ready to party!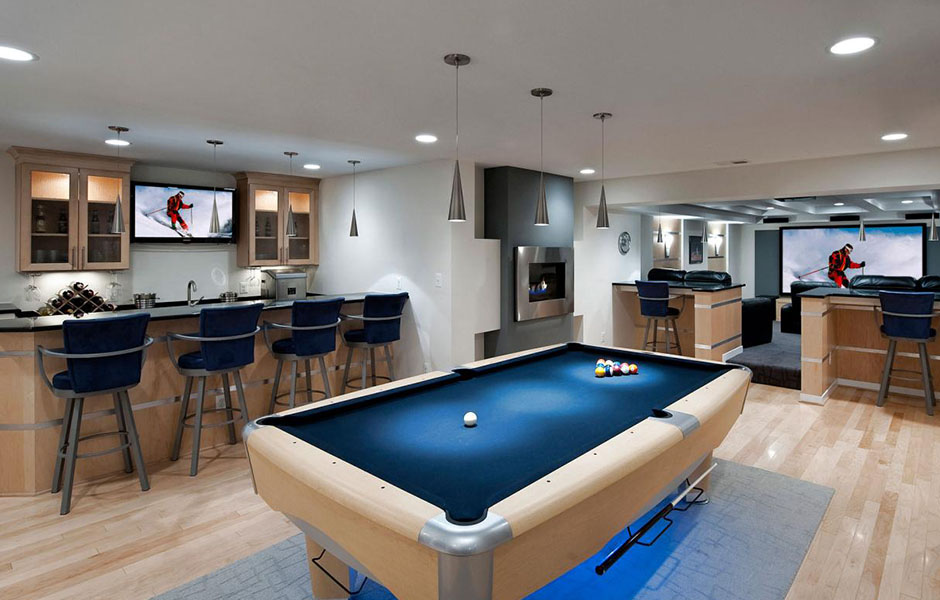 Source: HomeBNC
Best Man Caves for a Small Room
Are you under the common misconception that you can't have a man cave if you only have a small space? Not everyone has the space to create a massive man cave, but small spaces work just as well when crafting your own area.
Second to selecting a style and theme that suits you, the most challenging small space design hurdle is choosing the appropriate furniture. When searching for furniture for small spaces, it's important to maximize the space that you can by using pieces that have multiple purposes. Opting for a wall-hugger recliner can provide you the comfort you desire within the limited space you have to work with. Choosing to hang your flat screen television can also alleviate the need for a TV stand. Also, keep in mind design tips for small spaces like "less is more" and using light colors to make small rooms appear larger.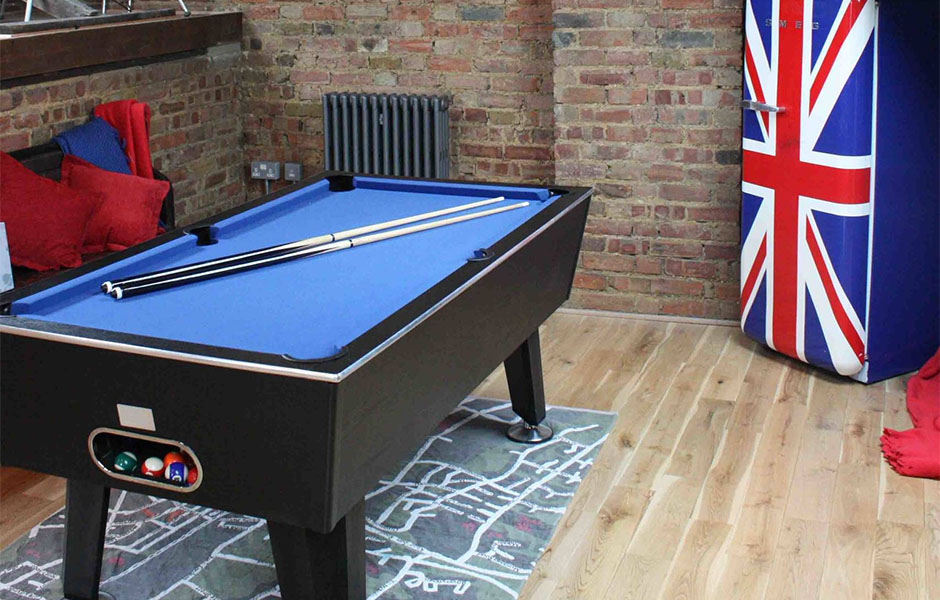 Source: Houzz – T-Space
No matter how you design your perfect man cave, the three major things to include are maximum comfort, optimal functionality, and impressive aesthetics. All you need is a little personality (and possibly an interior designer) to create the right space for you. To help get the process started, discover what your man cave decor style is by taking our quiz!