There's nothing like getting home after a long day at work and settling down in your favorite recliner. And while comfort plays a part in choosing the right chair for your home, style and design are also important things to consider. Reclining chairs can be fashionable, sleek, and the perfect accent to your living room. Find your dream style below and the chair that complements it!
Black & White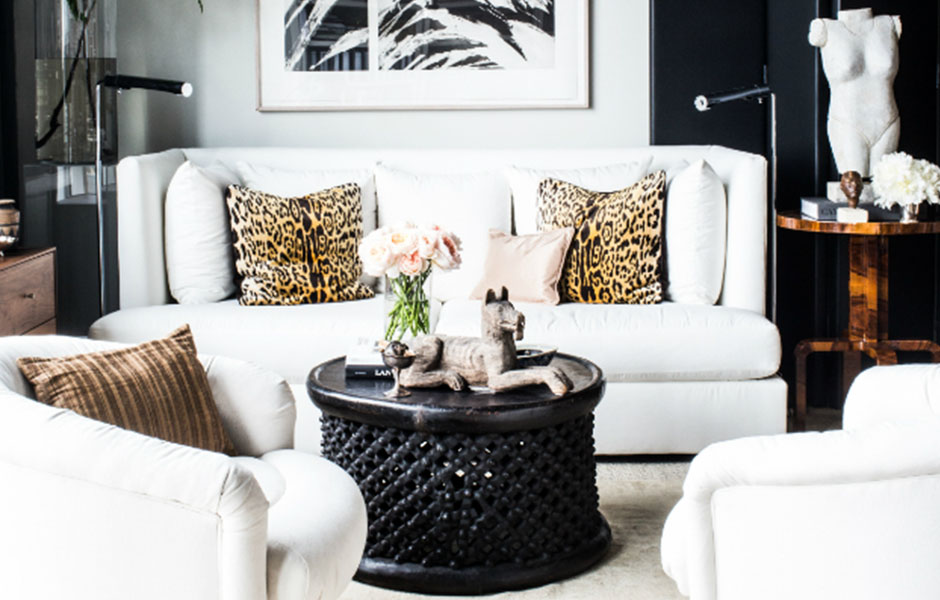 Source: Boca Do Lobo
If you like a clean, elegant look, then black and white is a great option. Your living room is one of the most important rooms in the house, so choose a recliner that reflects your own personal style and preferences. A black and white color scheme helps you develop this personal style, while still providing a blank canvas for further interior design ideas.
Our Roxie recliner chair in black leather is a great way to kick off your black and white style. From there, you can add other white furniture, black accent pillows, and a fun print for the wall. Once you've added in a black and white patterned rug and other accessories, your look will be nearly complete. For a black and white room, throw in a few pops of color to draw the whole look together, such as dark green throw pillows, some plants, and unique wall art. These additions will help bring life and color into your favorite spaces! Check out these additional interior design ideas and inspiration for more.
Mood: A black and white room might come across as cold and masculine, but depending on how you decorate beyond the color scheme, this style can be tasteful and clean. Adding a hint of color here and there through plants, picture frames, or even candles can help to warm up the room a bit.
Warm & Traditional
Warm and traditional is almost the opposite of black and white. This space is cozy, casual, and simple. Furniture brings this whole look together and whether you choose dark wood furniture, a burgundy couch, or a matching couch and recliner set, we have what you need. Choose the centerpiece of the room first, and then expand to color schemes like light grey, beige, or deep brown. Adding hints of decoration to the coffee table, walls, and couch will really make you feel at home.
Mood: This color scheme will leave you feeling warm on the inside and cozy on the outside. By choosing the right recliner and decor, you will feel welcomed every time you come home with the room's positive and comforting vibe.
Bohemian & Earthy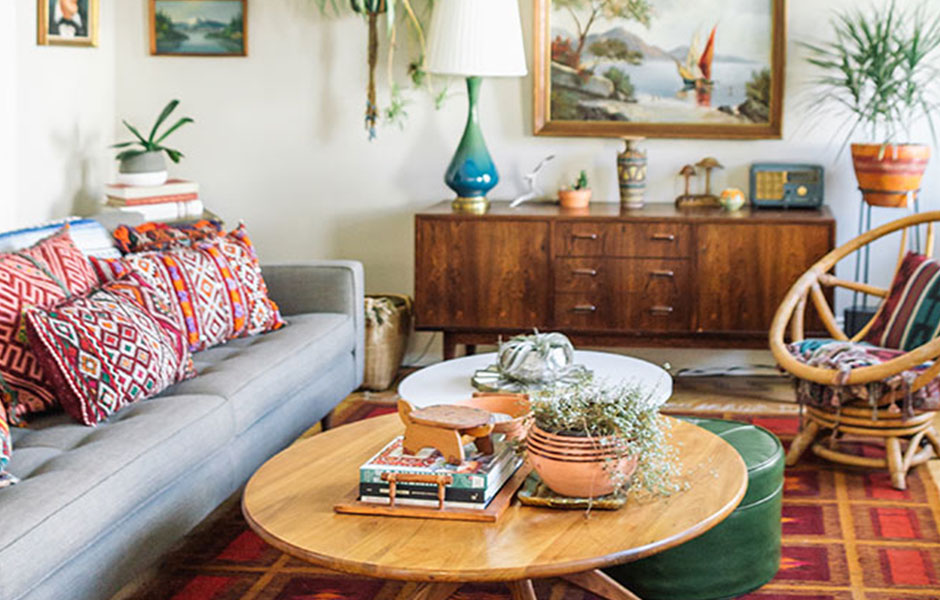 Source: DigsDigs
Our next living room scheme is down to earth, relaxing, and natural. There are no rules to Bohemian style, but its warm, earthy tones and jewel accents are what make it so unique. If you want to craft your own Boho style, pick out some deep browns and greens, burnt orange, dark purple, and upbeat blues. Layering these colors together, adding in some plants, and throwing together a few textures will have you feeling earthy and at home.
When deciding on decorations and furniture for your Boho living room, think unconventional and creative. For decorations, more is better. Mixing and matching some of your favorite pieces will give your living room a inspiring feel. Area rugs, throw pillows, and blankets also give your living room that perfectly cozy vibe. Going along with the mix and match theme, furniture for a Bohemian style tends to be vintage but it doesn't hurt to add in your favorite recliner!
Mood: Creating the perfect down-to-earth Bohemian style leaves you and your guests feeling creative, cozy, and inspired. With so much collaboration and goodies all in one room, you can't help but leave wanting to conquer and explore the world!
Bright & Lively
When you hear the words "bright and lively," what colors come to mind? Maybe some subtle oranges, yellows, and a hint of green? For this style, the goal is energetic and uplifting vibes. When building a bright and lively living room, start with a colorful rug and then put the rest of the furniture into place.
For example, if you're focused on yellows, a chartreuse rug will be a great choice. You can then add in some white furniture and rich, golden throw pillows and blankets. Or maybe you want to build a lively orange living room! If so, our Soho Accent Chair can help get you started. If green is your color, throw in some beautiful plants for natural color. A small plant is perfect for the coffee table, you can add a medium-sized one on the side table, and a taller, self-standing plant is great for the corner of your living room.
Mood: These bright colors are warm, energetic, and attention-grabbing! Subtle hints of bright colors, like yellow, orange, or green, will get your point across in a fun way.
Relaxed & Casual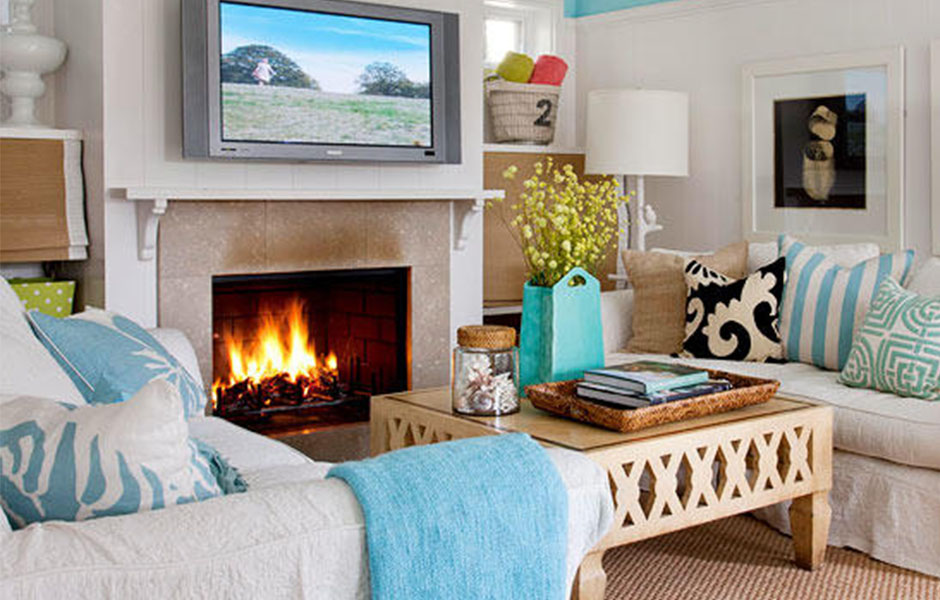 Source: Better Homes & Gardens
Our final color scheme for the perfect living room is relaxing, quaint, and perfect for a quiet afternoon at home. Baby blues, light greys, and soft whites are the perfect way to channel this relaxed and casual feel (it's almost like you're at the beach!). In this relaxing living room, every day is a good day and with some light wood furniture and grey accent pieces, you can tie everything together. Soft colors are key to creating the perfect relaxation station and Southern Motion's soft blue accent chair, Prestige, will set your living room apart.
Mood: Blue is calming, appealing, and brings guests serenity. Enjoy this peace and tranquility with soft hues and comfortable furniture.
No matter what color scheme you decide to go with for your living room, the most important part of an inviting environment is the furniture. Whether you're looking for the perfect recliner, accent chair, or sofa and recliner set, Southern Motion features plenty of choices to get your interior designer wheels turning. If you aren't too sure where to begin, take our quiz to find out which recliner chair is right for you!