Whether you're having a dinner party, Christmas celebration, or game night, you'll often find yourself relaxing in the living room at the end of the night. Long conversations and sweet memories are made in this room, so it only makes sense that you'd want to have plenty of seating for family and friends — and sometimes, one sofa just doesn't cut it. 
Before you bust out your spare dining chairs, consider incorporating two sofas in your living room and follow this guide for tips on how to arrange couches!
It's All About Arrangement
The first step to creating a stylish and functional living room with two sofas is deciding on the best arrangement. For this, you need to assess the size of your space and what you most commonly use your living room for. If you find yourself enjoying lots of movie nights, you may want to arrange your sofas differently than a living room used for formal conversation and entertaining. To give you a better idea of what layout works best for your space, check out the three main couch arrangements used in interior design.
Two Sofas Facing Each Other
A more intimate layout for two different sofas in a living room is having them face each other. This is a great arrangement option if you entertain frequently and intend on using your living room for socializing and conversation. 
As for space, this layout works wonderfully for large open floor plans and rooms with a square or rectangular shape. The sofas help to divide the space naturally in a very symmetrical manner. It can also work well for narrow rooms because you can easily squeeze the couches closer to each other to save space.
Arrangement Highlights:
Best for entertaining and formal conversation

Works well in large open floor plans, narrow rooms, and square or rectangular spaces

Creates a symmetrical design
Two Sofas at a Right Angle 
For a cozier and casual design, you might want to opt for arranging your two sofas at a right angle. Because this layout brings the two couches together, it helps to create a homey and inviting atmosphere. If you love nights cuddled up in front of the fireplace or TV, this is the best option for you. 
Keep in mind that this L-shaped arrangement does require more space and can make your room look cramped if there's not enough square footage.
Arrangement Highlights:
Best for casual lounging and media rooms

Works well in larger living rooms with plenty of space

Creates a cozy and inviting atmosphere  
Two Sofas at a Wide Angle
If you have lots of space to work with in your home, the wide angle approach may be the layout for you. This arrangement for two sofas in a living room works just as the name suggests. Separate your couches relatively far apart from each other at varying angles and adjust as you see fit. 
This layout creates a wide open space that's perfect for casual lounging and entertaining large parties. As far as room size and shape, the wide angle approach is great for large and open-concept living spaces. It's especially fitting for rooms with an irregular shape.
Because of the openness of this arrangement, the wide angle layout is ideal if you want to include extra furnishings in your living space. Throw in a couple stylish recliners or accent chairs to fill the space and maximize seating for guests.
Arrangement Highlights:
Best for casual lounging and entertaining large parties

Works well in large, open-concept living rooms, especially those with an irregular shape

Creates a comfortable, wide open space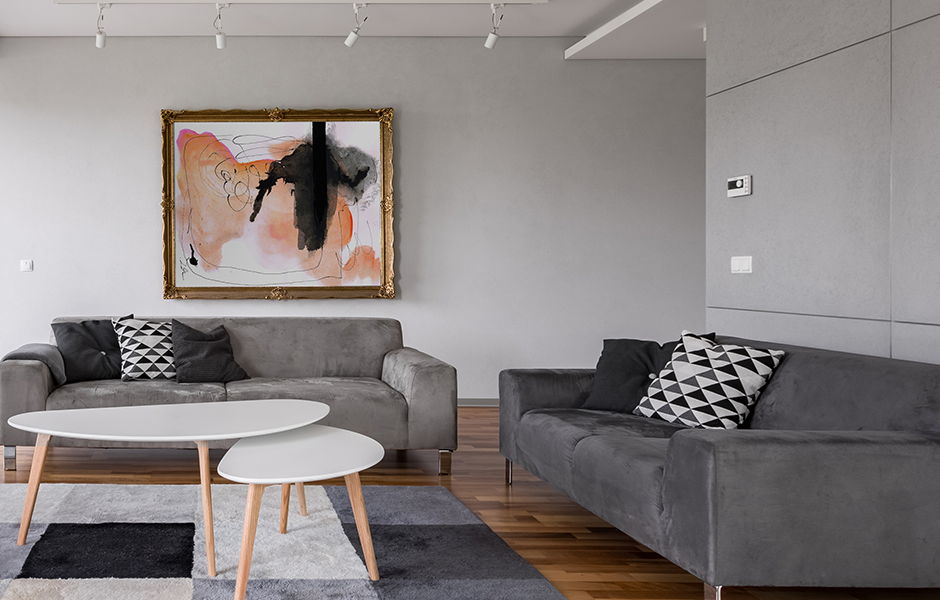 Keep Sofa Design in Mind
After you've established which arrangement is best for two sofas in your living room, it's time to decide which sofa designs you love most. Do you want two identical sofas or two different sofas in your living room? If you choose to go the more complex route with two different couches, you need to keep in mind color and fabric. Here a couple tips to ensure your sofa combination is cohesive not clashing.
Fabric Choices for Two Sofas
When choosing two different sofas for your living space, it's a good idea to mix fabrics rather than try to match them. For example, if you've chosen a microfiber sofa, complement it with a leather sofa. Incorporating various fabrics gives contrast to your space and achieves the unique look you were striving for from the start.
Our West End and Safe Bet sofas are great examples of contrasting fabrics that blend well together in any living space.
Color Combinations for Two Sofas
Perhaps even more important than fabric is color when it comes to decorating with two different sofas in your living room. While it's important you choose whatever color combinations suit your style, recommended color palettes can be a helpful guide. Take a look at this list to see which colors stand out the most to you.

Brown & Tan

Light Blue & Aqua

White & Dark Brown

Brown & Teal

Dark Blue & Gray

Blue & Yellow

Brown, White, & Red

Green & Charcoal Gray

Mushroom, Tan, & Red



Southern Motion Sofa Combinations
Southern Motion carries a large collection of sofas in varying colors and fabrics that can easily blend into your living space. From rich, dark leather to light and airy microfiber, the choices are endless. As you decide which two sofas will look amazing in your home, consider these Southern Motion sofa combinations that combine style and comfort all in one.
Whether you're looking for more seating for entertaining or comfy spots for cozy nights in front of the fireplace, having two sofas can do just the trick. Use these design tips and arrangement ideas to create the perfect living room for your needs! If you plan on including recliners as well, discover how to design your living room with your recliner style in mind.