Who says Halloween is just for kids? Whether you're decorating the house for your grandchildren or a costume party, it's always fun to embrace the spooky season. From creepy crawlers to ghastly ghosts, these Halloween crafts for adults are sure to make your home the most haunted one on the block!
1. Spider Web Plant Hanger
What's better than using decor you already have to create affordable Halloween decorations? If you're a plant lover and just so happen to have plant hangers around your house, give them a creepy crawly upgrade by attaching faux spiders all over the hanger (macrame hangers work best). 
2. Frightening Feather Wreath
Sit down to watch Alfred Hitchcock's movie, The Birds, as you craft up this Halloween decor piece. This Halloween project for adults takes a dark twist on home decor wreaths with its black grapevine twigs, feathers, and faux crow. Be careful walking down the hallway past sundown because this feathery wreath is sure to give you a fright in the dead of night!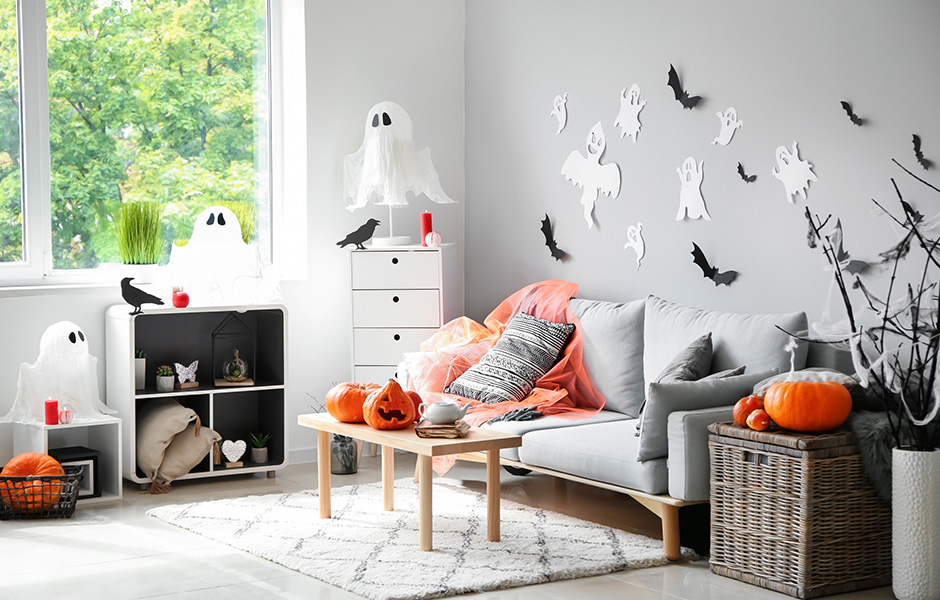 3. Ghastly Paper Ghosts
While paper honeycomb decorations are most commonly used for festive birthday parties and happy holidays, they make for the most ghastly ghost decor too. After you've bought your all-white honeycombs, summon them from the grave by drawing on ghostly faces with black Sharpie. Hang them on your front porch or in your entryway to welcome guests.
4. Spooky Silhouettes
Transform your home into a haunted house with spooky silhouettes. To save space and money, simply remove your current photos from their frames and replace them with cut-out silhouettes of Halloween's spookiest spirits like Frankenstein, the Grim Reaper, and wicked witches. You can also take a more realistic approach with silhouettes of men and women from centuries gone by.
5. Eerie Gallery Wall
Ask the whole family to participate in this DIY Halloween room decor idea! Get the project started by staging an eerie photoshoot to create black and white portraits that will send chills down your spine. Once you have your photos printed, fight every urge to hang them properly because the goal is to curate a disheveled gallery wall with frames touched by spirits!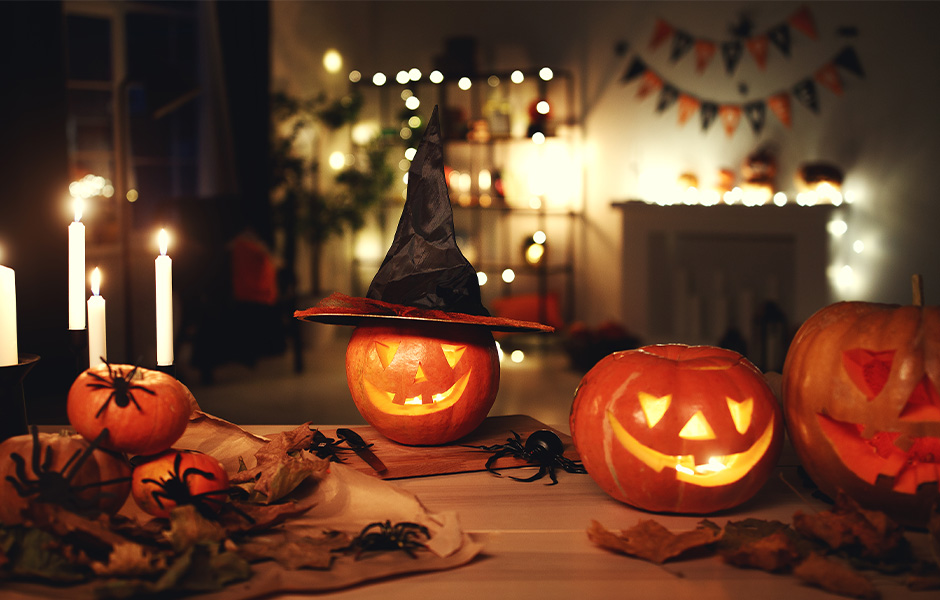 6. Fiery Pumpkins
Get creative with your pumpkin decor by adding a little heat! Carve flickering flames into real or faux pumpkins, light them up with battery-powered candles, and stack them inside your fireplace for a glowing surprise. If you don't have a fireplace, you can arrange them in many other spots like your porch, staircase, or entryway.
7. Webbed Windows
Spider webs are a must when it comes to affordable Halloween decorations, so why not use them on your windows? Take your spooky webs to the next level by adding in bats and spiders too. You can even create frightening shadows by placing candelabras with white tapers on either side of your window frame.
8. Crawling Candles
This Halloween project for adults is as creepy as it is crawly. All you need is mini pumpkins, tea lights, and black pipe cleaners to bring your candles to life. You certainly won't find this kind of decor in stores, so grab your supplies and get started!
9. Ghostly Lawn Decor
Is it ghosts or just your imagination? Play around with optical illusions this Halloween with ghostly lawn decor. Chicken wire, gauzy cheese cloth, liquid fabric starch, and battery-operated fluorescent lights are all you need to make the spirits rise from their graves!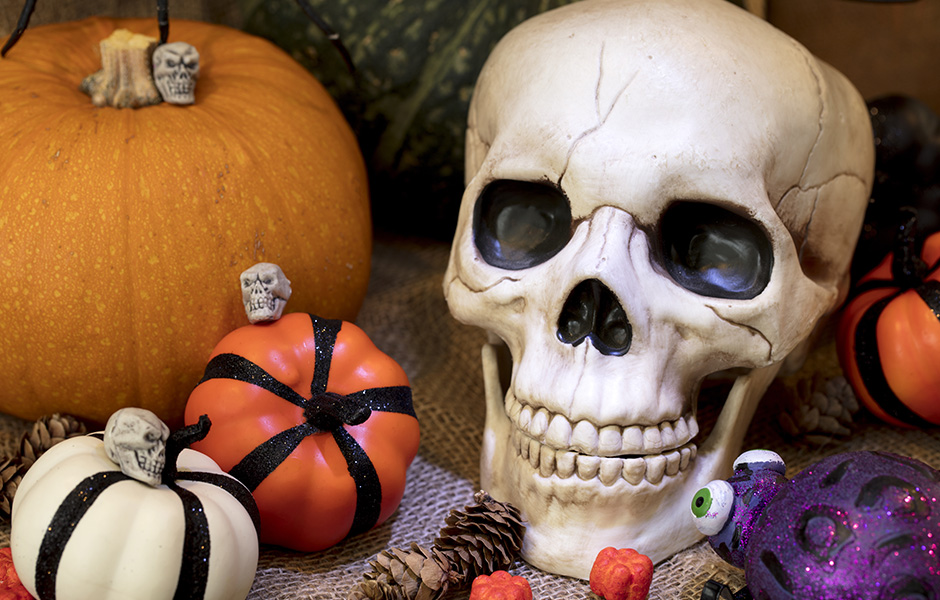 10. Blooming Skull Centerpiece
Take an ordinary skull and turn it into an unearthly centerpiece with this DIY Halloween room decor idea. All you need is a faux skull, real or faux flowers, and a cup to hold your arrangement. Place it on your dining room table and your guests will certainly be enchanted by the sight!
11. Pumpkin Stack
Give your pumpkins some extra pizazz by creating a Jack-O'-Totem this season! The biggest supplies you'll need are three or four faux pumpkins, basic craft items, and a creative vision for your pumpkin faces.
12. Haunted Antique Mirror
Beware of the ghost's reflection when you try this Halloween craft for adults! Give the illusion of a haunted antique mirror with some black spray paint, acetone, and fire. This project does require some protective gear, so follow the steps properly and be safe.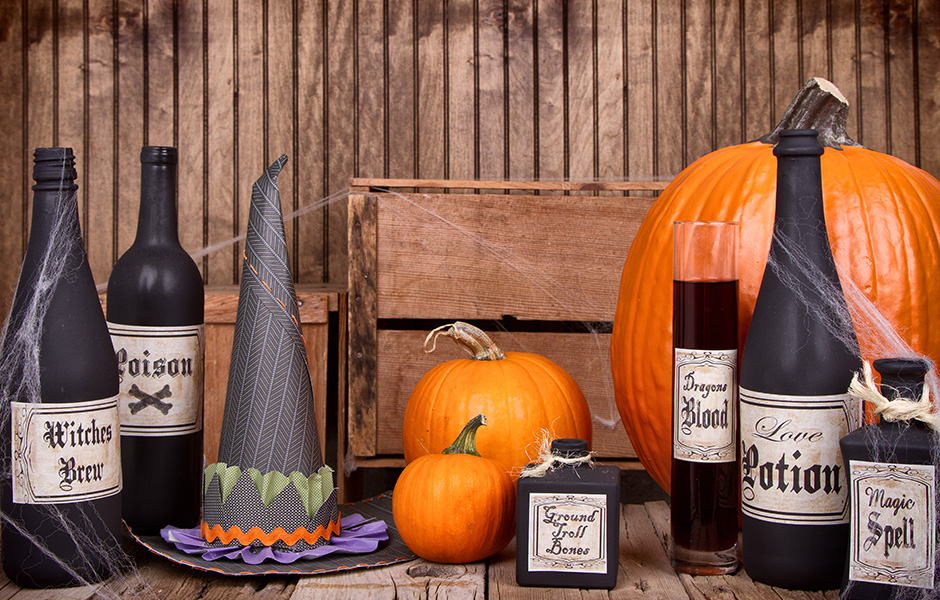 13. Magic Potion Bottles
Want an easy way to incorporate your recycled bottles into your DIY Halloween room decor? Spray paint your bottles matte black, add a handwritten label, and display your mysterious potions on your bar cart or kitchen countertop. 
14. Black Magic Frame
You can't go wrong with vintage frames for your Halloween decor. Rather than pay an arm and a leg for a brand new piece, get crafty and make your very own black magic frame right at home. Spray paint a vintage frame black, add Halloween-inspired calligraphy art, print out some spooky images, and put it all together for a unique Halloween decoration.
15. Batty Staircase
The staircase is a perfect place to display all of the horribly terrific decorations you make this season. If you need some inspiration, try recreating this Halloween craft for adults that weaves flying bats up your staircase banister.
After you've had a day full of spooktacular crafting, enjoy your creepy decor and follow these 6 tips for the best DIY movie night!