What better way to wrap up the holiday season than with a New Year's Eve party? Impress your guests with a home full of glitz and glam by creating your very own party accessories like balloon wall displays and sparkly garlands. Get a jump start on your party prep with these DIY New Year's Eve decorations! 
1. Bubbly Spheres
Take to the ceiling for this cheap New Year's decoration! All you need to make these hanging spheres is foam balls and baking cups. Whether you choose a white and gray color scheme or keep it classic with gold and black, your guests are sure to pay you compliments as soon as they see these dazzling orbs.
2. Party Horn Garlands
Garlands aren't just for Christmas! Put a unique twist on party horns by stringing them into a garland for display rather than play. You can hang your garland from the ceiling, use it for table decor, or simply fashion it on the wall with other accessories. 
Make sure your party horns tie in metallic colors so they're shiny and eye-catching!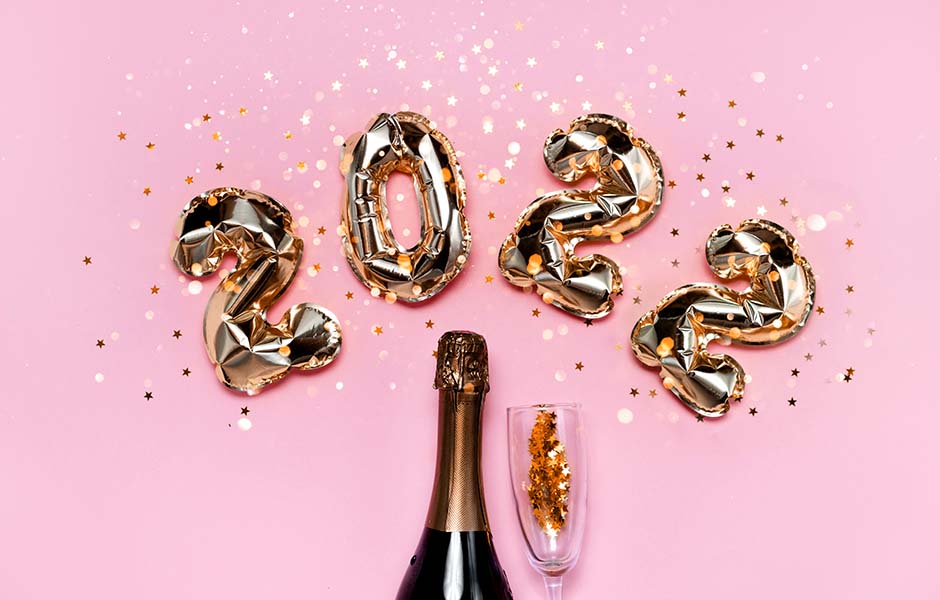 3. Metallic Balloons 
When it comes to party decorations, the simplest ideas can be the best ones. Head to the store and buy a large bundle of metallic-colored balloons to disperse throughout the main room of your party. Gold and silver are ideal, but don't hesitate to branch out with other color themes.
For an extra touch of fun, glue pom poms to the bottom of each balloon and add colorful dot stickers on the balloon itself. 
4. Glittery Champagne Bottles
It doesn't get much simpler than champagne bottles coated in glitter. This DIY New Year's decoration is great for last minute parties because it can be done in a flash. As an alternative to champagne, use apple cider bottles instead. 
5. Sequined Star Stirrers
Every party needs drinks, which makes these sequined star stirrers a hit with guests! DIY New Year's decorations are all about sparkle and these stirring sticks certainly don't disappoint.
6. Painted Stemware
While plain champagne glasses are elegant, it's nice to bring them to life for special occasions like New Year's. For this DIY New Year's Eve decoration, mimic the bubbliness of champagne by painting metallic dots onto your stemware. Start off by painting them close together at the stem while gradually spacing them out as you work your way up.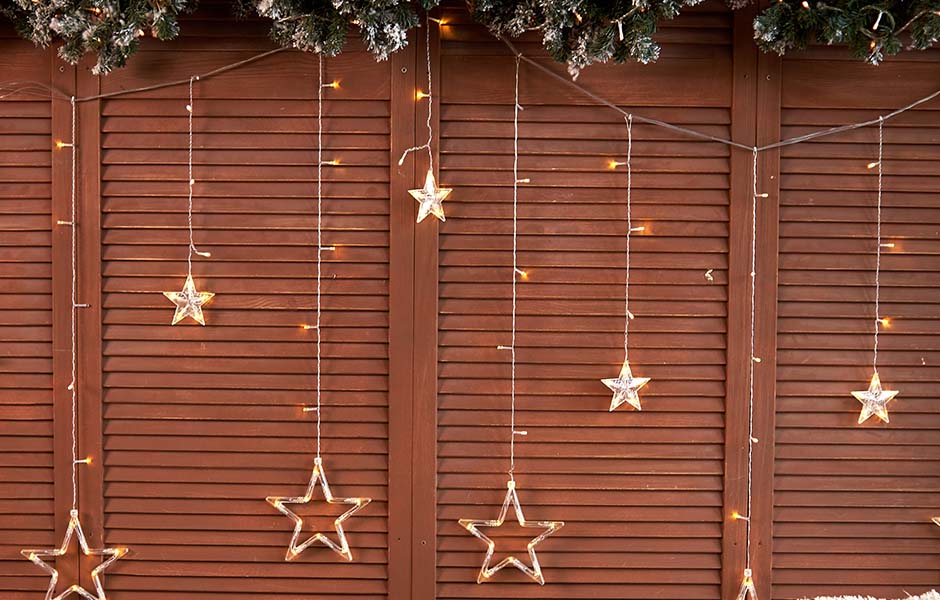 7. Glowing String Lights 
Give your home a warm glow with the help of twinkly string lights. While these can be displayed anywhere (window, dining table, countertops), string lights look especially festive framed around mirrors. Buy string lights in the shape of stars to perfectly match the holiday motif. 
8. Noisemaker Centerpiece
Have any leftover noisemakers? Put them to good use in a DIY New Year's centerpiece. A bowl of candy, gold and silver pipe cleaners, wooden skewers, and hologram paper are among the few supplies you need to complete this craft. While you can use any candy you'd like, Hershey's kisses look the best with their metallic wrapping. 
9. Giant Wall Confetti
Who said confetti is only meant popping? Bring splashes of color to your celebration with giant wall confetti. The best part about this DIY New Year's Eve decoration is that it's easy to make. Gather different colored paper, a circle template, scissors, and Blu Tack to transform your ordinary walls into a fun focal point.
10. Moon Piñata
Piñatas aren't just for kids! Create a DIY moon piñata for your party. Hang it from your ceiling and complete the nighttime ensemble by surrounding it with golden stars. 
For a good laugh, you can always fill it with party favors or candy and have your guests break it open at the end of the night.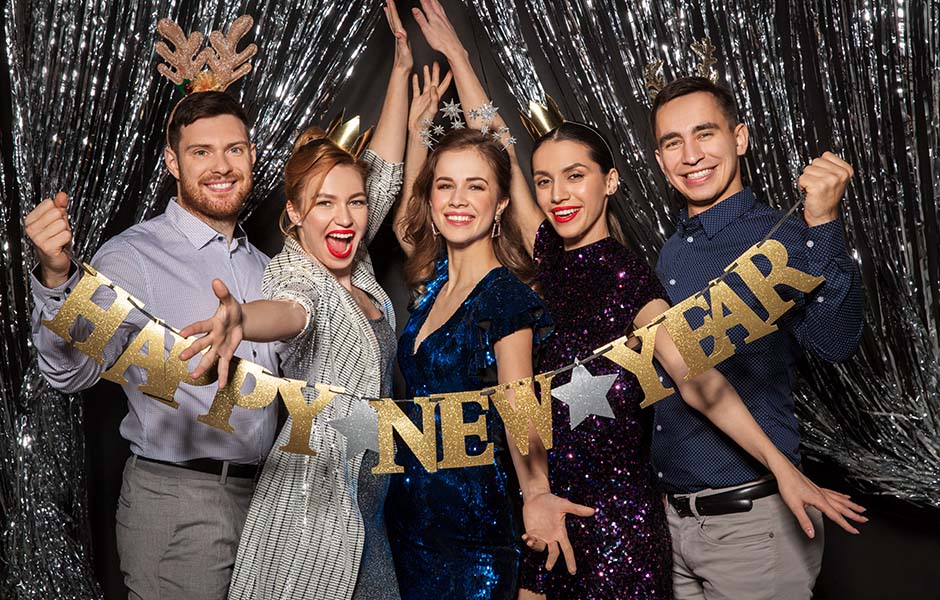 11. Metallic Fringe Backdrop
Party guests go wild over photo booths, so why not create your own? All you need for this cheap New Year's decoration is a metallic fringe backdrop, a couple fun props, and guests ready to pose!
12. Tinsel-Wrapped Numbers
Your New Year's extravaganza isn't complete without big, sparkly numbers representing the upcoming year. Try tinsel-wrapped cardboard in gold, silver, black, or whatever colors you'd like. Showcase your dazzling display where everyone will be gathered at the stroke of midnight, and the photos are sure to be epic!
13. Balloon Wall Display
Take your balloon decor to the next level with a spectacular wall display. While there are plenty of professionals you can hire for the job, creating a beautiful balloon display can easily be done yourself. Make a balloon arch for your photo booth or create a brilliant backdrop for your horderves table—the options are endless. 
If you aren't sure where to start with ideas, you can find lots of inspiration for this DIY New Year's decoration online.
14. Origami Paper Stars
If you're a fan of origami, this craft is made for you! Stars are an iconic motif of New Year's, so it's no surprise that they make for adorable decorations. 
Because of their sturdiness, brown paper bags from the grocery store work great for these origami stars. Top them off with metallic-colored paint and sequins that give them just the right amount of shimmer.
15. Golden Bow Tie Garland
The best DIY New Year's decorations can be made with everyday household items. For this project, use bow tie pasta to string together a one-of-a-kind garland. Coat your bow ties in glitter and use sparkly twine or string to bring it all together.
With the help of these simple party decor ideas, your New Year's celebration is sure to be one for the memory books! After the dust settles and the holidays come to an end, learn how to prepare your home for the new year with DIY projects, home maintenance tips, and more.