New Year, New DIY Home Decor Projects
With the new year in full swing, lots of people are looking for fresh new decor for their home. Whether it be a big undertaking like a dining table or a simple candle holder, there are so many creative ways to bring new life into your home! Take a look at these DIY home decor projects for inspiration to get you started!
DIY Home Decor Projects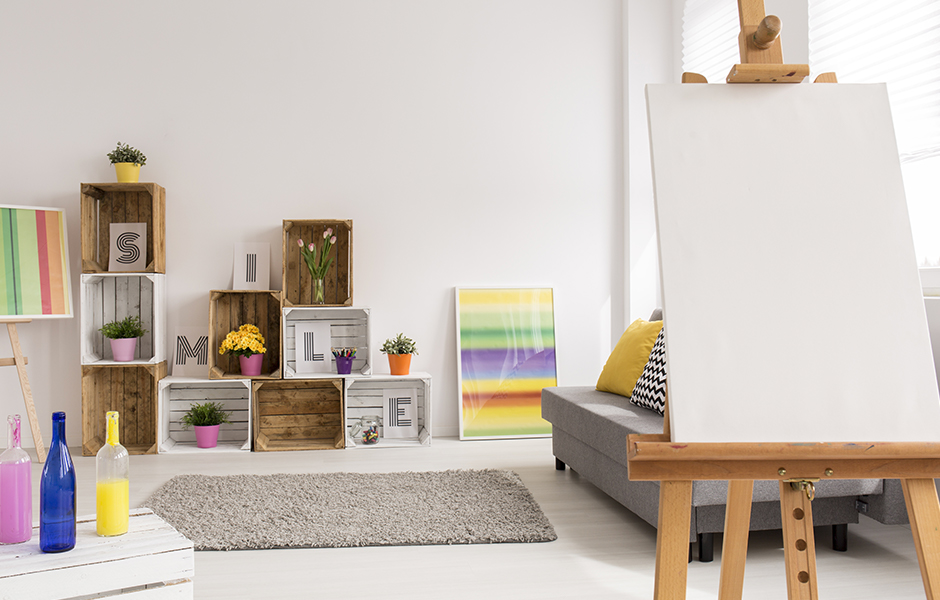 Modern Art Magic
When you think of modern art, big, flashing dollar signs start running through your mind and it seems like an impossible purchase. Well, it's time to slash those dollar signs away because DIY modern art is here to the rescue.
For this DIY home decor project, you need supplies like plywood cut to the size and shape of your liking, a variety of spray paint colors, a downloadable pattern, and everyday tools like a straightedge, screws, and screwdriver. The end product will be a modern art piece that you can hang on the wall or place on your mantelpiece. While you can follow the step-by-step instructions, don't be afraid to get creative and design an art piece that is unique to you and your personality!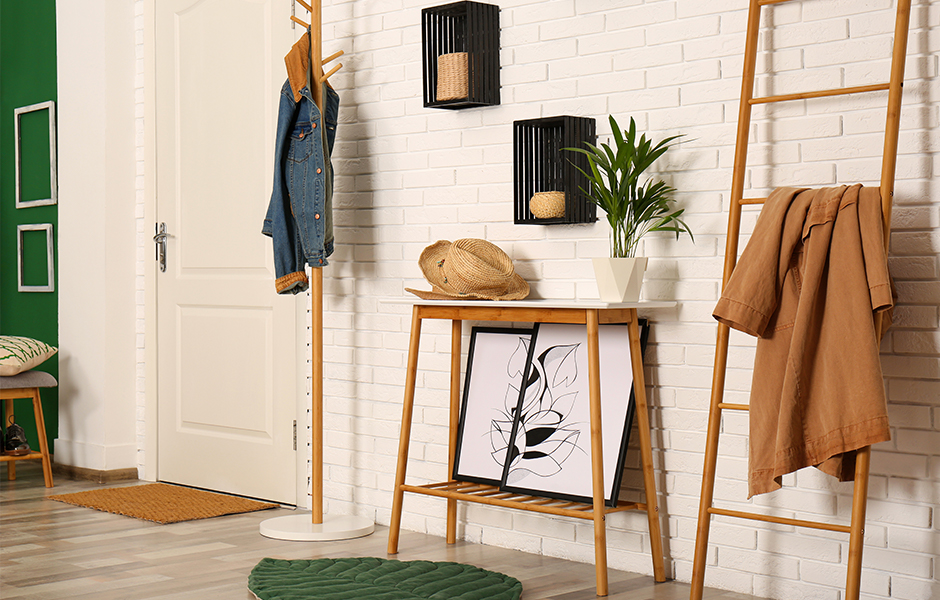 Multi-Purpose Ladder
You can never have too many home decor items to use as hanging space. Take your hats and scarves to a new height with this DIY idea for the home that leaves you with a multi-purpose ladder. Who knew ladders could be so functional AND stylish? Reclaimed wood, spray paint, nut and bolts, and a saw are just a few of the supplies you'll need to get the job done.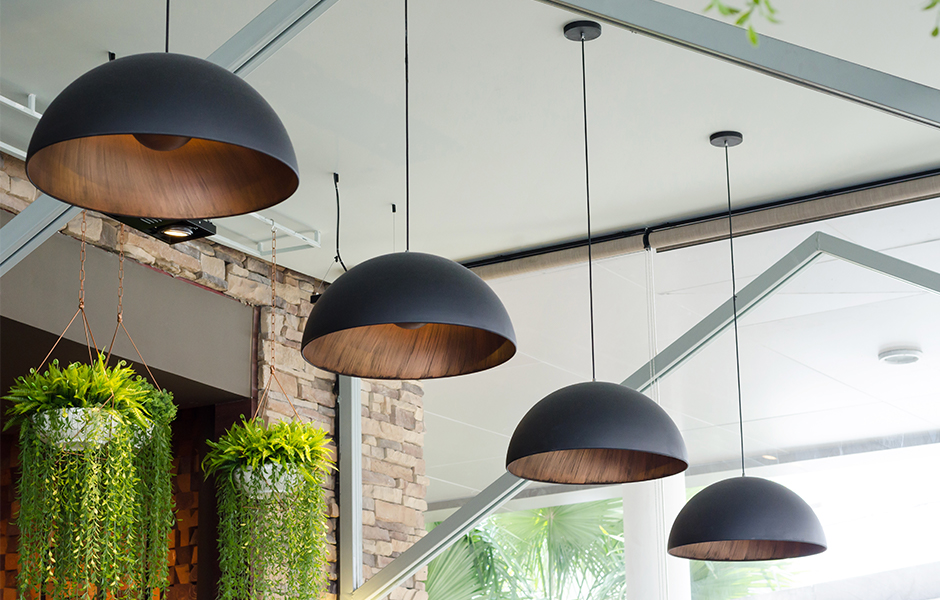 Pretty Pendant Lights
Pendant lights are one of the trendiest interior design styles this year and you can have them in under an hour with this DIY home decor project. Brighten up your kitchen countertops or your dining table by using a trio of nesting bowls that you already have (or can easily get hold of), as well as a nylon cord set, clear bulb, and tin snips. Believe it or not, these few items together make beautiful pendant lights that look store bought.
Bathroom Baskets
Need a place to store your towels and bathroom accessories? Don't worry because the solution may be sitting right in front of you. Baskets usually sit on the floor, but this DIY home decor craft takes them to the walls. Simply use screw anchors and large screws to flip those containers sideways and attach them to the wall. Now, you have three or four enclosed shelves for your towels and washcloths. This example uses woven baskets, but the possibilities are endless.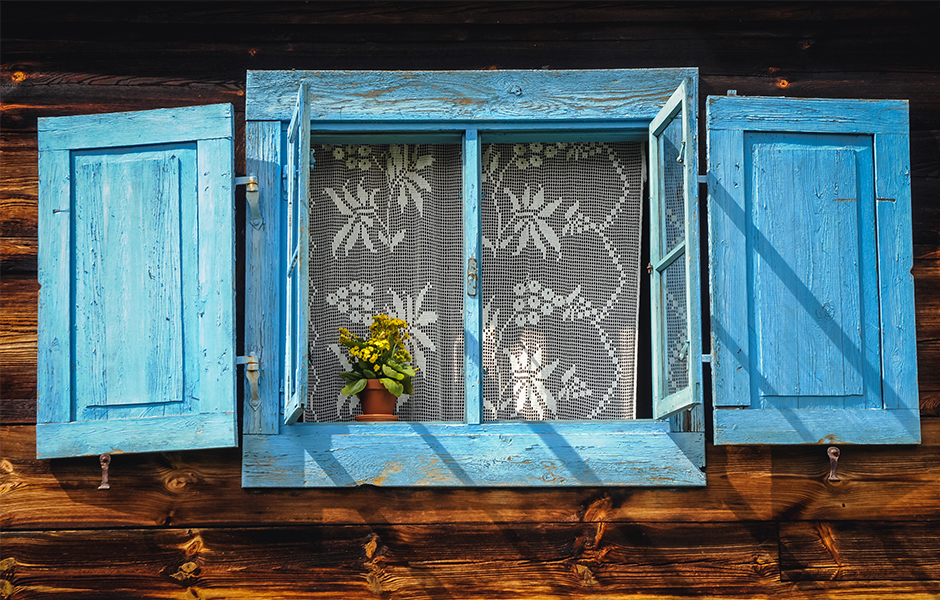 Shutter Savvy
Old and weathered shutters don't belong in the trash, they just need a new purpose in your home! In this DIY home decor project, four wood shutters make a beautiful rustic side table. Gather up four wood shutters of the same size, a piece of glass for the table top, 16 screws, paint, and eight art canvas stretchers to make this a reality in your home. For a newer, more refined look, you can also sand down and repaint the shutters a different color.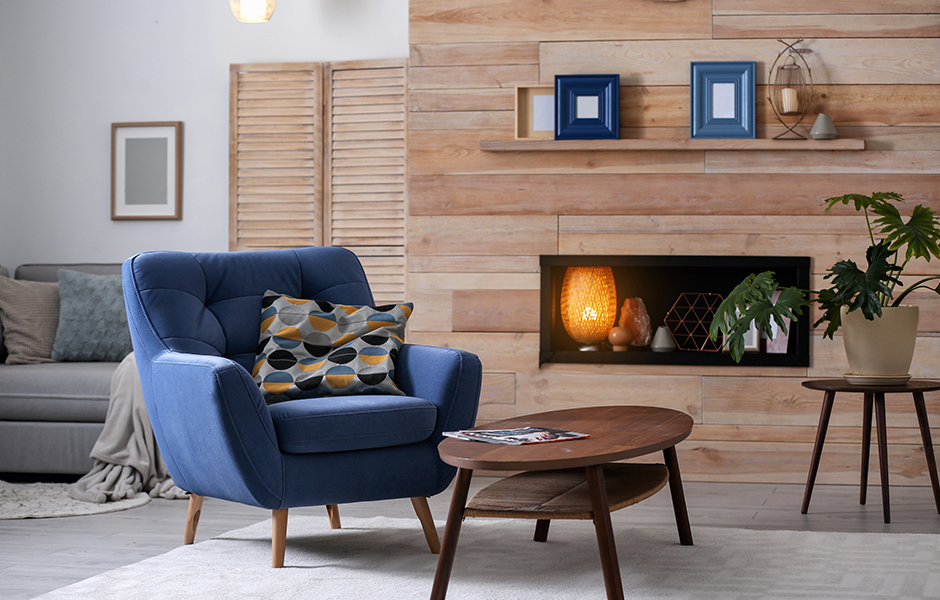 Wood Wall
Get ready for a more challenging (but rewarding) DIY home decor project with this wood accent wall. Just like pendant lights, wood is another popular interior design trend right now. Using this natural material as an accent wall will add distinction and contrast to any room, but you need to make sure you follow the steps closely. Dimensions, placement of wood, and flatness of each piece are the most critical concerns you should nail down in this DIY craft. If you do, you'll definitely have earned your DIY badge of honor.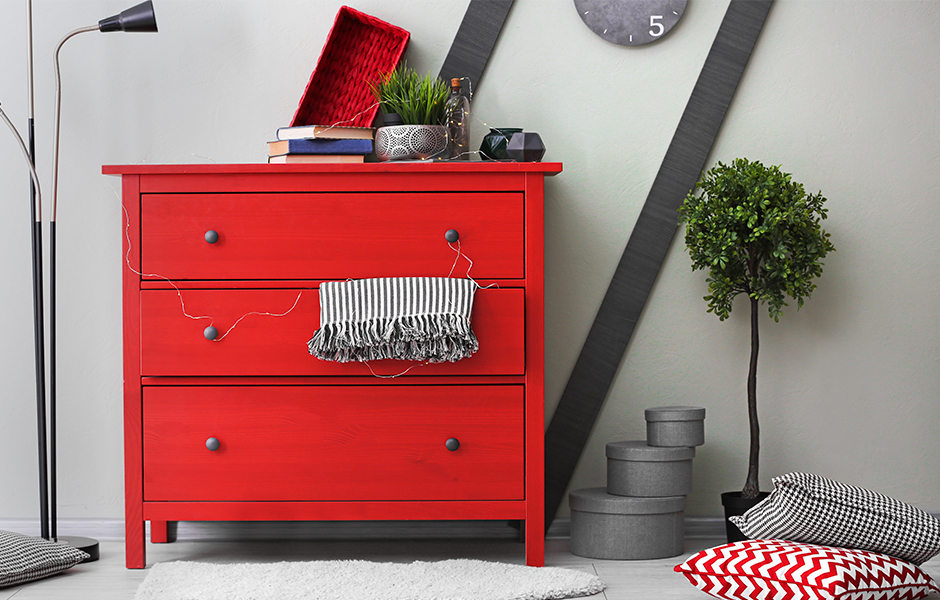 Dressed Up Dresser
We all know IKEA sells affordable home decor, but sometimes that table or dresser needs a little something extra. Dressed Up Dresser takes an average dresser and adds character to it with new hardware, paint, and even wallpaper. There are a bunch of different patterns and colors you can choose from to make it fit seamlessly into your home's interior design.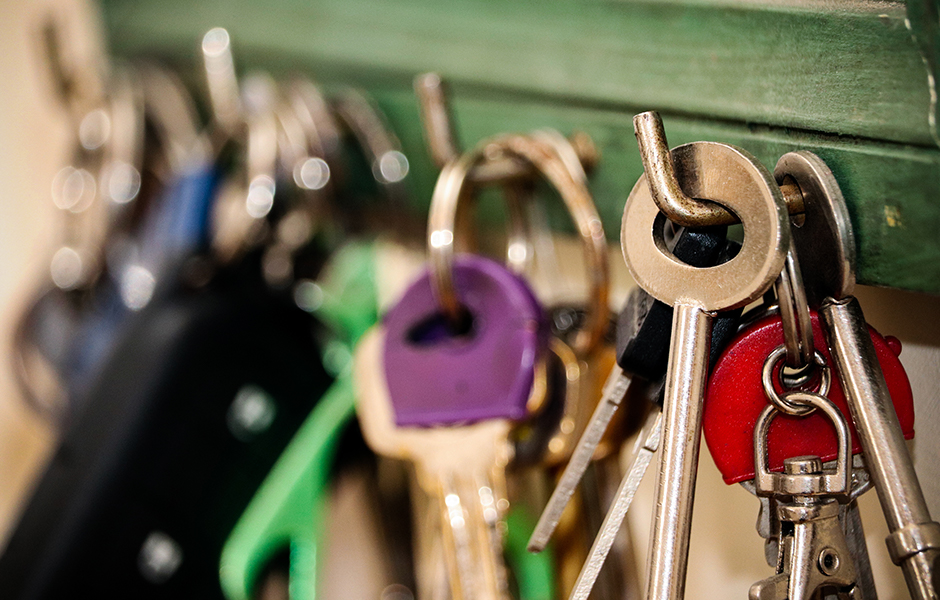 Clever Key Holder
Our keys, the lifeline to getting our day started, somehow always end up getting misplaced. Luckily, the days of searching for your lost keys are staying in 2019 when you take on this DIY home decor craft. Buying or scrounging up a small wood slab is where you need to start. Seal it with polyurethane, grab hooks (however many you need for your keys), paint, stencils/stickers, a drill, and then you're ready to start crafting up your key holder!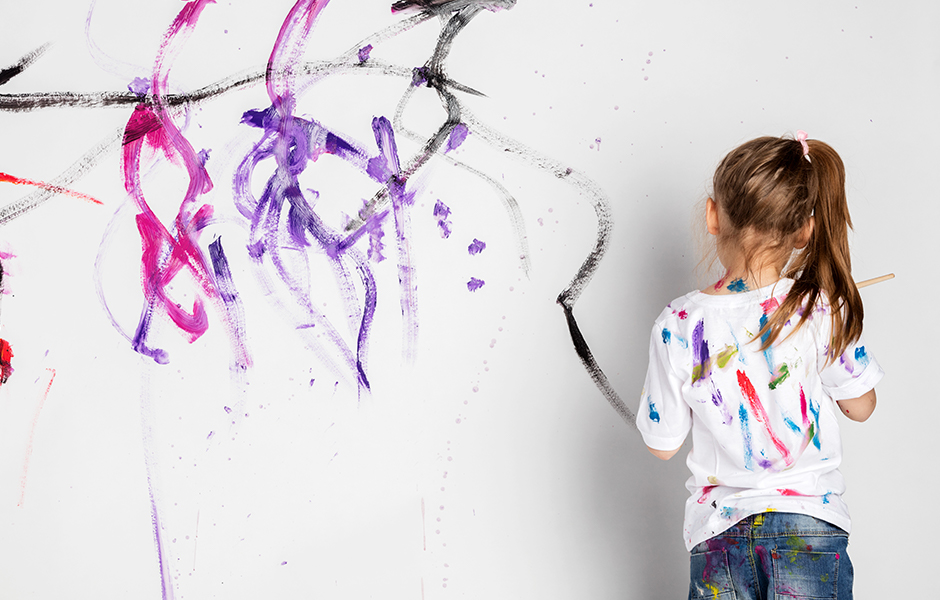 Easy Easel
The nightmare of having to scrub your child's drawings off your walls ends right here. This wall-mounted easel is a genius way to preserve your precious walls while also showcasing your kids' art pieces. Craft paper, wood, spray paint, and brackets are some of the supplies you need to start this DIY home decor project.
As we embrace the new year, it's also time to embrace the pure splendidness of DIY home decor crafts that give our homes a breath of fresh air with little to no cost. Keep it easy or challenge yourself, but either way, incorporate these DIY ideas for the home to get a taste of unique decorating.
Once you're done and looking to sit back and relax, Elevate Your Style with one of the comfortable sofas from our collection. Each piece will redefine the way you think about motion and works with any home decor!
Finding the perfect houseplants for your home comes down to your interior design style, plant preferences, and level of experience. With so many options out there, it can be easy to get lost in a sea of green leaves and colorful flowers. So which plants are right for you? Take this quiz to help you find the best house plants for your lifestyle and decor preferences – whether you have a green or black thumb!
As we cuddle up during the winter months, our fireplaces not only come in handy for keeping us nice and toasty, they also take center stage as one of the focal points of our homes. Now that the holidays are over, take your festive decor down and jump-start your 2020 home decor with these modern fireplace decorating ideas.
1. Alive with Art
A super quick and easy way to style your fireplace is to add a few art pieces on top of the mantle. Grab your favorite pieces, such as a framed painting or even a small sculpture, to brighten up the room and the transformation is done!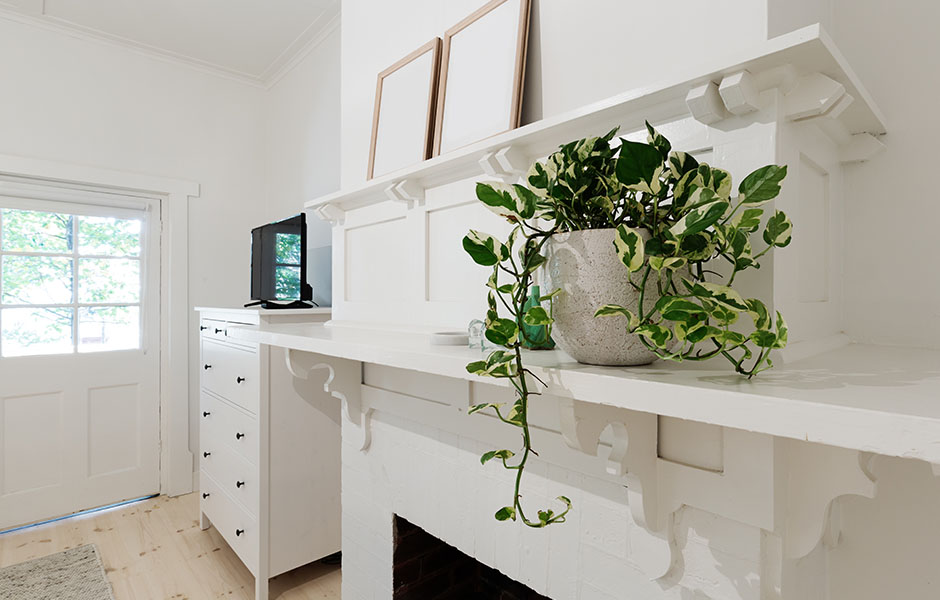 2. Fresh and Green
While plants and a fireplace may not be the most obvious decor pairing, they go together like two peas in a pod. Plant decor is super trendy right now, so framing your fireplace with plants leaves you with a cutting edge look. You can cluster potted plants of different sizes on the floor of the fireplace or on the mantle (the latter might be best if you have pets). If you don't use the fireplace, consider placing plants inside the hearth as well. Don't shy away from fake plants if you want low-maintenance decor that gives the same effect. Note: If you choose to decorate with live plants, research their care tips to make sure they will be able to survive in this setting.
3. Black and White
The harsh contrast of black and white is another decor trend we're seeing this year. You can incorporate this modern fireplace decorating idea quickly and cheaply if that's what your goal is. For those that have a low budget, you can purchase any white and black decor pieces (art, mirrors, pottery, candles) and create a contrast by placing them above and below the mantle. If you have a higher budget, painting, tiling, and adding wallpaper are more intense options to consider. For example, you can tile your fireplace with black tile and paint the background wall white.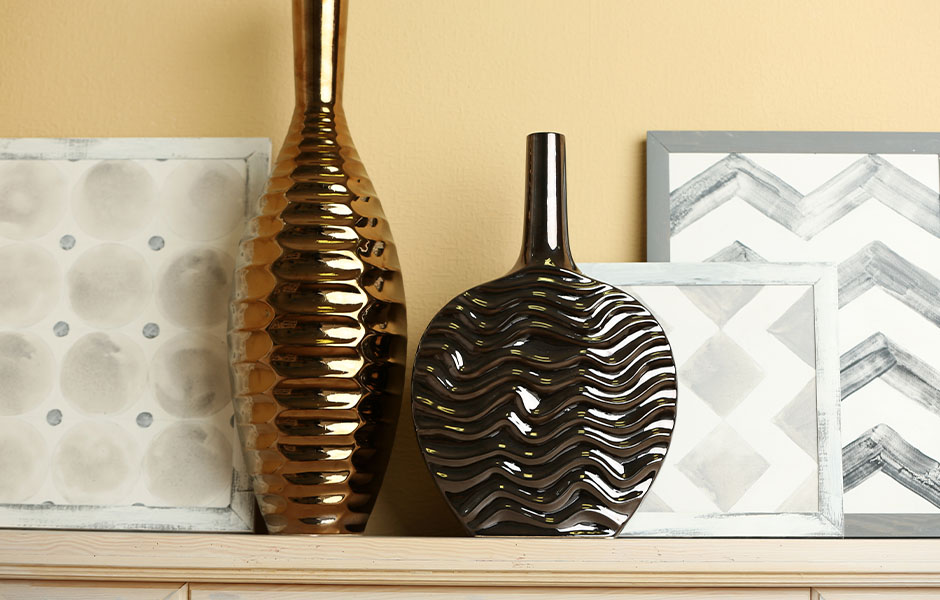 4. Display a Collection
If you like to collect things, put them to use for this modern fireplace decorating idea. Whether it's pottery or antiques, utilize your mantle to showcase your collection in a place where everyone can enjoy it!
5. Big and Bright
Mirrors are a bold statement piece and 2020's motto is "go big or go home." Modernize your fireplace by placing an oversized mirror above the mantle. This is also a great trick for brightening up your room because mirrors reflect natural light.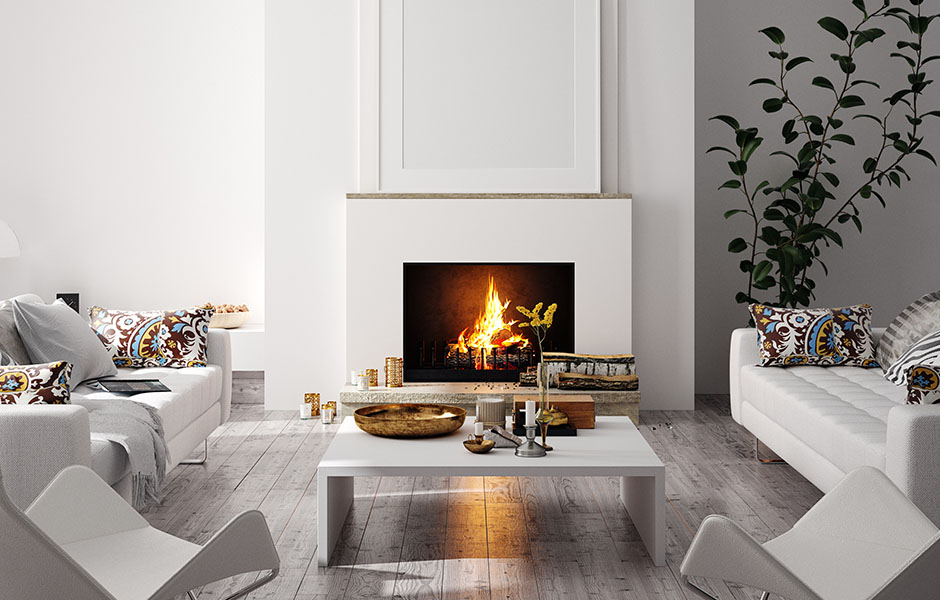 6. Scandinavian Style
Keep your modern fireplace decorating idea simplistic and light by following Scandinavian style. This Nordic interior design trend uses light neutral colors like gray and white, clean lines, and minimalism. Put them all together and your Scandinavian-style fireplace will transform the room into a bright and airy space.
7. Boho Meets Minimalism
Nothing says modern more than minimalism. If this is your kind of style, mix in a little Boho design and apply the magic to your fireplace. Picture a white wall, a couple candlesticks, one pottery piece, and a big modern art painting. So simple and easy!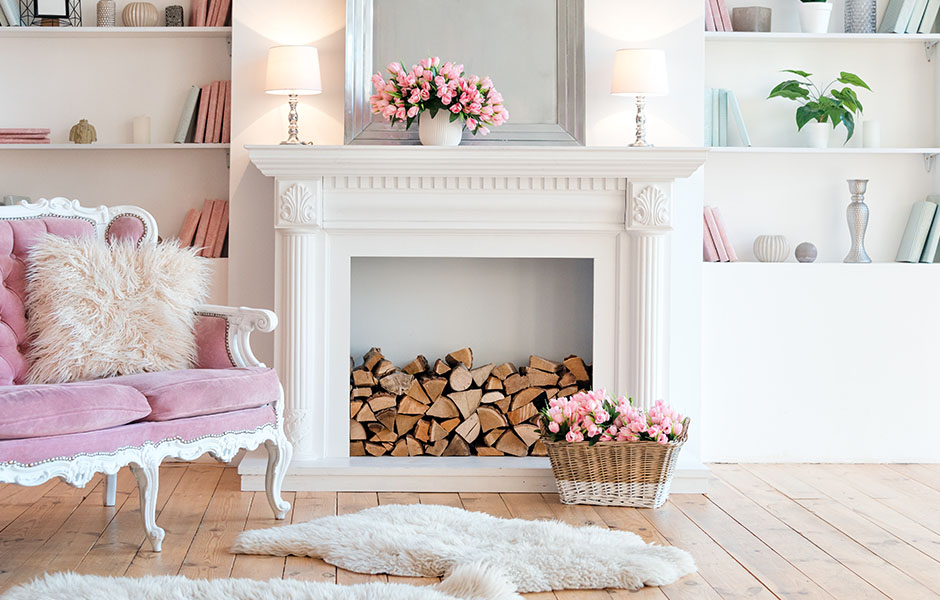 8. Feminine and Fabulous
If contrasting colors and minimalism doesn't float your boat, you can use this modern fireplace decorating idea to stay trendy. Channel the feminine and fabulous vibe by rocking these three things: gold, color, and fun patterns. For example, decorate with gold-potted plants on your mantle, brightly-colored books along shelving, and patterned tile around the hearth.
9. Higher Heights
For those of you that are looking to completely change the design of your fireplace, this modern fireplace decorating idea is made for you. Floor-to-ceiling fireplaces are totally in and they make for a pretty spectacular focal point. Big, bold, and tall is the name of the game and color is really up to you. The sheer size of a floor-to-ceiling fireplace draws attention, so staying in the neutral color range isn't going to lessen the impact.
There you have it! Now, pick your style and start off 2020 fresh and modern with these modern fireplace decorating ideas. If you want to make big moves this year and change up your entire living room, check out how to design the perfect living room color palette!
As the seasons change, so do our lifestyle choices. We switch up our clothes, the Starbucks drinks we buy, our weekend activities, and, let's not forget one of the biggest changes of all, our interior design. The satisfaction of having your home decor match the current season is, for some of us, an unmatched feeling. As we cozy up into winter, let's take a look at our favorite 2019 winter interior design trends for your home.
Winter Interior Design Trends
Plaid
One of the most iconic and evergreen winter interior design trends is plaid. Incorporating plaid into your winter decor allows you to transport your visitors to a cozy place in the country which is absolutely perfect for the season. While this trend has been popular for years, it has been elevated to a more modern level in 2019. This season, we're seeing tonal plaid that consists of two colors layered to create a more geometric, crisp motif. Whether it be a cozy plaid accent or some wingback chairs, plaid is a great interior design trend if your goal is to create a down-home, cozy feel for you and your guests.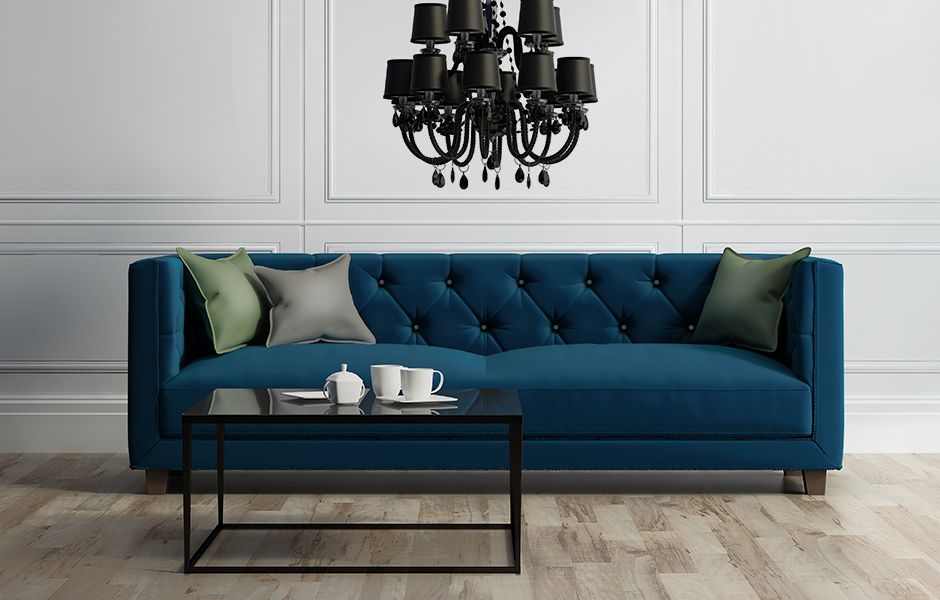 Velvet
This year's velvet interior design trend is one that's hard to take your eyes off of. This year, dramatic colors take center stage and from chartreuse to deep navy, velvet pieces adorn living rooms and bedrooms to create a sophisticated, rich, luxurious look. In addition to the visual beauty of this material, its texture is also quite satisfying. With the temperatures starting to dip lower and lower, having cozy and plush fabric to sink into is a must. Chairs, benches, and pillows are just a few easy ways to incorporate the fabric into your home.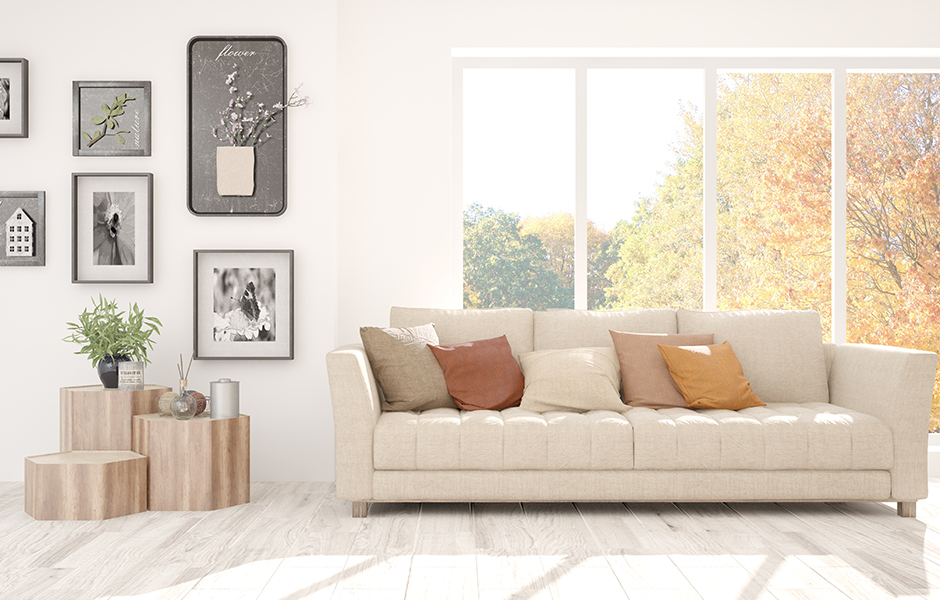 Softness & Woods
In addition to velvet and plaid, one other fall trend to consider for your seasonal redecorating is softness and woods. Organic shapes, soft textures, and natural materials are especially popular this season. This Scandanavian-inspired fall trend creates a soothing, calm atmosphere in your home, which is exactly what you need for those relaxing fall nights. Check out our Key Largo or Silver Screen sofa to see a couple of great examples of furniture that follows this trendy style.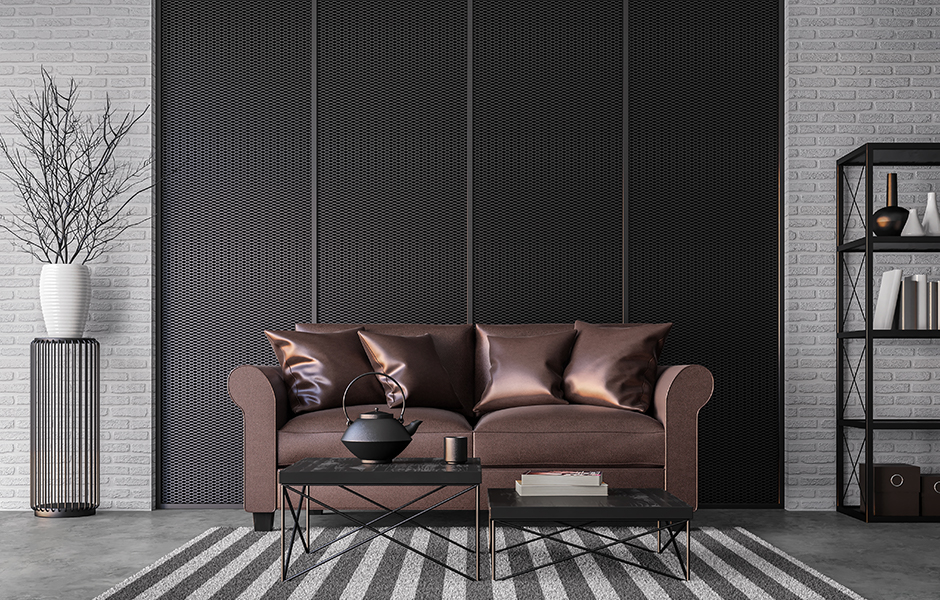 Dramatic Neutral
This winter interior design trend is one that truly encapsulates the season, reflecting the darkness of night and lightness of snow. You can incorporate this trend into your home by having a high contrast of black, white, and other neutral tones. This simple, chic, and sophisticated look draws attention to the room right away. When you style your home with this design, make sure to throw in metal accents. Including multiple textures is a must for it to be successful; adding texture ensures that the room doesn't fall flat and instead looks beautiful and elegant.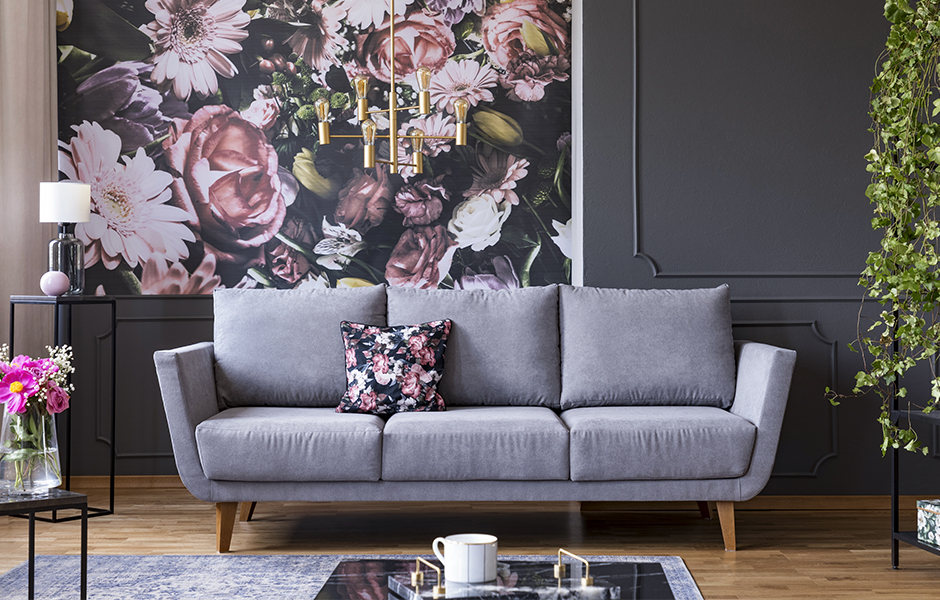 Large Scale Wallpaper
Wallpaper isn't a new interior design trend, but we're loving large scale wallpaper this winter. Whether you want a bold look with botanical prints or a more subtle solid color, freshen up your home with this winter interior design trend. If the thought of committing to wallpaper is a bit scary, there are plenty of peel-and-stick options out there for you to try. Take a look at Etsy's selection and you'll find beautiful pieces that make each room in your home unique.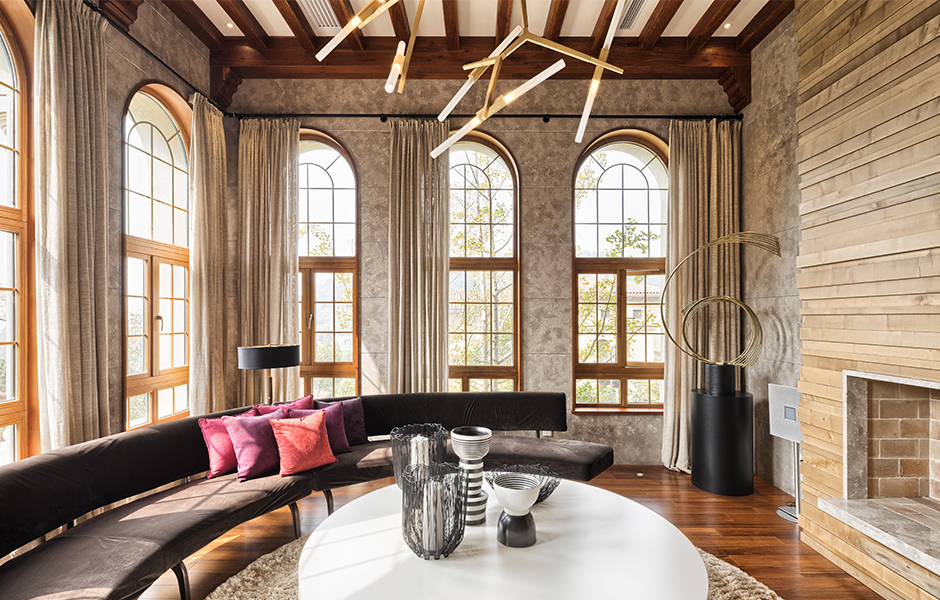 Round Furniture
The last of our favorite winter interior design trends is round furniture. This is one trend that you must look into trying; it's an easy change that can apply to a variety of decor pieces. For someone looking to start slow, consider adding a round table to your dining room or maybe a set of round armchairs to your living room. The shape makes the room feel more relaxed and comfortable, compared to the harsh lines of square and rectangular furniture. A quick online search will show the endless possibilities of round furniture that would be the perfect addition for your home this season.
If you're looking for more insight into your interior design style and what overall look is best for you, take our interior design quiz to find out! You'll be decorating your home like a professional in no time.
Have you ever walked into someone's home or looked through pictures in a magazine and thought "wow, all those colors look great together." Sure, you might know some of your favorite colors or what matches, but developing a color palette is key to cohesive design.
Luckily, developing a living room color palette isn't as hard as it sounds. By understanding some of the basics about color psychology, color theory, and knowing how to look at a color wheel, you can develop a color palette that's perfect for your home.
Let's look at what you need to know when designing the perfect color palette and how to do it.

Basic Color Psychology
Before you get started designing your living room color palette, you should understand the basics of color psychology, or how different colors make you feel. Here are some common feelings associated with certain colors:
– Red – Red is exciting, energizing, aggressive, and passionate
– Orange – Orange is fun, happy, energetic, warm, and enthusiastic
– Yellow – Yellow is cheery, optimistic, fun, and happy
– Green – Green is refreshing, healing, and evokes feelings of generosity, hope, and success
– Blue – Blue is healing, tranquil, peaceful, and calming
– Purple – Purple is mysterious, enlightening, and luxurious
You can use these color emotions to decide how to decorate each room. For example, if you want your living room color palette to be calming and inviting, choose blue hues. If you want it to feel bright and cheery, oranges and yellows will do the trick.
Understanding Color Theory
Color theory is at the core of all interior design trends and you don't need to be a professional to understand the basics. Let's break it down:
– The color wheel consists of primary colors, secondary colors, and tertiary colors.
– The primary colors are red, yellow, and blue.
– The secondary colors are colors created when primary colors are mixed, including green (yellow and blue), orange (red and yellow), and purple (blue and red).
– The tertiary colors are colors made from primary and secondary colors, such as red-violet or blue-green. There are six on the color wheel.
– The color wheel is divided into warm colors (reds, oranges, and yellows) and cool colors (blues, greens, and purples)
Using the colors on the color wheel, you can make different hues, shades, tints, and tones.
– Hues are pure colors
– Shades are colors plus black
– Tints are colors plus white
– Tones are colors plus grey
Choosing a Color Scheme for Your Living Room Color Palette
Once you understand the color wheel and how it's organized, you can start to understand the different color schemes available. Some of the most common color schemes are:
– Monochromatic – Variations in lightness and saturation of a single color
– Analogous – Using colors that are next to each other on the color wheel. One color will dominate, one color will support, and one color will accent
– Complementary – Using colors that are opposite of each other on the color wheel
– Triadic – Using three colors that are evenly spaced around the color wheel so that if you were to draw a line between the colors, it would make a triangle
– Square – Using four colors that are evenly spaced on the color wheel so that if you were to draw a line between the colors, it would make a square
Once you know which colors you want to use, complete your living room color palette with neutrals (black, white, grey, brown, tan, off-white, etc) to finish the look. Browns, tans, and off-whites make a color scheme warmer and blacks, whites, and grays can either be warm or cool, depending on the colors they're paired with.
How to Create a Living Room Color Palette
So what does all this talk about color wheels have to do with your home? Once you understand the basics of color theory, you can make your own living room color palette to create a cohesive, beautiful style.
Here are the steps to get you started:
Choose a base color, such as blue

.

Combine shades, tones, and tints to create either a monochromatic, analogous, complementary, triadic, or square color theme.

For example, if you like the look of analogous color schemes, you'll combine colors next to blue on the color wheel, such as greens or purples.

Choose a complementary hue as an accent color.

For example, if your base color is blue, the complementary color is orange.

Add neutrals to either warm up or cool down your living room color palette.

If your color scheme is analogous blues, brown, tan, or off-white will make it more warm and white, black, and grey will make it cooler.
Once you have your living room color palette, you can shop for interior design styles that match. You could choose a neutral tan or brown sofa, add some framed artwork that has your favorite shades and tints of blue, and experiment with subtle pops of orange to tie everything together.
Tools to Help You Create a Living Room Color Palette
Understanding the color wheel and color theory takes time and practice and these are just a few tips to get you started. If you'd like to learn more about color palettes and create your own living room color palette, check out these sites:
– Paletton
– Coolors
If you're looking for more interior design inspo, check out these bloggers, too! With a little bit of guidance, practice, and basic color theory understanding, you can make your living room look like something straight out of a magazine.
Finding the perfect gift for everyone on your list is a lot of work. From hitting all of the holiday sales to crossing gifts off your list, Christmas shopping can get tiring. But, sometimes the best gift isn't one that you'd find at the mall. Making your own gift is creative, caring, and can save you some money.
Here is a list of our favorite Christmas craft ideas for gifts!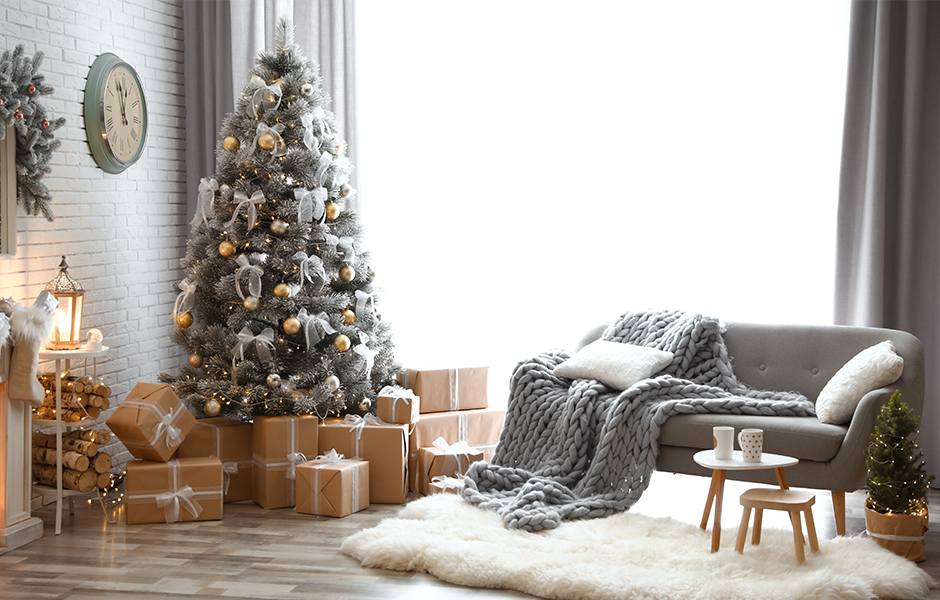 Christmas Craft Ideas for the Home
Everyone loves receiving things for their homes and Christmas is the perfect time to make something special for your loved ones. Here are some fun and easy Christmas craft ideas for gifts for your friends and family members that love making their house a home: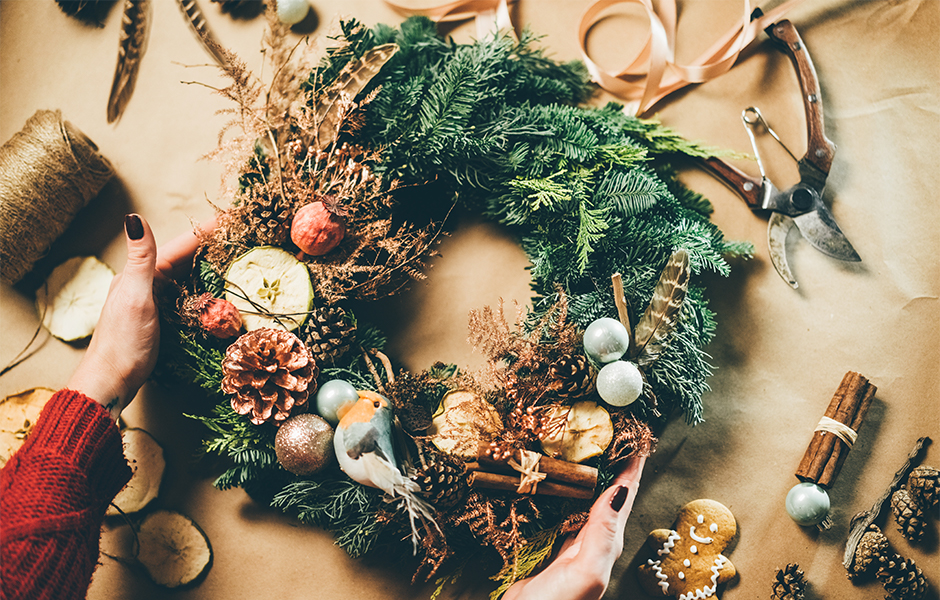 Wreaths
You can't have a holiday craft list without wreaths! Wreaths come in all shapes and sizes and make the perfect gift. For this wreath, all you need is a Weeping Willow wreath form made out of branches, some ornaments, some special accents, a hot glue gun, and a ribbon to hang your creation. Or, go all out with a wreath made out of real boughs and greenery. Here's a list of 80 options!
Embroidery Hoop Ornaments
Some of the best Christmas craft ideas are decorations for the tree! And you don't even have to be a crafting expert to create some super cute embroidery hoop ornaments. Instead of using traditional embroidery techniques, these ornaments are made by choosing a holiday-themed fabric, such as red plaid, and ironing on a festive vinyl sticker. You can get these stickers for as little as 99 cents, making this an affordable holiday decorating idea.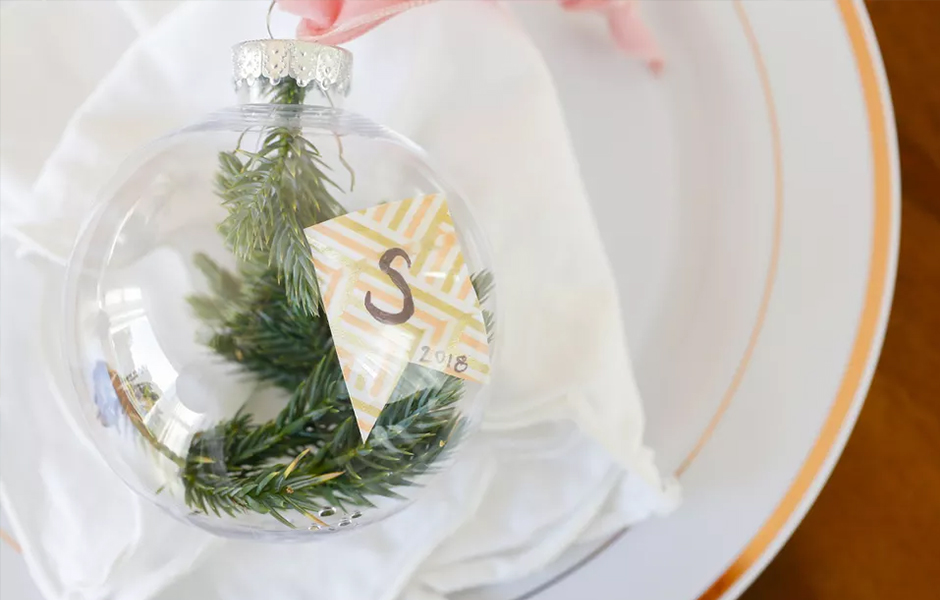 Filled Glass Ornaments
Glass ornaments are beautiful on their own, but they're even prettier when they're turned into a Christmas craft idea for a gift. You can fill these clear ornaments with anything from plants and paint, to mini jingle bells, ribbon, and spa products. Here's a fun list of things to fill a clear glass ornament with. You can even base them off of your friend or family member's interior design style! Make multiple and combine them in a gift set for the perfect crafty Christmas.
Napkin Bells
This craft is so simple but will elevate your loved ones' Christmas table settings. Simply choose a set of beautiful linen napkins and sew miniature jingle bells on the corners. Or, you can make a festive jingle bell napkin ring using mini jingle bells and wire.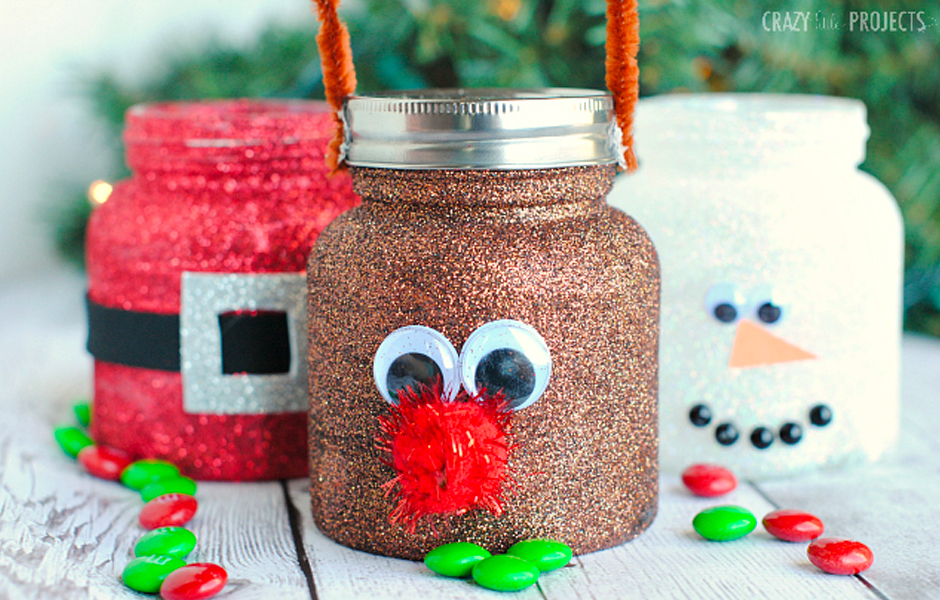 Other Christmas Craft Ideas for Gifts
In addition to making thoughtful and unique Christmas crafts for the home, you can also make gifts for everyone on your list. Here are few Christmas craft ideas for gifts that everyone will love:
Decorated Treat Jars
You can't celebrate the holidays without plenty of treats and these cute decorated Mason Jars make the perfect little gift. Using some glitter paint, googly eyes, a hot glue gun and some creative accessories, you can easily make a reindeer, Santa, and snowman Mason Jar. Fill the jar with candy or other treats and give them to friends, coworkers, or anyone who deserves a little holiday cheer.
Holiday Character Candy Pots
Another great Christmas craft idea to do with kids is making these adorable holiday character candy pots. You'll need some mini flower pots, acrylic paint, and fun accessories like googly eyes, pipe cleaner, felt, ribbon, and other embellishments. The link shared shows you how to make reindeer, snowmen, elves, and Santa but really, the sky's the limit! These Christmas crafts make the perfect gifts for teachers, nannies, or family and friends. Everyone loves candy and bonus points that they're so darn cute!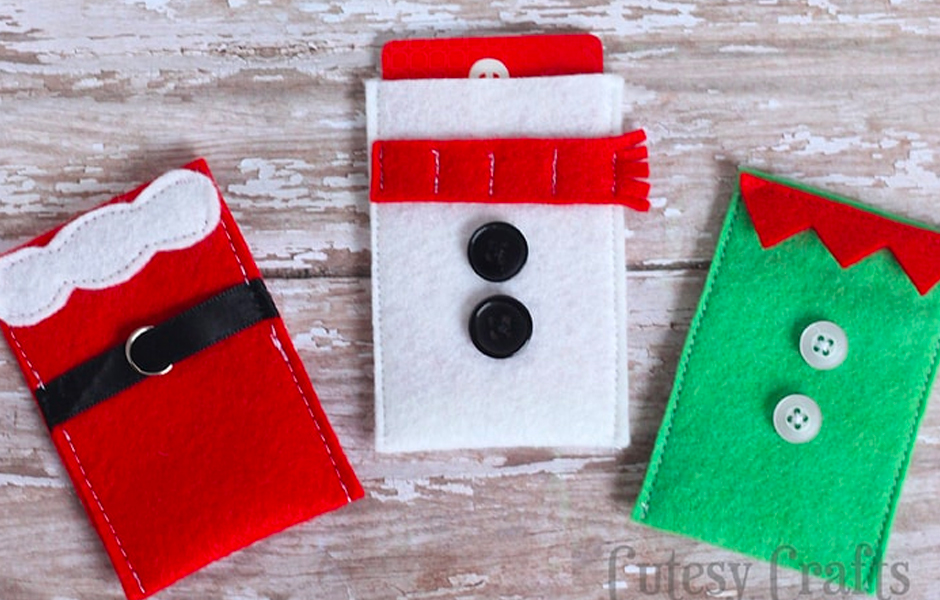 Creative Gift Card Holders
Sometimes, even after searching high and low for the perfect gift, you turn to the old classic – a gift card or cash. While you surely can't go wrong with such a versatile choice, it's fun to personalize it a bit more and make it feel more unique. There are countless gift card holder crafts out there, including this one made out of recycled toilet paper rolls (cute and environmentally-friendly!) and these ones made out of felt. If you don't want to bust out your sewing machine, just grab the hot glue gun and adapt the instructions throughout.
Chalkboard Ornaments
These chalkboard ornaments are super easy, super cute, and serve as a meaningful memento throughout the years. All you need to do is buy some wood slices, black chalkboard paint, and chalkboard markers. If your wood slices don't come with twine, tie a piece of twine on them to hang them from the tree. Paint each wood slice with chalkboard paint and give the kids a chalkboard marker to draw their masterpiece. Have them sign and date the back and you have yourself a simple Christmas craft idea for gifts for the whole family.
You don't have to buy the latest gadget or a fancy gift to enjoy the Christmas season. Instead, try a new craft idea for the loved ones on your list. These meaningful gifts show that you care and will remind everyone of the wonderful season you spent together.
Decorating your home with new furniture is exciting and fun, but it can get expensive! With the holidays right around the corner, most of us are looking to score some great deals on gifts for friends and family. You can also score some great sales on furniture, as well, as long as you know where to look.
Here, we'll share our favorite ways to find furniture on sale, including where to spot this year's Black Friday sales, how to find cute pieces for less, and how to invest in pieces you love without breaking the bank.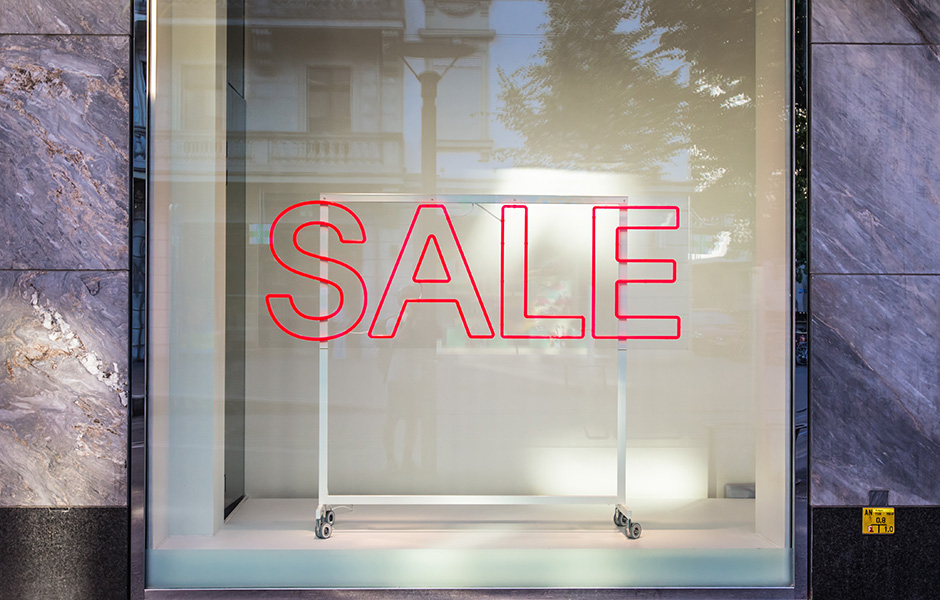 Where to Find Furniture on Sale
There are lots of places that you can score great deals on furniture. Here are some places to look:
Estate Sales
Estate sales are a great place to find some hidden gems, as long as you have the time to look. Sites like EstateSales.net and Garage Sale Finder make it easy to find sales near you. If you don't see any good sales in your area, don't be afraid to branch out into the surrounding neighborhoods. Some neighborhoods, such as those with older families looking to downsize, might be more likely to get rid of big-ticket items like furniture.
Second-Hand Websites
Sites like Craigslist and Offer Up have a little bit of everything, but with some patience (and luck) you may find just what you're looking for at a steep discount. One tip is to search for listings in high-end areas where you'll be more likely to find some great pieces. Looking for more second-hand websites? Check out this list!
Inventory/Clearance Sales
Sometimes, you can find a furniture store that's going out of business or needs to clear their inventory so they're offering major discounts. If you can, wait until the final weeks of a sale to try to get the best deal. They might not have as much of a selection, but if you're flexible about what you're looking for, you may be able to find some huge discounts.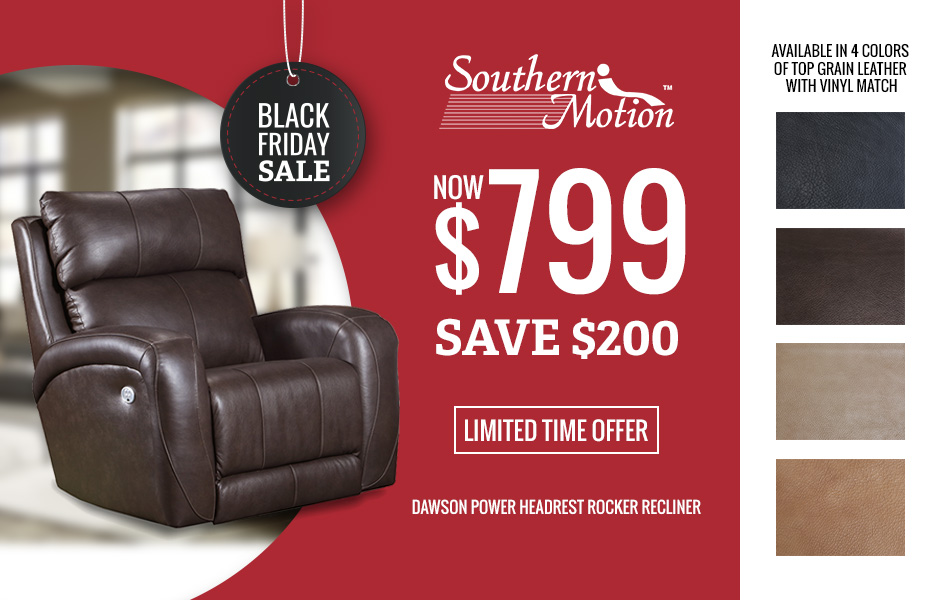 Black Friday Furniture Sales
Another way to save money on furniture is to keep your eyes peeled for seasonal promotions. Holidays like Memorial Day and Labor Day mark the change of seasons, which means that furniture stores are likely trying to move inventory to make room for new styles. Plus, there are always big holiday sales like Black Friday.
Furniture stores usually offer some sort of Black Friday sale. This year at participating retailers, we're offering one of our bestsellers, the Dawson Power Headrest Rocker Recliner, for $200 off regular price. It's available in four beautiful colors of top grain leather.
You can also take advantage of big-box retailers' Black Friday sales. Target and Walmart are famous for their doorbuster deals, some of which include furniture. But if you want to avoid the masses, shopping at a local furniture store might be your best (and safest) bet.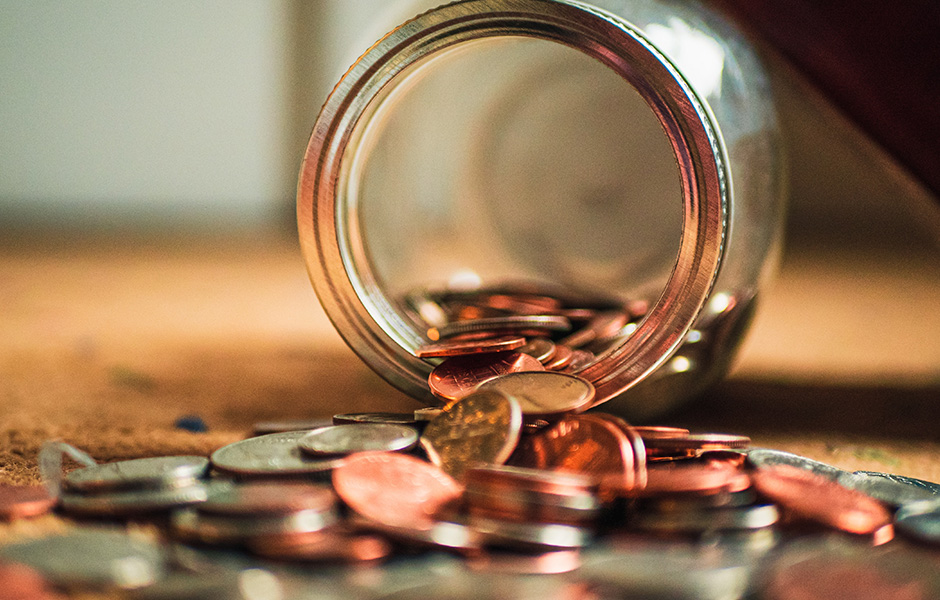 How to Save Money on Furniture
In addition to keeping your eye out for Black Friday furniture sales, local deals, or seasonal offers, there are many other ways to save money on furniture. Whether you're decorating your first home, trying a new interior design style, or just want a fresh look, these tips will help you save money and give new life to some of the stuff you might already have:
– Splurge on a few key pieces and shop around for the best deal on small details like decorations or seasonal accents
– Compare prices online and in-store and ask if the retailer price matches
– Repurpose or refinish things you already have
– See if your furniture store as a "scratch and dent" sale where pieces have minor cosmetic mistakes
– Look for local auctions
– Set up a furniture trade with friends and family
– Have patience and wait for the perfect time to buy your next piece
– Buy the floor sample
– Buy one piece at a time. You don't need to replace all your furniture at once

Buying furniture is a fun adventure that doesn't have to cost a lot of money. If you keep your eyes peeled, look for local deals, and keep up with your favorite furniture store's updates, you can likely score the deal you've been looking for.
Buying your first home is an important milestone. You now have a place to call your own and build memories for years to come. Whether you moved your old furniture into the new home or are starting from scratch, now is the perfect time to decorate your space.
These first-time home buyer tips will help you decorate your new home without breaking the bank and make your new space feel like home.
First-Time Home Buyer Tips for Decorating
One of the hardest things about decorating your first home is that you likely saved up for the down payment and now have a mortgage payment to consider. But, that doesn't mean that you can't spruce up your new space. These tips will help you stay organized, efficient, and cost-conscious.
Start With Your Needs, Not Your Wants
It may be tempting to start decorating your first home with all kinds of art and decor but focus on the necessities before you start tackling the little details. This might include investing in a new recliner for the living room, a new mattress and bed frame for the master, or some high-quality kitchen accessories. Once you have the necessities settled (and have saved up a little more cash after the big purchases), you can move on to the small things like wall art, creative storage solutions, and other accents to show off your personal interior design style.
Focus on High-Traffic Areas
When you're deciding what to prioritize after moving in, focus your effort on the areas in the house that get the most use. If you love having dinner parties with friends, make sure to put a nice dining table and beautiful seating options on your list. If you love cuddling up in bed and bingeing the new Netflix series, a comfy mattress is a must. By prioritizing the rooms you know you'll get the most use out of, you can spread out your furniture shopping, save some money, and take your time.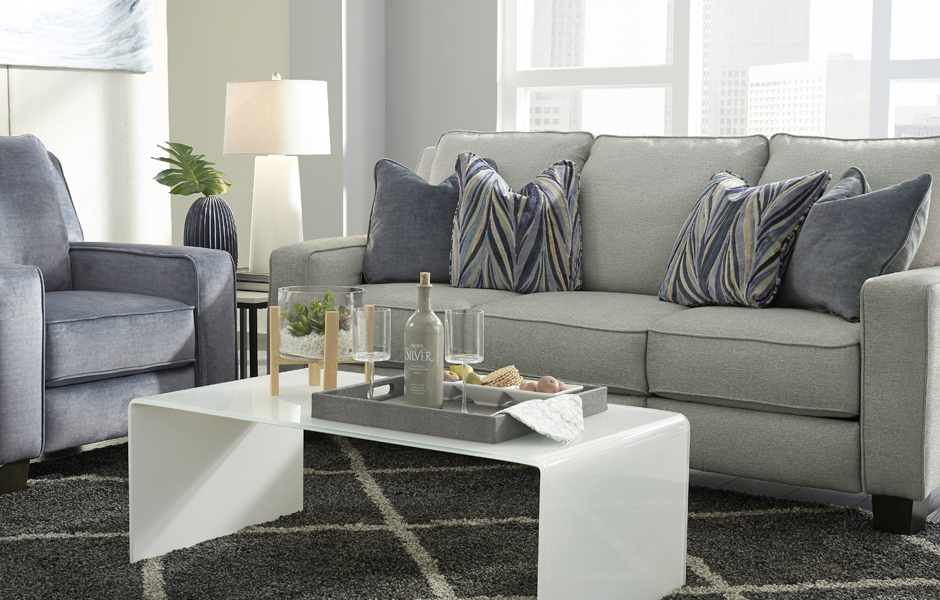 Decorate One Room at a Time
Another decorating tip for first-time homebuyers is to focus on one room at a time. You don't have to rush to get everything perfect in your new home right after you move in. Take your time, find pieces that you love, and move strategically from room to room. Make a checklist of what you need for each room to feel complete (for now).
Refurbish, Repurpose, and Recycle
Buying new furniture for your new space is exciting, but there are lots of other ways to spruce up your new home on a budget. Refurbishing old pieces makes them look brand new and recycling things from family and friends is a great way to give a loved piece new life. This video shares some fun ways to upcycle old furniture and give a space new life.
Invest in a Few High-Quality Pieces
After making one of the most expensive purchases of your life, it can be hard to decide when to save and when to splurge on home decor. There are countless places where you can find affordable home decor, but sometimes it's worth it to spend a little more and know that what you're buying will last. When decorating your first home, less is more so focus on investing in pieces you love, rather than just trying to fill the house. This could include a beautiful new sofa, a piece of artwork from your favorite artist, a unique lighting fixture, a high-quality rug, or anything that means a lot to you. You can then save for things like trendy art prints, cool mirrors, curtains, and other finishings.
Buying your first home is exciting but decorating it can feel overwhelming, especially since you just made such a major purchase. But by focusing on the areas in your home where you spend the most time, upcycling some of your existing pieces with easy DIY decor projects, and investing in a few key items, you can make your new house feel like home in no time.
You spend 40 hours a week (or more) at work, so it's important to make your workspace and environment your sanctuary. From decorating your desk to finding ways to be more active throughout the day, let's share some of our favorite workplace wellness ideas!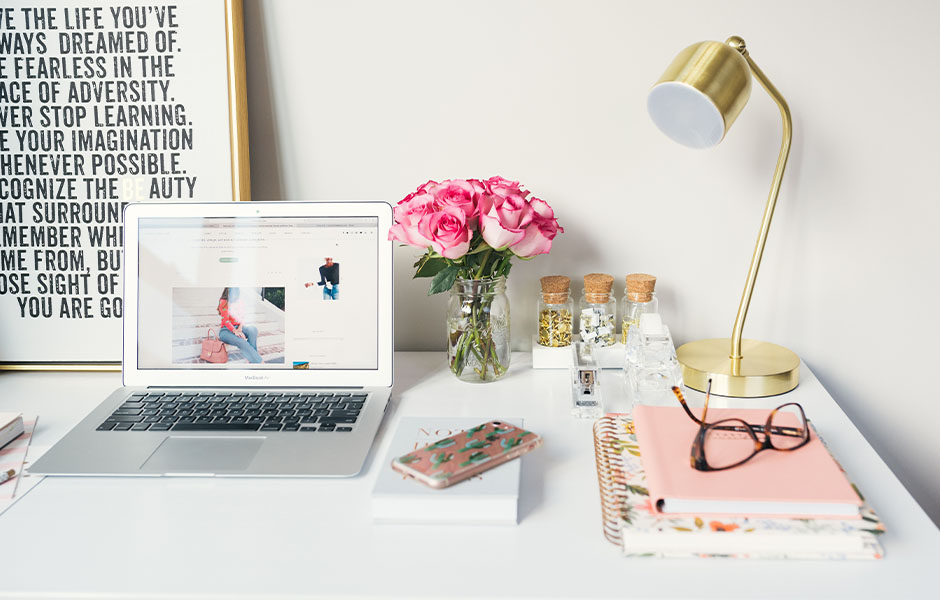 Make Your Desk Feel Like Home
The first, and most impactful, workplace wellness idea is decorating your desk. Studies show that employees with plants at their desk are 15% more productive, different colors can enhance your mood (blue and red have been shown to improve brain performance), and surrounding yourself with inspiring items can help motivate you throughout the day. There are many ways to decorate your desk and it will depend on your personal preferences, but here are some tips:
– Eliminate clutter on your desk. If you don't use it every day, put it away
– Include personal items, like pictures of loved ones
– Include work-related decorations, like motivational quotes or a fun calendar
– Try to get rid of any long cords you have under your desk. If you can't get rid of them, use a solution to tuck them out of your way.
– Listen to white noise to increase productivity
– Make sure you have something to keep you warm if your office is chilly, such as a cozy blanket, a space heater, or fingerless gloves
– Invest in alternative seating options, such as a yoga ball, to help improve your posture. According to the Mayo Clinic, poor posture can cause headaches, back and neck pain, breathing problems, pinched shoulders, and jaw pain.
– Don't be afraid to leave your desk and work in other areas of the office, such as a lounge or even the break room (if you don't need to be deeply focused)
– Make sure to have a reusable water bottle handy to stay hydrated. Dehydration can make you feel lethargic throughout the day.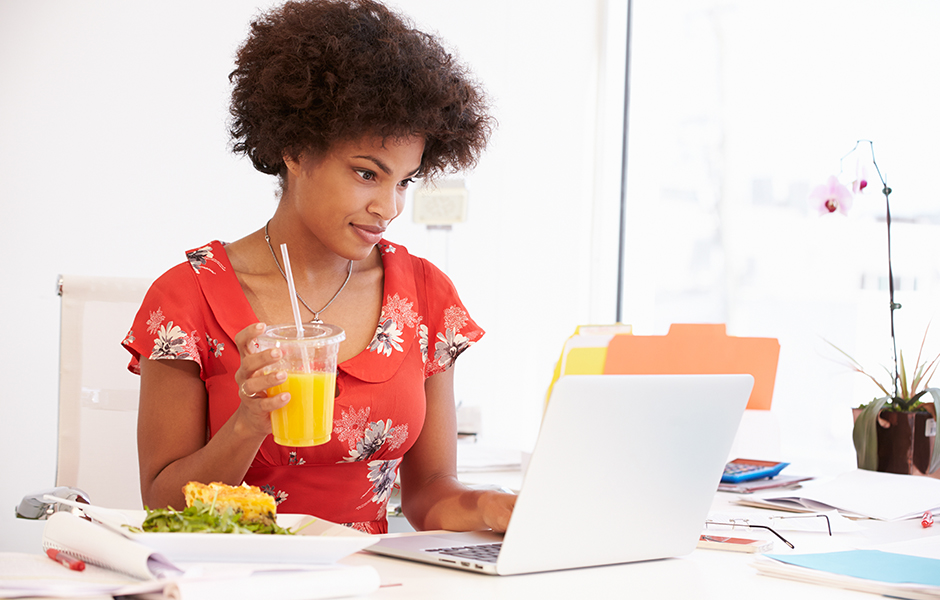 Prioritize Workplace Wellness
Being at work doesn't mean you can't prioritize your wellness. From being more active throughout the day to taking care of your mental health, these tips will help you feel better and, hence, work better:
– Incorporate natural elements, like plants or sunlight if possible. If you don't work by a window, take short walks outside to get some good old Vitamin D. Workers in windowless environments reported significantly lower well-being compared to those in a sunny office, according to a 2014 study from Northwestern University and the University of Illinois at Urbana-Champaign.
– Keep healthy snacks at your desk (that way, you're not tempted by the vending machine!)
– Invest in a standing desk or take a short walk around the office every hour or so. Research shows that walking around for five minutes every hour boosts mood while reducing fatigue and food cravings.
– If you're stressed, try to incorporate short meditation or mindfulness practices into your day. Smartphone apps like Calm and Headspace make it easy. Even five minutes to yourself can change your day and increase your productivity.
– Take breaks to stretch or give yourself a quick head and neck massage.
– It may seem counterintuitive, but multitasking actually means you get less done. Try to focus on a few priority projects rather than a million little things throughout the day.
– Turn off distractions, including email. The most productive entrepreneurs (including Tim Ferriss in his book The 4-Hour Workweek) suggest checking email at certain times of the day, rather than having notifications always on. That way, you can address everything in bulk and focus on your priority projects (refer to the above tip).
– Have a screen-free lunch break
The happiest and most productive employees prioritize their work, but they also prioritize their physical and mental wellness.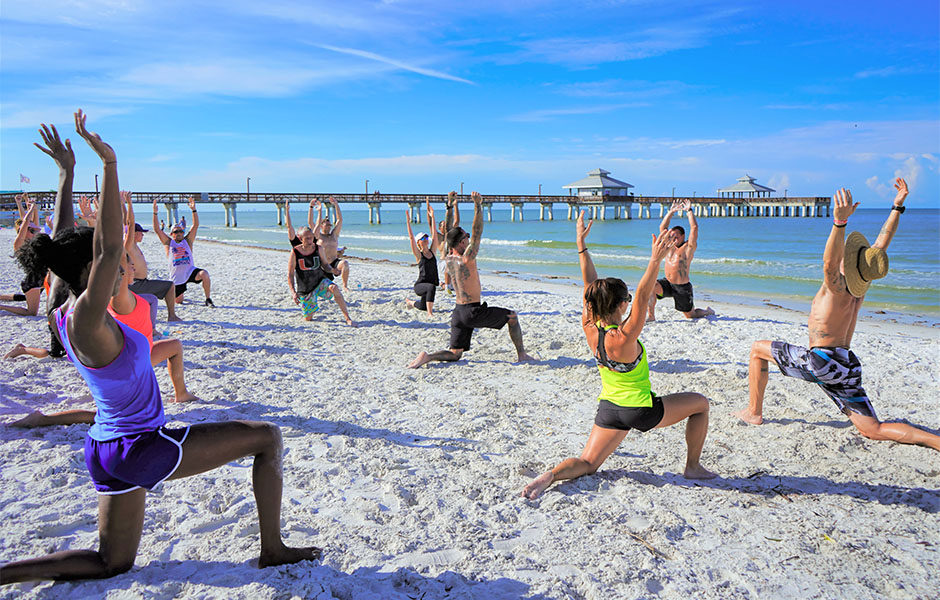 Workplace Wellness Ideas for Employers
The above ideas are great for employees to prioritize their workplace wellness, but creating a happy, healthy workplace depends on the employer, too. Improving your workplace wellness doesn't have to cost a lot and will result in more productive employees that actually enjoy coming to work. Here are some ideas:
– Create alternative workspaces with comfortable seating, healthy snacks, and a view outside. You could even add a massage chair to really help your employees relax. There are countless physical and therapeutic benefits of massage therapy and taking a quick rest can help rejuvenate your employees throughout the day.
– Set up standing desks. If you don't have the budget to provide every employee with a standing desk, create standing work stations that they can work at. As mentioned above, standing and moving more throughout the day is one way to stay healthy in the workplace.
– Plan team outings to help your employees get to know each other outside of the office. Things like team BBQs, scavenger hunts, or field days are a great way to get people outside and moving and will help your employees bond.
– Create fitness, yoga, or meditation sessions with the team
– If possible, offer flexible work hours. Some employees might be more productive at home or might benefit from a flex schedule.
– Think of various dietary restrictions/preferences when shopping for workplace meals and snacks and include healthy options.
Things like standing desks, team events, or desk decorations might seem insignificant in the grand scheme of a business, but these little workplace wellness ideas can help you feel more motivated, productive, and happier to come to work. Whether you're an employee or an employer, investing in the space where you spend the majority of the week just makes sense. As you invest in making your workspace comfortable for you and your employees, learn more about the importance of lumbar support and why you need it during stationary activity.
Our new Zero Gravity line of recliners are more than just well-styled pieces to add to your home. They feature some of today's leading furniture technology to bring you the many benefits of zero-gravity relaxation. Let's learn more about what zero gravity recliners are, the science behind them, and their many benefits.
What are Zero Gravity Recliners?
Despite the name, zero gravity recliners aren't going to float off into space (even though zero gravity technology was designed by NASA scientists and mimics the posture of astronauts during space missions!). Zero gravity refers to the recliner's ability to obtain the ideal weight distribution to optimize blood circulation, reduce pressure on your neck, back, and legs, and give you the perfect angle of full relaxation.
This reclined position is different than in a traditional recliner because it evenly distributes your bodyweight throughout the chair, which reduces the stress on different areas of your body.
Learn more about zero gravity recliners in the infographic below:

The Science Behind Zero Gravity Recliners
As mentioned above, zero gravity recliners were inspired by the position astronauts had to take during liftoff on space missions. During this intense and sudden increase in gravity, the astronauts needed to be in a safe position so escaping the Earth's gravitational pull didn't put too much stress on their bodies. The reclined "zero gravity" position allowed them to distribute the stresses of takeoff safely.
While this zero gravity position can be beneficial on its own, we have also combined our leading massage technology to further enhance this therapeutic experience. We married our Zero Gravity recliners with our leading SoCozi technology, which is a consumer favorite because of its revolutionary comfort and benefits. Our exclusive EXP™ technology was developed through a partnership with Cozzia, a leader in massage technology. This advanced system utilizes the latest in air cell design, heat therapy and lumbar support to relax the body and mind, improve health and renew energy — creating a massage experience like no other.
The Benefits of Zero Gravity Recliners
Zero gravity recliners are relaxing, but they also tote many other important health benefits. These include:
1. Improved Blood Circulation
One of the most obvious benefits of zero gravity recliners is that they can help improve your blood circulation. This is because when you're elevated in the zero gravity position, your heart can easily pump blood throughout the body. When your heart doesn't have to pump as hard, your whole body functions better.
2. Improved Lung Capacity and Function
Speaking of helping your whole body function better, another benefit of zero gravity recliners is that they can improve lung capacity and function. Not only will your lungs receive the blood that they need because of your improved blood circulation, but they will also function better because of the position itself. Your diaphragm helps your chest expand, which lets your lungs fill up with air. When you're in a zero gravity position, your diaphragm can expand even more, meaning that your lungs can bring in more oxygen. These deep breaths are perfect for relaxation and bring more oxygen throughout the body. Deep breathing and relaxing in your zero gravity recliner can make you feel like a whole new person.
3. Reduced Joint Swelling
Improved blood circulation can also help reduce joint swelling and pain from conditions such as arthritis. According to the Northwest Float Center, which is a spa where people can float weightlessly in water, "patients in floatation chambers report significant improvement in muscle and joint pain, whether the pain is the result of injury, genetic predisposition, or is caused by stress." A similar effect has been noted from zero gravity recliners.
4. Reduced Back Pain
If you suffer from back pain, a zero gravity recliner might do you some good. Because your weight is evenly distributed, you aren't putting as much stress on your lower back as you do when you sit in a normal chair, stand, or go about your everyday life.
5. Reduced Spinal Cord Compression
Throughout the day, we put a lot of pressure on our backs and spinal cords. Whether you're sitting for 8 hours a day at work, slouching in your car during your daily commute, are running errands, or standing on your feet all day, our backs go through a lot. All of this can lead to spinal cord compression, which can cause pain or stiffness in the neck, numbness in the legs, hands, and arms, and other symptoms. Zero gravity recliners help relieve this compression by taking the weight off of your spine.
Some Amazing Zero Gravity Recliner Results
All of these benefits are amazing and have the potential to change lives and our Zero Gravity line already has. One of our loyal customers, Mimi, was diagnosed with stage 4 colon cancer in 2003. She underwent chemotherapy, which was extremely hard on her body and caused her to have peripheral neuropathy. Peripheral neuropathy is a result of damage to the nerves outside of the brain and spinal cord and can cause weakness, numbness, and pain, usually in your hands and feet. After trying her Zero Gravity recliner, this is what Mimi had to say:
"I just want to tell you how much this recliner has helped me. I have only had it for two days and my ankles are not swollen and my neuropathy is so much better. The needle-like pain and tingling in my feet and the pain I was having at night with my feet has decreased and I'm sleeping so much better. The last two nights I have been able to sleep almost pain-free from both the neuropathy and edema (the abnormal accumulation of fluid in certain tissues within the body)."
This is an amazing story and things continued to get better for Mimi. She continued to email us and three weeks later, she hadn't taken her regular pills to treat her condition. Her recliner became her "new place to sit all the time because it's so comfortable and helpful for [her] feet."
We are passionate about creating motion furniture that's not only comfortable and stylish, but that makes a difference in the lives of our customers and their families. We're excited about the future of zero gravity and can't wait to see it help more people. Choose the best recliner for your needs by browsing through our Zero Gravity collection.