Whether you're decorating an apartment or furnishing your first home, it's an exciting time to see how you can turn a blank canvas into your very own personalized space. While there are no hard and fast rules when it comes to interior design, there are basic principles that can help guide you in the right direction. Read on to learn more about interior design basics like how to choose the perfect color palette, faux pas to avoid, and more!
Contents
What Is Interior Design?
Interior design is defined as "the art and science of enhancing the interior of a building to achieve a healthier and more aesthetically pleasing environment for the people using the space." In other words, interior design defines how a space will look, function, and appeal to your senses.
There are seven basic elements that drive the process of interior design: space, color, pattern, texture, light, lines, and form. A balance of these elements is crucial if you want to create a cohesive, functional space.
Guide to Interior Design for Beginners
If you're new to decorating and furnishing, it's a good idea to break down interior design basics into two steps to make it easier and more digestible.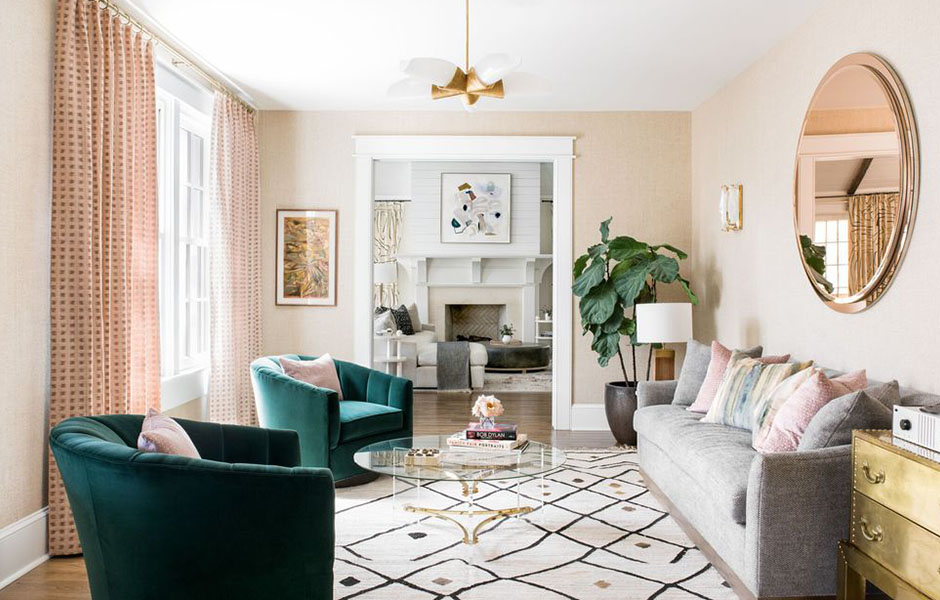 Step 1: Choose Your Interior Design Style
The first important decision you should make is selecting a style for your home interior. By choosing an interior design style to flow throughout your home, you can tie all elements of your space together into a unifying experience.
Modern, traditional, contemporary, and industrial are four of the most common interior design styles used across the world today. 
Step 2: Follow the Principles of Interior Design 
Once you've settled on your favorite type of interior design style, you can begin planning the changes you'll make to your home. There are hundreds of do's and don'ts surrounding interior design, but there's no need to let that hold you back.
Use principles of interior design as a roadmap, rather than rules to follow. Remember, you want your home to look great, but you also want it to reflect your unique personality and suit your day-to-day needs. Here are a few key principles to keep in mind:
Wall Hangings: Place your wall hangings at eye-level to capture attention and bring your room together.
Furniture and Large Items: Place your furniture at least a few inches from the wall to prevent your room from feeling cramped. The size of your pieces should also be consistent with the ratio of your room.
Pattern and Rhythm: Choose a main pattern to anchor your space. This can be in the form of an accent wallpaper, a patterned furniture group, or window treatments. Any additional patterns should complement this first pattern. You can do this by using the same types of patterns but in different sizes. 
Read more about the different types of interior design style and interior design tips for beginners in this blog post.
How to Design the Perfect Living Room Color Palette
Developing a color palette is key to creating a cohesive interior design. Follow these basic steps to create a color scheme that not only fits your personality, but looks amazing as well!

There's lots more to explore when it comes to creating a color palette! From color psychology to the wide array of color schemes, this blog post explains it all.
The Ideal Interior Design for Your Personality Type
What better way to embrace who you are than to reflect your personality in your home design style? Whether you're updating or redecorating your home, you can include decor items and furniture pieces to support your personality and interior design preferences.
To determine the interior design that best aligns with your personality, find out which of the 16 Myers Briggs Personality Types you are if you don't already know. 
Architect personality types are imaginative and strategic thinkers with a plan for everything. They are rational and quick-witted, but also partake in nonstop analysis of everything around them. These personalities are best with a home design that allows room for play. A mix of old and new styles, different textiles, vibrant patterns, and a twist of the unconventional is perfectly suited to this personality type. Southern Motion's Diva Chair makes a great starting point.
A Commander is someone who thrives off accomplishment and momentum. They are natural-born leaders and embody charisma, confidence, and authority. Ruthlessly rational, Commanders stop at nothing to achieve their goals. An industrial aesthetic lends itself well to the no-nonsense personality of Commanders. The unfinished look may seem uncomfortable at first, but furnishings like Southern Motion's Colton Sofa can make the space feel sleek. 
A Mediator is typically quiet and shy, but they often have vibrant and passionate inner lives. They make up a small portion of the population, but their caring nature and deep empathy makes for strong connections with their loved ones. To feed their gentle, caring soul, a shabby chic interior design and open floor plan will be the ideal personal home style. A neutral-toned piece like Southern Motion's Dynasty Sofa can be the perfect centerpiece.
The Campaigner is a free spirit. They are the life of the party because of the deep connections and strong bonds they have with those around them. Campaigners tend to live carefree and enthusiastic lives and a Bohemian style will play to this inner boldness. Embracing rich colors can cultivate this personal home style. An accent piece like Southern Motion's Daisy Chair can help showcase a free spirit and fun outlook on life! 
Didn't see your personality type listed above? Look through our complete list in this blog post.
Find Your Interior Design Style
Now that you know your interior design style, browse through our various collections of sofas, sectionals, and recliners to see which products match your taste!
Decorating Faux Pas to Avoid
There are lots of things you're probably doing right with your home decor, but there are also some common home interior design mistakes that even the most experienced homeowners make. Here are some of the biggest decorating faux pas to keep in mind as you develop your home interior design.
Decorating Faux Pas 1: Having Too Many Colors and Prints
Even if your home interior design leans more toward the eclectic side, you still need to have some cohesion with your overall decorating scheme. Too much variety in color, pattern, and print can leave rooms feeling busy and cluttered rather than clever and imaginative. 
Strive for a color palette of no more than three to four colors per room, using one or two main shades and the others as accents. Also, limit the number of prints or patterns in your home interior design. You can opt for more than one, but look for ways to make the elements flow together.
Decorating Faux Pas 2: Overdoing the Accents
You can't have too much of a good thing—or can you? Even if all your decorative accents are incredibly appealing, it can be a decorating faux pas to cram too many of them together in the same room. 
Choose a few main pieces to highlight and accent so they'll really shine. If you're not in love with the remaining decorations, give them away. If you can't bear to part with them, create an organized storage space for them and rotate  pieces periodically to give rooms a fresh new feel every few months.
Decorating Faux Pas 3: Keeping Outdated Interior Design Details
Whether your home interior design is classic or contemporary, you probably have some outdated pieces or details in your design and decor. Maybe it's a certain rug pattern that was more of a fad or a tired set of upholstered chairs that could use an update. 
Look over your existing decor and overall design with an eye toward what has a timeless feel versus what has come and gone. Sometimes a slight update to existing pieces can do the trick. In other cases, you may want to replace the decor altogether.
Believe it or not, the list goes on! Check out this blog post to read more about common design faux pas that are best left out of your home.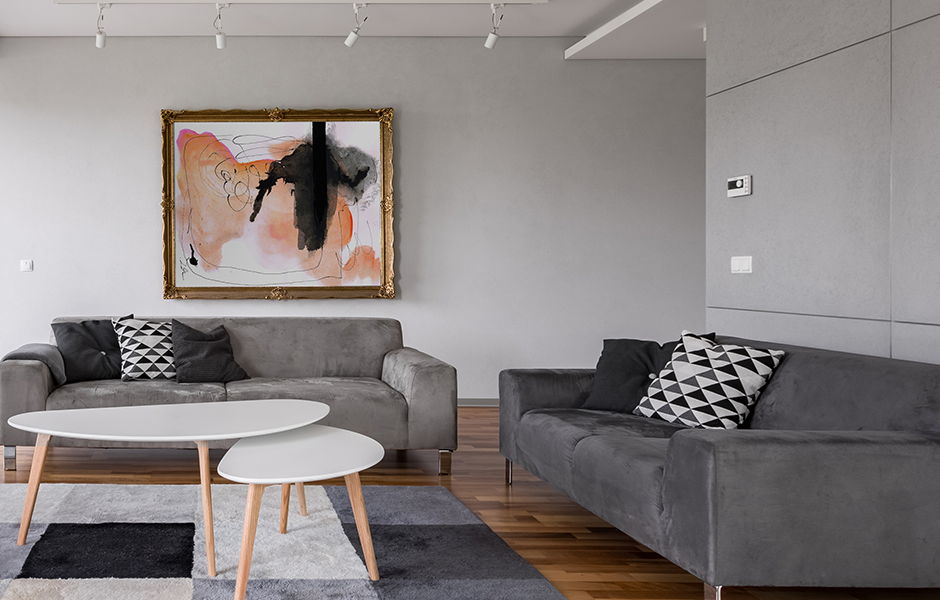 Your Guide to Arranging Two Sofas in Your Living Room
Furniture arrangement plays a key role in interior design basics because it's the foundation for creating a comfortable and functional living space. While there are many ways to furnish your living room, incorporating two sofas is a good option to start with. Follow these tips on how to arrange two sofas in your living room to ensure that the layout is perfect for you and your needs.
Two Sofas Facing Each Other
Best for entertaining and formal conversation

Works well in large open floor plans, narrow rooms, and square or rectangular spaces

Creates a symmetrical design
Two Sofas at a Wide Angle
Best for casual lounging and entertaining large parties

Works well in large, open-concept living rooms, especially those with an irregular shape

Creates a comfortable, wide open space
Two Sofas at a Right Angle
Best for casual lounging and media rooms

Works well in larger living rooms with plenty of space

Creates a cozy and inviting atmosphere  
From complementary fabric choices to arrangement tips, discover how you can take two sofas in your living room to the next level by checking out our blog!
Tips for Eco-Friendly Interior Design
As you consider the various interior design tips for beginners, don't forget about eco-friendly interior design. A green interior design concept can boost your health and well-being, and it's easy to get started. Take a look at these tips on how you can incorporate eco-friendly interior design elements into your home.
1. Shop Green
With eco-friendly interior design on the rise, there are plenty of options for safe and sustainable products. When you shop for new furniture, make a concentrated effort to research each piece before you purchase it. Any sustainable interior designer will source pieces from trusted vendors.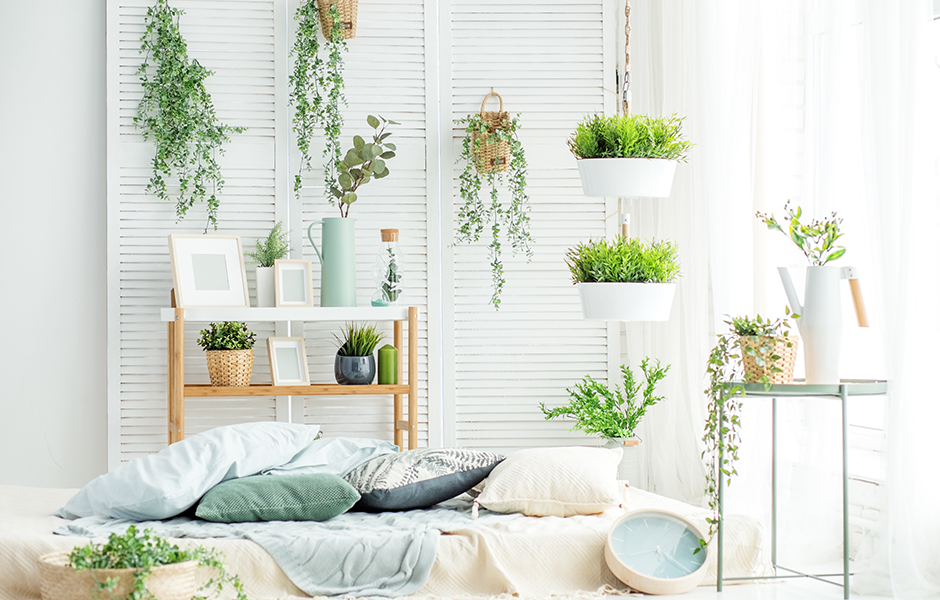 2. Use Water-Based Paint
Look for eco-friendly paints by reading the product labels. "Low VOC" or "low odor" lets you know that the paint is water-based and safer for you and the environment. Keep this tip in mind for other household products like furniture, wood, carpets, cleaning products, and air fresheners that are known to have VOCs, too.
3. Incorporate Efficient Lighting
Depending on what stage of design you're in, there are multiple routes to take in order to create a space with efficient lighting. Natural light and LED light are the two main areas you should focus on.
Want to learn more ways to create an eco-friendly home? Find additional tips within this blog post.
Splurge or Save? Interior Design Hacks to Get the Most Bang for Your Buck
Whether you just bought a new home or want to refresh a current look, it can be tough to find a design you love at a price you can afford. Try some of our simple furniture swaps that can amplify any room.
Buy a Custom Recliner Instead of a Mass-Market Chair
One piece of furniture that's worth splurging on is a custom ordered recliner. Choose your style, upholstery, extra options, and enjoy the recliner made just for you! This interior design hack is a must if you're looking to invest in a high-quality recliner that can last for years.
Buy Designer Look-Alikes Instead of the Real Thing
Sure, designers like West Elm and Pottery Barn have beautiful things, but depending on what you buy, you can find these pieces elsewhere for a lot less. The website Decor Look Alikes shows some of the most common items you can get that look similar to their designer counterparts. Decorative details can also be found at thrift stores, farmers markets, garage sales, and other affordable spots.
Buy an Overlay Instead of Expensive Dressers
Dressers and side tables can get expensive and even though they're useful, they're not a piece you have to spend big money on. As an affordable interior design hack, consider overlays. Overlays are custom-made texture pieces that you can add to the face of dressers, nightstands, and even walls in your home. Check out this gallery to get some ideas that you can do with a simple overlay.
While the world of interior design is vast and there's much to learn, these interior design basics provide a solid foundation for you to start perfecting your design skills. If you think you're ready to begin furnishing your own home interior, find the perfect living room set from Southern Motion!