Have you ever sat back and taken in the beautiful sight in front of you after you've cleaned and decorated your house? There's a sense of pride you often feel after you've tidied up your home, which makes the effort that much more worth it. 
From entertaining guests to personally enjoying time in your own space, there's many reasons why it's good to know how to organize your home and keep it clean. Add to your bag of tricks by learning some more quick cleaning tips and home organization hacks you can use throughout the year!
Contents
How to Prepare Your Home for the New Year
Winter is the most magical time of year. The cozy nights and crisp days offer the perfect opportunity to check that your home is in tip-top shape and ready for the colder months. Take a look at these home maintenance tips to find out how you can maintain and prepare your home for the New Year.
Home Maintenance Winter Checklist
Add Floor Mats to Entryways
During the wet winter season, the entrance to your home is often covered in piles of thick coats and wet shoes. As well as giving you more mess to clean up, mud, ice, and salt from your winter clothes is bad news for your floors. Instead of letting your floors get damaged, invest in floor mats for your entryway. Place one mat inside and one mat outside for the best results.
Look for Air Leaks
If you're feeling a draft, a key home maintenance tip you should follow is finding and fixing any air leaks in your home. Drafts can make your home feel less comfortable and they'll also make your heating less efficient, costing you extra money.
Pay close attention to windows and doors. You can fill these gaps with caulk and weather-stripping. Got a crack in a foundational wall or around faucets and air vents? Be sure to seal these cracks, as they may be letting in air. If you're still feeling cold, you can also look into improving the insulation in your home.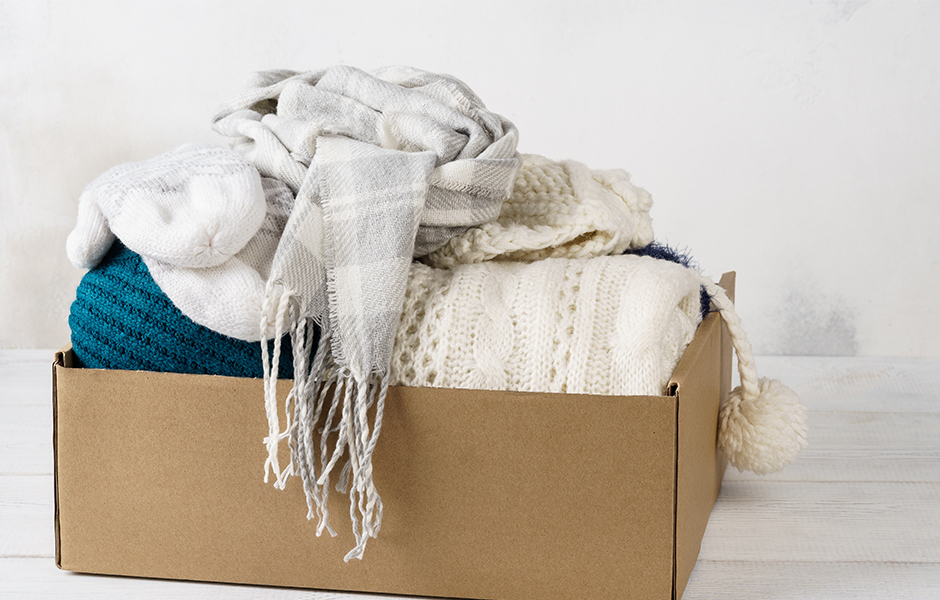 What to Purge and Update During Winter 
Some items in the home need to be maintained over the winter months, but other things should go all together! The beginning of the year is a great time to reflect on what you really need in life and cut down on the clutter. Prepare your home for winter by refreshing these commonly forgotten items.
Old Winter Clothes
We've all got that drawer of odd gloves and ragged scarves we've kept over the years. You may even have a box or closet filled with moth-eaten jackets. 
Our winter tip is to go through all your old winter clothes. You may find some great items that you'd simply forgotten about and can start wearing again. You will probably also find a lot of items you no longer want. These clothes should go to charity and not back in the attic where they aren't keeping anyone warm.
Outdated Furniture
Nothing prepares a home for winter like a fresh new interior. We spend more time indoors during these months, so why not create a space where you can relax and unwind? If your furniture is sagging, stained, and out of style, you might want to consider updating it for something more comfortable.
Donating furniture that no longer fits your lifestyle is a great way to support the less fortunate. Check with your chosen organization to make sure your furniture is in an acceptable condition, although oftentimes the pieces can be reused in some way.
Want more inspiration for your New Year's makeover? Head to our blog to see more home maintenance tips!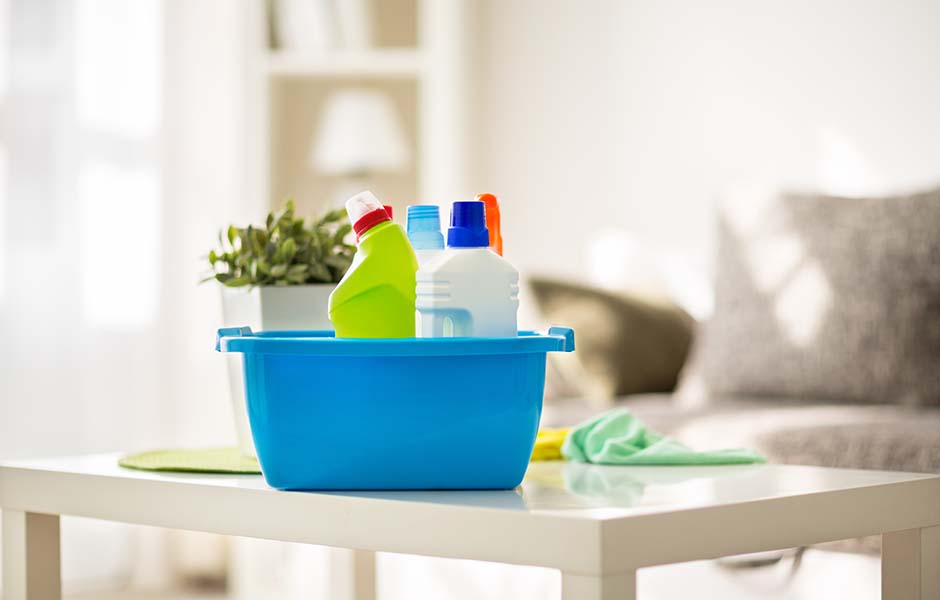 Spring Cleaning Tips & Tricks to Refresh Your Home
As the weather gets warmer and the days get longer, a clean home will feel even better. Here are some quick cleaning tips and tricks that are sure to refresh your home and make sure you have the ultimate spring cleaning experience. 
Take a Close Look at the Kitchen
When cooking on your stove top, grease, food, and grime can build up, which makes your cooking space less hygienic. For safe food preparation and to prevent contamination, it's important to clean your stove top regularly and to do a seriously deep clean from time to time. Depending on what type of stove top your kitchen has, you might have to clean it a little bit differently. Read the directions on your cleaning products and get scrubbing! 
Brighten Up the Bathroom
Using a gentle (but sturdy enough) brush, scrub the floors and walls of your bath and shower space. If you have tiles in your shower, make sure you're getting into the grout to clean even the little spaces. Rinse off cleaning products with water or a wet towel to avoid residue. If you have a shower curtain, check the cleaning instructions to see if you can throw it in the washing machine. If not, you may want to replace it as you're spring cleaning the house.
Freshen Up Your Bedroom
Your closet can always use some good organizing. Go through what you've got hanging and folded in drawers, and reorganize if need be. If you have clothes you no longer wear or need, consider donating them or recycling them.
These few ideas only touch the surface of how to organize your home during a spring cleaning! If you'd like more quick cleaning tips, read through our blog post.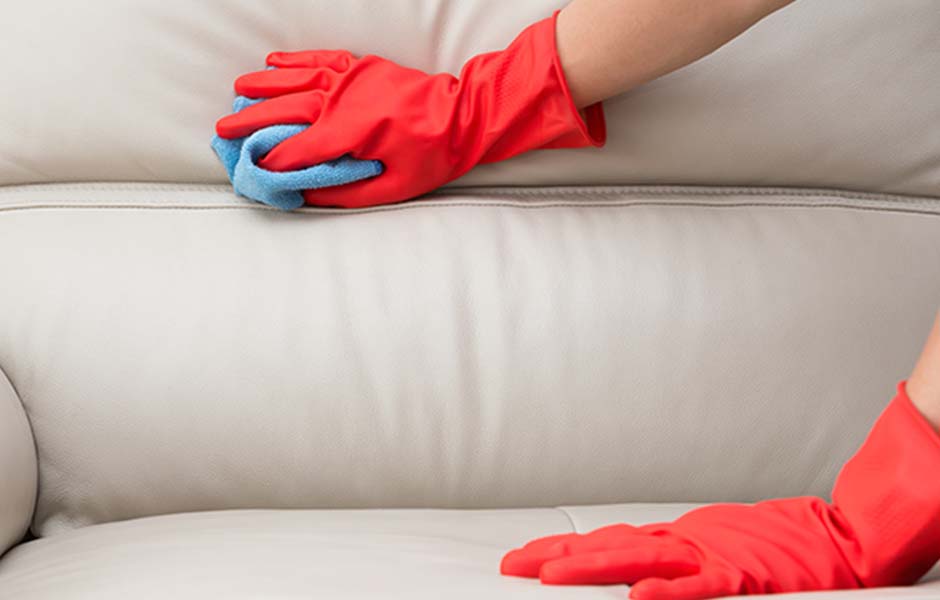 Your Furniture Stain Removal Guide
Noticed a dirty mark on your favorite piece of furniture? Never fear. These quick cleaning tips will help you take the correct course of action when you spot a stain, no matter what type of fabric you have in your home. 
Microfiber
Microfiber is known for being durable. Of course, that doesn't mean you won't end up with some stains on your favorite pieces over the years. This type of upholstery is relatively easy to clean but microfiber blends vary, so double-check the fabric tag to ensure the correct cleaning approach. Generally speaking, the most effective way to remove stains from your microfiber furniture is with a few items you probably have around your home.
Stain Removal Techniques:
Use a clean cloth to blot the area and lift out any loose dirt.

Spray the stain with distilled water and scrub with a light-colored sponge until dry.

Brush the area in a circular motion with a dry brush to re-fluff the microfibers in that spot.
Synthetic Fiber
Synthetic upholstery includes polyester, olefin, acetate, acrylic, and nylon. These materials are often used to imitate the qualities of natural fibers for a more cost-effective piece of furniture. Given the variety of synthetic fibers, you should always check the fabric tag and care labels on your furniture. Your cleaning method should be safe and simple.
Stain Removal Techniques:
Use a vacuum cleaner upholstery attachment to remove debris from the area.

Brush the stain with a dry brush to remove more stubborn debris.

Add mild detergent to warm water and spot test the solution on an unseen part of the furniture.

If the detergent does not damage the material, use it to wet a clean cloth and dab the stain.
Cotton and Linen
Cotton and linen are both natural fabrics that you may be able to treat in the same way. Check the cleaning instructions, especially for linen furniture covers, as they may require professional cleaning or even be machine-washable. If there are no specific instructions, try this suggestion for removing stains from your cotton or linen furniture.
Stain Removal Techniques:
Use a vacuum cleaner upholstery attachment to remove dust and debris.

Add a small amount of mild detergent to warm water and spot test on your furniture.

If the solution doesn't damage the fabric, wet a soft cloth and dab the stain.
Don't see your furniture fabric above? From wool to leather and vinyl, visit our complete blog to learn more stain removal techniques!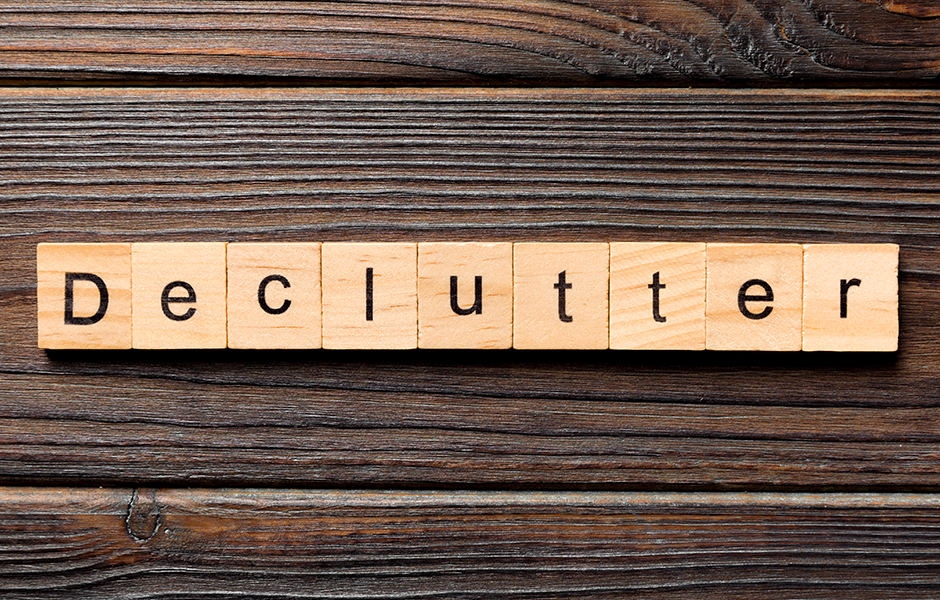 The Ultimate Living Room Decluttering List
The living room is one of the most important areas of the home to clean out and organize, but sometimes it can be tough to know where to start decluttering. Get help with this simple living room decluttering list with tips for keeping an uncluttered living room the whole year round.
Take Care of Tech Accessories
First go through items like TV remotes, earbuds and headphones, video game controllers, charging cords, and any other accessories and make sure they are in good working order. For an uncluttered living room, try these creative storage tips for all the items you want to keep:
Store remotes upright in a decorative pencil cup, wide-mouthed vase, or jar

Use end tables with storage drawers to corral tech and accessories when not in use

Place decorative lidded storage bins on top on entertainment centers or end tables to house tech gear in style

Create hidden DIY pockets or panels with durable fabric pieces and Velcro strips on your furniture

Consider investing in a wireless charging station to cut cord clutter
Decluttering Papers and Mail
Papers and mail can be a source of living room clutter, especially if you don't have a designated home office. Create areas to keep paper and mail contained, so they don't create clutter. This could be as simple as a storage drawer with a divider for incoming and outgoing mail, or a hanging mail organizer. 
For families, use standing files or desk organizers and designate a place for each family member's papers. A corkboard or magnetic whiteboard are other simple solutions for how to organize your home.
Taming Toys
Toys can take over the living room for families with young children. To keep the area clean and clutter-free, first go through your children's toys and determine which can be tossed or donated. 
Once the collection is pared down, choose one small decorative bin or basket for the living room that kids can keep favorite toys in, and then store the rest of their toys in their rooms or playrooms. Cube shelving or storage is another smart solution — just use cloth bins or woven baskets to keep the toys out of sight.
There's much more to read within our ultimate decluttering list! Discover more home organization ideas for small spaces and large spaces here!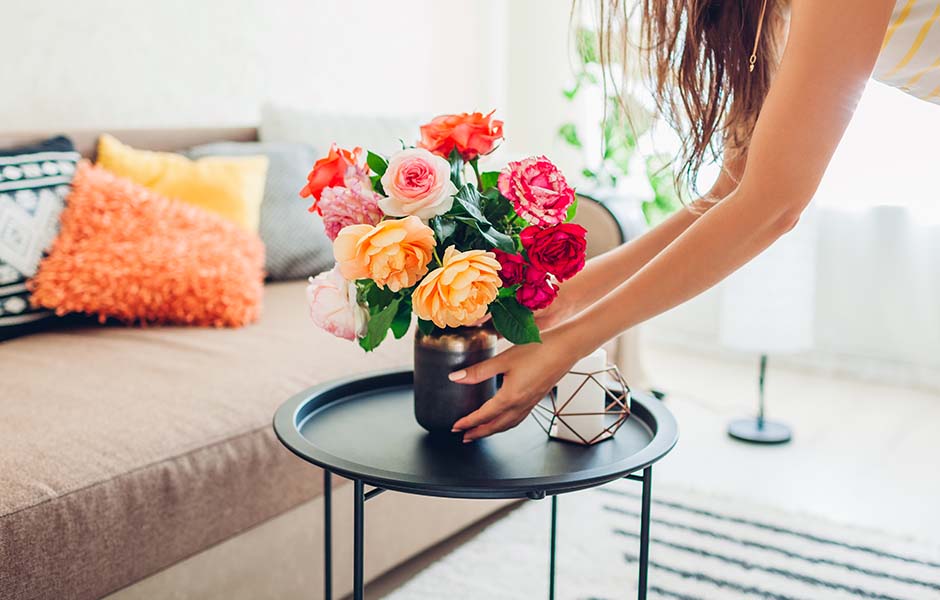 Keep Your Home Clean & Organized Over Summer Break
Summer break offers a wonderful opportunity to spend more time with your family and enjoy all that the warm weather brings, but it also means that regular routines go out the window. If you're already tired of cleaning up after everyone, we're here to help. With a few quick cleaning tips and tricks, you can learn how to organize your home and relax all summer long.
Set Up a Simple Daily Cleaning Schedule
If you're looking for ideas on how to keep your home clean and organized during summer, start by dividing up chores between your family members. Make a simple chart with daily tasks and enlist the help of the kids. They can help with watering the garden, sweeping the porch or patio, or folding beach towels. 
To make the chores less mundane, set a timer so the kids can try to beat the clock to get the job done. At the end of the week, consider a special treat like an ice cream outing to reward the whole family.
Create Beach Bags for Each Member of the Family
Going out for a swim often leaves the house cluttered with all the beach or pool paraphernalia. One secret to keeping a clean house in the summer is to have these items organized in advance. Consider making up a beach or pool bag for each member of the family. 
Stock each bag with a towel, sunscreen, flip-flops, sunglasses, sun hat, and a water bottle. Have a rule that each person is responsible for grabbing their own bag when it's time to go — and for taking care of it when returning. It doesn't take long for kids to hang up their swimsuit and towel and rinse out their water bottles. Hang temporary hooks in the entryway for each person's bag to make it a breeze to keep things organized.
Create an Area to Organize Summer Games
One of the best secrets to keeping a clean house is to have a home for everything, so designate areas for all your summer yard games — and make sure your family puts them back after every use. 
Hang sturdy hooks on the wall of your garage or mudroom for items like baseball bags and tennis rackets. Use old laundry baskets, hampers, or storage bins to house items like balls, Frisbees, and squirt guns. Have pets? Set up a small area for Fido's outdoor toys near the family sports and game gear, too.
Keep adding to your summer organization list by visiting our blog for more tips!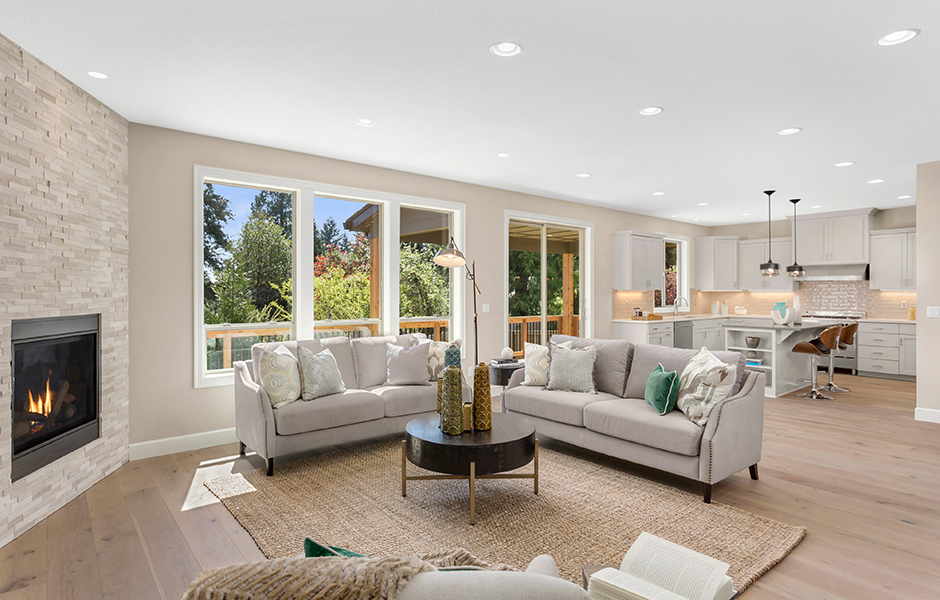 Your Guide to Arranging Two Sofas in Your Living Room
Whether you're having a dinner party, Christmas celebration, or game night, you'll often find yourself relaxing in the living room at the end of the night. Long conversations and sweet memories are made in this room, so it only makes sense that you'd want to have plenty of seating for family and friends — and sometimes, one sofa just doesn't cut it. 
Before you bust out your spare dining chairs, consider incorporating two sofas in your living room and check out these seating arrangement options!
Two Sofas Facing Each Other
Arrangement Highlights:
Best for entertaining and formal conversation

Works well in large open floor plans, narrow rooms, and square or rectangular spaces

Creates a symmetrical design
Two Sofas at a Right Angle 
Arrangement Highlights:
Best for casual lounging and media rooms

Works well in larger living rooms with plenty of space

Creates a cozy and inviting atmosphere 
Two Sofas at a Wide Angle
Arrangement Highlights:
Best for casual lounging and entertaining large parties

Works well in large, open-concept living rooms, especially those with an irregular shape

Creates a comfortable, wide open space
After you've established which arrangement is best for two sofas in your living room, it's time to decide on sofa designs and color combinations. Follow our guide to make sure you pick the best options!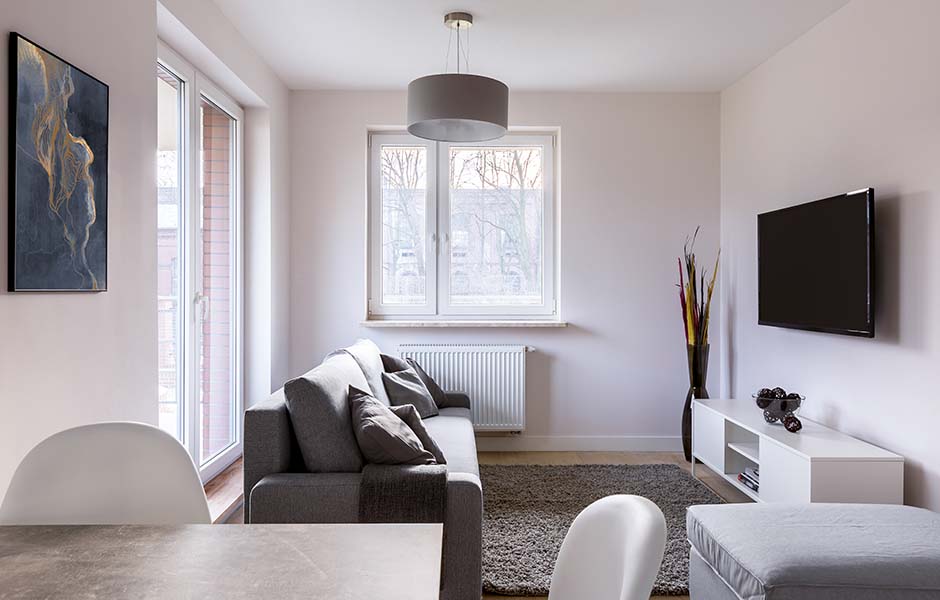 Ways to Maximize Living Space in a Small Home
Having a small living room doesn't mean you can't still enjoy style and functionality in the heart of your home. With the right approach to small living room layouts and furnishings, you can create a space where you love spending time with friends and family. Here's home organization ideas for small spaces that can help you achieve your dream living room setup.
Make Use of All the Space
There are a few small living room layout ideas to keep in mind when organizing a small space, starting with the furnishings. Don't push furniture up against the walls, which can emphasize the limited space. Even with a small living room layout, you should have a few inches to spare so you can float your furniture away from the walls.
As well as keeping furniture from in front of any windows, you can simplify window treatments to let in as much light as possible. Getting plenty of natural light in the room can give the impression of more space. While the square footage of your living room floor may be limited, you may be lucky enough to have high ceilings. Use lots of shelves to remove storage and organizational items from the floor and show off the unique space!
Opt for Multi-Purpose Furniture
Multi-purpose furniture is a game changer when it comes to home organization ideas for small spaces. This type of furniture can help you get everything you need into a small living room layout without cluttering the room. You can choose pieces with built-in storage, such as ottomans. Ottomans can also be used as coffee tables, extra seating, and foot rests quickly, easily, and stylishly. If your living room doubles as your spare room when your relatives are in town, you can even consider adding a daybed to the space for a practical and playful addition. 
Switch Out a Furniture Set for a Sectional
A sectional may be a large piece of furniture, but with just that one piece, you can seat all your friends and family in a small living space. A stylish sectional can also work as a statement piece while offering a cozy seating option.
Choose Furniture with Small Dimensions
You can also choose small living room furniture as a home organization idea for small spaces. Antiques are a great option for small living room layouts, as they come from time periods when rooms were typically smaller. Swap one large coffee table for a few small antique coffee tables or choose lower furniture to create the illusion of higher ceilings — and more space —in your home.
For a comprehensive guide to maximizing space in your small home, check out our blog post!
Organizing and cleaning your home is quite a labor intensive task, but with these quick cleaning tips and tricks, you should have all of the necessary tools to get the job done well! Once your home is beautiful and tidy, consider upgrading your furniture with Southern Motion reclining furniture.