15 Enchanting Halloween Crafts for Adults
Who says Halloween is just for kids? Whether you're decorating the house for your grandchildren or a costume party, it's always fun to embrace the spooky season. From creepy crawlers to ghastly ghosts, these Halloween crafts for adults are sure to make your home the most haunted one on the block!
1. Spider Web Plant Hanger
What's better than using decor you already have to create affordable Halloween decorations? If you're a plant lover and just so happen to have plant hangers around your house, give them a creepy crawly upgrade by attaching faux spiders all over the hanger (macrame hangers work best). 
2. Frightening Feather Wreath
Sit down to watch Alfred Hitchcock's movie, The Birds, as you craft up this Halloween decor piece. This Halloween project for adults takes a dark twist on home decor wreaths with its black grapevine twigs, feathers, and faux crow. Be careful walking down the hallway past sundown because this feathery wreath is sure to give you a fright in the dead of night!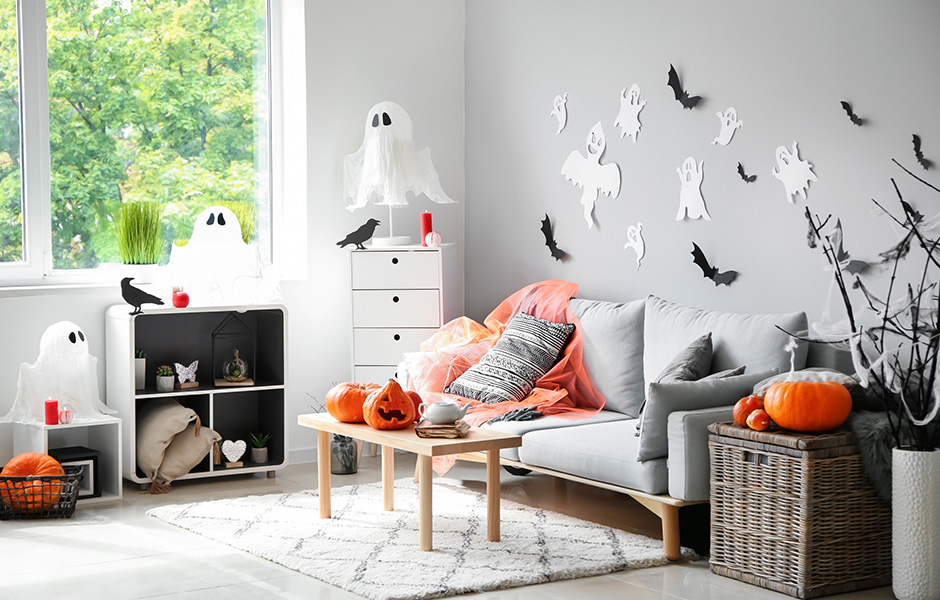 3. Ghastly Paper Ghosts
While paper honeycomb decorations are most commonly used for festive birthday parties and happy holidays, they make for the most ghastly ghost decor too. After you've bought your all-white honeycombs, summon them from the grave by drawing on ghostly faces with black Sharpie. Hang them on your front porch or in your entryway to welcome guests.
4. Spooky Silhouettes
Transform your home into a haunted house with spooky silhouettes. To save space and money, simply remove your current photos from their frames and replace them with cut-out silhouettes of Halloween's spookiest spirits like Frankenstein, the Grim Reaper, and wicked witches. You can also take a more realistic approach with silhouettes of men and women from centuries gone by.
5. Eerie Gallery Wall
Ask the whole family to participate in this DIY Halloween room decor idea! Get the project started by staging an eerie photoshoot to create black and white portraits that will send chills down your spine. Once you have your photos printed, fight every urge to hang them properly because the goal is to curate a disheveled gallery wall with frames touched by spirits!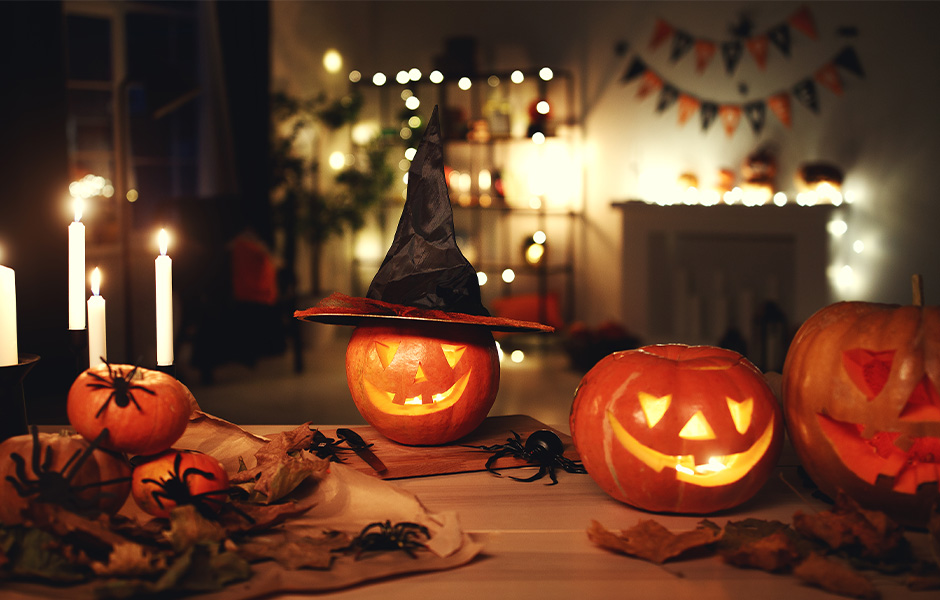 6. Fiery Pumpkins
Get creative with your pumpkin decor by adding a little heat! Carve flickering flames into real or faux pumpkins, light them up with battery-powered candles, and stack them inside your fireplace for a glowing surprise. If you don't have a fireplace, you can arrange them in many other spots like your porch, staircase, or entryway.
7. Webbed Windows
Spider webs are a must when it comes to affordable Halloween decorations, so why not use them on your windows? Take your spooky webs to the next level by adding in bats and spiders too. You can even create frightening shadows by placing candelabras with white tapers on either side of your window frame.
8. Crawling Candles
This Halloween project for adults is as creepy as it is crawly. All you need is mini pumpkins, tea lights, and black pipe cleaners to bring your candles to life. You certainly won't find this kind of decor in stores, so grab your supplies and get started!
9. Ghostly Lawn Decor
Is it ghosts or just your imagination? Play around with optical illusions this Halloween with ghostly lawn decor. Chicken wire, gauzy cheese cloth, liquid fabric starch, and battery-operated fluorescent lights are all you need to make the spirits rise from their graves!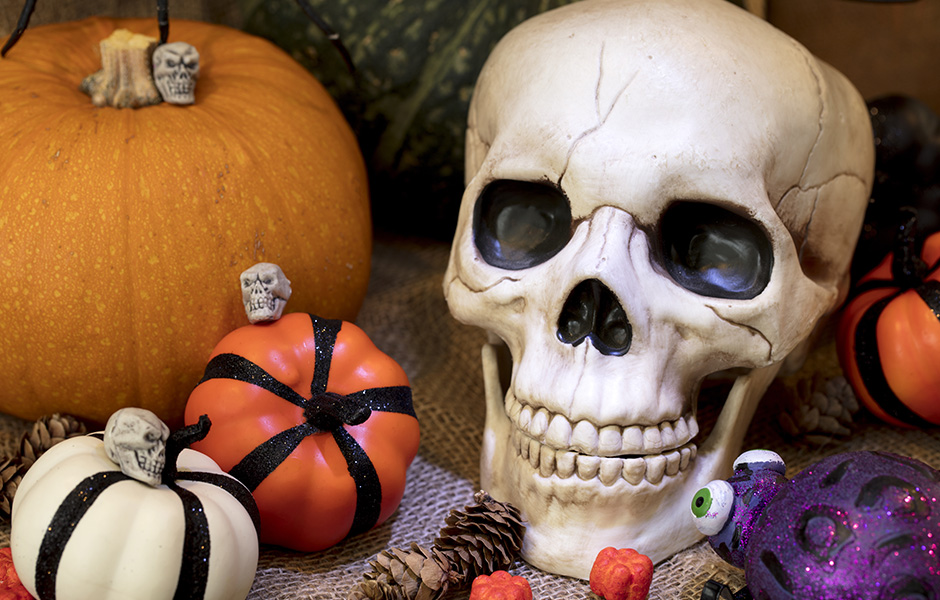 10. Blooming Skull Centerpiece
Take an ordinary skull and turn it into an unearthly centerpiece with this DIY Halloween room decor idea. All you need is a faux skull, real or faux flowers, and a cup to hold your arrangement. Place it on your dining room table and your guests will certainly be enchanted by the sight!
11. Pumpkin Stack
Give your pumpkins some extra pizazz by creating a Jack-O'-Totem this season! The biggest supplies you'll need are three or four faux pumpkins, basic craft items, and a creative vision for your pumpkin faces.
12. Haunted Antique Mirror
Beware of the ghost's reflection when you try this Halloween craft for adults! Give the illusion of a haunted antique mirror with some black spray paint, acetone, and fire. This project does require some protective gear, so follow the steps properly and be safe.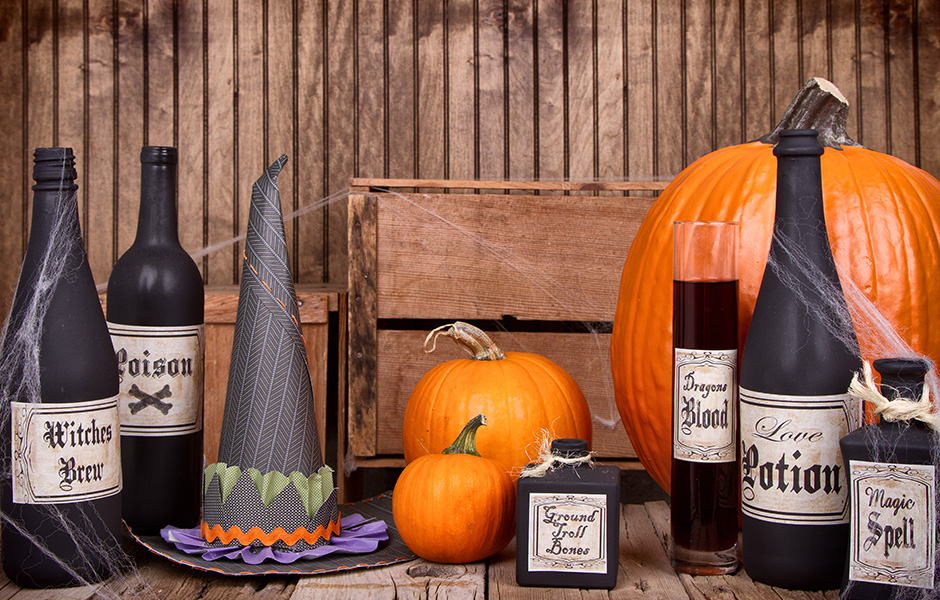 13. Magic Potion Bottles
Want an easy way to incorporate your recycled bottles into your DIY Halloween room decor? Spray paint your bottles matte black, add a handwritten label, and display your mysterious potions on your bar cart or kitchen countertop. 
14. Black Magic Frame
You can't go wrong with vintage frames for your Halloween decor. Rather than pay an arm and a leg for a brand new piece, get crafty and make your very own black magic frame right at home. Spray paint a vintage frame black, add Halloween-inspired calligraphy art, print out some spooky images, and put it all together for a unique Halloween decoration.
15. Batty Staircase
The staircase is a perfect place to display all of the horribly terrific decorations you make this season. If you need some inspiration, try recreating this Halloween craft for adults that weaves flying bats up your staircase banister.
After you've had a day full of spooktacular crafting, enjoy your creepy decor and follow these 6 tips for the best DIY movie night!
It's time to celebrate the red, white, and blue! As you start preparing for the Fourth of July and all of the fun festivities that come with it, think about how your home can be just as patriotic as you. Gather inspiration for your patriotic home decor with these Fourth of July ideas that honor the USA!
Fourth of July Decor Ideas
Red, White, and Blue Table Decor
The dining table is one of the statement pieces of your home, so why not use it for your Fourth of July decorating ideas? Whether you include all three Fourth of July colors or choose to focus on one, the end result will complement your home's overall holiday look. A festive flower centerpiece, American-inspired table runner or table cloth, and patriotic cloth napkins are just a few ideas to consider. 
Fourth of July Garlands
Just as garlands are a go-to decoration for Christmas, they are a must for Fourth of July. Because they're relatively simple to make, garlands are a great DIY craft to help get you and your family in the holiday spirit. Take a couple hours to make your own strands and display them across your house.
American Flag Bunting
American flag bunting is a classic when it comes to Fourth of July decorating ideas. Keep your budget low with paper bunting or opt for quality, cloth bunting if you want Americana-style decor that lasts way past the holiday weekend. Spruce up your home's fencing or hang your American flag bunting along your front porch. 
Honeycomb Paper Lanterns
You can never go wrong with paper decorations for the Fourth of July! They may be temporary, but they add lots of USA flair to your space. Honeycomb lanterns and paper balls are wonderful additions to your patriotic backyard BBQ. Hang them from your trees or back patio for vibrant pops of color. 
Flag Pinwheels
Both a decoration and a fun kid's toy, pinwheels are at the top of the list for patriotic home decor. Place them along your front walkway, within your planters, or across your yard. 
Flag pinwheels can also make for a memorable craft project with the kiddos. Involve them in the decorating process by giving them the chance to create their very own spinning wheels to showcase to all of your guests.
Patriotic Bedding & Furnishings 
No, you don't need to get a massive American flag comforter for this Fourth of July decor idea—unless that sounds amazing to you, of course! Think more along the lines of furnishings like throw blankets, rugs, and pillows. 
For an obvious USA theme, incorporate accents with American flag designs. If you prefer a more subtle approach, you can include furnishings that follow the red, white, and blue color theme of the holiday. This is a great option if you want to adopt an Americana design style that looks good all year round.
Festive String Lights
Light up your home for the Fourth of July with festive string lights in red, white, and blue. Choose from dozens of lighting options that include adorable star-shaped lights, mesh lighting for bushes, and even rope-lighting that comes in the shape of the American flag. 
Take advantage of your entire outdoor area and think about lighting up your fencing, front porch, patio, greenery, and even your house itself.
USA Welcome Mat
An amazing first impression starts right at your doorstep. Dress up your front entryway with a USA-themed welcome mat. Stars, stripes, and a patriotic color palette are all you need for a festive mat to welcome guests into your home.
Holiday-Themed Wreath
Wreaths are a simple and affordable Fourth of July decor idea that add that extra bit of flair to your entryway. Buy one from the store or take on the challenge of a good ole' fashioned DIY project. One of the perks of creating a DIY wreath is that there's no limit to your creativity. Make yours from hydrangeas, pom poms, clothes pins, fabric, or even tinsel and you'll be pleasantly surprised at just how good it looks!
Patriotic Home Sign
Home sweet home! This patriotic home decor idea works both inside and outside your house and is versatile enough to look great all year round. Pick your favorite Americana-style signs and consider how flamboyant you want them to be, especially if you are looking to display them after the holiday is over.
There are many ways to spruce up your home for Independence Day, but these Fourth of July decorating ideas are sure to give you a great start! When you have some down time in between decorating, learn more about ways you can be a patriotic American by buying from local furniture manufacturers in the US. 
Since many of us are spending more time than ever in our homes and working on projects around the house, home improvement gifts for Mother's Day are perfect for showing Mom just how much you care. These gifts can range from large-scale projects to easy DIY Mother's Day gifts. Whichever you choose for Mother's Day 2021, your Mom is sure to appreciate the extra effort and thoughtfulness behind these unique ideas. 
Large Home Improvement Gifts for Mom
There's always work to be done around the house from laundry and dishes to vacuuming, which means we don't get around to the bigger home improvement projects. These tasks take more time and money, but if you're willing to put in the hours and hard work, you can offer something to your Mom that she may have been dreaming of getting fixed. 
Install a Backsplash 
Backsplash tiling can make a surprisingly large impact on the look and feel of your kitchen and with so many different styles of backsplash tile to choose from, you can make sure that it suits Mom and her kitchen perfectly. 
If you don't have any tiling experience but you still want to do the work yourself, don't worry. You can try peel-and-stick glass tiling for a cost-effective and time-efficient solution. Set aside a few hours one afternoon while your Mom is out and make her kitchen look like new with a simple yet professional-looking backsplash.
Remodel the Cabinets
If a backsplash isn't your speed or it just doesn't need replacing right now, another way to refresh your Mom's kitchen is to remodel the cabinets. Since this is a larger project, chat with her about the colors and styles she likes before getting started. The results should make every day feel like Mother's Day (at least, in the kitchen for a little while).
Repaint and Restore
A fresh coat of paint can have a huge impact on your home. If your Mom has been talking about wanting to repaint the kitchen with a new shade or refresh the living room with a new color, now is the perfect time to do it for her. Just make sure she likes the color first! You can take a look at our guide to choosing the right color palette for a living room to help you make some suggestions. Once you're ready to start painting, be sure to check out these handy tips!
Invest in New Furniture 
Pitch in with your siblings and treat Mom to a new piece of furniture. A high-quality piece will last for years, making it a fantastic gift for Mother's Day 2021 and beyond. No matter whether your Mom would enjoy a pretty accent chair to go with her interior design style or a recliner with massage and heat technology, you can find the perfect piece for her needs and preferences at Southern Motion. Since furniture demand is currently very high and special orders are taking longer than normal, use our retailer locator to find Southern Motion furniture near you.
Medium-Sized Home Improvement Gifts for Mom
Sometimes big projects can be daunting, but there are many other ways to do something nice for Mom! You can treat her to one of these more accessible home improvement gifts on Mother's Day 2021.
Create a Coffee or Tea Cart 
If your Mom is a coffee or tea drinker, consider creating an at-home coffee cart for an easier DIY Mother's Day gift. Simply put up some shelves or free up some counter and cabinet space for a new coffee maker and a mug. Stock up on Mom's favorite coffee or tea and arrange everything so it's cute and functional. Your Mom will be able to think of you every time she makes herself a delicious hot drink! 
Reorganize Closets
Ah the closets, a constant project. And a project that no one really wants to do, which makes doing it all that much more meaningful. Put aside a few hours to reorganize your Mom's closets with helpful storage solutions that will make it easier for her to enjoy her clothes and accessories each and every day. Shelves, shoe racks, hangers, and in-closet dressers can make storing and finding clothes a breeze. 
Do a Deep Clean of the House
A deep cleaning can make a big difference to how a home feels, but getting in all the nooks and crannies of the house isn't something we all have time to do each week. Powerwashing, dusting in the forgotten places, cleaning the oven and the stove, and going the extra mile with a deep clean will be a great gift for Mom that she will be grateful for. Take a look at our spring cleaning tips here!
Plant a Garden 
Mother's Day 2021 falls on May 9th, which is the perfect time to plant a garden for summer. With warmer weather and longer days, plants and flowers are something Mom can enjoy for months to come. Plant some of her favorite flowers outside in the backyard or in planting boxes on the patio. If backyard space is tight, a kitchen garden with cooking herbs offers a fun and useful form of plant decor. 
Easy DIY Mother's Day Gifts
Even if you don't have the time to invest in some serious home improvement, you can always try these easy DIY Mother's Day gifts to show your Mom how much you care. 
Self-Care Package
There are so many ways to practice self care at home. Make Mom a self-care package with all the items she needs to truly pamper herself this Mother's Day. You can fill a basket with face masks, bath salts, wine, chocolate, and anything else she likes to show her just how well you know her. 
Fingerprint Mugs 
If you're coordinating a gift for Mom with your little ones, fingerprint mugs are an adorable way to decorate a white mug with a lasting memory. Using dishwasher-safe, permanent paint that you can wash off little hands, let your children's creative side run wild. These mugs are a sweet and easy DIY Mother's Day gift that would make a great addition to a homemade coffee cart!
Jewelry Organizer
If your Mom is a jewelry fan, consider making a homemade jewelry organizer. A DIY jewelry organizer will declutter her dresser space, create a beautiful decor piece, and make for a thoughtful gift. There are many different ways to display jewelry, depending on the types of accessories your Mom wears. You can add small hooks to a space in the wall or in a closet for beads, create a hanging display for necklaces, or personalize a jewelry box for rings and earrings. 
No matter how you choose to celebrate Mom on Mother's Day 2021, any of these gifts are sure to make this year's celebration a special one. For more ideas for home improvements that you can work on as a family, take a look at these DIY home updates for making an older house look like new.
Winter is the most magical time of year. The cozy nights and crisp days offer the perfect opportunity to check that your home is in tip-top shape and ready for the colder months. Take a look at these winter home tips to find out how you can maintain and prepare your home for the winter season.
Home Maintenance Winter Checklist
When we think about preparing our homes for the winter, we often focus on the exterior of the house. We cover the pool, turn off the sprinklers, and put away the patio furniture. These outdoor activities are essential to keeping our homes safe and sound during the colder months, but don't forget to follow winter home tips indoors as well.
This winter checklist will help you identify the key parts of your home to watch in the winter.
Reverse Ceiling Fans
You may not know this, but you can run your ceiling fan clockwise or counterclockwise. In winter, you should turn your fan clockwise to help keep the warm air from rising too high in your home. This is especially important if you have high ceilings and lose a lot of warmth.
How do you get started with this winter home tip? Most fans have a small switch on the outside of the fan. If you can't find it there, it may be inside the cover. Change the direction and feel the difference!
Add Floor Mats to Entryways
Winter is well underway, which means the entrance to your home is covered in piles of thick coats and wet shoes. As well as giving you more mess to clean up, mud, ice, and salt from your winter clothes is bad news for your floors. Instead of letting your floors get damaged, invest in floor mats for your entryway. 
Place one mat inside and one mat outside for the best results. As people enter your home, they can rub the mud and ice off their shoes on the outside mat and then leave their shoes on the inside mat. The mats will also catch any rain or snow that falls off their coats. The fun part about this winter home tip is that you can pick out beautiful mats that will reinforce your decor!
Plus: Check out our Favorite Winter Interior Design Trends here
Look for Air Leaks
If you're feeling a draft, a key part of your winter checklist should be finding and fixing any air leaks in your home. Drafts can make your home feel less comfortable and they'll also make your heating less efficient, costing you extra money.
Pay close attention to windows and doors. You can fill these gaps with caulk and weather-stripping. Got a crack in a foundational wall or around faucets and air vents? Be sure to seal these cracks, as they may be letting in air. If you're still feeling cold, you can also look into improving the insulation in your home.
Keep Your Heating in Check
Heating is a non-negotiable in the winter. It keeps you warm and prevents frozen pipes, which can bring your home to a standstill. Make sure your thermostat is set so that the heat does not fall below 55 degrees Fahrenheit. While it may seem like a luxury to always have the heat on, this winter home tip can save you money. That's because your heating system has to work much harder to bring your house back up to a warm temperature after being turned off.
No matter how you heat your home, your winter checklist should include the maintenance of your heating system. Gas heating systems can be checked every three years, but oil heating systems should be cleaned and maintained annually. If you're lucky enough to have a fireplace in your home, be sure to get it checked by a professional, too. That goes for coal-burning fireplaces and gas fireplaces!
Plus: Check out our Modern Fireplace Decorating Ideas here
Check Smoke Alarms
During the winter months, heating equipment is the leading cause of fires in the home. It's critical that your smoke and carbon monoxide detectors are in good working order at this time of year.
Follow this winter home tip by making sure you have a smoke detector in every room of your house. Check the batteries and functionality of each detector. You should do this every month, but especially during the cold months when you're more reliant on heating equipment, such as space heaters, central heating, and fireplaces.
What to Purge and Update This Winter 
Some items in the home need to be maintained over the winter months, but other things should go all together! The beginning of the year is a great time to reflect on what you really need in life and cut down on the clutter. Prepare your home for winter by refreshing these commonly forgotten items.
Plus: Check out our Ultimate Living Room Decluttering List here
Old Winter Clothes
We've all got that drawer of odd gloves and ragged scarfs we've kept over the years. You may even have a box or closet filled with moth-eaten jackets. This winter, if you're not wearing these items, ask yourself why you're keeping them!
Our winter tip is to go through all your old winter clothes. You may find some great items that you'd simply forgotten about and can start wearing again. You will probably also find a lot of items you no longer want. These clothes should go to charity and not back in the attic where they aren't keeping anyone warm.
Tired Linens
Bed sheets and towels can start to look their age after they've been washed and used week after week. If you've had your linens for more than a few years and they're looking gray and worn, it's time to update them. Check with local animal rescue charities to see if they can make use of these items or use them as rags for cleaning or garage work.
The same goes for your comforters and pillows. Pillows should be replaced after one to two years. After that they lose their structural integrity and become less hygienic. If your comforter is old and stained, a wash cycle won't be enough. Invest in new bed essentials and be sure to find the right items to keep you warm and comfortable this winter.
Outdated Furniture
Nothing prepares a home for winter like a fresh new interior. We spend more time indoors during these months, so why not create a space where you can relax and unwind? If your furniture is sagging, stained, and out of style, you might want to consider updating it for something more comfortable.
Donating furniture that no longer fits your lifestyle is a great way to support the less fortunate. Check with your chosen organization to make sure your furniture is in an acceptable condition, although oftentimes the pieces can be reused in some way.
Once you've made space for a new furniture group, look for new pieces that will work with your needs and preferences. Southern Motion offers a wide range of sofas, sectionals, recliners, and accent chairs with the most innovative features. What's more, the Smart Solutions fabrics prevent stains, wear, and tear, so your stylish pieces last for many more winters. Take a look at all the collections now.
There's nothing more magical than a home full of character. It's the reason we choose to buy older properties or stay in the same house for decades. The problem is, the more history your house has, the more likely it will need some DIY home updates. The good news is that you can give your home a facelift no matter how much time, money, and effort you have to spare!
From smaller jobs like changing out light fittings to larger projects like redecorating, read on to find out how you can make your old house look modern.
How to Modernize a House on a Budget
If you bought an older house because it was a more affordable option, the last thing you want to do is to pour all your savings into costly home improvements. Similarly, if you're in love with your home's special charm, you may not want to give it a complete overhaul. No matter whether you're trying to keep to a budget or stick to a subtle refresh, these are the DIY home updates for you.
Do a Deep Clean
Dirt can build up over the years without us really noticing — even when we clean on a regular basis. If you have an older home, one of the best ways to spruce it up is with a thorough cleaning. 
Rent a carpet or tile cleaner to give your floors a seriously good wash. You can take your curtains to the dry cleaners and use a professional service to get your furniture cleaned. The cleaning shouldn't be limited to inside your home, either. If you have vinyl siding on the exterior of your house, use a power washer to remove any moss, mold, and mildew. This may not be the most glamorous of DIY home updates, but it's certainly effective.
Buy New Linens
Updating your linens is a great way to modernize your home on a budget. Replace graying towels and shower curtains with designs that make your bathroom pop. Choose bed linens that bring your bedroom decor together. Buy a new tablecloth that makes you proud to host a dinner party in your home. 
Another way to make an old house more modern is to switch out heavy window treatments for light drapes. This will also allow more light into your home, which brings us to our next DIY home update.
Let There Be Light
Nothing makes an old house look more modern than good lighting. You can easily tweak the lighting in your home by adding modern table and floor lamps to the darker areas of your home. Consider replacing old-fashioned fixtures and light shades or even installing recessed LED lighting for a truly modern feel.
You can also update the light switches and plates around your home for another simple DIY home update. The same goes for power outlets, door handles, and drawer pulls, as these can become damaged and outdated over time.
Prioritize Your Paint Jobs
Painting your entire home is a huge project that requires a lot of time and effort, but that doesn't mean you can't still use some paint to modernise your home on a budget. 
Select key items in and around your home that will really make an impact with a fresh coat of paint, such as cupboards and doors. You can also repaint the fence around your property and go bold with a new front door color to increase your curb-appeal.
Freshen Up Your Yard
Don't forget about exterior projects when making your old house look more modern. If your yard has been left to do its own thing for a long period of time, it probably needs some TLC. 
Start by pulling out the weeds from your front and back yard as well as from the sidewalk in front of your home. You should also cut back hedges, trees, and creepers. Remove any dead plants or junk. To make your garden look extra fresh, replenish the mulch and keep your lawn in check. 
More Ambitious DIY Home Updates
Ready to invest more time and money into modernizing your home? Take a look at these tips for the ultimate makeover for your older home.
Create a Cohesive Decor
After years of being updated here and there, older homes can end up looking a little mis-matched. The best way to make an old house more modern is to opt for one simple decor style. That means you should remove the wallpaper that has become dated, damaged, and dirty, and choose a new color palette.
Not sure how you want to redecorate your home? Take our quiz to discover the right interior design style for you and your home!
Redo Your Floors
Just like your walls and decor, your flooring should also be consistent throughout your home if you want to make your old house more modern. Consider removing all of your carpets and updating your floors to match (with the exception of the bathroom, of course). Contemporary interior designs favor hardwood flooring for its sleek, natural look. 
To incorporate some cozy texture into your rooms, add patterned area rugs or luscious sheepskin rugs. If you're lucky enough to have hardwood floors already, be sure to refinish them for a fresh look.
Take On the Big Ones: The Kitchen and the Bathroom
The two rooms that usually need the most DIY home updates are the bathroom and the kitchen. They're subjected to heavy daily usage, grime, and humidity, which means that hardware and decor can quickly deteriorate. If you have a larger budget, plenty of DIY experience, or the chance to get some professional help, improving these rooms is the best way to make your old house more modern.
DIY home updates to prioritize in an older bathroom include:
Installing a modern one-piece toilet

Replacing the bathroom vanity

Retiling the floors and walls
In some cases, you may want to recreate your bathroom from scratch with a new and more modern tub, shower, and basin.
When it comes to an older kitchen, focus on:
Updating old appliances

Installing a new sink (or even just the faucet)

Retiling the backsplash
These DIY home updates will give your kitchen a clean, fresh, and functional vibe that goes hand in hand with modern living.
Invest in the Right Furniture
Once you've thoroughly updated your home, you'll want to make sure your furniture fits with the new aesthetic. While you can give tables and wooden chairs a lick of stain, you may not be able to fix a lumpy, patterned couch so easily.
A new furniture group can make your old house look more modern and reinforce your interior design style. Top-quality furniture manufacturers combine the latest innovations and styles, which means a new sofa or recliner won't just look better, it will also feel more comfortable. What's more, if you choose furniture in stain-resistant and easy-to-clean fabrics, you can keep them looking like new for longer!
See how the right furniture can take your home to the next level in our infographic.
With the new year in full swing, lots of people are looking for fresh new decor for their home. Whether it be a big undertaking like a dining table or a simple candle holder, there are so many creative ways to bring new life into your home! Take a look at these DIY home decor projects for inspiration to get you started!
DIY Home Decor Projects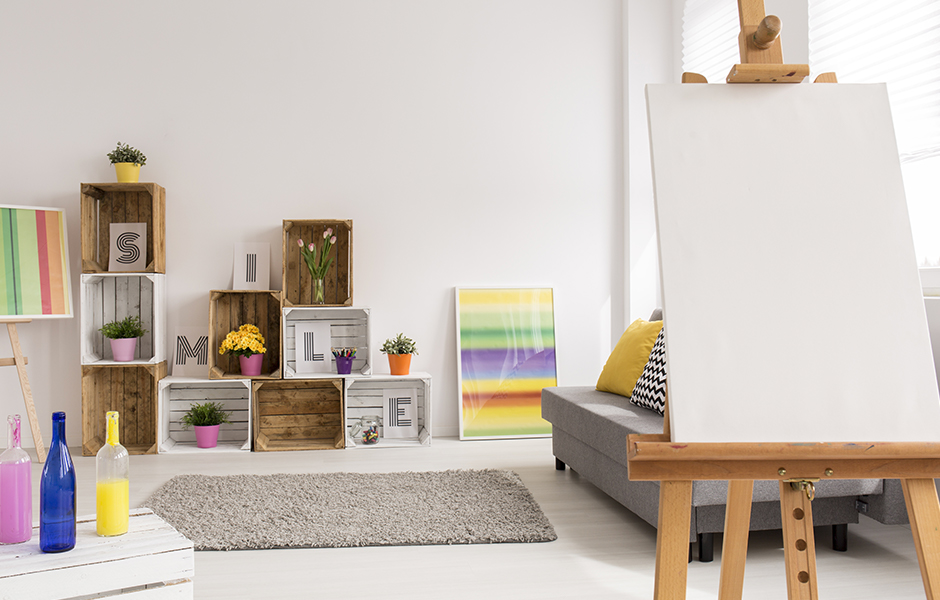 Modern Art Magic
When you think of modern art, big, flashing dollar signs start running through your mind and it seems like an impossible purchase. Well, it's time to slash those dollar signs away because DIY modern art is here to the rescue.
For this DIY home decor project, you need supplies like plywood cut to the size and shape of your liking, a variety of spray paint colors, a downloadable pattern, and everyday tools like a straightedge, screws, and screwdriver. The end product will be a modern art piece that you can hang on the wall or place on your mantelpiece. While you can follow the step-by-step instructions, don't be afraid to get creative and design an art piece that is unique to you and your personality!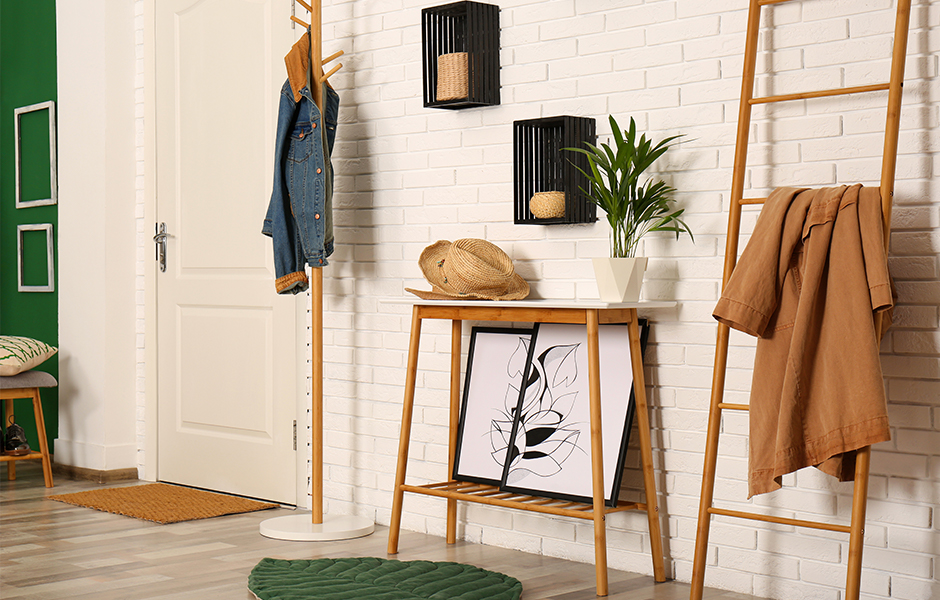 Multi-Purpose Ladder
You can never have too many home decor items to use as hanging space. Take your hats and scarves to a new height with this DIY idea for the home that leaves you with a multi-purpose ladder. Who knew ladders could be so functional AND stylish? Reclaimed wood, spray paint, nut and bolts, and a saw are just a few of the supplies you'll need to get the job done.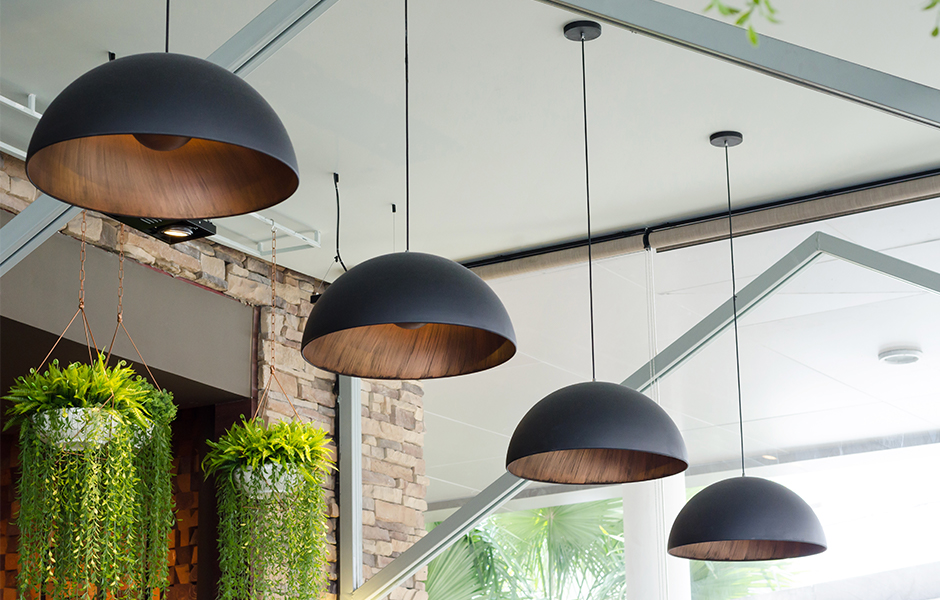 Pretty Pendant Lights
Pendant lights are one of the trendiest interior design styles this year and you can have them in under an hour with this DIY home decor project. Brighten up your kitchen countertops or your dining table by using a trio of nesting bowls that you already have (or can easily get hold of), as well as a nylon cord set, clear bulb, and tin snips. Believe it or not, these few items together make beautiful pendant lights that look store bought.
Bathroom Baskets
Need a place to store your towels and bathroom accessories? Don't worry because the solution may be sitting right in front of you. Baskets usually sit on the floor, but this DIY home decor craft takes them to the walls. Simply use screw anchors and large screws to flip those containers sideways and attach them to the wall. Now, you have three or four enclosed shelves for your towels and washcloths. This example uses woven baskets, but the possibilities are endless.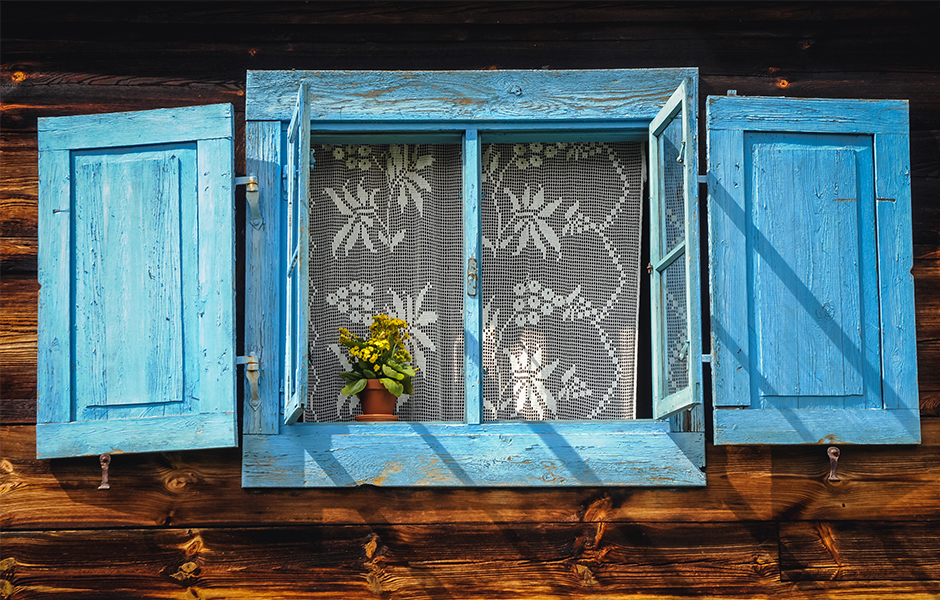 Shutter Savvy
Old and weathered shutters don't belong in the trash, they just need a new purpose in your home! In this DIY home decor project, four wood shutters make a beautiful rustic side table. Gather up four wood shutters of the same size, a piece of glass for the table top, 16 screws, paint, and eight art canvas stretchers to make this a reality in your home. For a newer, more refined look, you can also sand down and repaint the shutters a different color.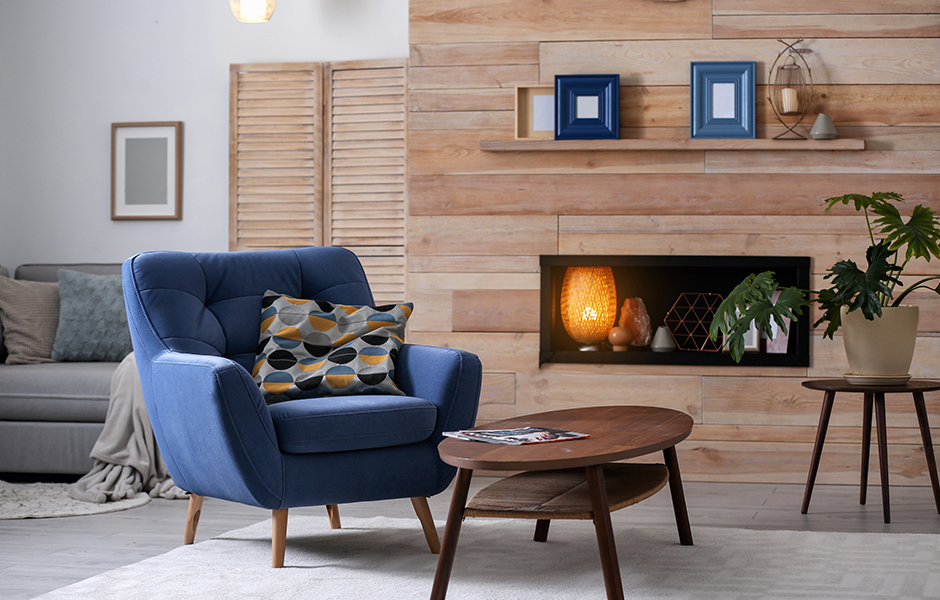 Wood Wall
Get ready for a more challenging (but rewarding) DIY home decor project with this wood accent wall. Just like pendant lights, wood is another popular interior design trend right now. Using this natural material as an accent wall will add distinction and contrast to any room, but you need to make sure you follow the steps closely. Dimensions, placement of wood, and flatness of each piece are the most critical concerns you should nail down in this DIY craft. If you do, you'll definitely have earned your DIY badge of honor.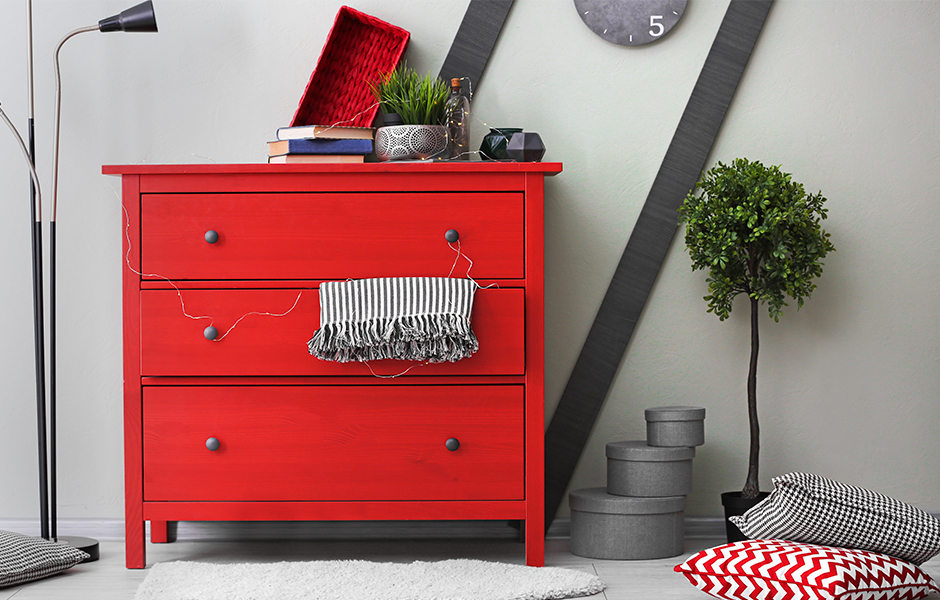 Dressed Up Dresser
We all know IKEA sells affordable home decor, but sometimes that table or dresser needs a little something extra. Dressed Up Dresser takes an average dresser and adds character to it with new hardware, paint, and even wallpaper. There are a bunch of different patterns and colors you can choose from to make it fit seamlessly into your home's interior design.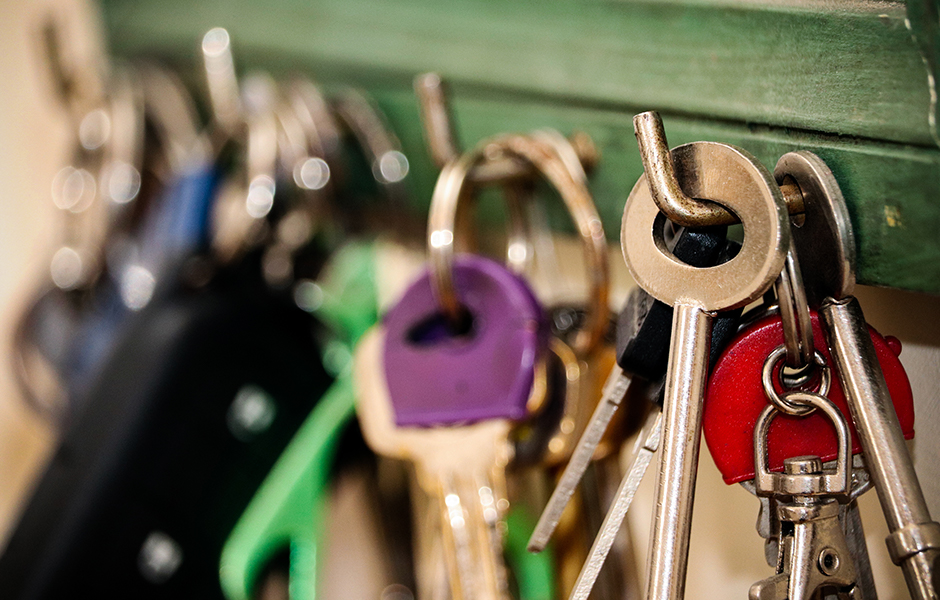 Clever Key Holder
Our keys, the lifeline to getting our day started, somehow always end up getting misplaced. Luckily, the days of searching for your lost keys are staying in 2019 when you take on this DIY home decor craft. Buying or scrounging up a small wood slab is where you need to start. Seal it with polyurethane, grab hooks (however many you need for your keys), paint, stencils/stickers, a drill, and then you're ready to start crafting up your key holder!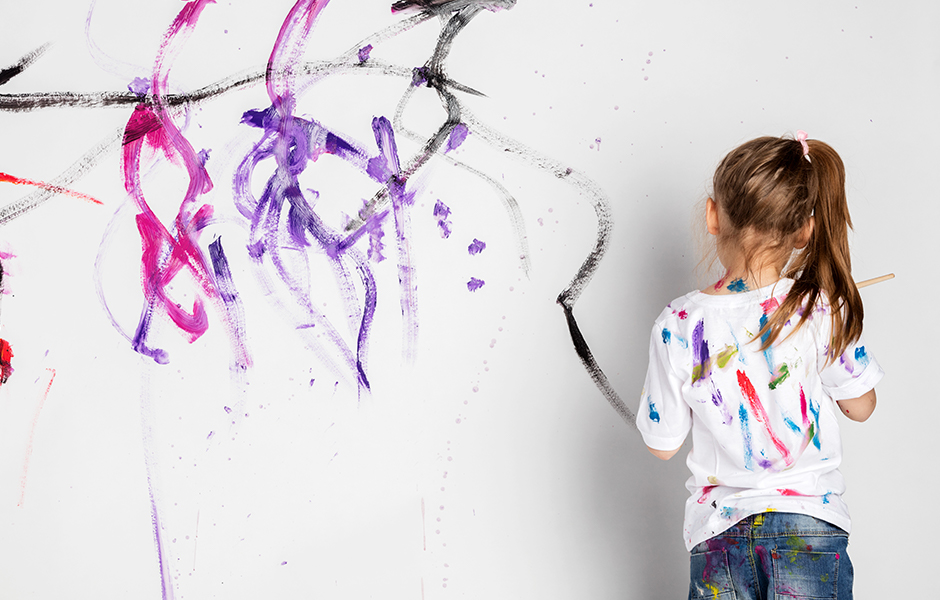 Easy Easel
The nightmare of having to scrub your child's drawings off your walls ends right here. This wall-mounted easel is a genius way to preserve your precious walls while also showcasing your kids' art pieces. Craft paper, wood, spray paint, and brackets are some of the supplies you need to start this DIY home decor project.
As we embrace the new year, it's also time to embrace the pure splendidness of DIY home decor crafts that give our homes a breath of fresh air with little to no cost. Keep it easy or challenge yourself, but either way, incorporate these DIY ideas for the home to get a taste of unique decorating.
Once you're done and looking to sit back and relax, Elevate Your Style with one of the comfortable sofas from our collection. Each piece will redefine the way you think about motion and works with any home decor!
Have you ever walked into someone's home or looked through pictures in a magazine and thought "wow, all those colors look great together." Sure, you might know some of your favorite colors or what matches, but developing a color palette is key to cohesive design.
Luckily, developing a living room color palette isn't as hard as it sounds. By understanding some of the basics about color psychology, color theory, and knowing how to look at a color wheel, you can develop a color palette that's perfect for your home.
Let's look at what you need to know when designing the perfect color palette and how to do it.

Basic Color Psychology
Before you get started designing your living room color palette, you should understand the basics of color psychology, or how different colors make you feel. Here are some common feelings associated with certain colors:
– Red – Red is exciting, energizing, aggressive, and passionate
– Orange – Orange is fun, happy, energetic, warm, and enthusiastic
– Yellow – Yellow is cheery, optimistic, fun, and happy
– Green – Green is refreshing, healing, and evokes feelings of generosity, hope, and success
– Blue – Blue is healing, tranquil, peaceful, and calming
– Purple – Purple is mysterious, enlightening, and luxurious
You can use these color emotions to decide how to decorate each room. For example, if you want your living room color palette to be calming and inviting, choose blue hues. If you want it to feel bright and cheery, oranges and yellows will do the trick.
Understanding Color Theory
Color theory is at the core of all interior design trends and you don't need to be a professional to understand the basics. Let's break it down:
– The color wheel consists of primary colors, secondary colors, and tertiary colors.
– The primary colors are red, yellow, and blue.
– The secondary colors are colors created when primary colors are mixed, including green (yellow and blue), orange (red and yellow), and purple (blue and red).
– The tertiary colors are colors made from primary and secondary colors, such as red-violet or blue-green. There are six on the color wheel.
– The color wheel is divided into warm colors (reds, oranges, and yellows) and cool colors (blues, greens, and purples)
Using the colors on the color wheel, you can make different hues, shades, tints, and tones.
– Hues are pure colors
– Shades are colors plus black
– Tints are colors plus white
– Tones are colors plus grey
Choosing a Color Scheme for Your Living Room Color Palette
Once you understand the color wheel and how it's organized, you can start to understand the different color schemes available. Some of the most common color schemes are:
– Monochromatic – Variations in lightness and saturation of a single color
– Analogous – Using colors that are next to each other on the color wheel. One color will dominate, one color will support, and one color will accent
– Complementary – Using colors that are opposite of each other on the color wheel
– Triadic – Using three colors that are evenly spaced around the color wheel so that if you were to draw a line between the colors, it would make a triangle
– Square – Using four colors that are evenly spaced on the color wheel so that if you were to draw a line between the colors, it would make a square
Once you know which colors you want to use, complete your living room color palette with neutrals (black, white, grey, brown, tan, off-white, etc) to finish the look. Browns, tans, and off-whites make a color scheme warmer and blacks, whites, and grays can either be warm or cool, depending on the colors they're paired with.
How to Create a Living Room Color Palette
So what does all this talk about color wheels have to do with your home? Once you understand the basics of color theory, you can make your own living room color palette to create a cohesive, beautiful style.
Here are the steps to get you started:
Choose a base color, such as blue

.

Combine shades, tones, and tints to create either a monochromatic, analogous, complementary, triadic, or square color theme.

For example, if you like the look of analogous color schemes, you'll combine colors next to blue on the color wheel, such as greens or purples.

Choose a complementary hue as an accent color.

For example, if your base color is blue, the complementary color is orange.

Add neutrals to either warm up or cool down your living room color palette.

If your color scheme is analogous blues, brown, tan, or off-white will make it more warm and white, black, and grey will make it cooler.
Once you have your living room color palette, you can shop for interior design styles that match. You could choose a neutral tan or brown sofa, add some framed artwork that has your favorite shades and tints of blue, and experiment with subtle pops of orange to tie everything together.
Tools to Help You Create a Living Room Color Palette
Understanding the color wheel and color theory takes time and practice and these are just a few tips to get you started. If you'd like to learn more about color palettes and create your own living room color palette, check out these sites:
– Paletton
– Coolors
If you're looking for more interior design inspo, check out these bloggers, too! With a little bit of guidance, practice, and basic color theory understanding, you can make your living room look like something straight out of a magazine.
Finding the perfect gift for everyone on your list is a lot of work. From hitting all of the holiday sales to crossing gifts off your list, Christmas shopping can get tiring. But, sometimes the best gift isn't one that you'd find at the mall. Making your own gift is creative, caring, and can save you some money.
Here is a list of our favorite Christmas craft ideas for gifts!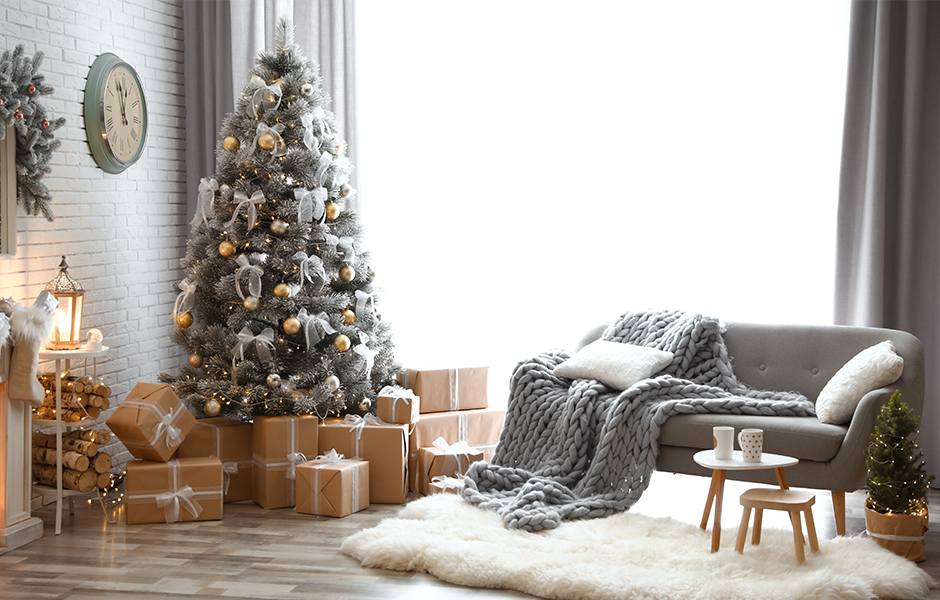 Christmas Craft Ideas for the Home
Everyone loves receiving things for their homes and Christmas is the perfect time to make something special for your loved ones. Here are some fun and easy Christmas craft ideas for gifts for your friends and family members that love making their house a home: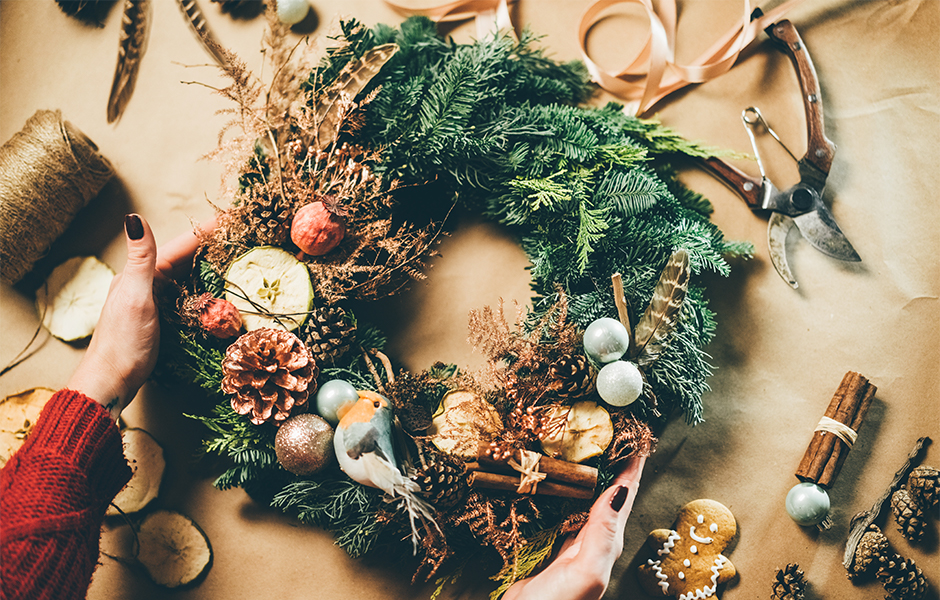 Wreaths
You can't have a holiday craft list without wreaths! Wreaths come in all shapes and sizes and make the perfect gift. For this wreath, all you need is a Weeping Willow wreath form made out of branches, some ornaments, some special accents, a hot glue gun, and a ribbon to hang your creation. Or, go all out with a wreath made out of real boughs and greenery. Here's a list of 80 options!
Embroidery Hoop Ornaments
Some of the best Christmas craft ideas are decorations for the tree! And you don't even have to be a crafting expert to create some super cute embroidery hoop ornaments. Instead of using traditional embroidery techniques, these ornaments are made by choosing a holiday-themed fabric, such as red plaid, and ironing on a festive vinyl sticker. You can get these stickers for as little as 99 cents, making this an affordable holiday decorating idea.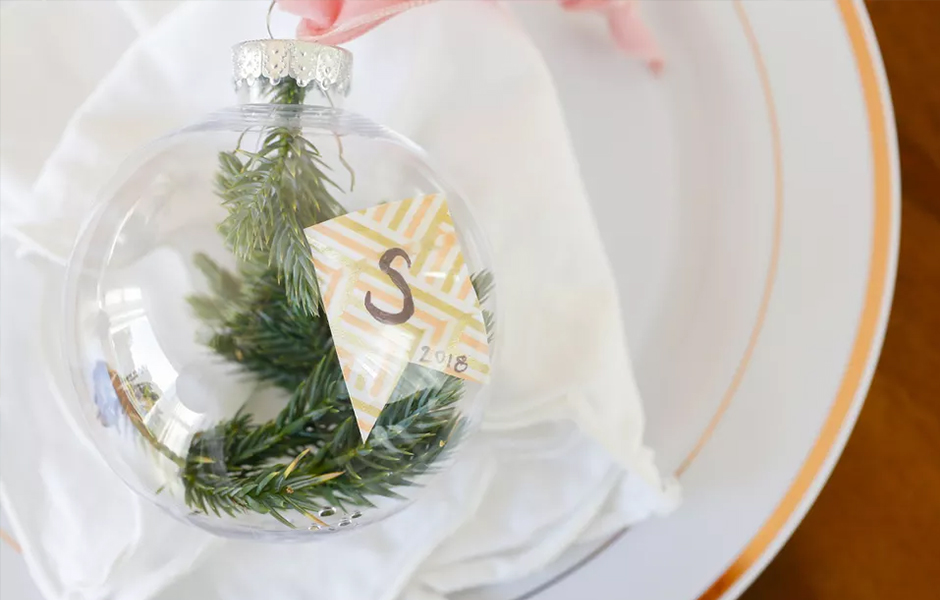 Filled Glass Ornaments
Glass ornaments are beautiful on their own, but they're even prettier when they're turned into a Christmas craft idea for a gift. You can fill these clear ornaments with anything from plants and paint, to mini jingle bells, ribbon, and spa products. Here's a fun list of things to fill a clear glass ornament with. You can even base them off of your friend or family member's interior design style! Make multiple and combine them in a gift set for the perfect crafty Christmas.
Napkin Bells
This craft is so simple but will elevate your loved ones' Christmas table settings. Simply choose a set of beautiful linen napkins and sew miniature jingle bells on the corners. Or, you can make a festive jingle bell napkin ring using mini jingle bells and wire.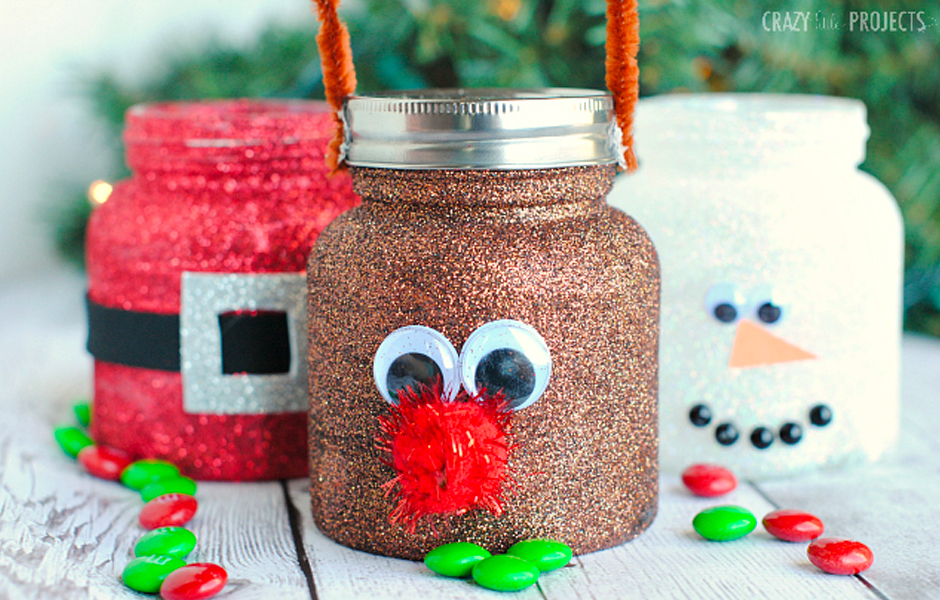 Other Christmas Craft Ideas for Gifts
In addition to making thoughtful and unique Christmas crafts for the home, you can also make gifts for everyone on your list. Here are few Christmas craft ideas for gifts that everyone will love:
Decorated Treat Jars
You can't celebrate the holidays without plenty of treats and these cute decorated Mason Jars make the perfect little gift. Using some glitter paint, googly eyes, a hot glue gun and some creative accessories, you can easily make a reindeer, Santa, and snowman Mason Jar. Fill the jar with candy or other treats and give them to friends, coworkers, or anyone who deserves a little holiday cheer.
Holiday Character Candy Pots
Another great Christmas craft idea to do with kids is making these adorable holiday character candy pots. You'll need some mini flower pots, acrylic paint, and fun accessories like googly eyes, pipe cleaner, felt, ribbon, and other embellishments. The link shared shows you how to make reindeer, snowmen, elves, and Santa but really, the sky's the limit! These Christmas crafts make the perfect gifts for teachers, nannies, or family and friends. Everyone loves candy and bonus points that they're so darn cute!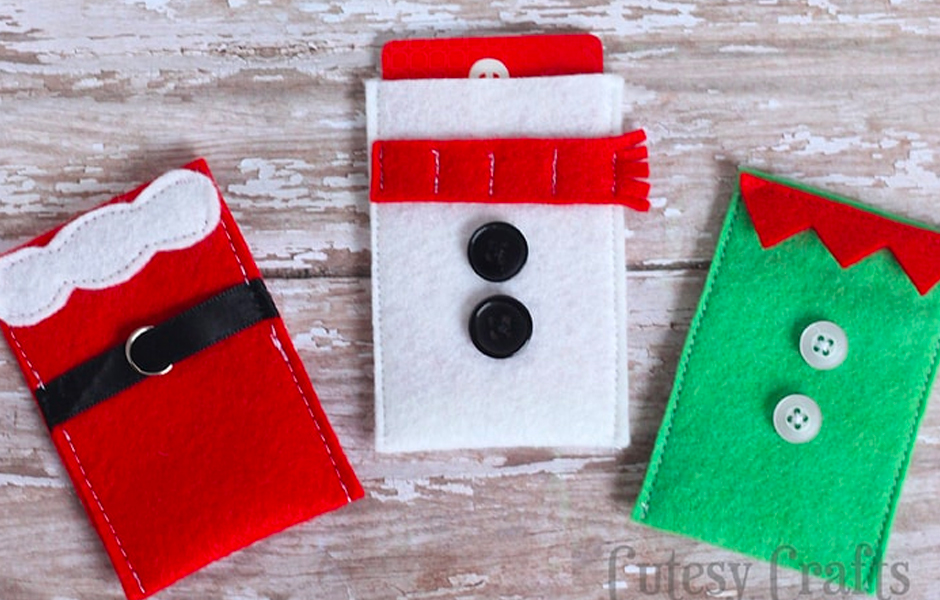 Creative Gift Card Holders
Sometimes, even after searching high and low for the perfect gift, you turn to the old classic – a gift card or cash. While you surely can't go wrong with such a versatile choice, it's fun to personalize it a bit more and make it feel more unique. There are countless gift card holder crafts out there, including this one made out of recycled toilet paper rolls (cute and environmentally-friendly!) and these ones made out of felt. If you don't want to bust out your sewing machine, just grab the hot glue gun and adapt the instructions throughout.
Chalkboard Ornaments
These chalkboard ornaments are super easy, super cute, and serve as a meaningful memento throughout the years. All you need to do is buy some wood slices, black chalkboard paint, and chalkboard markers. If your wood slices don't come with twine, tie a piece of twine on them to hang them from the tree. Paint each wood slice with chalkboard paint and give the kids a chalkboard marker to draw their masterpiece. Have them sign and date the back and you have yourself a simple Christmas craft idea for gifts for the whole family.
You don't have to buy the latest gadget or a fancy gift to enjoy the Christmas season. Instead, try a new craft idea for the loved ones on your list. These meaningful gifts show that you care and will remind everyone of the wonderful season you spent together.
There's nothing like watching an exciting game with all your friends, but watching it from the comfort of your own getaway is even better. From elaborate Man Caves to perfectly put-together She Shed interiors, our quiz will help you find the perfect decor style for your own space. Once you have your style nailed down, your Man Cave will rival some of the best! Take our quiz below to determine your dream Man Cave decor:
Man Caves, where men have their own space to relax, watch TV, and enjoy their hobbies, have been around for ages. But isn't it time for the ladies to have a piece of the fun? She Sheds are all the rage and are the perfect way to design your own space. Whether you want to channel your inner zen or create a space to work from home and be productive, your She Shed is all yours.
Not sure where to start? Our infographic will outline some of the best She Shed interiors to kick start your creative juices. Here are some of our favorites:
1. Traditional – Traditional She Sheds combine comfort and classic styles. They have a little bit of everything and combine stylistic elements like mid century modern, cozy, and classic. Show off your personality with this unique style.
2. Tranquil – Tranquil She Sheds are sanctuaries of solitude. Sure, you can invite guests over to your tiny space, but why would you want to when you have everything you need? Natural light, calming colors, and plenty of plants is the recipe for a day well spent.
3. Chic – While you might not add pom poms, antique finds, and pastel colors in your main home, your chic She Shed can do just that. This space is every little girl's dream and now it can be yours.
4. Simplistic – In a simplistic She Shed, less is more. We know that life gets stressful, so design a space where you can get away from it all. Whether this is your home office or just a clean reading nook, simplistic She Sheds are perfect for women who need to decompress.
5. Cozy – Picture the oversized recliner chair, the mahogany woods, and the darker paint colors and you have yourself a cozy She Shed. This space is perfect for curling up with a warm cup of tea (or tumbler of whiskey, we won't judge).
Or, if none of the styles above strike your fancy, you can always make your own She Shed! Check out our infographic below for more design inspo, to learn some benefits of alone time in your space, and how Southern Motion is here to help.

Embed Code:
<a href="https://www.southernmotion.com/blog/2019/01/build-the-perfect-she-shed"><img alt="She Shed Infographic" src=" http://southernmotion.local/wp-content/uploads/2020/03/somo-sheshed-121918-940-v1.png" /></a>