How to Increase Natural Light in Your House
By Tara Hickock
Bringing natural light into your home is a bright idea, both emotionally and economically. It can elevate your mood and help your house feel happier and more welcoming. Using the sun's power can save you money by cutting down on your electricity bill. Use these home decorating tips to learn how to increase natural light in your house and make your home a bit brighter.
Lighter Colors
From ceilings to floors and everything between, bring in the light by choosing light colors. You'll brighten up any room with a lighter paint color. Shades of white, gray, or beige are good choices. You'll also want to go with gloss: Higher gloss paint will reflect more light than matte paint. Ceilings are usually white for several reasons. First, a white ceiling makes a room appear taller and bigger. White also reflects light, making your room brighter. Choose blond, gray, or natural hardwoods and tiles for the floors rather than darker varieties. Lighter rugs can also brighten up a darker floor.
Neutral Furniture
Lighter-colored furniture will help a room look lighter and brighter. Similarly to the room color, light and neutral furniture will help reflect light to add even more brightness. Choose neutral upholstery and add pops of color with pillows, rugs, and accessories. Switch dark lamp shades for lighter ones to brighten the room, both when the light is on and off. For larger furniture especially, lighter fabrics can help keep the room feeling open and bright.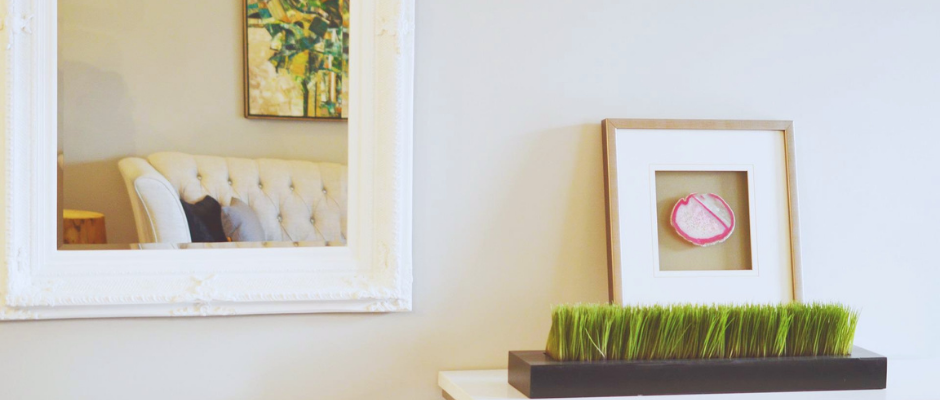 Reflective Surfaces
On top of light-colored walls and furniture, shiny surfaces also reflect light, so use this to your advantage throughout your home. Utilizing your wall space is a great way to maximize your interior design and increase natural light in your house. Put some mirrors on your walls to make the space look bigger and brighter. Use glass or shiny ceramic backsplash tiles in the kitchen for a reflective effect.
Trim Trees and Bushes
Keep your landscape neat and tidy so that surrounding light can come inside. There's only one thing worse than having a large, unkempt tree in front of your picture window: having a neighbor's tree or shrubs blocking the light. If that's the case, offer to help them trim their overgrown trees and bushes. Point out that pruning trees and shrubs keeps them healthy.
Wash Windows
The first reason to wash your windows is simple: Clean windows are more attractive than dirty ones. A bit less obvious? Dirt on your windows can filter sunlight and allow less of it into your home. Not only does that affect brightness, but it can also affect warmth as well. With clean windows, your house will feel warmer in cold weather and brighter throughout the year.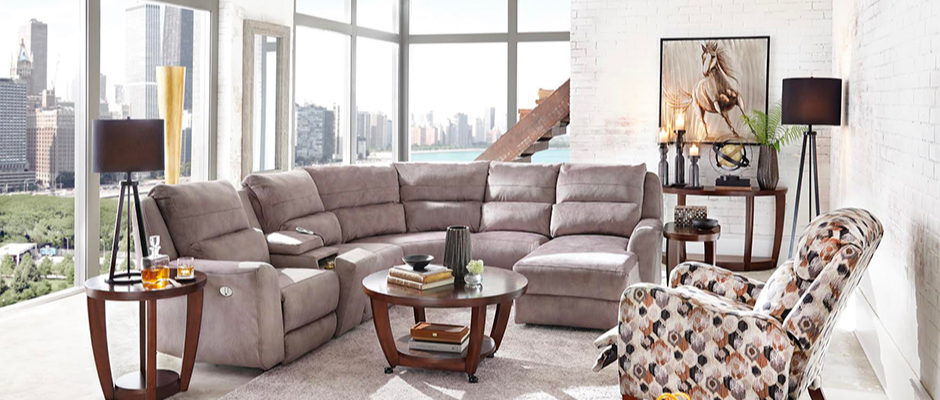 Skip Heavy Window Treatments
Consider skipping the curtains and keep your windows uncovered. This is especially true in a darker room or a room with a dazzling view. Can't stand bare windows? Try light and airy curtains instead of heavy, overbearing ones. Some windows will need coverings for privacy, insulation, or sun blockage so you can sleep. Choose blinds or shades you can adjust depending on the time of day.
Add Windows
It's expensive, but adding windows is an excellent way to bring in more light if you're looking to do some home renovation. If that's not in your budget, add storm doors or choose a door with windows. Consider an on-trend minimalist design if you're in the market for a patio door. You can get what amounts to a glass wall, allowing for lots of natural light and lovely views. Another option: skylights or solar tubes.
Learning how to brighten a room comes down to a few things: neutral colors, open spaces, and windows. Natural light in the home can be a practical and attractive design element in your living space. It can also save money by cutting your heating bill and lowering the need for artificial light. So let the sunshine in and enjoy being in the natural light with these home decorating tips.
Tara Hickock is an interior designer who also designs and decorates outdoor living spaces. Her designs focus on bringing the outdoors inside to give homes a natural touch. She recently remodeled her own home and created a screened-in sunroom for her guests to enjoy the outdoors, even in winter.
Did you know there are over 20 different types of sofas? Most people don't realize there's quite a long list. Most sofa styles are categorized by their size, arm and back shape, and function. From traditional style to mid-century modern, there are plenty of styles and functions to choose from that best fit your comfort needs and interior design taste. Not sure which sofa style is the best for you? We'll help you navigate the world of sofas and let you know what the most popular sofas styles are so you can find the perfect fit for your living space.
Reclining Sofa
Reclining furniture has come a long way from your dad's favorite reclining chair. Now, both modern and classic sofa styles can come with reclining features that make these types of sofas so popular. These sofas are perfect for those looking to create a comfortable living room experience perfect for relaxing, watching movies, or socializing. Some even come with cup holders and center consoles to store items such as remotes and wireless chargers.
Mid-Century Modern Sofa
Simple, clean lines are what define the mid-century modern sofa style. This popular sofa style often features tapered legs and minimalist features reminiscent of design from the 1950s and 1960s. On top of adding comfort and function to the room, this classic often works well as a focal point in your space, especially when paired with a bold-colored fabric or with sleek leather.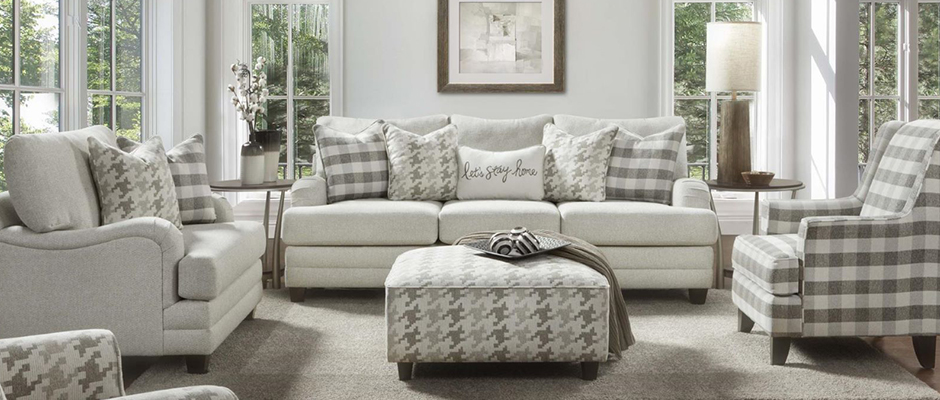 Traditional Style Sofa
The traditional three-seat sofa is the classic sofa style that comes to mind most often and it's one of the most popular. These sofas come in a wide array of colors and covers, including leathers, and give you plenty of style options to fit your design preferences. Some have removable cushions and some even have reclining mechanisms! Traditional sofas pair well with two-seat sofas and accent chairs to add extra seating options in the living room.
Camelback Sofa
As the name implies, this sofa style's main design feature is a "hump" in the center of the back. The back is higher in the center than it is on the sides, adding a bit of elegance to the look of your room. The traditional design of the camelback makes it perfect for a more formal living room. Depending on your living room's decor, this classic sofa style looks great with a subtle print fabric, neutral colors, or a pop of color with velvet.
Chesterfield Sofa
Perhaps one of the most recognizable classic sofa styles, the Chesterfield sofa suggests elegance and dignity. Defined by its tufted back and large rolled arms that are the height of the back, the Chesterfield design will never go out of style. Choose a luxurious velvet or a strong leather to give your living room an extra boost of comfort and style perfect for reading your favorite novel or sitting by the fireplace.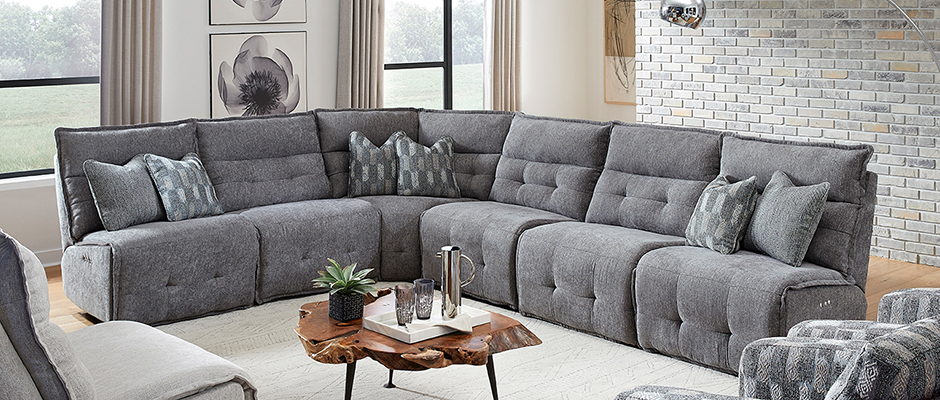 Sectional Sofa
Sectional sofas are one of the most popular sofa styles. Sectionals are made of multiple independent pieces and can often be arranged in different configurations, making them easy to fit into different room layouts and optimize your space as much as possible. This type of sofa is desirable to people who want a lot of seating. Whether you're looking to entertain guests or have a troop of children, sectionals are a practical and versatile sofa style.
Cabriole Sofa
This classic sofa style's most recognizable quality is the exposed, carved wooden frame and legs that give any room a subtle formal look. The arms and back are generally equal-height and the arms curve inward. Cabriole sofas can range from sleek designs to more ornate decorations often found on antique pieces. Recently, the Cabriole sofa style has forgone the exposed frame and adopted a more casual design.
Choosing between different types of sofas might seem overwhelming at first with so many to choose from, but it gets easier once you know the functions, styles, and designs you're looking for. From casual, everyday sofa styles to more formal and classic sofa styles, you're now "in the know" about the most popular sofa styles of today. Keep these styles in mind when you're shopping for your next sofa to create the living room of your dreams!
From stress at work to the physical demands of daily life, being an adult is tough! After you've put in hours of work at your job, taking care of the kids, and grocery shopping, it's the most rewarding experience to come home and relax in your living room. Rather than settle on your average sofa, think about investing in living room recliners. 
Living room recliners have been around for years and are a staple furniture item in many homes across America. Not only are they comfortable as can be, recliners have a variety of medical benefits as well. Read on to learn about how motion furniture can improve your health and quality of life!
Benefits of
Living Room Recliners
1. Increased Mobility
According to the Center for Disease Control and Prevention (CDC), mobility issues impact 1 in 7 adults. Having limited mobility can be discouraging, but the best reclining furniture can help ease your discomfort while at home.
Southern Motion lift recliners are the perfect option if you struggle with mobility issues. With the touch of a button, your lift recliner can go from flat on the floor to a 35-degree angle to help lift you out of the chair and into a standing position. This provides a safer and more secure way to move without putting any undue stress on your back or joints. Not only will transferring in and out of your chair be easier, you'll feel much more empowered and independent being able to handle the task without assistance from loved ones.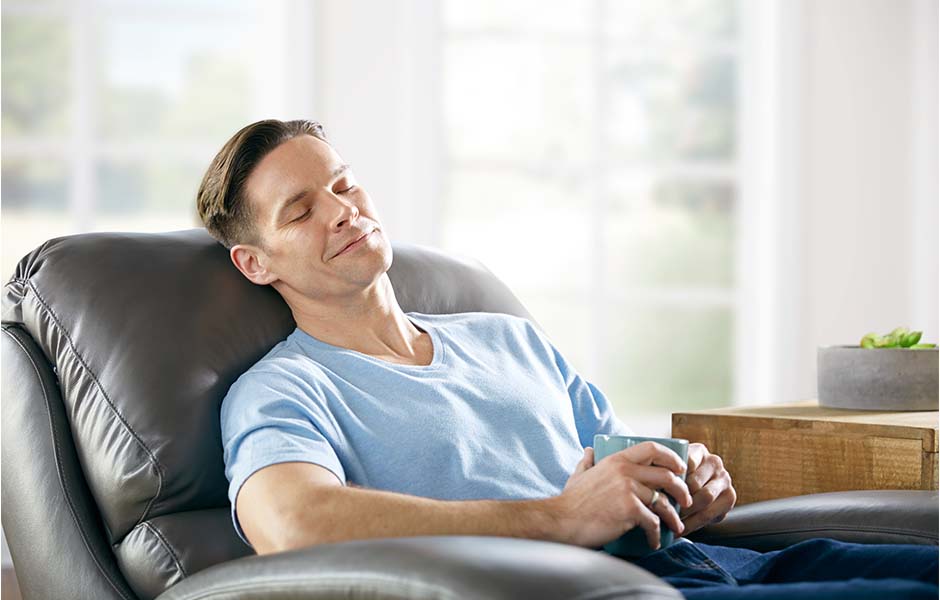 2. Better Circulation
Did you know that sitting for long periods of time can wreak havoc on your legs and joints? Gravity affects blood flow and when your weight isn't evenly distributed, your joints are affected. Because of this, it's important to choose the most comfortable living room chairs and sofas that improve your circulation and increase blood flow. Motion furniture, particularly Southern Motion's Zero Gravity collection, are designed to solve this problem.
Our Zero Gravity chairs work by evenly distributing your bodyweight, reducing the stress on different areas of your body. This helps to optimize blood circulation and give you the ideal angle for relaxation.
3. Lumbar Support
As you decide on the best reclining furniture for your needs, don't overlook therapeutic lumbar support as a key feature. It's important to choose chairs with lumbar support because they have the potential to reduce back pain. Along with these benefits, therapeutic lumbar support can aid in:
Proper spinal cord alignment

Promotion of proper posture

Reduction for risk of injury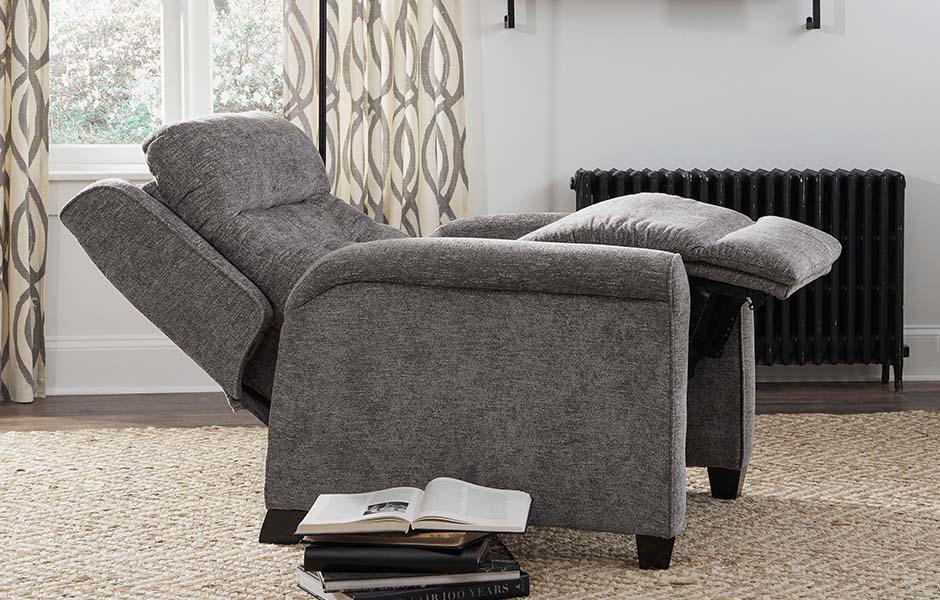 4. Pain Relief
If you suffer from back or neck pain, living room recliners may be a natural remedy you can use right at home. Heat therapy and massage features (like those found in Southern Motion's SoCozi™ collection) work to revitalize your body and eliminate any pressure points.
In addition to heat therapy and massage features, recliner chairs can reduce body pain or aches through weight distribution. As a recliner evenly distributes your weight, it increases blood flow. This eases any pain and prevents swollen, stiff joints.
5. Stress Relief
Lastly, the ultimate benefit from having a recliner is the way it reduces stress. There are three different types of stress: emotional, mental, and physical. Each type of stress affects the body and causes significant tension. Your body needs relief from these stressors, which is where recliners come in. 
The best reclining furniture relaxes both your mind and body through features made for your comfort and ease. Deep tissue air massage, power reclining, and lumbar support are just a few of the features that can work to renew your health and lower your stress levels.
Recliners have been around for ages and now you know why! With multiple health benefits and unbeatable comfort, living room recliners are made for much more than Dad's Sunday night football games. Whether you're simply looking for a chair you can melt into at the end of the day, or need something to improve your circulation, take a look at Southern Motion's recliners that fit all of your furniture needs.
What's one of the best ways to get into the holiday spirit? Decorating your home, of course! Say goodbye to fall and hello to the Christmas season with these simple holiday decorating ideas that transform every part of your home into a winter wonderland!
Living Room
Throw Pillows
Swapping out your ordinary throw pillows for holiday-themed ones is a simple holiday decorating idea you can't pass up! For a bold transformation, choose a few solid-colored pillows in seasonal shades like red, white, green, or gold and pair them with pillows that have designs. From holiday quotes to Christmas motifs like Santa Claus, the combination of holiday colors and designs will give your sofa a brand new look.
Advent Calendar
As you think about how to decorate your living room for Christmas, consider including the classic advent calendar. Not only is this a cute addition to your holiday home, it's a blast for the kiddos as they count down the days until Christmas. To save money, you can even turn this simple holiday decorating idea into a cool DIY project to get the whole family involved.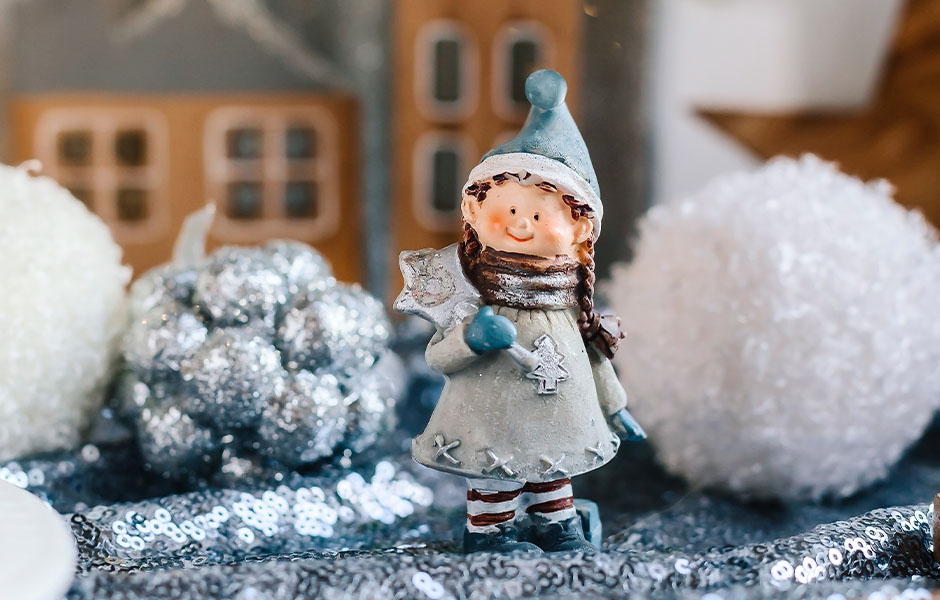 Christmas Display
Whether you choose your coffee table, entertainment stand, or console table, pick a space in your living room to display a fun and festive Christmas scene. From wooden figurines to colorful ceramics, there are hundreds of holiday displays to complement your home's Christmas theme.
Gift Wrapped Books
Need a budget-friendly holiday decor idea? Gift wrapped books are an easy and affordable way to bring cheerful decor to your home during the holiday season. Use leftover wrapping paper to spruce up any books you already have sitting in your bookcase and add a few bows for a bit more sparkle.
Entryway
Mini Tabletop Tree
Who said you can only have one tree during the holidays? Welcome guests into your home with entryway Christmas decor like a mini tabletop tree. Opt for one standout tree or a collection of mini Christmas trees that create a dazzling winter wonderland scene.
Pretty Presents
Take advantage of any unused space on your stairs by arranging wrapped presents in decorative groupings. Not only will it give your staircase a pop of color, it will free up room under the tree for more presents!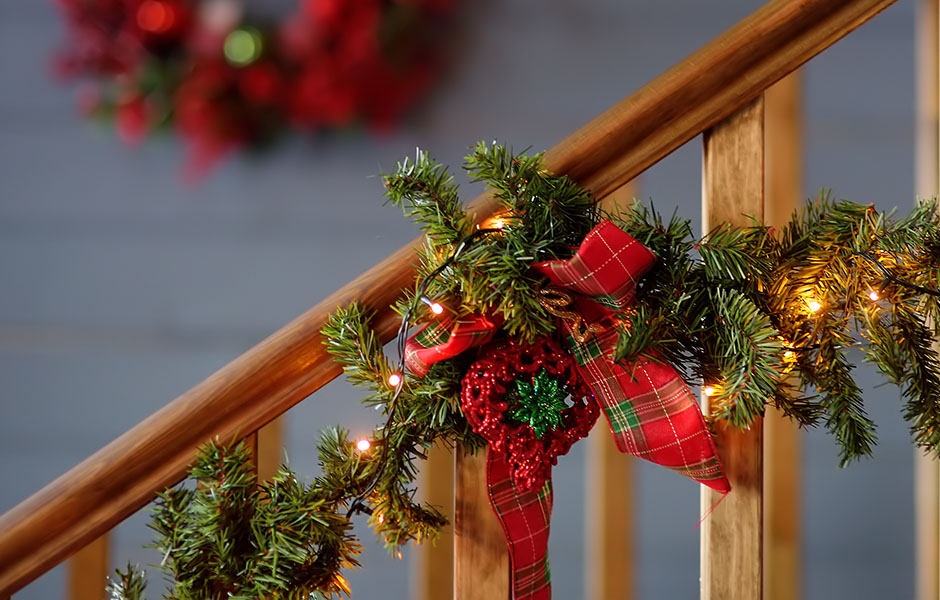 Lined Staircase
The staircase is a perfect place to arrange your entryway Christmas decor. For a timeless look, line your banister with garlands. You can adorn the garlands with faux poinsettias and for bonus points, weave in twinkling lights too.
Eye-Catching Vignette
From holiday signs and figurines to tinsel and Christmas cards, use a variety of decor to create a well-balanced vignette in your entryway. Your foyer table makes a great display area for your arrangement, as well as any benches or chairs.
Kitchen
Wintry Windows
As you're preparing Christmas dinner and drinks for your holiday gatherings, it's nice to have a pretty view to look at. Give your windows the makeover they need by hanging seasonal wreaths, garlands, and other decor like ornaments. 
Festive Florals
Make room for gorgeous floral arrangements in seasonal shades of red, white, and green to bring this Christmas kitchen idea to life! Poinsettias, holly, roses, and pine cones are popular selections for holiday arrangements, but feel free to weave in other greenery that matches your color scheme. To top it off, you can surround your florals with all-white candles for a traditional touch.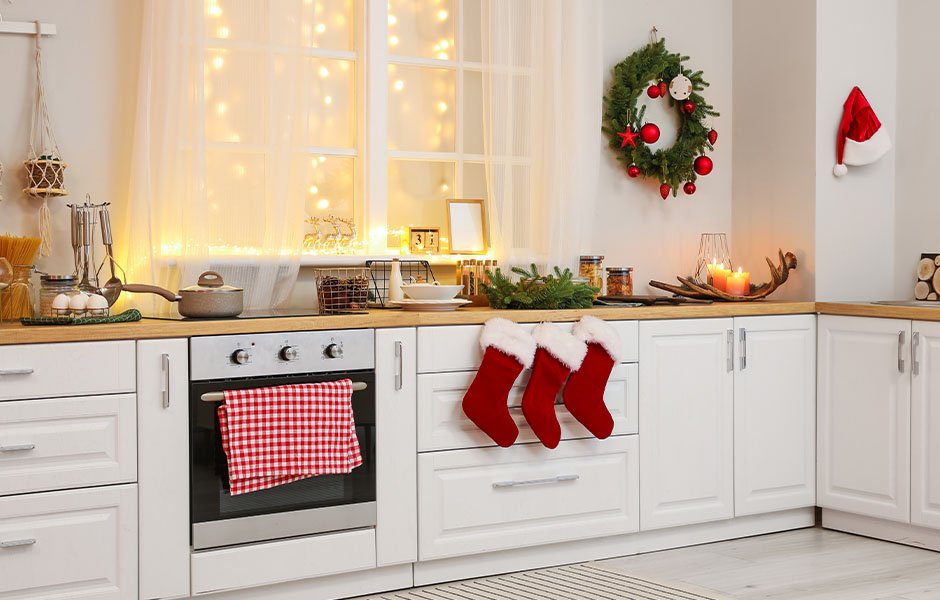 Holiday Kitchen Essentials
It's time to bust out your holiday kitchenware! For this Christmas kitchen idea, switch out your most used supplies and countertop decor to include festive alternatives. Holiday hand towels, pot holders, and soap dispensers are simple and affordable items to replace your everyday kitchenware.
Cute Kitchen Mat
Whether you're a fan of kitchen mats or not, they're undeniably one of the cutest and simplest ways to enhance your space during Christmas. Keep it classic with depictions of Santa and his reindeer or go for a more refined design with seasonal colors.
Dining Room
Striking Ornaments
As you lay out your table runner, greenery, and other decor, consider tossing in a few sparkling ornaments to complete your dining table ensemble. If you happen to have any leftover glass ball ornaments from your tree, nestle them into strands of garland for a vibrant addition.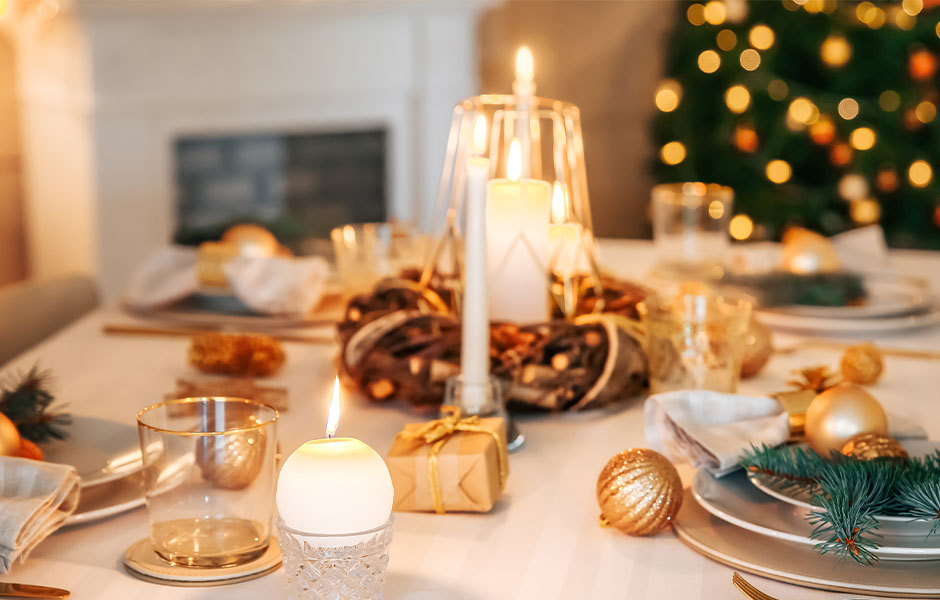 Warm Candles
The holiday season is all about warmth and coziness, which is why candles are a go-to Christmas decorating idea for your dining room. Create an extravagant display with golden candle holders and tapered candles or opt for a more casual design with candle lanterns.
Seasonal Seat Cushions
Seat cushions are a win-win when it comes to Christmas decorating ideas for your dining room. Seat cushions provide an extra layer of festive flair, as well as ensure the comfort of you and your guests. 
If you want to get more use out of them, try to buy cushions that complement your everyday decor. This will make it easier to keep the cushions once the holidays are over.
Mix of Metals
Christmas decorating ideas for your dining room aren't limited to traditional color schemes like red and green. Incorporate the shimmer of metallic decor by mixing in various metals like gold, silver, and bronze. Metallic candle holders, dinnerware, and glassware are a few basic dining room essentials to try. In combination with glowing candles, your metallic accents will look dazzling.
From magical tabletop trees to adorable throw pillows, there are countless ways to enhance your home for the holiday season. For more ideas on how to transform your space for Christmas, read how to Feng Shui your home for the holidays.
When you walk into a home, the flooring is one of the first interior design elements to grab your attention. From terrazzo flooring in the 1970's to mid-tone hardwood used today, it's clear that flooring trends come and go just like many other facets of interior design. 
Whether you're planning for a future home renovation or simply have a passion for interior design, stay up-to-date on the most popular 2021 flooring trends that are taking the country by storm.
2021 Flooring Trends
1. Hardwood Continues to Dominate
Hardwood has remained at the top of the podium for decades now and continues to dominate the home flooring industry. While the demand for hardwood is soaring even after all these years, it's important to know that there are certain elements that distinguish outdated hardwood flooring from its modern counterparts.
To truly follow today's hardwood flooring trends, you need to focus on color and style. Many designers are pushing modern flooring ideas that include cool and desaturated tones (dark browns, grays, white washes, light browns). On the flip side, some warmer tones are also trending as well. Medium wood in shades like honey, copper, and blonde are gaining popularity because of their light and airy feel.
Wide planks, as well as matte and satin finishes are a couple other 2021 flooring trends commonly seen with this material.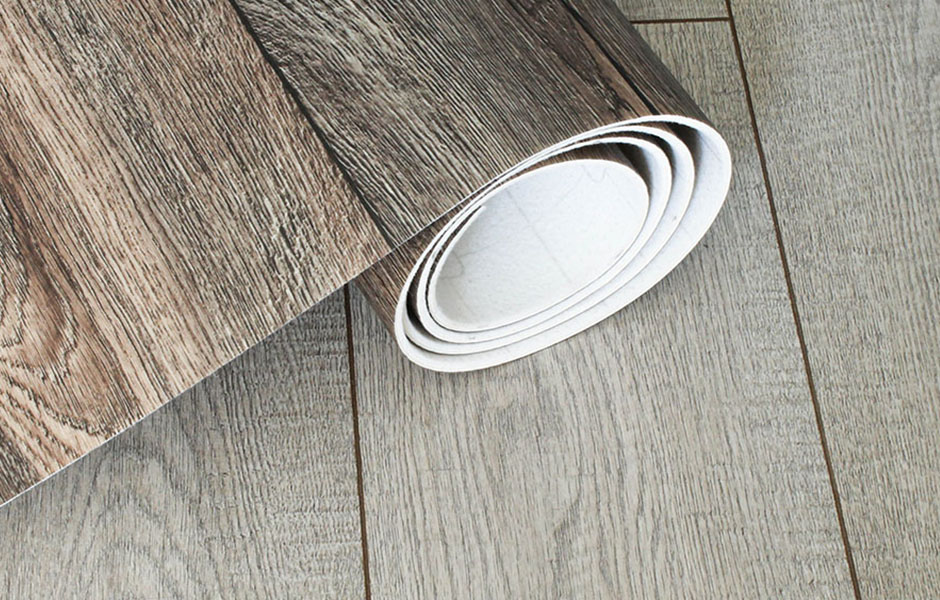 2. Growing Demand for Imitation Hardwood
Because hardwood has a higher price tag, hardwood look-alikes have entered the spotlight. Not only do imitation hardwoods look like the real deal, they cost much less and can be easier to maintain.
Tile planks and engineered vinyl planks are the two standouts for this living room flooring trend. Both of these materials are water-proof which make them great for not just the living room, but other areas that may have moisture like the bathroom and kitchen.
Depending on how real you want your imitation hardwood to look, you can choose options that have embossed grainy textures and distressed styles.
3. Push for Environmentally-Friendly Materials
As with cars, clothes, and food products, there is a major push for environmentally-friendly flooring alternatives in today's society. Green flooring is hot on the market and a great option if you're committed to reducing your impact on the environment.
Wood flooring certified by the Forest Stewardship Council (FSC), non-toxic cork, bamboo, linoleum, and reclaimed wood are a few types of green flooring to consider.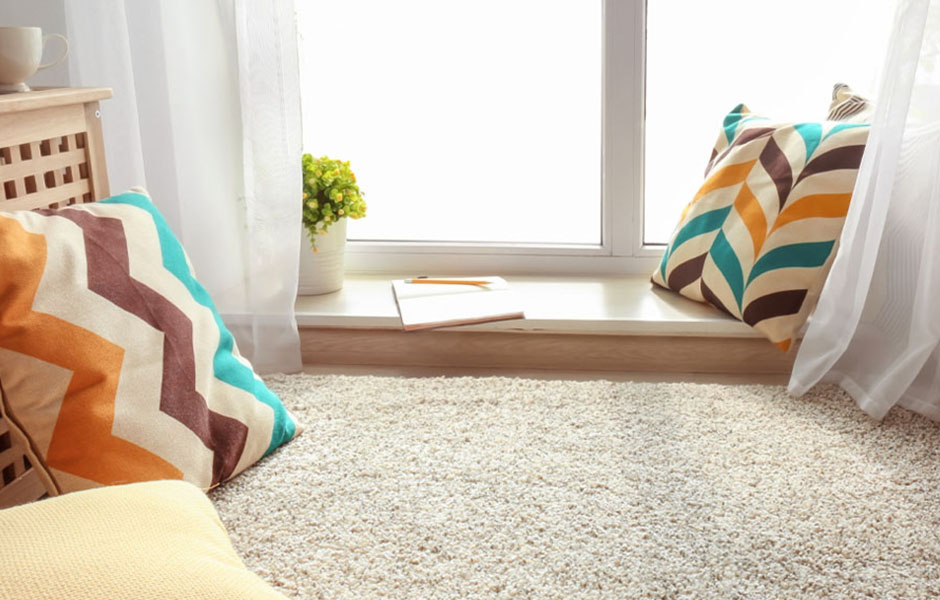 4. Carpet Remains Sought After
Carpet is hands-down a winner for 2021 flooring trends. Accounting for more than 60 percent of retail flooring sales, it seems that carpet will always be a must-have in homes. It offers the softness and warming effect that makes your space feel comfortable and relaxing rather than cold and sterile.
Current carpet trends are favoring flecks of color, more texture, and some pattern. This combination of elements is advantageous in more ways than one. They bring more fashion appeal to your floor, while adding dimension that minimizes the appearance of imperfections.
5. Unique Shapes are In
While you can never go wrong with rectangular subway tile, the most popular flooring trends in new homes are heading in a different direction. Designers are going crazy for unique shapes that bring a fresh and interesting look to interiors. Quirky geometrics and organic shapes, for example, are a good place to start. 
One pro tip to keep in mind when deciding on a striking tile shape is your grout color. If you want your design to pop, choose a grout color with lots of contrast.
6. Designers Love Laid Patterns with Tile
If you want your home's flooring to stand out among the rest, pattern tile is the way to go. What usually comes to mind when you think of pattern tile, is tile with a pattern on it. For this particular modern flooring idea, drop that notion.
Today's pattern tile trend is created strictly by the way that the tile is laid out. For example, you can create a striped pattern with black and white penny tiles by simply laying them out in that fashion.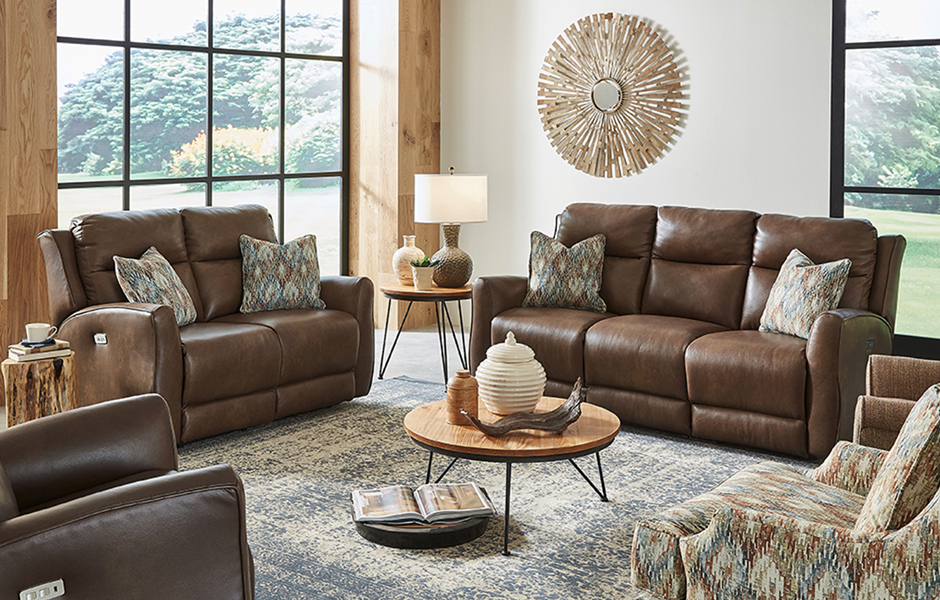 How to Best Complement Flooring with Furniture
Contrast is Key
In order to maximize the overall look and feel of your home's flooring, you need to be strategic with the color of your furniture. The safest way to achieve this is by choosing contrasting colors. For example, if your flooring is light, opt for darker furniture pieces. Alternatively, dark flooring looks good with lighter furnishings.
Creating contrast within your space will not only prevent your room from looking monotonous, it will also help give smaller furniture pieces the chance to shine.
Consider Undertones
For hardwood or hardwood look alike flooring, it's helpful to identify undertones to guide you in furniture color choice. Every real or faux wood flooring option has warm, cool, or neutral undertones that define the space. Here are a few of the most common undertones:
Warm Undertones: Yellow, orange, red
Cool Undertones: Various shades of gray
Neutral Undertones: Both warm and cool shades, or lack of undertone altogether
Once you identify the undertones in your flooring, you can choose sofas, tables, and other furnishings that match in color.
Vary Your Materials
To add more texture and dimension to your space, be sure to choose furniture that varies in material. For example, decor pieces made of woven fabrics, leather, metal, or concrete pair beautifully with hardwood flooring. Including furniture that differs from your flooring material will break up the room and give it a well-balanced look.
There are plenty of modern flooring ideas to choose from, so now it's up to you to decide which one best fits your style preferences! After you've figured out which 2021 flooring trend is meant for you, start thinking about furniture to match by checking out Southern Motion's reclining furniture collections.
It's time to pack away your bright summer decor and prepare your home for the upcoming fall season. Transform your space from a beachy oasis to a cozy autumn retreat with these fall decor ideas for your living room!
Copper Blooms
Copper isn't just meant for Moscow Mule mugs, it's actually a popular fall home decor idea. Head to your local crafts store and pick up a few copper pails to create a gorgeous autumn arrangement. Sunflowers, Chrysanthemums, and Pansies are a few vibrant flowers that are sure to bring your copper bloom to life!
Plaid Patterns
Autumn and plaid go together like peanut butter and jelly. Embrace this rustic, farmhouse-style fabric by infusing it throughout your living room. From throw pillows and blankets to drapery and furniture upholstery, there are many ways you can add pops of plaid into your decor. 
One pro tip to keep in mind is color. Stay consistent with your home's overall color scheme and try to find plaid decor that complement each other.
Festive Ottoman Tray
Not all fall home decor ideas need to be bold and dramatic. Turn your attention toward your ottoman tray for a subtle touch of autumn. You can simply infuse rustic colors with everyday decor items like books and candles, or take a more obvious approach with pumpkins and other fall motifs.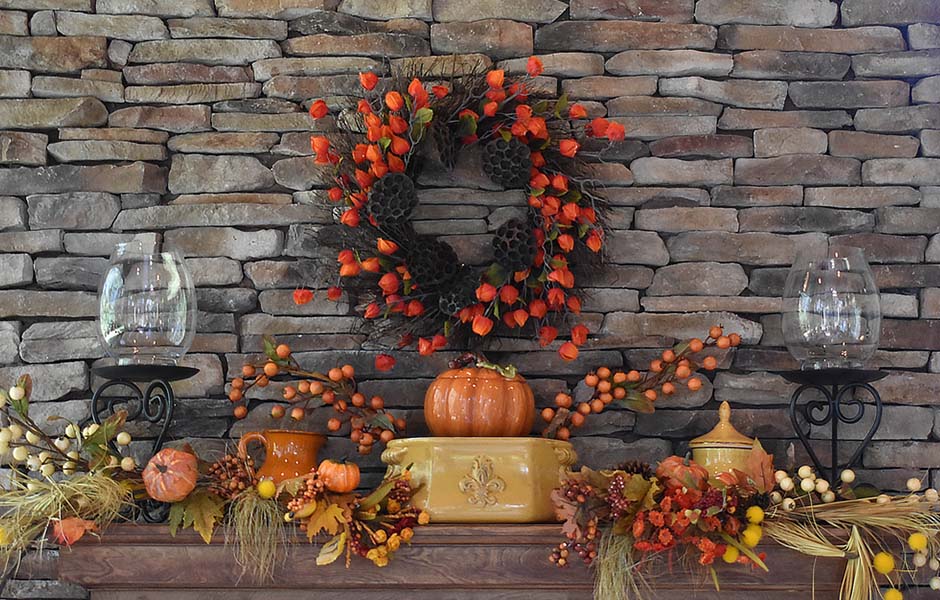 Autumn Mantel
As with other holidays and special occasions, the fireplace mantel is a go-to spot to display fall decor ideas for your living room. There are lots of different ways to go about decorating your mantel, but there are a handful of classic items you won't want to forget.
The most iconic motif of fall is what you want most of all—pumpkins. Gather a handful of faux or fresh pumpkins (different sizes are best) and arrange them along your mantel shelf. A rustic fall sign, seasonal candles, and autumnal plants will tie together the vignette perfectly.
Spooky Fireplace
As you brainstorm fall decor ideas for your living room, decide what kind of vibe you're going for. Do you want to focus on the fall season, Halloween, or a mixture of both? For a Halloween-inspired living room, transform your fireplace into a spooky focal point. Faux cobwebs, spiders, skulls, and books with black covers are a few easy decor items that will make your fireplace hauntingly festive.
Pops of Pumpkin
Put your living room bookcase and shelving to good use with this fall home decor idea! Gather together some faux pumpkins of various sizes and tuck them among other accessories in your shelving. If you're feeling adventurous, you can even spray paint the pumpkins to look more chic or traditional. All-white pumpkins, for example, will make your collection look more modern versus the traditional orange pumpkin.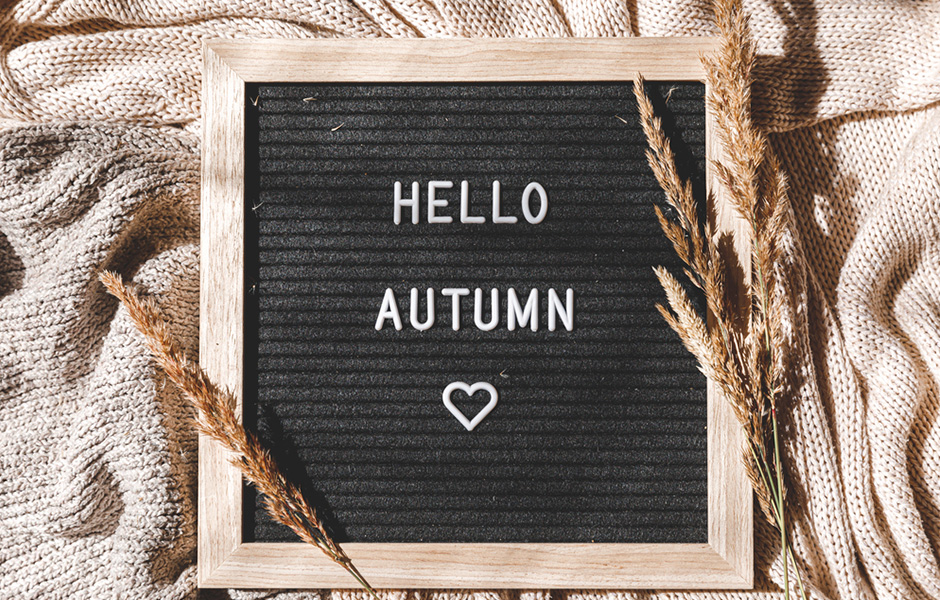 Fall Letter Board
As the seasons change, so should your letter board quotes! From cute fall puns to funny Halloween sayings, there's plenty of inspiration for your fall letter board. Here are some of the top letter board ideas you should try:

Pumpkin spice & everything nice

Leaves are falling & coffee is calling

Give 'em pumpkin to talk about
Trick or treat yo' self

Ghouls just want to have fun

If you got it, haunt it
Rich Fabrics
A simple way to transition your living room from summer to fall is by switching out your fabrics. Rather than using lightweight fabrics like linen and cotton, warm up your space with rich textiles. Velvet pillows, tartan throws, and flannel blankets will not only keep you cozy during the cold weather, they'll also reflect the decor trends of the season. 
Seasonal Color Palettes
While cozy fall decorating ideas like scarecrows and pumpkins are cute as can be, don't underestimate the power of a seasonal color palette. Everyday accessories like your area rug, wall art, throws, and pillows can be swapped out to include beautiful fall shades. You can even paint your living room walls if you feel like having a more long-term change. 
Whether you stick to a seasonal color palette alone or accessorize with festive decor, you're going to love the finished product! Get inspiration for your color scheme with these popular shades:

Mustard

Burnt orange

Wheat

Olive
Emerald green

Caramel

Red

After you complete your living room makeover with these fall home decor ideas, have fun creating these 15 enchanting Halloween crafts for adults!
Besides the obvious perk of additional seating, accent chairs provide the perfect opportunity to add more style, color, and personality to your home. While accent chairs are a beautiful addition to any space, there are various factors that you must consider as you shop around. From the size of the chair to its upholstery materials, learn how to choose an accent chair that complements your space. 
Match Your Interior Design Style
With so many different types of accent chairs to choose from, it's important to keep in mind one of the most basic characteristics of furniture—their interior design style. Take a walk around your house and decide which interior design category your space falls into. Once you've figured that out, narrow down your search to accent chairs that complement your particular style. 
Be Smart With Placement
Furniture placement is key when learning how to choose an accent chair. Will your chair be situated in the bedroom for occasional reading or in the living room for additional seating? Depending on where you place your chair, the ideal style and type may change. Take into account size, shape, and seat height that complements the placement of your chair and how it will be used.
Pick Complementary Colors
As you might have guessed, color plays a huge role in choosing the best type of accent chair. You can be spot on with functionality and style, but the wrong color can create quite the design faux pas. The best accent chairs follow your home's overall color palette, picking up on accent colors and primary colors.
As you shop online or in the store, it's a smart idea to search for chairs that come in a wide range of colors that can fit your specific color scheme.
Make Sure You Measure
There's nothing worse than going through the process of buying a new accent chair just to discover that it's not a good fit in your home. Save yourself the hassle of returning a perfectly good piece of furniture by measuring first.
Interior designers recommend measuring the room's existing furniture, paying close attention to seat height and seat backs. Use these numbers as reference when you look at different types of accent chairs. The goal is to have your new furniture relatively match in both size and scale. 
Think About Function
Just as you want to consider placement when choosing accent chairs, you also want to think about the purpose or function. In other words, how is your chair going to be used (if at all)? Figuring out the purpose of your chair helps you rule out hundreds of options that won't work.
If you want additional guest seating for holiday parties and game nights, you should focus on living room accent chair ideas with comfortable features like armrests and soft back cushions. 
Alternatively, a statement chair in the entryway has more wiggle room to showcase striking features like straight backs and wooden armrests.
Consider Recliner Chairs
Is comfort and function your main priority when it comes to choosing an accent chair? With multiple features and designs that fit all style preferences, recliner chairs are definitely worth considering. 
Southern Motion's Soho accent chair is a beautiful addition to a farmhouse-style home with its plaid upholstery and classic block legs, while Key Largo's dark and sophisticated design looks stunning in modern spaces.
Materials, Materials, Materials
If you aren't sure what material works best for your new accent chair, shift your focus away from aesthetics and focus on practicality. Here a few questions that will shed light on which fabric and material is best for your furniture:
Will the chair be used for light use or heavy use?

Do you have pets?

Do you have young children?
For chairs in low traffic areas with very little use, your material options are practically endless. Pick what your heart desires and run with it. However, if your accent chair will be exposed to heavy use by kids and pets, durability is the name of the game. Natural and synthetic leather, for example, is better suited for everyday wear and tear.
Once you know how to choose an accent chair for your home, the real fun begins! Start your search by browsing Southern Motion's large collection of accent chairs that come in hundreds of colors and fabrics.
Besides the obvious family photo or two, it can be tricky to think of ways to decorate the empty wall space within your home. If you're tired of looking at bare walls and aren't having any luck filling them up, gather inspiration with these creative living room wall decor ideas.
1. Tapestry
Tapestries or fabric wall hangings are a unique way to add a splash of color and texture to your space. They're large in size which makes it extremely easy to cover quite a bit of wall space. In addition to that, tapestries are much less cumbersome to hang than say a massive art piece or flat screen TV.
When you choose your tapestry, be aware of its design and how you go about hanging it. Some tapestries resemble more of a "college kid" look, which you most likely don't want. Stay in line with your home's interior design style and give your tapestry a more sophisticated finish by hanging it with a wooden quilt hanger. 
2. Oversized Mirror
Interior designers recommend that you include at least one mirror in every room, which is why this living room wall accent couldn't be more perfect. Not only will an oversized mirror help to fill your wall space, it will also brighten up the room by reflecting sunlight that's shining inside.
Grab a floor mirror if you want the luxury of doing an outfit check throughout the day, or stick to a traditional wall mirror. An alternative option to a single, oversized mirror is an arrangement of small mirrors. A mirror gallery wall is a bold choice that will definitely give your home the "wow factor" you're looking for!
3. Woven Basket Collection
Woven baskets are currently a hot trend in the interior design world and they aren't just used as table accents. Woven baskets also make for a creative living room wall decor idea. Their round shape is a breath of fresh air amidst all the framed photographs and art pieces that tend to have squared edges.
Curate a collection of smaller baskets or consider hanging a couple of statement baskets that are large in size.
4. Floating Shelves
Floating shelves are a go-to living room wall accent if you want a modern touch that isn't too daring or complex. Floating shelves are especially ideal if you like to change up your decor often. Hang your shelves and style them with different decor items throughout the seasons and holidays.
5. Gallery Wall
Gallery walls may seem a bit intimidating at first, but they really are a fun and unique way to dress up your wall space. Take the opportunity to express your personality by displaying a collection that is centered around your interests or hobbies. 
Like the outdoors? Ground your gallery wall with nature-inspired pieces like photographs of your adventures and scenic paintings. 
6. Sporting Equipment
Why store away your sporting equipment when you can make it double as a creative living room wall decor idea? Displaying your equipment is an innovative way to incorporate your personality into your living space, and it makes for a great conversation piece too! 
If you love cycling, think about hanging your bicycles on contemporary wood mounts for an urban look. You can also wall mount your surf boards or casually lean them against one side of your living room wall.
7. Accent Wall
For this particular wall decor tip, you don't need any home decor items like baskets or photographs. An accent wall is another route you can take to spice up your living room with just some wallpaper or paint. Opt for a bold wallpaper with a striking pattern or take on the challenge of painting a beautiful mural. If your artistic skills aren't up to par or you need something more temporary, you can always use removable wall art as well.
Depending on how busy your base is, you can take your accent wall to another level by hanging wall decor that brings a contrast of texture.
8. Bookcase
It's reading time! Whether you pick built-in or free-standing bookcases, this wall decor tip can transform your living room into a polished and refined space. Give yourself the creative freedom to fill the bookcase with a wide range of decor items other than books. Framed photos, plants, folded throws, vases, and small sculptures are just a handful of ideas to try.
9. Statement Art
It's important to remember that your wall doesn't need to be busy with decor to look complete. Keep your living room wall simple and distinct with a statement art piece or two. The combination of bare space and a single art piece creates a striking visual element. 
10. Greenery
House plants are all the rage right now and their use goes far beyond a windowsill accent. Embrace greenery in your living room by hanging or mounting a few potted plants along your wall. Explore bohemian-style greenery with macrame plant hangers or keep it modern with geometric shapes.
Follow these wall decor tips and your living room will transform from bare and boring to balanced and bold in no time! For an extra bit of guidance along the way, check out these 7 decorating faux pas to avoid.
This year is a special time for Southern Motion because it marks our 25th anniversary or as we like to say, 25 years in motion. Over the decades, Southern Motion Furniture has made its name as one of the largest furniture manufacturers in Mississippi and beyond, but how exactly did we get where we are today? 
From small beginnings to the expansion of our team and factories, take a trip down memory lane to see how much Southern Motion Furniture has grown throughout the past 25 years.
Humble Beginnings for Southern Motion Furniture
The Creation of Southern Motion
To fully understand the history of Southern Motion, you need to jump back to the 1990's when the company was merely a dream that co-founders, Guy Lipscomb and Larry Todd, were determined to make into a reality. Their business model was simple—manufacture solely reclining furniture and make it the best on the market. 
After settling on the business model for their recliner manufacturing company, Lipscomb and Todd just needed a name. Rather than decide during a brainstorming session or two, Lipscomb stumbled upon the idea when he was shopping with his wife, Sandy. They saw a painting entitled, "Southern Motion," by an artist in Birmingham, Alabama and instantly knew that was going to be the name of the company.
As a result of much hard work and preparation, Southern Motion was finally founded in 1996 in Pontotoc, Mississippi. Production operations began with a small team of just 43 associates. In November of 1996, we ran our first two pieces as an established recliner manufacturer and they were shown at Rooms To Go, a valued dealer that has been with us ever since.
Our Growth Throughout the Years
Southern Motion's First Facility
After Southern Motion Furniture's founding in 1996, the business really started to take off. Producing hundreds of reclining chairs and sofas in our 40,000-square-foot facility eventually became too much to handle and we needed more space. 
In 1997, Southern Motion doubled its facility footprint to 80,000 square feet, but that didn't last long either. By the time 2001 rolled around, the first phase of Plant 1 was complete with a whopping 180,000 square feet of space to build our American-made furniture.
Expanding Operations
With business booming and a high demand for reclining chairs and sofas, Southern Motion decided to take advantage of an opportunity to expand operations into something bigger than ever imagined. In 2005, we included Recline Designs in our portfolio of facilities. This 69,000-square-foot frame mill was just the first of a succession of expansions.
Cushion to Go in 2008 – A 40,000-square-foot poly fabrication mill

Plant #2 in 2010  – A 180,000-square-foot upholstery manufacturing facility 

Plant #3 in 2015 – Started at an old location in Baldwyn, MS, and moved in 2017 to our current 742,000-square-foot facility
The Acquisition of Fusion Furniture
As if the production of reclining chairs and sofas wasn't enough to keep us busy, Southern Motion Furniture decided to broaden its horizons by acquiring Fusion Furniture (Fusion) in 2018. Because we already had a solid foothold within the reclining furniture industry, we believed this acquisition to be an opportunity for further growth in a new vertical of living room furniture—stationary furniture. 
Formed on the motto "Where Style Meets Value," Fusion produces stationary sofas, accent chairs, and ottomans to provide stylish, high-quality furniture to customers at very competitive prices. Founded in Ecru, Mississippi in 2009 by Bo and Alison Robbins, Fusion Furniture specializes in American-made furniture just like Southern Motion.
Currently, Fusion employs over 600 dedicated associates in four Mississippi-based manufacturing facilities consisting of 700,000 square feet. Together with Southern Motion, the two furniture brands comprise Southern Furniture Industries.
What Southern Motion Looks Like Today
Southern Motion Furniture
After 25 years in motion, Southern Motion has grown into a leading supplier of distinct styles of reclining chairs and sofas.  We serve over 1,500 retailers with more than 2,000 store locations, as well as offer our product online through various e-tailers. With over 1,500 associates and five facilities in Northeast Mississippi covering 1.5 million square feet, Southern Motion continues its quest to build the "World's Best Reclining Furniture."
From our wide array of living room collections like Zero Gravity and Next Level to our innovative furniture features, we have every style of product to fit your needs.
Southern Furniture Industries
Southern Furniture Industries (both Southern Motion and Fusion) has over 35 years of combined history in American-made furniture manufacturing. Presently, both brands occupy nine facilities in Northeast Mississippi with a combined total of over two million square feet and 2,100+ associates.
To see what 25 years of hard work, amazing associates, and loyal customers has helped us achieve, take a look at Southern Motion Furniture's current line of products. From sofas and sectionals to accent chairs, you're sure to find the perfect furniture pieces for your home!
It's time to celebrate the red, white, and blue! As you start preparing for the Fourth of July and all of the fun festivities that come with it, think about how your home can be just as patriotic as you. Gather inspiration for your patriotic home decor with these Fourth of July ideas that honor the USA!
Fourth of July Decor Ideas
Red, White, and Blue Table Decor
The dining table is one of the statement pieces of your home, so why not use it for your Fourth of July decorating ideas? Whether you include all three Fourth of July colors or choose to focus on one, the end result will complement your home's overall holiday look. A festive flower centerpiece, American-inspired table runner or table cloth, and patriotic cloth napkins are just a few ideas to consider. 
Fourth of July Garlands
Just as garlands are a go-to decoration for Christmas, they are a must for Fourth of July. Because they're relatively simple to make, garlands are a great DIY craft to help get you and your family in the holiday spirit. Take a couple hours to make your own strands and display them across your house.
American Flag Bunting
American flag bunting is a classic when it comes to Fourth of July decorating ideas. Keep your budget low with paper bunting or opt for quality, cloth bunting if you want Americana-style decor that lasts way past the holiday weekend. Spruce up your home's fencing or hang your American flag bunting along your front porch. 
Honeycomb Paper Lanterns
You can never go wrong with paper decorations for the Fourth of July! They may be temporary, but they add lots of USA flair to your space. Honeycomb lanterns and paper balls are wonderful additions to your patriotic backyard BBQ. Hang them from your trees or back patio for vibrant pops of color. 
Flag Pinwheels
Both a decoration and a fun kid's toy, pinwheels are at the top of the list for patriotic home decor. Place them along your front walkway, within your planters, or across your yard. 
Flag pinwheels can also make for a memorable craft project with the kiddos. Involve them in the decorating process by giving them the chance to create their very own spinning wheels to showcase to all of your guests.
Patriotic Bedding & Furnishings 
No, you don't need to get a massive American flag comforter for this Fourth of July decor idea—unless that sounds amazing to you, of course! Think more along the lines of furnishings like throw blankets, rugs, and pillows. 
For an obvious USA theme, incorporate accents with American flag designs. If you prefer a more subtle approach, you can include furnishings that follow the red, white, and blue color theme of the holiday. This is a great option if you want to adopt an Americana design style that looks good all year round.
Festive String Lights
Light up your home for the Fourth of July with festive string lights in red, white, and blue. Choose from dozens of lighting options that include adorable star-shaped lights, mesh lighting for bushes, and even rope-lighting that comes in the shape of the American flag. 
Take advantage of your entire outdoor area and think about lighting up your fencing, front porch, patio, greenery, and even your house itself.
USA Welcome Mat
An amazing first impression starts right at your doorstep. Dress up your front entryway with a USA-themed welcome mat. Stars, stripes, and a patriotic color palette are all you need for a festive mat to welcome guests into your home.
Holiday-Themed Wreath
Wreaths are a simple and affordable Fourth of July decor idea that add that extra bit of flair to your entryway. Buy one from the store or take on the challenge of a good ole' fashioned DIY project. One of the perks of creating a DIY wreath is that there's no limit to your creativity. Make yours from hydrangeas, pom poms, clothes pins, fabric, or even tinsel and you'll be pleasantly surprised at just how good it looks!
Patriotic Home Sign
Home sweet home! This patriotic home decor idea works both inside and outside your house and is versatile enough to look great all year round. Pick your favorite Americana-style signs and consider how flamboyant you want them to be, especially if you are looking to display them after the holiday is over.
There are many ways to spruce up your home for Independence Day, but these Fourth of July decorating ideas are sure to give you a great start! When you have some down time in between decorating, learn more about ways you can be a patriotic American by buying from local furniture manufacturers in the US.