The Ideal Interior Design for Your Personality Type
Your personality is what makes you, you. What better way to embrace who you are than to reflect your personality in your personal home style? Whether you're updating or redecorating your home, you can include decor items and furniture pieces to support your personality and interior design preferences. Read on to discover the possibilities of personalized interior design based on your personality type.
Which Personality Type Are You?
To determine the interior design that best aligns with your personality, find out which of the 16 Myers Briggs Personality Types you are if you don't already know. Each personality type has unique characteristics that can translate into your design preferences and personal home style. Once you know your personality type, you're ready to create an interior design based on your personality!
Architect personality types are imaginative and strategic thinkers with a plan for everything. They are rational and quick-witted, but also partake in nonstop analysis of everything around them. These personalities are best with a home design that allows room for play. A mix of old and new styles, different textiles, vibrant patterns, and a twist of the unconventional is perfectly suited to this personality type. Southern Motion's Diva Chair makes a great starting point.
Logicians are flexible thinkers who enjoy taking an unconventional approach to life. They are inclined to experimentation and creativity, stemming from their innovativeness and intellectual curiosity. To allow their imagination to run wild, this personality type should make sure their home has a space dedicated to creativity, such as a studio or home office space. Take a look at our tips on setting up a home office.
A Commander is someone who thrives off accomplishment and momentum. They are natural-born leaders and embody charisma, confidence, and authority. Ruthlessly rational, Commanders stop at nothing to achieve their goals. An industrial aesthetic lends itself well to the no-nonsense personality of Commanders. The unfinished look may seem uncomfortable at first, but furnishings like Southern Motion's Grid Iron Sofa can make the space feel sleek. 
Advocates are thoughtful and imaginative people. They have a deep sense of individualism, idealism, and integrity. They take pride in their ability to achieve their goals. Advocates sometimes speak with great passion and conviction, but are also quietly creative. Their thoughtfulness should translate into their personal home style with a modern, curated design full of intentionally-selected pieces. Just be sure to check out these decorating faux pas.
Debaters are bold and creative. They love deconstructing and rebuilding ideas with their great mental agility. They are goal-setters and ardent achievers with effortlessly quick wit. To embrace their big personalities, a Debater's personal home style is eclectic with bold designs and vibrant colors. Their homes reflect their personal tendencies and passions through artwork, colorful design, and thoughtful decor. These color palette tips can help with a new living room design.
A Mediator is typically quiet and shy, but they often have vibrant and passionate inner lives. They make up a small portion of the population, but their caring nature and deep empathy makes for strong connections with their loved ones. To feed their gentle, caring soul, a shabby chic interior design and open floor plan will be the ideal personal home style. A neutral-toned piece like Southern Motion's Dynasty Sofa can be the perfect centerpiece.
Protagonists have big ideas and strong values. They are natural born leaders full of passion and charisma that help others find their passions and achieve their goals. To showcase these passions, they should focus on hanging artwork and photographs throughout their homes. Framed pictures can add something special to their interior design, allowing Protagonists to feature the stories and individuals most important to them. Read these tips on how to hang art.
The Campaigner is a free spirit. They are the life of the party because of the deep connections and strong bonds they have with those around them. Campaigners tend to live carefree and enthusiastic lives and a Bohemian style will play to this inner boldness. Embracing rich colors can cultivate this personal home style. An accent piece like Southern Motion's Daisy Chair can help showcase a free spirit and fun outlook on life! 
A Logistician is an observant individual who values integrity and practicality. They are tirelessly dedicated to those they love and value rules and traditions. They are determined to achieve their goals and will hold back none of their time and energy completing tasks. Considering their practical nature and determination, a straightforward minimalist design will best align with their no-fuss preferences. This living room decluttering list can keep items in the home to a minimum.
Defenders are typically introverted, but they are also efficient and responsible. Their analytical abilities are excellent and they have superb people skills and strong relationships. The best personal home design for this personality type includes open spaces in living rooms and kitchens that facilitate conversation and communication. A large sofa like Southern Motion's Showstopper Sectional can help with accommodating friends and loved ones. 
Executives thrive on tradition and order and have a strong moral compass. They embrace honesty, dedication, and dignity, and take great pride in bringing people together. Their personal home design should be modern, as this will ensure order and organization, but also allow for entertaining and connecting with others. Take a look at this guide to arranging two sofas in the living room to make the most of your space and decor. 
A Consul is someone who cares deeply about those around them and enjoys supporting their loved ones. They are social butterflies who thrive on interaction, but also take the time to form strong connections. This personality type enjoys hosting social gatherings and entertaining, as they are extroverted and outgoing. Their personal home design should allow them to host their guests easily. Steal these celebrity decor ideas to create a stylish and inviting home!
Virtuosos are individualistic and inquisitive with lofty goals and an inclination towards exploration. They are spirited, curious, and tactical thinkers. These bold and practical experimenters do best with a personal home style that fosters their curiosity. Mid-century modern design will bring a twist of the unconventional into the home while feeding their inner curiosity. Southern Motion's West End Sectional would be the perfect fit for a mid-century modern home. 
Adventurers have a unique preference for aesthetics and design that push the boundaries of social conventions. They enjoy testing the boundaries of what is "traditional" and experimenting with beauty and behavior. This personality type is subject to constant change and growth on the daily. Art deco design and plant decor is the perfect way to foster creativity and experimentation in the home. You can find your perfect house plant in this quiz.
Entrepreneurs enjoy being the center of attention. They are energetic and make impulse decisions, but are confident enough to tackle any obstacles that come their way. Entrepreneurs are spontaneous and the life of the party and their homes are likely the go-to spot for social gatherings. A larger piece like Southern Motion's Fandango Sectional is ideal for a living room designed for entertaining. 
The Entertainer is spontaneous and energetic and likes to live in the moment. Their excitement and generosity is contagious and will light up any room they enter. Their personal home style should be bold and colorful with an energy that can match their own. This quiz will guess your entertaining style based on your interior design preferences, so you can create the right kind of space for your future gatherings.
Now you know the personal home style that naturally aligns with your needs and preferences, you can look for the decor and furniture pieces that will make your house feel more like your home. Take a look at the Southern Motion Collections to develop an interior design based on your personality type!
The time has arrived. The 2021 spring-summer Pantone color chart has been released. The colors are bold shades with natural hues and vibrant tones that the experts from the Pantone Color Institute have compiled for the Pantone color 2021 trend report. These striking colors are sure to spruce up any home design, and just in time for a spring refresh. 
Read on to learn more about this year's color choices and how you can easily incorporate them into your interior design.
And the Colors Are… 
The 2021 Pantone list of spring-summer colors includes ten hues, each with their own unique descriptions. These colors are unconventional for spring and summer, but they complement one another in unique, nature-inspired ways. Pantone's list of hues feature warmer, orange tones, paired with some cooler blues and greens, muted purples, and a vibrant shade of pink. 
The Pantone list from left to right:
PANTONE 14-1050 Marigold

PANTONE 15-4020 Cerulean

PANTONE 18-1248 Rust

PANTONE 13-0647 Illuminating

PANTONE 18-4140 French Blue

PANTONE 13-0117 Green Ash

PANTONE 16-1529 Burnt Coral

PANTONE 16-5938 Mint

PANTONE 17-3628 Amethyst Orchid

PANTONE 18-2043 Raspberry Sorbet



Leatrice Eiseman, Executive Director of the Pantone Color Institute, explained that these flexible colors work year-round, but we love how they make us think of longer, warmer days. The Pantone color chart was chosen for the combination of unique shades and uplifting natural elements, reminiscent of spring flowers and luscious plants. The vibrant hues paired with warm earthy tones can bring an authenticity to any space or design for a mood-boosting yet relaxing vibe.
4 Ways to Incorporate the Pantone Color Chart into Your Home 
While we expect to see these colors on the runways of New York Fashion Week 2021, why not incorporate these statement-worthy colors into your home design with these simple Pantone color chart tips? There's no better time to refresh your home than during the spring and summer months!
Accent Chairs and Sofas
A great way to incorporate a vibrant color palette into your home is by featuring some accent pieces. Consider an accent chair to make a statement with a color from the Pantone 2021 color list. 
An armchair in PANTONE 16-1529 Burnt Coral will bring a warm hue that creates an inviting feeling in any space. For a cooler spring-summer tone, a PANTONE 16-5938 Mint armchair or loveseat will refresh and restore your living room. Feeling brave? Get a sofa in PANTONE 13-0647 Illuminating. This color will bring a splash of energy to your space that is sure to brighten the room all year round.
Pillows
Throw pillows are a fantastic way to incorporate pops of color without investing in large pieces of furniture. It's as easy as purchasing a pillow cover, putting it on, then throwing it on your couch. Plus, this is a great way to include multiple shades of color to build a richer interior design. 
If you have a neutral-toned sofa, add some PANTONE 18-4140 French Blue and PANTONE 18-2043 Raspberry Sorbet pillows. Break up the vibrant shades by throwing a PANTONE 14-1050 Marigold into the mix. Pillows inspired by the bold Pantone colors of 2021 will brighten up your couch and add a hint of color that will transform your space and your mood. 
Rugs 
Placing a rug in your living room is another easy way to add color to your space and tie your interior design together. The color can be a subtle choice from the Pantone list, but the impact will be immense. A rug in PANTONE 13-0117 Green Ash will bring a gentle splash of color to any room and is sure to cool and soothe the space. 
Paint
One of the most effective ways to refresh a space and incorporate color? Paint the walls. A colorful coat of paint on the walls can bring a space to life. Whether you lean towards the cool, traditional spring colors, the unconventional earthy tones, or the bright, vibrant jewel shades, the Pantone 2021 color palette offers inspiration for every paint color. 
Try PANTONE 18-4140 French Blue on the walls of your living room for a bold splash of color that creates a dreamy sense of spring afternoons. You can also take a look at these ideas for the perfect spring and summer decor for more paint inspiration.
Refresh Your Home This Spring
Welcome the warmer months with unique spring and summer interior design trends. Choose a balance of warm tones and cooler shades from the Pantone 2021 color palette and add them to your space. Your home is sure to feel fresh and new, especially with these tips on how to design the perfect interior design color palette. 
Having a small living room doesn't mean you can't still enjoy style and functionality in the heart of your home. With the right approach to small living room layouts and furnishings, you can create a space where you love spending time with friends and family. Here's how to maximize space in a small house so you can start working on your dream living room setup.
Small Living Room Layout Tips
When it comes to evaluating your living room, it's all about understanding and appreciating the available space. These ideas can help you adjust your mindset to effectively organize your room.
Create a Floorplan
By creating an accurate floorplan, you get a better feel for exactly how much space you have and how the shape and features of the room can support your lifestyle. For example, if your living room has a large window, this area could be perfect for setting up your desk or crafting table. Have a difficult corner to work with? Sounds like the ideal reading nook or music spot!
Try breaking your living room floorplan into different sections for each of the ways you like to use the space. To make these distinctions even clearer, you can paint the walls of each area in your living room a different color or shade. This will help maximize the space in your small house both visually and functionally.
Make Use of All the Space
Once you've made a floorplan and decided how you want to use your living room, you can put the entire space to work. There are a few small living room layout ideas to keep in mind when organizing the space, starting with the furnishings. Don't push furniture up against the walls, which can emphasize the limited space. Even with a small living room layout, you should have a few inches to spare so you can float your furniture away from the walls.
As well as keeping furniture from in front of any windows, you can simplify window treatments to let in as much light as possible. Getting plenty of natural light in the room can give the impression of more space. While the square footage of your living room floor may be limited, you may be lucky enough to have high ceilings. Use lots of shelves to remove storage and organizational items from the floor and show off the unique space!
Embrace Your Small Living Room!
Having a small living room can feel like a disadvantage, especially if you love to entertain at home. However, a small space gives you an effortlessly intimate environment. Position your small living room furniture sets in a cozy huddle and see how it brings people closer together and encourages conversation in your home. 
You can also celebrate your living room with a statement piece. While a larger decor item may seem counterintuitive for a small space, a gallery wall or eye-catching light fitting can actually make your room feel larger by adding more visual intrigue. In fact, with the right interior design, you can really maximize the living space in your small house. Take a look at our effective decor tips for limited spaces to get even more inspiration. 
Small Living Room Furniture Sets
Now you've got your small living room layout, it's time to think about the right furniture for your space. There are several routes you can take to really get the most out of your living room.
Opt for Multi-Purpose Furniture
Multi-purpose furniture can help you get everything you need into a small living room layout without cluttering the room. You can choose pieces with built-in storage, such as ottomans. Ottomans can also be used as coffee tables, extra seating, and foot rests quickly, easily, and stylishly. If your living room doubles as your spare room when your relatives are in town, you can even consider adding a daybed to the space for a practical and playful addition. 
Switch Out a Furniture Set for a Sectional
A sectional may be a large piece of furniture, but with just that one piece, you can seat all your friends and family in a small living space. A stylish sectional can also work as a statement piece while offering a cozy seating option.
Choose Furniture with Small Dimensions
You can also choose small living room furniture sets. Antiques are a great option for small living room layouts, as they come from time periods when rooms were typically smaller. Swap one large coffee table for a few small antique coffee tables or choose lower furniture to create the illusion of higher ceilings — and more space —in your home.
If you're looking for something more modern to maximize space in a small house, you can consider floating furniture. Hanging seats and Lucite tables create a sense of spaciousness and style while fulfilling the main needs in your living room. Similarly, backless furniture doesn't cover up focal points in the room but does provide handy additional seating.
You can also find specially designed furniture for smaller living rooms. Southern Motion's Gigi Recliner has a functional swivel base, small dimensions, and wall hugger technology, making it ideal for a small living room layout. To get the perfect furniture to maximize the living space in your small house, find your nearest Southern Motion retailer here.
Whether you're having a dinner party, Christmas celebration, or game night, you'll often find yourself relaxing in the living room at the end of the night. Long conversations and sweet memories are made in this room, so it only makes sense that you'd want to have plenty of seating for family and friends — and sometimes, one sofa just doesn't cut it. 
Before you bust out your spare dining chairs, consider incorporating two sofas in your living room and follow this guide for tips on how to arrange couches!
It's All About Arrangement
The first step to creating a stylish and functional living room with two sofas is deciding on the best arrangement. For this, you need to assess the size of your space and what you most commonly use your living room for. If you find yourself enjoying lots of movie nights, you may want to arrange your sofas differently than a living room used for formal conversation and entertaining. To give you a better idea of what layout works best for your space, check out the three main couch arrangements used in interior design.
Two Sofas Facing Each Other
A more intimate layout for two different sofas in a living room is having them face each other. This is a great arrangement option if you entertain frequently and intend on using your living room for socializing and conversation. 
As for space, this layout works wonderfully for large open floor plans and rooms with a square or rectangular shape. The sofas help to divide the space naturally in a very symmetrical manner. It can also work well for narrow rooms because you can easily squeeze the couches closer to each other to save space.
Arrangement Highlights:
Best for entertaining and formal conversation

Works well in large open floor plans, narrow rooms, and square or rectangular spaces

Creates a symmetrical design
Two Sofas at a Right Angle 
For a cozier and casual design, you might want to opt for arranging your two sofas at a right angle. Because this layout brings the two couches together, it helps to create a homey and inviting atmosphere. If you love nights cuddled up in front of the fireplace or TV, this is the best option for you. 
Keep in mind that this L-shaped arrangement does require more space and can make your room look cramped if there's not enough square footage.
Arrangement Highlights:
Best for casual lounging and media rooms

Works well in larger living rooms with plenty of space

Creates a cozy and inviting atmosphere  
Two Sofas at a Wide Angle
If you have lots of space to work with in your home, the wide angle approach may be the layout for you. This arrangement for two sofas in a living room works just as the name suggests. Separate your couches relatively far apart from each other at varying angles and adjust as you see fit. 
This layout creates a wide open space that's perfect for casual lounging and entertaining large parties. As far as room size and shape, the wide angle approach is great for large and open-concept living spaces. It's especially fitting for rooms with an irregular shape.
Because of the openness of this arrangement, the wide angle layout is ideal if you want to include extra furnishings in your living space. Throw in a couple stylish recliners or accent chairs to fill the space and maximize seating for guests.
Arrangement Highlights:
Best for casual lounging and entertaining large parties

Works well in large, open-concept living rooms, especially those with an irregular shape

Creates a comfortable, wide open space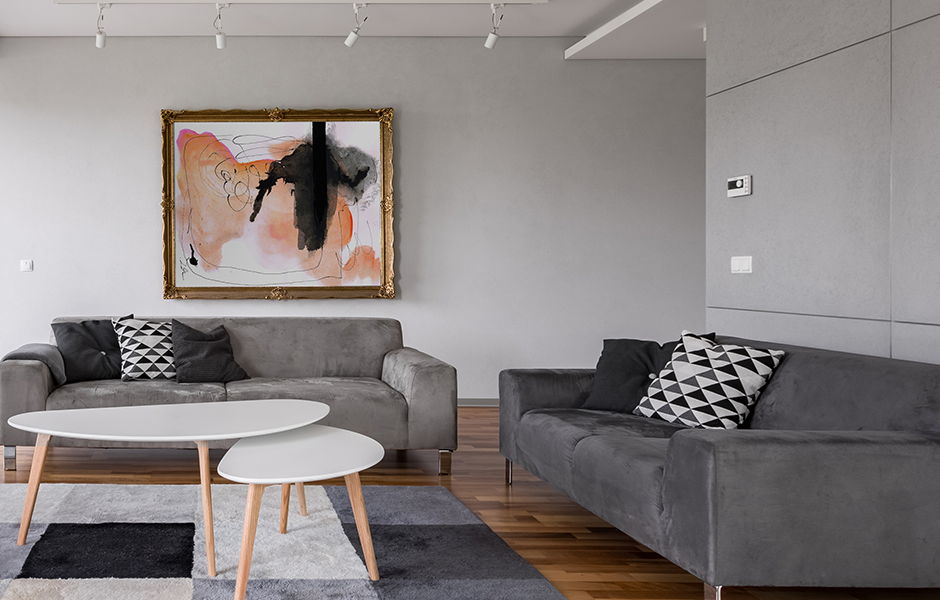 Keep Sofa Design in Mind
After you've established which arrangement is best for two sofas in your living room, it's time to decide which sofa designs you love most. Do you want two identical sofas or two different sofas in your living room? If you choose to go the more complex route with two different couches, you need to keep in mind color and fabric. Here a couple tips to ensure your sofa combination is cohesive not clashing.
Fabric Choices for Two Sofas
When choosing two different sofas for your living space, it's a good idea to mix fabrics rather than try to match them. For example, if you've chosen a microfiber sofa, complement it with a leather sofa. Incorporating various fabrics gives contrast to your space and achieves the unique look you were striving for from the start.
Our Re-Fueler and Essex sofas are great examples of contrasting fabrics that blend well together in any living space.
Color Combinations for Two Sofas
Perhaps even more important than fabric is color when it comes to decorating with two different sofas in your living room. While it's important you choose whatever color combinations suit your style, recommended color palettes can be a helpful guide. Take a look at this list to see which colors stand out the most to you.

Brown & Tan

Light Blue & Aqua

White & Dark Brown

Brown & Teal

Dark Blue & Gray

Blue & Yellow

Brown, White, & Red

Green & Charcoal Gray

Mushroom, Tan, & Red



Southern Motion Sofa Combinations
Southern Motion carries a large collection of sofas in varying colors and fabrics that can easily blend into your living space. From rich, dark leather to light and airy microfiber, the choices are endless. As you decide which two sofas will look amazing in your home, consider these Southern Motion sofa combinations that combine style and comfort all in one.
Whether you're looking for more seating for entertaining or comfy spots for cozy nights in front of the fireplace, having two sofas can do just the trick. Use these design tips and arrangement ideas to create the perfect living room for your needs! If you plan on including recliners as well, discover how to design your living room with your recliner style in mind.
While the holidays are a wonderful time of year full of festive cheer, family, and fun, it can be easy to get overwhelmed with the hecticness of the season. From buying presents and hosting parties to prepping your home for guests, the to-do list can seem endless. 
Even though some stress is unavoidable, there are simple ways to make your holidays more joyous and a lot less chaotic — and it all starts right at home. Incorporate these Feng Shui tips into your holiday decorating to create a harmonious and welcoming space for both you and your guests.
Why Feng Shui During the Holidays?
The usual cleaning and decorating are a good start to creating an inviting home for the holidays, but practicing Feng Shui design enhances those rituals even further to make your house a serene getaway. It helps to bring the healing energy of the outdoors inside your home, which lessens the stress and chaos of the season. 
If you follow simple holiday decorating ideas with Feng Shui in mind, your holiday parties will flow more smoothly, decorations will fit together better, and your home will be a beautiful place of harmony.
Feng Shui Tips for the Holidays
Step Up Your Cleaning and Organizing
As you start cleaning your home in preparation for guests, keep in mind that your efforts aren't just geared toward a presentable space. A polished home can help improve your mood and the mood of your visitors. Focus on key areas where you'll be spending the most time like your dining room, kitchen, and living room. Organize these spaces and clear them of any clutter.
This Feng Shui tip can be extended after the parties are over too. Once you have cleaned your space, take it a step further by cleansing your rooms. Rituals involving Palo Santo, essential oils, and natural incense can refresh your home and restore its positive energy.
Prioritize Your Entryway
The entryway of your home is very important when it comes to Feng Shui home decorating. As the gateway of energy, it sets the tone for the whole house, which is why you should make it a welcoming space. Give your guests a great first impression and set them at ease by including fresh herbs like rosemary and vibrant colors in your entryway.
Choose Festive, Feng Shui Colors
Colors symbolize different elements within Feng Shui design, so you definitely want to keep these in mind when choosing your holiday color scheme. Red represents the Fire element which channels passion and emotion, while green represents the Wood element of growth and expansion. These traditional holiday colors are energy-heavy, which may not be the best if you're trying to reduce anxiety and stress in your home. However, there are a couple Feng Shui home decorating tricks to balance out their fiery energy. 
One idea is to decorate with mirrors or mirror-like surfaces that introduce the calming energy of the Water element. Another helpful tip is to use essential oils like mint or chamomile to diffuse hectic energy.
Silver, gold, and blue are beautiful seasonal colors from the Water element that are a great substitute for red and green. These Water shades bring a soothing and calming energy to your home just like mirrors do. Even though these are tranquil colors, you can still have too much of them which creates an overly calm environment. Either moderate or compensate with essential oils like cinnamon, eucalyptus, fir, or pine.
Pick Decor with Your Guest List in Mind
If you can't quite decide on festive colors for your home, consider this Feng Shui tip. Different people bring different energies to your home, so it's best to assess your holiday guest list when practicing Feng Shui home decorating. If holiday gatherings with friends and family are emotionally draining and overwhelming to you, it's a good idea to incorporate Water and Metal decor elements with silver and gold or blue and white color schemes. 
For quiet, disconnected holiday gatherings, try emphasizing the Fire element with lots of candles and warm scents in the air. Light your fireplace during parties for an extra cozy touch. Red decor like vases, throw pillows, blankets, and artwork are other ways to bring more connection to your space.
For any home, it's a good idea to include Earth elements as well because they bring nourishment and stability to your space. Potted plants are an easy way to incorporate this positive energy. Get festive with some gorgeous poinsettias perfect for the holidays! 
Find Balance with Your Decor
As with decorating your home during any season, it's good practice to know when to stop. Don't over do it with too many nutcrackers and ornaments because that disturbs the balance of energy in your home and makes it look cluttered. Keep it simple and genuine for a warm and intimate holiday season. This Feng Shui tip can also help to preserve your life energy during a season when it's easily depleted.
Lighten the Atmosphere
One simple holiday decorating idea that works hand-in-hand with Feng Shui design is lighting. Lighting nurtures a calm, warm atmosphere within your home, so make sure you have several layers spread throughout your space. Lamps, wall sconces, overhead lights, and of course, holiday lights, are a few examples. 
Color counts as light too! Decorate with multiple colorful items that bring you joy and happiness, as well as photographs with pleasant memories of family and vacations.
Consider Your Furnishings
Your furniture is another big consideration when it comes to Feng Shui home decorating for the holidays. You want your space to be as comfortable as possible for both you and your visitors and furniture plays an important role in achieving that. Here are some ways you can include Feng Shui design in your furniture choices.
Choose rounded furniture that helps continue the flow of chi in a room

Opt for seating that's comfortable, not just stylish
Don't let the hecticness of the holiday season bring you down. Transform your home into a festive sanctuary of positive energy and harmony by following these Feng Shui tips! While you get into the holiday spirit, check out these Christmas craft ideas for gifts.
Every year brings us new interior design trends and this year has been no different. Of course, not all trends are created equal. Some concepts may offer timeless style to your home, while others only deserve their 15 minutes of fame. From 2020's interior design color trends to furniture choices, we've rounded up the most fashionable ideas of the year. The question is, which ones are in and which ones are already out? We want you to be the judge.
Take a look at these top interior design trends from 2020 and let us know your favorites by casting your vote!
After the devastating effects of the global pandemic, many people are starting to reassess how they make purchases and where they source their home goods from. Furniture is no exception. From receiving high-quality pieces to supporting the US economy, here are five reasons why you should consider choosing local furniture from home-grown manufacturers.
1. Higher-Quality Furniture — Without the Higher Price
In today's global economy, consumers can look for the best value options from around the world. While foreign manufacturers are known to offer affordable furniture, these pieces don't provide the most bang for the buck. International shipping, taxes, and duties all add up, so for a foreign-made piece of furniture to be competitively priced, the manufacturers need to use the cheapest materials possible.
American furniture manufacturers, on the other hand, can offer quality products without adding too much onto the price tag. Because local furniture doesn't need to be imported, the cost savings are passed directly on to the consumer and valuable business isn't lost to another country.
2. Insight into the Manufacturing Process
The US has strict and transparent regulations on product quality. Every piece of furniture has to meet the requirements of the Consumer Product Safety Improvement Act (CPSIA). Quality assurance is a critical part of the local furniture manufacturing process and ensures the safety of products before they are ever distributed to customers.
Local furniture is often made using safer and more natural production methods without harmful chemicals, glues, and materials. With American furniture manufacturers, you can feel confident about bringing pieces into your home and enjoying them with your friends and family for many years to come. 
In addition to excellent manufacturing practices, employees are also provided with a safe working environment in accordance with CDC guidelines. At Southern Motion, our associates are never exposed to toxic chemicals or dangerous working conditions. Since resuming our manufacturing, we have also made sure that everyone can stay healthy in the cleanest facilities. Associates are able to practice social distancing and we provide and require face masks to be worn in the workplace.
3. Unique and Innovative Pieces
Mass-produced furniture is made quickly and cheaply, which prevents innovation. If you're looking for a piece that combines unique style and functional comfort, local furniture is the best choice for you. 
As an American furniture manufacturer, Southern Motion is able to bring in a skilled and dedicated workforce that strives for excellence each and every day. The result? We've become a leader in design and innovation in motion furniture and are committed to creating the world's best reclining furniture — right here in the United States for over 20 years.
4. Support for the Local Economy
By choosing American-made furniture, consumers are helping to create more jobs in the US. This can result in huge gains for the economy. For example, Southern Motion was founded in 1996 and now employs over 1500 workers across five Mississippi-based facilities. This has allowed us to become one of the largest American furniture manufacturers in Northern Mississippi. Our associates are provided with unmatched benefits and a work community that feels like family.
Southern Furniture Industries also awards outstanding local high school graduates with scholarships. Every year, qualifying children of the company's associates can apply for these educational scholarships. This doesn't just support employees and ensure a family-friendly company — it also creates the next generation of leaders in the US who can help keep our economy growing.
5. Reduced Impact on the Environment
Sourcing and manufacturing furniture domestically ensures a shorter supply chain, fewer carbon emissions, and less fuel consumption. Materials and finished products don't need to be shipped from the other side of the world because they're already here in your backyard! This makes American-made furniture a more sustainable option.
Of course, American furniture manufacturers like Southern Motion still make sure their collections are available to customers across the country. We have a nation-wide network of 1,200 independent retailers so you can choose the right furniture for you and your family without any inconvenience.
Find Your Perfect American-Made Furniture
By choosing local furniture, you support top-notch manufacturing, sustainability, and the US economy. For these reasons and more, Southern Motion furniture is proudly made in the USA. With stylish options to suit every home, we can't wait to share the benefits of American-made furniture with you!
To discover the quality and innovation of American-made furniture at its best, take a look at the Southern Motion collections now.
There are lots of things you're probably doing right with your home decor, but there are also some common home interior design mistakes that even the most experienced homeowners make. By checking out some bad interior design examples, you can learn what to avoid and what to focus on to make your home even more enjoyable to live in. Here are the 7 of the biggest decorating faux pas to keep in mind as you develop your home interior design.
Decorating Faux Pas 1: Having Too Many Colors and Prints
Even if your home interior design leans more toward the eclectic side, you still need to have some cohesion with your overall decorating scheme. Too much variety in color, pattern, and print can leave rooms feeling busy and cluttered rather than clever and imaginative. 
Strive for a color palette of no more than three to four colors per room, using one or two main shades and the others as accents. Also, limit the number of prints or patterns in your home interior design. You can opt for more than one, but look for ways to make the elements flow together. An oversized print on a set of throw pillows, for example, can work with a smaller, more subtle print in the curtains, especially if they are in the same color family.
Decorating Faux Pas 2: Overdoing the Accents
You can't have too much of a good thing — or can you? Even if all your decorative accents are incredibly appealing, it can be a decorating faux pas to cram too many of them together in the same room. 
Choose a few main pieces to highlight and accent so they'll really shine. If you're not in love with the remaining decorations, give them away. If you can't bear to part with them, create an organized storage space for them and rotate pieces periodically to give rooms a fresh new feel every few months.
Decorating Faux Pas 3: Keeping Outdated Interior Design Details
Whether your home interior design is classic or contemporary, you probably have some outdated pieces or details in your design and decor. Maybe it's a certain rug pattern that was more of a fad or a tired set of upholstered chairs that could use an update. 
Look over your existing decor and overall design with an eye toward what has a timeless feel versus what has come and gone. Sometimes a slight update to existing pieces can do the trick. In other cases, you may want to replace the decor altogether.
Decorating Faux Pas 4: Not Capitalizing on a Room's Best Features
It's easy to fall into arranging furniture in a standard way or using a methodical decorating scheme without really taking the time to make the most of each room's best features. 
Maybe you have a room with a large window and lots of natural light. Maximize the light and view by hanging curtains high and wide to give the most exposure, or arrange the furniture in a unique way to make the window the focal point. 
Use oversized interior design details like wall art to draw attention to features like high ceilings or unique structural work. Capitalize on the coziness of a smaller room by adding creative nooks and soft textures. Once you focus on a room's best features, you can use your decorating skills to make them work for you.
Decorating Faux Pas 5: Using the Wrong Furniture and Decor Sizes
The furniture and decor you choose for a room needs to have a good relationship with the area. This is a mistake people often make in living room design. Small furniture and tiny area rugs in a large room with high ceilings will be swallowed up and make the space feel uncomfortable. Similarly, oversized furniture or large sectionals could look out of place in a smaller room. 
Choose furniture, rug, and decor sizes that work in harmony with the size and structure of the area. The key is to find a proportionate look that makes the space feel inviting. Southern Motion has a wide range of furniture collections to help you find the perfect pieces for your home interior design.
Decorating Faux Pas 6: Forgetting Balance and Contrast
Another important aspect of home interior design is creating balance. You want harmony in your color and decor, but that doesn't mean everything should completely match. A lack of balance and contrast can make any room feel off. 
The easiest way to avoid making rooms into bad interior design examples is by avoiding extremes and singular choices. A room done only in one color or a room with matching furniture, curtains, and rugs will lack the sense of contrast that makes a room feel lively and inviting. Even if you go with a monochromatic look, you can still add some of that contrast in with a subtly different hue and some varied textures.
Decorating Faux Pas 7: Not Personalizing Your Home Interior Design
One of the biggest home interior design mistakes is not personalizing your rooms enough. Fortunately, this is also the easiest decorating faux pas to fix!
Maybe your home's furnishings are largely made up of items passed down through the family, and you've kept them even though you don't love the pieces. Maybe your home is minimalist to the extreme, with rooms that have little or no decor or accents and need that personal touch. Maybe you've never really taken the time to figure out your interior design style, so your decor is a mix of pieces or gifts that don't speak to you. 
Decide what makes you feel at home and incorporate the things you love into your decor scheme. From photographs and artwork to your favorite color and mementos, personalizing your space with these interior design details is easy and fun.
For more inspiration for your home interior design, take a look at our guide to interior design for beginners.
From birthdays to New Year's Eve extravaganzas, there are plenty of reasons to throw parties throughout the year. Your parties may currently have a different sized guest list, but as a party host, you still have your own signature approach to decorations, activities, food, and drinks. Your interior design style and home decor pieces say a lot about you and the kind of entertainer you are.
Find out which entertaining style fits you best by picking out your favorite decor pieces and designing your own personal interior!
Designing your home like a Hollywood star doesn't have to break the bank. Create a home interior fit for the big screen with these Southern Motion look-alike furniture pieces.
Celebrity Style Icons
There are countless celebrities with luxury home decoration ideas, so it can be overwhelming to decide which style is best for you. Luckily, we have a list of celebs from sports to music and acting whose unique interior design styles cover a wide range of trends. Start getting inspiration for your home decor makeover by taking a look at these celebrity style icons, their home interior design ideas, and the Southern Motion look-alike furniture pieces that match perfectly.
Singer-songwriter John Legend and model Chrissy Teigen are a power couple America absolutely loves. It's only fitting that these two celebrity style icons have an LA home to die for. If modern interior design is your thing, this couple's luxury home decoration ideas are the perfect inspiration for you. With floor-to-ceiling glass windows, sleek design, and extensive wood cabinetry, their space screams contemporary. Just as you think the whole house is completely modern, they incorporate a dark brown leather recliner and cream-colored sofa that add just the right amount of comfort and warmth. 
Chrissy Teigen and John Legend have a family of their own, so it goes without saying that their home interior design ideas are family-friendly. However, the overall contemporary theme may be better suited for young couples looking to entertain or older couples without young kids. Southern Motion's Saturn Recliner is a simple addition to your home that closely resembles the decor found in this celebrity couple's home. The fact that this is a zero gravity recliner will give your home a unique modern touch.
Sheryl Crow's home in Nashville, Tennessee is a southern-style oasis. From wood floors and walls to leather couches and chairs, this celebrity style icon has home interior design ideas as beautiful as her hit songs. Because her home is in the heart of Tennessee where temperatures can get high, these luxury home decoration ideas are best suited for warmer climates.
If you're looking for an inviting and cozy interior that makes your house feel like a home, Crow's style is a good choice for you. She uses brown, tan, and white as a common theme throughout each room. You can start to recreate Crow's rustic dream house by bringing in Southern Motion's Titan Sofa. The plush materials and earth tone creates the comfortable country theme seen in Crow's home.
If you're a Game of Thrones fan, you'll definitely recognize this celebrity style icon. Nikolaj Coster-Waldau's Hollywood 
Hills home follows the minimalist and modern Scandinavian design trend. With white walls, black accents, and light wood, his home interior design ideas create an airy, relaxed atmosphere. The light colors and modern touches make Coster-Waldau's home decor a great addition for couples or families with older kids.
Going along with the rest of the house, most of the furniture is light in color and made of soft, cozy fabrics. Southern Motion's Metro Motion Sectional fits comfortably within this celebrity's style because of its warm tones and woven fabric.
The 1980s music scene wouldn't have been the same without John Mellencamp and his famous songs "Hurts So Good" and "Jack and Diane." This celebrity style icon killed it on stage and is now killing it with his home interior design ideas. Mellencamp's industrial-style studio in New York's SoHo area is an artist's fantasy home. Exposed brick, dark hues, steel furnishings, and leather couches mix together to create a moody theme fit for singles and sophisticated couples. 
Rich woods and darker brown tones can be seen throughout the loft, making Southern Motion's Essex Motion Sofa a fitting look alike for your home. The dark brown leather of this Next Level Collection encapsulates the lavish, SoHo atmosphere of Mellencamp's New York studio and easily resembles his brown leather couch.
Best known as executive producer of the medical drama series "Grey's Anatomy," Shonda Rhimes also doubles as a celebrity style icon. If you're wanting to recreate a LA celebrity home with a 1920s vintage theme, Rhimes is your girl. She takes luxury home decoration ideas to a whole new level with her vibrant hues, marble floors, chandeliers, dark wooden tables, and oriental area rugs. 
Although her home looks as extravagant as you can possibly get, she makes sure her furnishings are family-friendly. Fabrics are easily cleaned and tables don't get water stained. This is exactly why her home interior design ideas can work for families, singles, and couples alike.
Bring a touch of 1920s design to your home with Southern Motion's Key Largo Sofa. It embodies the style of Rhimes' living room decor thanks to its classic roll arms. While this piece may look stationary, it actually reclines and is available in the Smart Solutions fabrics. This makes it a stylish yet functional piece of furniture.
There's no doubt you'll score a touchdown with Tom Brady and Gisele Bündchen's luxury home decoration ideas because their LA mansion is something you only see in movies. Even though the home's exterior paints a picture of grandeur and opulence, the interior is eco-conscious and simple throughout. With neutral colors inspired by building materials and furnishings made with natural materials like old leather and Belgian linen, there are occasional accents of blue and green to bring in some color.
The warm tones, soft fabrics, and simplicity of this home's interior design ideas make it ideal for entertaining guests. Whether it be a BBQ or Superbowl party, everyone is sure to feel relaxed. Southern Motion's Prestige Accent Chair has all the elements that this celebrity couple uses within their home.
Another Grey's Anatomy star who has marked herself as a celebrity style icon is Ellen Pompeo. Her vacation house in the Hamptons is a "modern barn" as she calls it. The home has a black and white theme, with alternating colors on the walls. A mixture of dark, woven furniture and light wooden furnishings give the space a modern feel and bring contrast to each room. There's the subtle color accents (teal, mustard, pink) in her bedding, chairs, and flower decor pieces. The occasional brown leather chair brings a rustic undertone to the home as well. 
Pompeo's home is clean and simple which makes it versatile for any person or event. You can host a brunch, invite over family friends with children, or enjoy a night full of cocktails because these home interior design ideas are both beautiful and practical.
Southern Motion's West End Sofa from the Elevate Collection is the ultimate look-alike option because of its rich color and soft fabric options. Not only is it modern, it's also comfortable. This combination is just what Pompeo achieves in her Hampton's home.
Now that you have look-alike furniture options, you can start your interior design makeover so your home looks like it belongs in the Hollywood hills! For more furniture ideas, discover the best recliner for your lifestyle.