Vote for Your Top Interior Design Trends of 2020! [Poll]
Every year brings us new interior design trends and this year has been no different. Of course, not all trends are created equal. Some concepts may offer timeless style to your home, while others only deserve their 15 minutes of fame. From 2020's interior design color trends to furniture choices, we've rounded up the most fashionable ideas of the year. The question is, which ones are in and which ones are already out? We want you to be the judge.
Take a look at these top interior design trends from 2020 and let us know your favorites by casting your vote!
After the devastating effects of the global pandemic, many people are starting to reassess how they make purchases and where they source their home goods from. Furniture is no exception. From receiving high-quality pieces to supporting the US economy, here are five reasons why you should consider choosing local furniture from home-grown manufacturers.
1. Higher-Quality Furniture — Without the Higher Price
In today's global economy, consumers can look for the best value options from around the world. While foreign manufacturers are known to offer affordable furniture, these pieces don't provide the most bang for the buck. International shipping, taxes, and duties all add up, so for a foreign-made piece of furniture to be competitively priced, the manufacturers need to use the cheapest materials possible.
American furniture manufacturers, on the other hand, can offer quality products without adding too much onto the price tag. Because local furniture doesn't need to be imported, the cost savings are passed directly on to the consumer and valuable business isn't lost to another country.
2. Insight into the Manufacturing Process
The US has strict and transparent regulations on product quality. Every piece of furniture has to meet the requirements of the Consumer Product Safety Improvement Act (CPSIA). Quality assurance is a critical part of the local furniture manufacturing process and ensures the safety of products before they are ever distributed to customers.
Local furniture is often made using safer and more natural production methods without harmful chemicals, glues, and materials. With American furniture manufacturers, you can feel confident about bringing pieces into your home and enjoying them with your friends and family for many years to come. 
In addition to excellent manufacturing practices, employees are also provided with a safe working environment in accordance with CDC guidelines. At Southern Motion, our associates are never exposed to toxic chemicals or dangerous working conditions. Since resuming our manufacturing, we have also made sure that everyone can stay healthy in the cleanest facilities. Associates are able to practice social distancing and we provide and require face masks to be worn in the workplace.
3. Unique and Innovative Pieces
Mass-produced furniture is made quickly and cheaply, which prevents innovation. If you're looking for a piece that combines unique style and functional comfort, local furniture is the best choice for you. 
As an American furniture manufacturer, Southern Motion is able to bring in a skilled and dedicated workforce that strives for excellence each and every day. The result? We've become a leader in design and innovation in motion furniture and are committed to creating the world's best reclining furniture — right here in the United States for over 20 years.
4. Support for the Local Economy
By choosing American-made furniture, consumers are helping to create more jobs in the US. This can result in huge gains for the economy. For example, Southern Motion was founded in 1996 and now employs over 1500 workers across five Mississippi-based facilities. This has allowed us to become one of the largest American furniture manufacturers in Northern Mississippi. Our associates are provided with unmatched benefits and a work community that feels like family.
Southern Furniture Industries also awards outstanding local high school graduates with scholarships. Every year, qualifying children of the company's associates can apply for these educational scholarships. This doesn't just support employees and ensure a family-friendly company — it also creates the next generation of leaders in the US who can help keep our economy growing.
5. Reduced Impact on the Environment
Sourcing and manufacturing furniture domestically ensures a shorter supply chain, fewer carbon emissions, and less fuel consumption. Materials and finished products don't need to be shipped from the other side of the world because they're already here in your backyard! This makes American-made furniture a more sustainable option.
Of course, American furniture manufacturers like Southern Motion still make sure their collections are available to customers across the country. We have a nation-wide network of 1,200 independent retailers so you can choose the right furniture for you and your family without any inconvenience.
Find Your Perfect American-Made Furniture
By choosing local furniture, you support top-notch manufacturing, sustainability, and the US economy. For these reasons and more, Southern Motion furniture is proudly made in the USA. With stylish options to suit every home, we can't wait to share the benefits of American-made furniture with you!
To discover the quality and innovation of American-made furniture at its best, take a look at the Southern Motion collections now.
There are lots of things you're probably doing right with your home decor, but there are also some common home interior design mistakes that even the most experienced homeowners make. By checking out some bad interior design examples, you can learn what to avoid and what to focus on to make your home even more enjoyable to live in. Here are the 7 of the biggest decorating faux pas to keep in mind as you develop your home interior design.
Decorating Faux Pas 1: Having Too Many Colors and Prints
Even if your home interior design leans more toward the eclectic side, you still need to have some cohesion with your overall decorating scheme. Too much variety in color, pattern, and print can leave rooms feeling busy and cluttered rather than clever and imaginative. 
Strive for a color palette of no more than three to four colors per room, using one or two main shades and the others as accents. Also, limit the number of prints or patterns in your home interior design. You can opt for more than one, but look for ways to make the elements flow together. An oversized print on a set of throw pillows, for example, can work with a smaller, more subtle print in the curtains, especially if they are in the same color family.
Decorating Faux Pas 2: Overdoing the Accents
You can't have too much of a good thing — or can you? Even if all your decorative accents are incredibly appealing, it can be a decorating faux pas to cram too many of them together in the same room. 
Choose a few main pieces to highlight and accent so they'll really shine. If you're not in love with the remaining decorations, give them away. If you can't bear to part with them, create an organized storage space for them and rotate pieces periodically to give rooms a fresh new feel every few months.
Decorating Faux Pas 3: Keeping Outdated Interior Design Details
Whether your home interior design is classic or contemporary, you probably have some outdated pieces or details in your design and decor. Maybe it's a certain rug pattern that was more of a fad or a tired set of upholstered chairs that could use an update. 
Look over your existing decor and overall design with an eye toward what has a timeless feel versus what has come and gone. Sometimes a slight update to existing pieces can do the trick. In other cases, you may want to replace the decor altogether.
Decorating Faux Pas 4: Not Capitalizing on a Room's Best Features
It's easy to fall into arranging furniture in a standard way or using a methodical decorating scheme without really taking the time to make the most of each room's best features. 
Maybe you have a room with a large window and lots of natural light. Maximize the light and view by hanging curtains high and wide to give the most exposure, or arrange the furniture in a unique way to make the window the focal point. 
Use oversized interior design details like wall art to draw attention to features like high ceilings or unique structural work. Capitalize on the coziness of a smaller room by adding creative nooks and soft textures. Once you focus on a room's best features, you can use your decorating skills to make them work for you.
Decorating Faux Pas 5: Using the Wrong Furniture and Decor Sizes
The furniture and decor you choose for a room needs to have a good relationship with the area. This is a mistake people often make in living room design. Small furniture and tiny area rugs in a large room with high ceilings will be swallowed up and make the space feel uncomfortable. Similarly, oversized furniture or large sectionals could look out of place in a smaller room. 
Choose furniture, rug, and decor sizes that work in harmony with the size and structure of the area. The key is to find a proportionate look that makes the space feel inviting. Southern Motion has a wide range of furniture collections to help you find the perfect pieces for your home interior design.
Decorating Faux Pas 6: Forgetting Balance and Contrast
Another important aspect of home interior design is creating balance. You want harmony in your color and decor, but that doesn't mean everything should completely match. A lack of balance and contrast can make any room feel off. 
The easiest way to avoid making rooms into bad interior design examples is by avoiding extremes and singular choices. A room done only in one color or a room with matching furniture, curtains, and rugs will lack the sense of contrast that makes a room feel lively and inviting. Even if you go with a monochromatic look, you can still add some of that contrast in with a subtly different hue and some varied textures.
Decorating Faux Pas 7: Not Personalizing Your Home Interior Design
One of the biggest home interior design mistakes is not personalizing your rooms enough. Fortunately, this is also the easiest decorating faux pas to fix!
Maybe your home's furnishings are largely made up of items passed down through the family, and you've kept them even though you don't love the pieces. Maybe your home is minimalist to the extreme, with rooms that have little or no decor or accents and need that personal touch. Maybe you've never really taken the time to figure out your interior design style, so your decor is a mix of pieces or gifts that don't speak to you. 
Decide what makes you feel at home and incorporate the things you love into your decor scheme. From photographs and artwork to your favorite color and mementos, personalizing your space with these interior design details is easy and fun.
For more inspiration for your home interior design, take a look at our guide to interior design for beginners.
From birthdays to New Year's Eve extravaganzas, there are plenty of reasons to throw parties throughout the year. Your parties may currently have a different sized guest list, but as a party host, you still have your own signature approach to decorations, activities, food, and drinks. Your interior design style and home decor pieces say a lot about you and the kind of entertainer you are.
Find out which entertaining style fits you best by picking out your favorite decor pieces and designing your own personal interior!
Designing your home like a Hollywood star doesn't have to break the bank. Create a home interior fit for the big screen with these Southern Motion look-alike furniture pieces.
Celebrity Style Icons
There are countless celebrities with luxury home decoration ideas, so it can be overwhelming to decide which style is best for you. Luckily, we have a list of celebs from sports to music and acting whose unique interior design styles cover a wide range of trends. Start getting inspiration for your home decor makeover by taking a look at these celebrity style icons, their home interior design ideas, and the Southern Motion look-alike furniture pieces that match perfectly.
Singer-songwriter John Legend and model Chrissy Teigen are a power couple America absolutely loves. It's only fitting that these two celebrity style icons have an LA home to die for. If modern interior design is your thing, this couple's luxury home decoration ideas are the perfect inspiration for you. With floor-to-ceiling glass windows, sleek design, and extensive wood cabinetry, their space screams contemporary. Just as you think the whole house is completely modern, they incorporate a dark brown leather recliner and cream-colored sofa that add just the right amount of comfort and warmth. 
Chrissy Teigen and John Legend have a family of their own, so it goes without saying that their home interior design ideas are family-friendly. However, the overall contemporary theme may be better suited for young couples looking to entertain or older couples without young kids. Southern Motion's Saturn Recliner is a simple addition to your home that closely resembles the decor found in this celebrity couple's home. The fact that this is a zero gravity recliner will give your home a unique modern touch.
Sheryl Crow's home in Nashville, Tennessee is a southern-style oasis. From wood floors and walls to leather couches and chairs, this celebrity style icon has home interior design ideas as beautiful as her hit songs. Because her home is in the heart of Tennessee where temperatures can get high, these luxury home decoration ideas are best suited for warmer climates.
If you're looking for an inviting and cozy interior that makes your house feel like a home, Crow's style is a good choice for you. She uses brown, tan, and white as a common theme throughout each room. You can start to recreate Crow's rustic dream house by bringing in Southern Motion's Wow Factor Sofa. The plush materials and earth tone creates the comfortable country theme seen in Crow's home.
If you're a Game of Thrones fan, you'll definitely recognize this celebrity style icon. Nikolaj Coster-Waldau's Hollywood 
Hills home follows the minimalist and modern Scandinavian design trend. With white walls, black accents, and light wood, his home interior design ideas create an airy, relaxed atmosphere. The light colors and modern touches make Coster-Waldau's home decor a great addition for couples or families with older kids.
Going along with the rest of the house, most of the furniture is light in color and made of soft, cozy fabrics. Southern Motion's Metro Motion Sectional fits comfortably within this celebrity's style because of its warm tones and woven fabric.
The 1980s music scene wouldn't have been the same without John Mellencamp and his famous songs "Hurts So Good" and "Jack and Diane." This celebrity style icon killed it on stage and is now killing it with his home interior design ideas. Mellencamp's industrial-style studio in New York's SoHo area is an artist's fantasy home. Exposed brick, dark hues, steel furnishings, and leather couches mix together to create a moody theme fit for singles and sophisticated couples. 
Rich woods and darker brown tones can be seen throughout the loft, making Southern Motion's Essex Motion Sofa a fitting look alike for your home. The dark brown leather of this Next Level Collection encapsulates the lavish, SoHo atmosphere of Mellencamp's New York studio and easily resembles his brown leather couch.
Best known as executive producer of the medical drama series "Grey's Anatomy," Shonda Rhimes also doubles as a celebrity style icon. If you're wanting to recreate a LA celebrity home with a 1920s vintage theme, Rhimes is your girl. She takes luxury home decoration ideas to a whole new level with her vibrant hues, marble floors, chandeliers, dark wooden tables, and oriental area rugs. 
Although her home looks as extravagant as you can possibly get, she makes sure her furnishings are family-friendly. Fabrics are easily cleaned and tables don't get water stained. This is exactly why her home interior design ideas can work for families, singles, and couples alike.
Bring a touch of 1920s design to your home with Southern Motion's Key Largo Sofa. It embodies the style of Rhimes' living room decor thanks to its classic roll arms. While this piece may look stationary, it actually reclines and is available in the Smart Solutions fabrics. This makes it a stylish yet functional piece of furniture.
There's no doubt you'll score a touchdown with Tom Brady and Gisele Bündchen's luxury home decoration ideas because their LA mansion is something you only see in movies. Even though the home's exterior paints a picture of grandeur and opulence, the interior is eco-conscious and simple throughout. With neutral colors inspired by building materials and furnishings made with natural materials like old leather and Belgian linen, there are occasional accents of blue and green to bring in some color.
The warm tones, soft fabrics, and simplicity of this home's interior design ideas make it ideal for entertaining guests. Whether it be a BBQ or Superbowl party, everyone is sure to feel relaxed. Southern Motion's Prestige Accent Chair has all the elements that this celebrity couple uses within their home.
Another Grey's Anatomy star who has marked herself as a celebrity style icon is Ellen Pompeo. Her vacation house in the Hamptons is a "modern barn" as she calls it. The home has a black and white theme, with alternating colors on the walls. A mixture of dark, woven furniture and light wooden furnishings give the space a modern feel and bring contrast to each room. There's the subtle color accents (teal, mustard, pink) in her bedding, chairs, and flower decor pieces. The occasional brown leather chair brings a rustic undertone to the home as well. 
Pompeo's home is clean and simple which makes it versatile for any person or event. You can host a brunch, invite over family friends with children, or enjoy a night full of cocktails because these home interior design ideas are both beautiful and practical.
Southern Motion's West End Sofa from the Elevate Collection is the ultimate look-alike option because of its rich color and soft fabric options. Not only is it modern, it's also comfortable. This combination is just what Pompeo achieves in her Hampton's home.
Now that you have look-alike furniture options, you can start your interior design makeover so your home looks like it belongs in the Hollywood hills! For more furniture ideas, discover the best recliner for your lifestyle.
So you've decided you want to decorate your home! It's exciting to develop your own personal interior design style, but if you're new to home decorating, it can feel like a big step. Fortunately, this guide to interior design for beginners makes it easy to get started. Read on to learn about different interior design styles and principles to shape your decisions.
Step 1: Choose Your Interior Design Style
The first important decision you should make is selecting a style for your home interior. By choosing an interior design style to flow throughout your home, you can tie all elements of your space together into a unifying experience. Here are four popular interior design styles that are easy to get started with.
Modern
A modern interior design style is characterized by clean lines. This look comes from a neutral color palette with pops of color, a few different textures, and an asymmetrical balance of furniture. Try directing attention around your room with iconic furnishings, such as funky lamps and glass coffee tables.
Industrial
An industrial interior design style brings a raw feel to your home. This interior design style is known for its exposed brick elements and steel appliances. This stripped-down infrastructure paired with various muted shades of browns and grays captures a "work-in-progress" vibe. Incorporate rustic wood pieces and metallic accents to achieve this distinctive look. 
Contemporary
Known for its clean and tidy feel, a contemporary interior design style maximizes open spaces instead of adding clutter. To create a contemporary interior, work in neutral colors and subtle furniture with smooth edges. It won't surprise you that this interior design style is often described as the crossover between simplicity and subtle sophistication. 
Traditional
A traditional decor style is built around a warm color palette and welcoming textiles. You'll love this interior design style if you appreciate consistency, attention to detail, and any opportunity to entertain your friends and family! Pair your comfortable furniture pieces with accents such as lush trim and classic moldings to get the traditional look. 
Still unsure what to go for? Take our quiz to find the right interior design style for your home!
Step 2: Follow the Principles of Interior Design 
Once you've settled on your favorite interior design style, you can begin planning the changes you'll make to your home. There are hundreds of do's and don'ts surrounding interior design, but there's no need to let that hold you back. Following a few key interior design tips can keep you from feeling overwhelmed and still allow you to achieve beautiful results. 
Use the following principles of interior design as a roadmap, rather than rules to follow. Remember, you want your home to look great, but you also want it to reflect your unique personality and suit your day-to-day needs.
Wall Hangings
Pieces of art can be great conversation-starters for your home. Place your wall hangings at eye-level to capture attention and bring your room together. Larger pieces of art or a series of smaller pieces are useful when trying to add additional character to large, empty spaces. 
Mirrors, on the other hand, can create the illusion of more space. Along with reflecting natural light, they can also reduce energy use significantly. This interior design tip allows you to make a smaller space feel bigger, brighter, and airier. 
Furniture and Large Home Items
Larger items in your home, such as furniture groups and modern fireplaces, are the most eye-catching aspects of a room. This means you should plan to spend a little more money on these items. Pick them out early on in your interior renovation process so you can treat them as your centerpieces and design around them. 
Place your furniture at least a few inches from the wall to prevent your room from feeling cramped. The size of your pieces should also be consistent with the ratio of your room. Make sure to leave white space between all the items in your room to create a feeling of balance and spaciousness.
Lighting
An important interior design tip when considering lighting is to think about how you use the room. What you do in that space will determine the type of lighting you implement in your interior design style.
Low lighting

like ceiling lights, table lamps, or floor lamps offer good, general lighting.

Task lighting

, such as under-cabinet lighting and desk lamps, provide stronger, direct lighting. This is ideal for areas where you cook, read, and study. 

Accent lighting

highlights specific areas or items in a room. For example, adding recessed lighting can illuminate darker corners or show off your wall hangings.
Installing dimmer switches throughout your home can help you change up the atmosphere in your space. This can keep your interior design style fresh and flexible for any occasion.
Pattern & Rhythm
By playing with patterns you can add layers and depth to your home. Choose your main pattern to anchor your space. This can be in the form of an accent wallpaper, a patterned furniture group, or window treatments. Any additional patterns should complement this first pattern. You can do this by using the same types of patterns but in different sizes. 
When playing with patterns, utilize rhythm to move attention around the room and give your interior design style its own unique character. You can repeat or alternate elements, such as patterned throw pillows across your furniture group, or lamps around the room. You can also build on your patterns by deepening the color of the same pattern across your walls.
Colors
Whether you're thinking about adding a patterned wallpaper to your room or not, you'll need to choose the colors for your interior design style. The colors should reflect your personal preferences and work with the size and vibe of your room.
Reds, oranges, and yellow are warm colors that bring liveliness and intimacy to a room. Greens, blues, and purples are cool colors that are often used to create a feeling of calm and relaxation. Another interior design tip is to be aware of the size of your room. Warm colors in smaller spaces can often evoke a claustrophobic feel while cool colors in a spacious room can leave it feeling empty. 
A new interior design project can seem like a daunting task, but with this guide to interior design for beginners, you have everything you need to get started. If you're looking for home decor items you can make yourself, check out the DIY projects in this blog post!
Making your house a home means customizing your interior to your style preferences. From a rustic feel to transitional vibes, the sofas and loveseats available through Southern Motion's Next Level collection can emphasize your favorite design style.
Next Level reclining sofas and chairs can help you create your ideal interior design style. They can also provide a unique relaxation experience. Each of the sofas, loveseats, and recliners in this collection allow you to optimize your circulation and reduce the pressure on your neck, back, and legs. They also provide three inches of extra length in full recline, ensuring infinite comfort every time.
Take a look at the infographic below to see how these versatile Southern Motion furniture groups can be paired with different interior design styles. No matter your style, you can take your interior to the next level of comfort and sophistication with Southern Motion.
Southern Motion
Next Level Recliners,
Sofas, and Loveseats
Wow Factor
If you appreciate the coziness of a rustic decor, look no further than the Wow Factor. With soft contemporary lines, this Southern Motion sofa blends seamlessly with warm colors and natural details. You can also choose from any color or fabric, including leather, to get your ideal look. Relax into the quilted back panels and extra layer of seat padding. You can also add power recline and power-adjustable headrest features to help you unwind.
Top Gun
A traditional interior calls for classic design. Southern Motion's Top Gun offers oversized cushions, polyfoam arm pads, and intricate stitching for years of relaxation. You can even add power recline and power-adjustable headrest options for extra comfort. There are hundreds of fabrics and leather options to choose from, so you can make sure your sofas and loveseats complement your living room. 
Essex
The Essex bridges the gap between comfort and style. Thanks to its oversized back cushions and quilted channels, you can enjoy incredible support as well as a sleek look. These Southern Motion sofas and loveseats come in a variety of different covers to pair with urban modern details. You can also add power recline, power adjustable headrest, and SoCozi massage systems to create a truly modern living room addition.
Showstopper
If you have a minimalist interior design, your sofas and loveseats should make a statement. The Showstopper has everything you need. This customizable Southern Motion collection can be configured to fit any space and is available with power recline, power-adjustable headrest, and SoCozi air massage systems. The soft bustle backs and sculpted arms help ensure the perfect balance of style and comfort.
Grid Iron
Are you looking for a unique group of sofas and loveseats? Inspired by automotive influences, the Grid Iron works well with a transitional decor. The sectioned back creates statement lines and luxurious comfort by allowing you to sink into rich cushioning. These Southern Motion recliners are also available with power recline and power adjustable options.
Metro
A farmhouse chic interior needs furniture that combines coziness with refinement. Southern Motion's Metro checks both of these boxes with its comfortable tailored boxed back, crisp lines, and sophisticated arm treatment. The side profiles of these sofas and loveseats are ideal for open concept living, helping you bring a welcoming feel to a spacious living area.  
Choosing sofas and loveseats that will stand the test of time is not easy. You need to balance high-quality comfort with your personal needs and style. Southern Motion's Next Level collection makes all this possible. Take a look at the living room groups here.
Recliners are a classic addition to any living room, but there's so much to take into consideration when you're looking for that perfect piece of furniture. The best brand recliners offer a wide range of functions, design features, and styles, which means you can find something that supports all your personal needs. From recliners for smaller spaces to the best recliners for seniors, here are the top Southern Motion recliners to suit every kind of living space and lifestyle.
Best Recliner for Cozy Living Rooms: Wall Huggers
Looking for a recliner, but don't have much space for it? Wall huggers are unique recliners that can be positioned inches away from the wall even when fully reclined. This saves you valuable space in your home, especially if you live in a studio or apartment, or have a snug living room area. Recliners like Southern Motion's Fame have a power headrest option that can be combined with its power recline capabilities, which means you don't have to sacrifice any comfort just because you don't have a whole lot of space in your home.
Best Recliner for Seniors: Lift Recliners
Perfect for individuals who have injuries, disabilities, or for people who struggle standing up and sitting down on their own, the power lift is a motorized reclining chair. These recliners lift upward, helping you get out of your chair with ease. Lift recliners come in all shapes and sizes. Southern Motion's Shimmer lift recliner offers contour through the arm pads and seat cushions, which can help support any aches and pains. You can also choose from 380 fabrics and leathers, because practicality and style should never be exclusive.
Best Recliner for Couples: Chair & ½s 
Like the name suggests, this type of recliner provides the space of one and a half chairs. It's the ideal recliner for a romantic couple's night in or just to enjoy by yourself! Southern Motion's Excel Chair & ½ makes an afternoon reading session or movie night even more relaxing thanks to its intricate back cushion. The horizontal partition in the middle of the kidney back ensures stylish stabilization for long-lasting comfort. Unlike most recliners designed for comfort, this recliner has a cutting-edge style that will work in even the most modern home design.
Best Recliner for Millennials: Recliners with USB Ports
If there's one thing this generation can't get enough of its lifestyle-enhancing technology. Power recliners with USB Ports unite comfort with technological advancements that will resonate with anyone (not just millennials). Southern Motion's Elevate Collection contains the perfect examples. The silent power motion recline and optional power headrest systems allow for an infinite number of settings, so you can get your recliner just the way you like it. USB ports come standard in all Elevate products.
Best Recliner for Families with Young Children: Gliders
Thanks to their sturdy steel frames, gliders allow you to gently glide back and forth while sitting comfortably. This can be very relaxing for anyone using a recliner, but especially for parents with babies and young children. Southern Motion's Colby glider is a great example of this kind of recliner. With its oversized shape, clean track arms, and generous cushioning, it's a practical piece of furniture that can lull anyone into a relaxing sleep. What's more, with hundreds of special order fabrics and leathers to choose from, you can customize this recliner to match your interior design style or to be more child friendly.
Best Recliner for Relaxation: Zero Gravity and Next Level
Whether you suffer from back pain or just enjoy the opportunity to relax at the end of a long day, Southern Motion offers the perfect solutions. 
Recliners are a great way to incorporate comfort and support into your daily lifestyle. You can up the relaxation by adding the SoCozi massage system to a number of recliners, such as Southern Motion's Full Ride recliner. This advanced technology combines air cell design, heat therapy, and lumbar support to help you unwind and renew.
Need to crank up the therapy? A Zero Gravity recliner could be just what the doctor ordered. By mimicking the position of astronauts in space, these Southern Motion recliners allow you to achieve the ideal weight distribution and reduce the stress on your body. This can help improve blood circulation and lung capacity while reducing joint swelling and back pain.
Southern Motion's Next Level Collection makes the reclining experience even more comfortable and therapeutic. The innovative mechanism allows you to recline with your feet above your heart, as with Zero Gravity,  while the extended ottoman provides three inches of extra length in full recline. This optimizes your circulation and takes the pressure off your neck, back, and legs for an unparalleled furniture experience. 
The best brand recliners come in all kinds of shapes and sizes to match your needs and personal preferences. To find out where you can buy Southern Motion recliners, take a look at our retailers here.
Plants can breathe life into any indoor environment, but it can be hard to know where to start with a new plant decor. Luckily, you don't need a green thumb to take advantage of this fresh trend. With suggestions and tips on how to arrange indoor plants, this list will provide you with plenty of inspiration for your entire home.  
7 Plant Decor Ideas
1. Eclectic Plant Pots
No matter whether you're bringing artificial plants or fresh flowers into your home, you'll need vases and pots. While it might be tempting to buy containers that match the existing style of your rooms, modern plant decor works best with a more eclectic approach. Use a variety of pot sizes, colors, and textures to show off each of your unique plants. If you're feeling especially creative, you can recycle canisters, bottles, and glasses for a truly one-of-a-kind look.
2. Macrame Plant Hangers
If there's one plant decor trend that keeps going strong, it's macrame plant hangers. These devices don't just display your plants, they also bring together your whole living space by working your ceiling into your decor. Ideal for bohemian-chic interiors, cozy corners, and large window spaces, macrame plant hangers are easy to buy and craft. One of our favorite plant decor ideas is to create clusters of hangers in different lengths, colors, and styles. 
3. Potted Plants as Bookends
When you're new to plant decor, it can be tricky to decide how to arrange indoor plants without making them look cluttered. Instead of moving all your belongings around to make space for your plants, why not incorporate them into your existing setup? Using potted plants as bookends on your mantle, shelves, and window sills is a fun yet subtle way to add plant decor to your living room. 
4. Indoor Herb Garden
The kitchen is a great place to try out your favorite plant decor ideas. This design trend lends itself to food preparation, especially in the form of an indoor herb garden. Decide which herbs you use most frequently in your meals and buy a whole herb plant instead of just the sprigs or dried versions. Basil, thyme, chives, parsley, and dill are just some of the herbs you can consider and they're all easy to look after. Once you've chosen your herb plants, you can set them on your kitchen window sill, on your counter, or even add a planter to your wall. These plants look appealing, add extra freshness to your food, and save you a few dollars every week!
5. Bathroom Jungle
Revamping your bathroom can be a time and money-consuming home renovation project. Fortunately, there are a few plant decor ideas that can instantly upgrade the ambiance. Use hanging plants above your bathroom window to create some privacy, while ensuring that your plants get all the sunlight they need. Boston ferns are a perfect choice, as they love heat and can help purify the air. If you have a smaller bathroom, add air plants to any available space. These cute plants can almost get by with just the humidity in the room, which makes them very low maintenance.
6. Plant-Themed Wall Murals
Let's be honest, not everyone can or wants to take care of live plants. The good news is you can still get on board with plant decor without doing any gardening. In addition to artificial plants and flowers, wall murals are a great way to bring the outdoors inside. Inject a pop of color with green, leafy designs or go for something more complex with a floral-pattern print. If you have a real affinity for plant decor, you can even go a step further and create an accent wall with plant-themed wallpaper.
7. Fresh-Cut Flowers and Fronds
Just like wall murals, fresh-cut flowers and fronds require minimal effort but can really pack a punch as part of your plant decor. All you need to do is choose your favorite vases and cuttings. Although you need to switch out these blooms more often, this gives you the opportunity to tweak your decor according to your mood and the season. It's a fun and cheap way to keep updating your interior design.
Give your entire home a fresh look with plant decor in your living room, kitchen, and bathroom. It's an easy and attractive look that doesn't have to involve any extra maintenance. If you're still trying to find the right interior design style for your home, take our helpful quiz!
With the new year in full swing, lots of people are looking for fresh new decor for their home. Whether it be a big undertaking like a dining table or a simple candle holder, there are so many creative ways to bring new life into your home! Take a look at these DIY home decor projects for inspiration to get you started!
DIY Home Decor Projects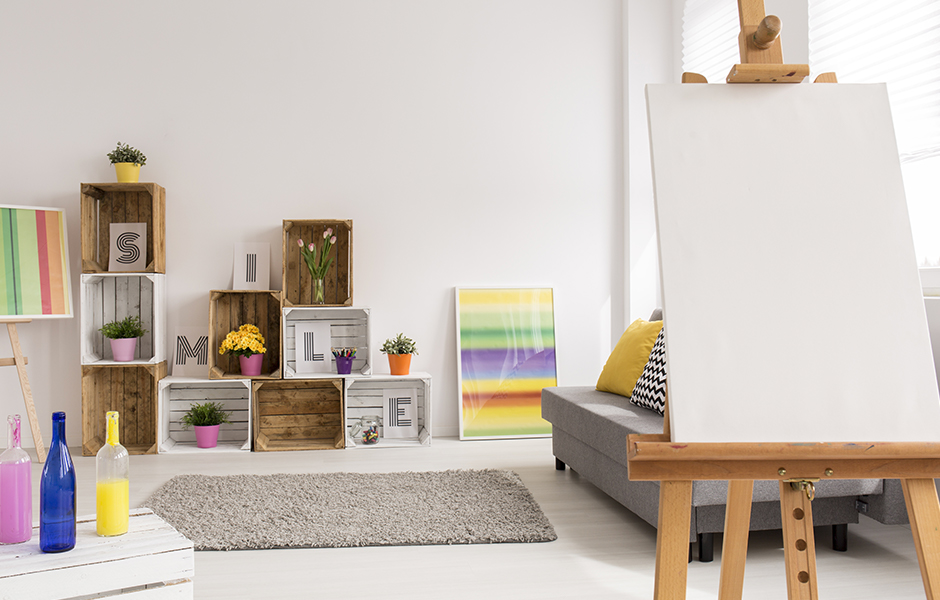 Modern Art Magic
When you think of modern art, big, flashing dollar signs start running through your mind and it seems like an impossible purchase. Well, it's time to slash those dollar signs away because DIY modern art is here to the rescue.
For this DIY home decor project, you need supplies like plywood cut to the size and shape of your liking, a variety of spray paint colors, a downloadable pattern, and everyday tools like a straightedge, screws, and screwdriver. The end product will be a modern art piece that you can hang on the wall or place on your mantelpiece. While you can follow the step-by-step instructions, don't be afraid to get creative and design an art piece that is unique to you and your personality!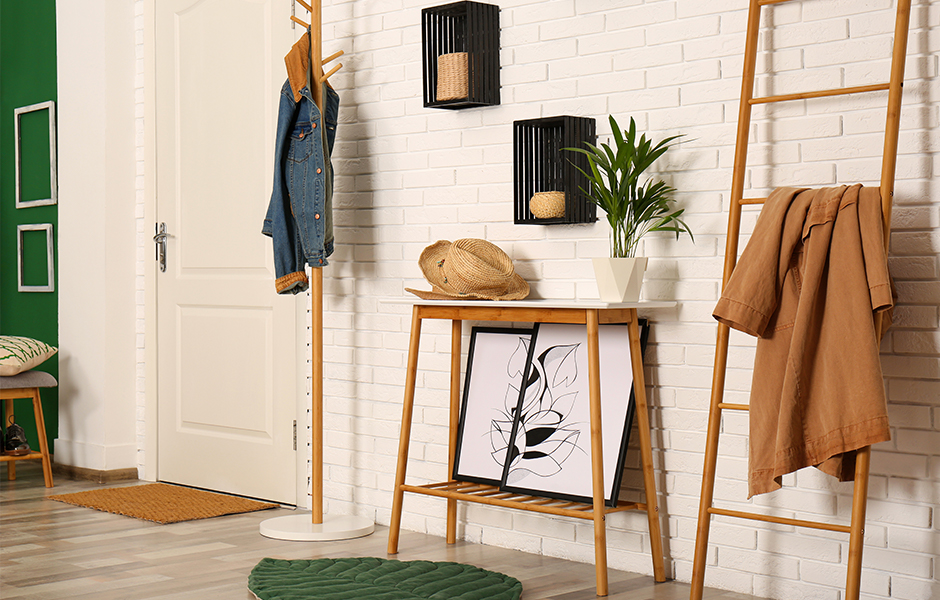 Multi-Purpose Ladder
You can never have too many home decor items to use as hanging space. Take your hats and scarves to a new height with this DIY idea for the home that leaves you with a multi-purpose ladder. Who knew ladders could be so functional AND stylish? Reclaimed wood, spray paint, nut and bolts, and a saw are just a few of the supplies you'll need to get the job done.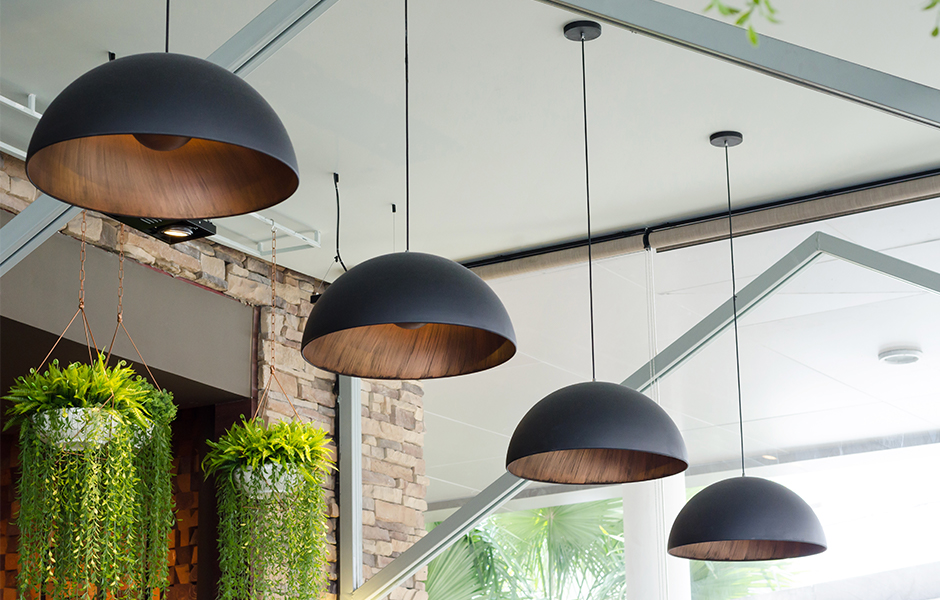 Pretty Pendant Lights
Pendant lights are one of the trendiest interior design styles this year and you can have them in under an hour with this DIY home decor project. Brighten up your kitchen countertops or your dining table by using a trio of nesting bowls that you already have (or can easily get hold of), as well as a nylon cord set, clear bulb, and tin snips. Believe it or not, these few items together make beautiful pendant lights that look store bought.
Bathroom Baskets
Need a place to store your towels and bathroom accessories? Don't worry because the solution may be sitting right in front of you. Baskets usually sit on the floor, but this DIY home decor craft takes them to the walls. Simply use screw anchors and large screws to flip those containers sideways and attach them to the wall. Now, you have three or four enclosed shelves for your towels and washcloths. This example uses woven baskets, but the possibilities are endless.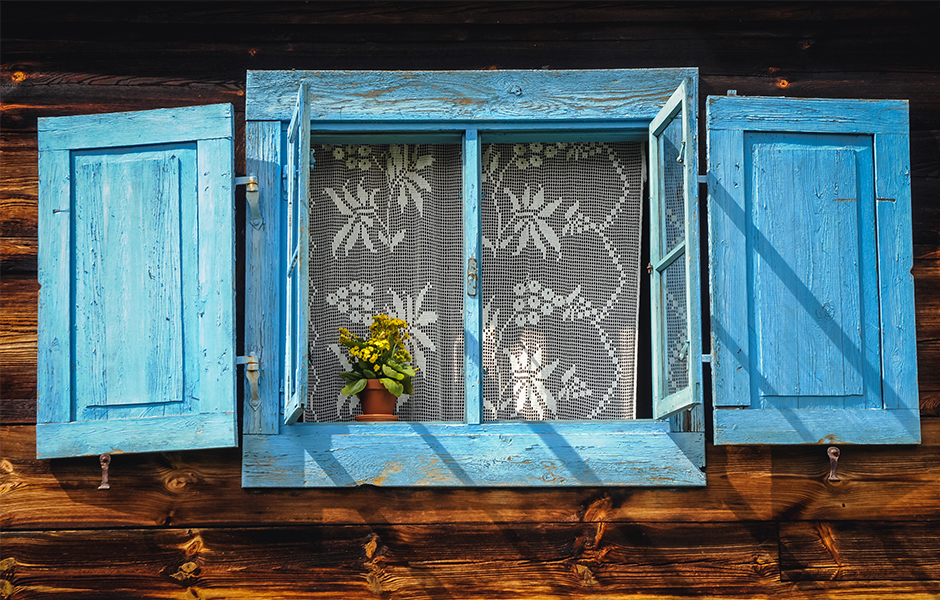 Shutter Savvy
Old and weathered shutters don't belong in the trash, they just need a new purpose in your home! In this DIY home decor project, four wood shutters make a beautiful rustic side table. Gather up four wood shutters of the same size, a piece of glass for the table top, 16 screws, paint, and eight art canvas stretchers to make this a reality in your home. For a newer, more refined look, you can also sand down and repaint the shutters a different color.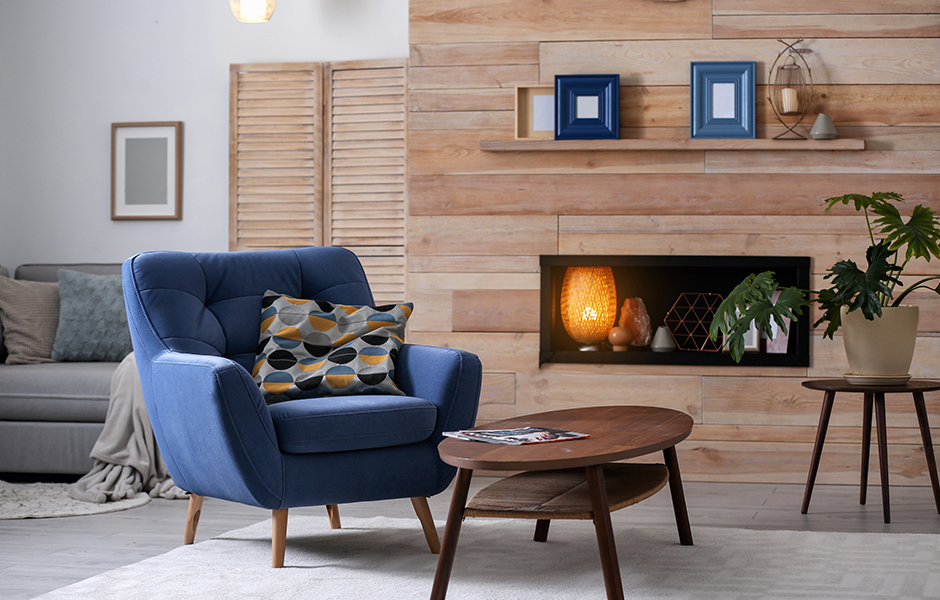 Wood Wall
Get ready for a more challenging (but rewarding) DIY home decor project with this wood accent wall. Just like pendant lights, wood is another popular interior design trend right now. Using this natural material as an accent wall will add distinction and contrast to any room, but you need to make sure you follow the steps closely. Dimensions, placement of wood, and flatness of each piece are the most critical concerns you should nail down in this DIY craft. If you do, you'll definitely have earned your DIY badge of honor.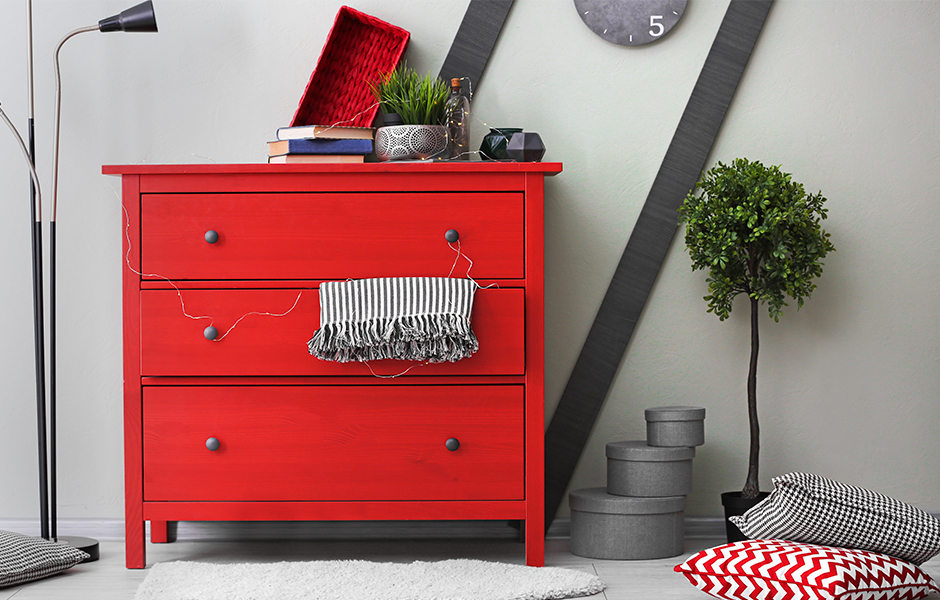 Dressed Up Dresser
We all know IKEA sells affordable home decor, but sometimes that table or dresser needs a little something extra. Dressed Up Dresser takes an average dresser and adds character to it with new hardware, paint, and even wallpaper. There are a bunch of different patterns and colors you can choose from to make it fit seamlessly into your home's interior design.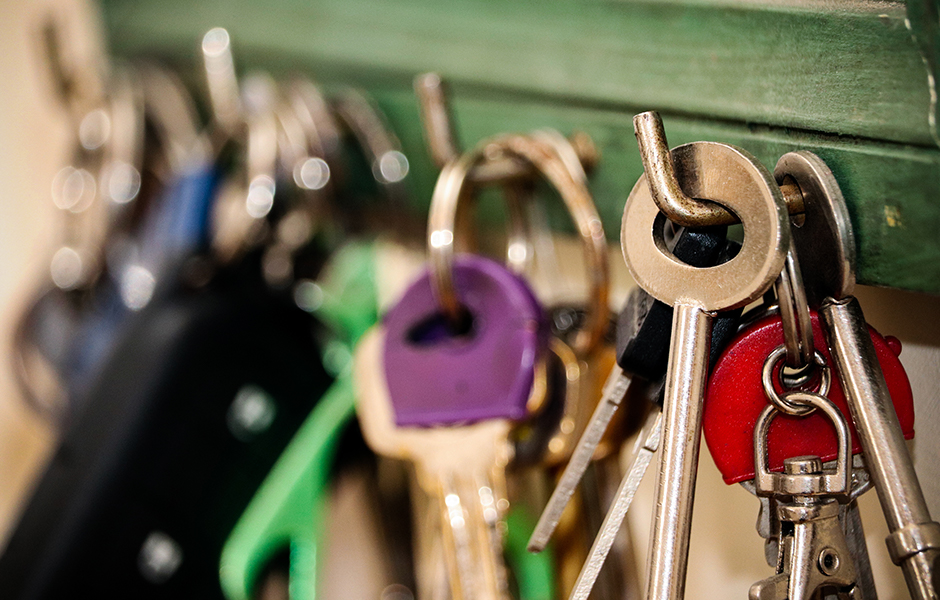 Clever Key Holder
Our keys, the lifeline to getting our day started, somehow always end up getting misplaced. Luckily, the days of searching for your lost keys are staying in 2019 when you take on this DIY home decor craft. Buying or scrounging up a small wood slab is where you need to start. Seal it with polyurethane, grab hooks (however many you need for your keys), paint, stencils/stickers, a drill, and then you're ready to start crafting up your key holder!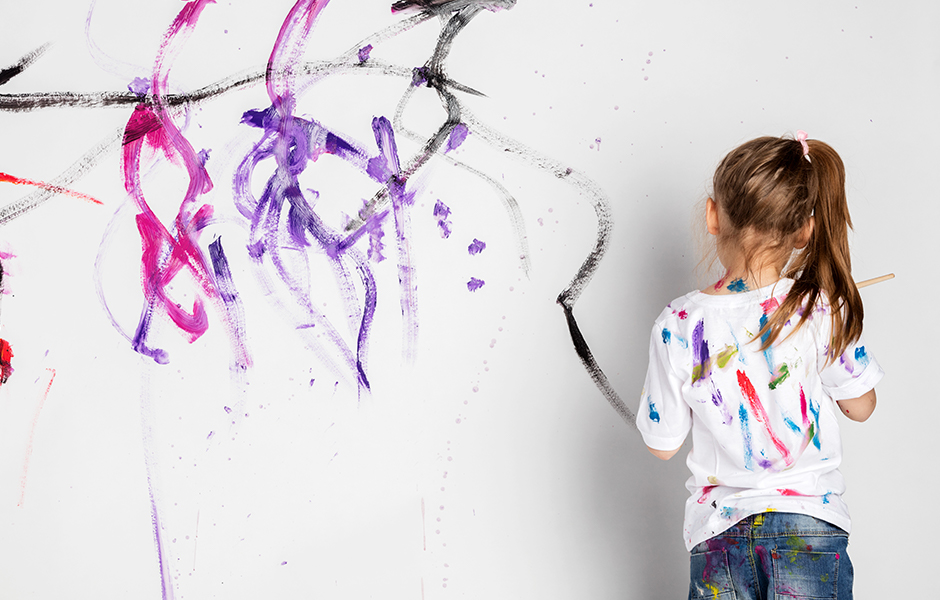 Easy Easel
The nightmare of having to scrub your child's drawings off your walls ends right here. This wall-mounted easel is a genius way to preserve your precious walls while also showcasing your kids' art pieces. Craft paper, wood, spray paint, and brackets are some of the supplies you need to start this DIY home decor project.
As we embrace the new year, it's also time to embrace the pure splendidness of DIY home decor crafts that give our homes a breath of fresh air with little to no cost. Keep it easy or challenge yourself, but either way, incorporate these DIY ideas for the home to get a taste of unique decorating.
Once you're done and looking to sit back and relax, Elevate Your Style with one of the comfortable sofas from our collection. Each piece will redefine the way you think about motion and works with any home decor!