Southern Motion Furniture: Celebrating 25 Years in Motion
This year is a special time for Southern Motion because it marks our 25th anniversary or as we like to say, 25 years in motion. Over the decades, Southern Motion Furniture has made its name as one of the largest furniture manufacturers in Mississippi and beyond, but how exactly did we get where we are today? 
From small beginnings to the expansion of our team and factories, take a trip down memory lane to see how much Southern Motion Furniture has grown throughout the past 25 years.
Humble Beginnings for Southern Motion Furniture
The Creation of Southern Motion
To fully understand the history of Southern Motion, you need to jump back to the 1990's when the company was merely a dream that co-founders, Guy Lipscomb and Larry Todd, were determined to make into a reality. Their business model was simple—manufacture solely reclining furniture and make it the best on the market. 
After settling on the business model for their recliner manufacturing company, Lipscomb and Todd just needed a name. Rather than decide during a brainstorming session or two, Lipscomb stumbled upon the idea when he was shopping with his wife, Sandy. They saw a painting entitled, "Southern Motion," by an artist in Birmingham, Alabama and instantly knew that was going to be the name of the company.
As a result of much hard work and preparation, Southern Motion was finally founded in 1996 in Pontotoc, Mississippi. Production operations began with a small team of just 43 associates. In November of 1996, we ran our first two pieces as an established recliner manufacturer and they were shown at Rooms To Go, a valued dealer that has been with us ever since.
Our Growth Throughout the Years
Southern Motion's First Facility
After Southern Motion Furniture's founding in 1996, the business really started to take off. Producing hundreds of reclining chairs and sofas in our 40,000-square-foot facility eventually became too much to handle and we needed more space. 
In 1997, Southern Motion doubled its facility footprint to 80,000 square feet, but that didn't last long either. By the time 2001 rolled around, the first phase of Plant 1 was complete with a whopping 180,000 square feet of space to build our American-made furniture.
Expanding Operations
With business booming and a high demand for reclining chairs and sofas, Southern Motion decided to take advantage of an opportunity to expand operations into something bigger than ever imagined. In 2005, we included Recline Designs into our portfolio of facilities. This 69,000-square-foot frame mill was just the first of a succession of expansions.
Cushion to Go in 2008 – A 40,000-square-foot poly fabrication mill

Plant #2 in 2010  – A 180,000-square-foot upholstery manufacturing facility 

Plant #3 in 2015 – Started at an old location in Baldwyn, MS and moved in 2017 to our current 742,000-square-foot facility
The Acquisition of Fusion Furniture
As if the production of reclining chairs and sofas wasn't enough to keep us busy, Southern Motion Furniture decided to broaden its horizons by acquiring Fusion Furniture (Fusion) in 2018. Because we already had a solid foothold within the reclining furniture industry, we believed this acquisition to be an opportunity for further growth in a new vertical of living room furniture—stationary furniture. 
Formed on the motto "Where Style Meets Value," Fusion produces stationary sofas, accent chairs, and ottomans to provide stylish, high quality furniture to customers at very competitive prices. Founded in Ecru, Mississippi in 2009 by Bo and Alison Robbins, Fusion Furniture specializes in American-made furniture just like Southern Motion.
Currently, Fusion employs over 600 dedicated associates in four Mississippi-based manufacturing facilities consisting of 700,000 square feet. Together with Southern Motion, the two furniture brands comprise Southern Furniture Industries.
What Southern Motion Looks Like Today
Southern Motion Furniture
After 25 years in motion, Southern Motion has grown into a leading supplier of distinct styles of reclining chairs and sofas.  We serve over 1,500 retailers with more than 2,000 store locations, as well as offer our product online through various e-tailers. With over 1,500 associates and five facilities in Northeast Mississippi covering 1.5 million square feet, Southern Motion continues its quest to build the "World's Best Reclining Furniture."
From our wide array of living room collections like Zero Gravity and Next Level to our innovative furniture features, we have every style of product to fit your needs.
Southern Furniture Industries
Southern Furniture Industries (both Southern Motion and Fusion) has over 35 years combined history in American-made furniture manufacturing. Presently, both brands occupy nine facilities in Northeast Mississippi with a combined total of over two million square feet and 2,100+ associates.
To see what 25 years of hard work, amazing associates, and loyal customers has helped us achieve, take a look at Southern Motion Furniture's current line of products. From sofas and sectionals to accent chairs, you're sure to find the perfect furniture pieces for your home!
It's time to celebrate the red, white, and blue! As you start preparing for the Fourth of July and all of the fun festivities that come with it, think about how your home can be just as patriotic as you. Gather inspiration for your patriotic home decor with these Fourth of July ideas that honor the USA!
Fourth of July Decor Ideas
Red, White, and Blue Table Decor
The dining table is one of the statement pieces of your home, so why not use it for your Fourth of July decorating ideas? Whether you include all three Fourth of July colors or choose to focus on one, the end result will complement your home's overall holiday look. A festive flower centerpiece, American-inspired table runner or table cloth, and patriotic cloth napkins are just a few ideas to consider. 
Fourth of July Garlands
Just as garlands are a go-to decoration for Christmas, they are a must for Fourth of July. Because they're relatively simple to make, garlands are a great DIY craft to help get you and your family in the holiday spirit. Take a couple hours to make your own strands and display them across your house.
American Flag Bunting
American flag bunting is a classic when it comes to Fourth of July decorating ideas. Keep your budget low with paper bunting or opt for quality, cloth bunting if you want Americana-style decor that lasts way past the holiday weekend. Spruce up your home's fencing or hang your American flag bunting along your front porch. 
Honeycomb Paper Lanterns
You can never go wrong with paper decorations for the Fourth of July! They may be temporary, but they add lots of USA flair to your space. Honeycomb lanterns and paper balls are wonderful additions to your patriotic backyard BBQ. Hang them from your trees or back patio for vibrant pops of color. 
Flag Pinwheels
Both a decoration and a fun kid's toy, pinwheels are at the top of the list for patriotic home decor. Place them along your front walkway, within your planters, or across your yard. 
Flag pinwheels can also make for a memorable craft project with the kiddos. Involve them in the decorating process by giving them the chance to create their very own spinning wheels to showcase to all of your guests.
Patriotic Bedding & Furnishings 
No, you don't need to get a massive American flag comforter for this Fourth of July decor idea—unless that sounds amazing to you, of course! Think more along the lines of furnishings like throw blankets, rugs, and pillows. 
For an obvious USA theme, incorporate accents with American flag designs. If you prefer a more subtle approach, you can include furnishings that follow the red, white, and blue color theme of the holiday. This is a great option if you want to adopt an Americana design style that looks good all year round.
Festive String Lights
Light up your home for the Fourth of July with festive string lights in red, white, and blue. Choose from dozens of lighting options that include adorable star-shaped lights, mesh lighting for bushes, and even rope-lighting that comes in the shape of the American flag. 
Take advantage of your entire outdoor area and think about lighting up your fencing, front porch, patio, greenery, and even your house itself.
USA Welcome Mat
An amazing first impression starts right at your doorstep. Dress up your front entryway with a USA-themed welcome mat. Stars, stripes, and a patriotic color palette are all you need for a festive mat to welcome guests into your home.
Holiday-Themed Wreath
Wreaths are a simple and affordable Fourth of July decor idea that add that extra bit of flair to your entryway. Buy one from the store or take on the challenge of a good ole' fashioned DIY project. One of the perks of creating a DIY wreath is that there's no limit to your creativity. Make yours from hydrangeas, pom poms, clothes pins, fabric, or even tinsel and you'll be pleasantly surprised at just how good it looks!
Patriotic Home Sign
Home sweet home! This patriotic home decor idea works both inside and outside your house and is versatile enough to look great all year round. Pick your favorite Americana-style signs and consider how flamboyant you want them to be, especially if you are looking to display them after the holiday is over.
There are many ways to spruce up your home for Independence Day, but these Fourth of July decorating ideas are sure to give you a great start! When you have some down time in between decorating, learn more about ways you can be a patriotic American by buying from local furniture manufacturers in the US. 
Are you in the market for a new recliner? You've come to the right place because buying a recliner (especially the perfect one) requires planning and research. Rather than just picking the prettiest furniture piece in the store, the key to choosing the ideal recliner is combining style, comfort, and functionality. Follow our guide to become an expert on different types of recliners and learn what the best recliner is for your lifestyle!
Key Benefits of Recliners
Besides the obvious perks like style and comfort, recliners have health benefits as well. Here are just a couple ways that quality recliner chairs can improve your physical and mental health. 
1. Lumbar Support
Sitting or standing for long periods of time can wreak havoc on your back, especially if you don't have the proper chair to keep you comfortable. Luckily, recliner chairs have the potential to reduce back pain and improve the health of your spine with the help of lumbar support. Recliner chairs with lumbar support work by distributing pressure from your joints and muscles. This helps to relieve tension and pain.
2. Better Mobility
Many types of recliners also provide assistance for people suffering from mobility issues. According to the Center for Disease Control and Prevention (CDC), mobility issues impact 1 in 7 adults and about every 2 in 5 adults aged 65 and older. Suffering from these issues can be discouraging, but with a lift recliner, you can feel empowered again. With the touch of a button, your recliner can go from flat on the floor to a 35-degree angle to help lift you out of the chair and into a standing position. This provides a safer and more secure way to move without putting any undue stress on your back or joints.
Read more about the surprising benefits of a reclining chair in this blog post.
Common Types of Recliners
As you begin your search to find the perfect recliner chair, you need to learn about all the various types of recliners to narrow down your options. From swivel and rocker recliners to lay-flat recliner chairs, here are the main types of recliners you'll come across on your furniture search.
Learn more about the most common types of recliners and their differences in this blog post.
Recliners for Different Lifestyles
One of the most important factors to consider when buying a recliner is how it aligns with your lifestyle. Because recliners differ in features, some are a better fit for you than others. Take a look at these recliners and see if they match your preferences.
Seniors and People with Physical Disabilities | Power Lift Recliner
Perfect for individuals who have injuries, disabilities, or for people who struggle standing up and sitting down on their own, the power lift recliner is a motorized reclining chair. These recliners lift upward, helping you get out of your chair with ease. 
Lift recliners come in all shapes and sizes. Southern Motion's Shimmer lift recliner offers contour through the arm pads and seat cushions, which can help support any aches and pains. You can also choose from over 300 fabrics and leathers, because practicality and style should never be exclusive.
Families with Young Children | Swivel Gliders
Thanks to their sturdy steel frames, swivel gliders allow you to gently glide back and forth while sitting comfortably. This can be very relaxing for anyone using a recliner, but especially for parents with babies and young children. Southern Motion's Take Note swivel glider is a great example of this kind of recliner. With its swept-back flair arms and sleek barrel back, it's a practical piece of furniture that can lull anyone into a relaxing sleep. 
What's more, with hundreds of special order fabrics and leathers to choose from, you can customize this recliner to match your interior design style or to be more child friendly.
Relaxation and Comfort | Zero Gravity & Next Level Recliners
Whether you suffer from back pain or just enjoy the opportunity to relax at the end of a long day, Southern Motion offers the perfect solutions. 
Need to crank up the therapy? A Zero Gravity recliner could be just what the doctor ordered. By mimicking the position of astronauts in space, these Southern Motion recliners allow you to achieve the ideal weight distribution and reduce the stress on your body. This can help improve blood circulation and lung capacity while reducing joint swelling and back pain.
Southern Motion's Next Level Collection makes the reclining experience even more comfortable and therapeutic. The innovative mechanism allows you to recline with your feet above your heart, as with Zero Gravity, while the extended ottoman provides three inches of extra length in full recline. This optimizes your circulation and takes the pressure off your neck, back, and legs for an unparalleled furniture experience. 

Don't see a lifestyle category that fits you? Read more about the best recliners for your lifestyle to help you make the right decision when it comes to buying a recliner.
How to Choose Upholstery Fabric for Recliners
With tons of options to choose from, it can be difficult to know which fabric is best for your brand new recliner. While there are pros and cons to every type of furniture fabric, there's always a standout option when it comes to complementing your lifestyle and style preferences. Take a look at the most popular recliner fabrics and see which one is ideal for you!
Smart Solutions: A Southern Motion fabric that resists stains so your furniture can remain spick and span! With Smart Solutions, messes wipe right up, leaving no evidence that there ever was one.
Leather: A classy, timeless fabric that requires very little care. Leather recliners are durable and add style to your home for years.
Leather Look: A cheaper alternative to real leather fabric. Leather alternatives are great for families that want the leather look without the maintenance and large price tag.
Fabric: A soft, comfortable fabric that compliments any home's interior design style. Fabric is ideal if you love unique upholstery patterns.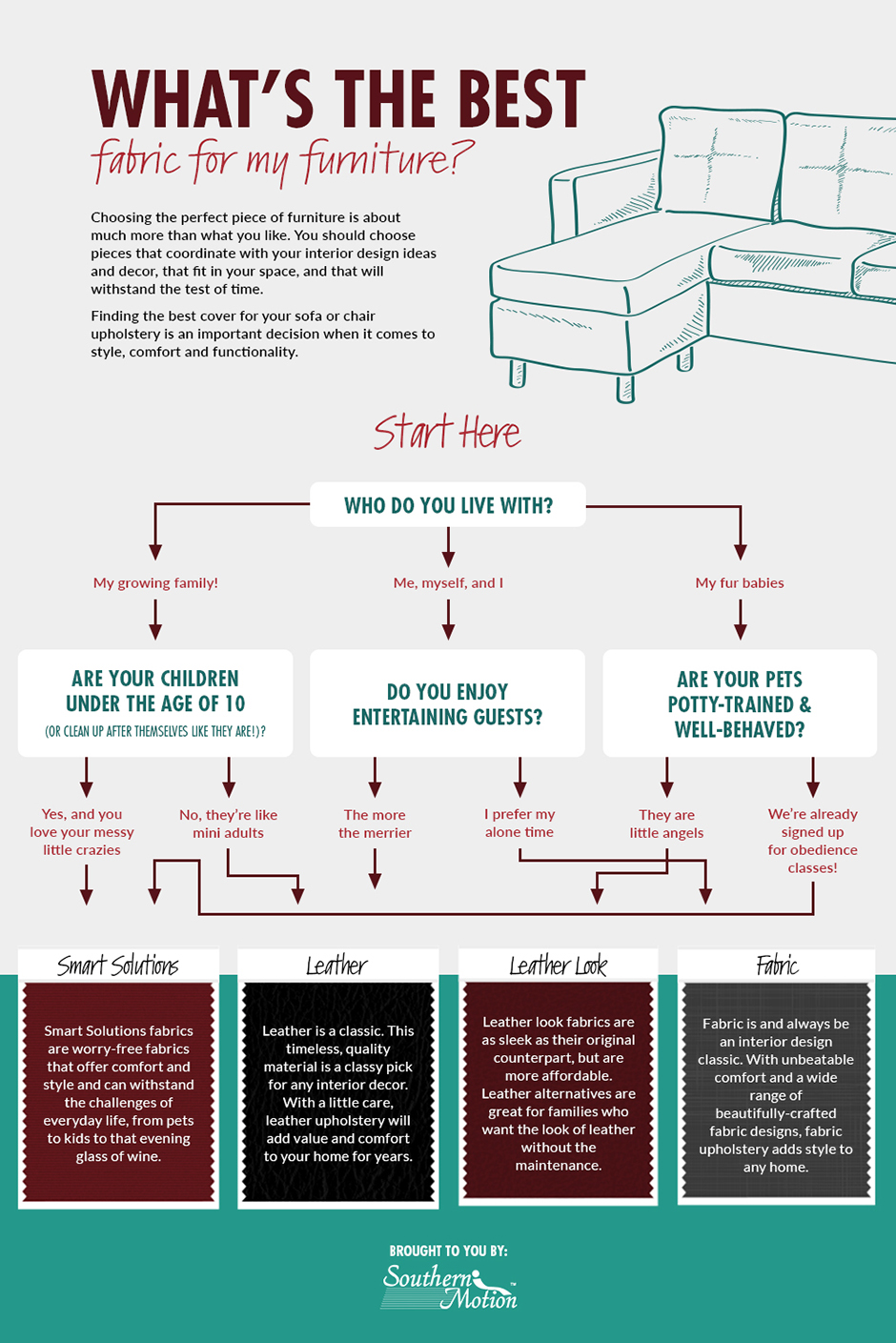 Why Buy from Local Manufacturers?
In today's world, so many products are made overseas, including furniture. Rather than buy a recliner from a factory thousands of miles across the world, give Southern Motion a chance to blow you away with our top-of-the-line products. Besides the style and comfort of Southern Motion furniture, here's why you should buy from local manufacturers like us.
1. Support for the Local Economy
By choosing American-made furniture, you are helping to create more jobs in the US. This can result in huge gains for the economy.
2. Reduced Impact on the Environment
Sourcing and manufacturing furniture domestically ensures a shorter supply chain, fewer carbon emissions, and less fuel consumption. Materials and finished products don't need to be shipped from the other side of the world because they're already here in your backyard!
3. Unique and Innovative Pieces
Mass-produced furniture is made quickly and cheaply, which prevents innovation. If you're looking for a piece that combines unique style and functional comfort, local furniture is the best choice for you.
Along with these advantages, there are even more benefits to shopping locally for your newest furniture pieces. Discover 5 reasons to buy from local furniture manufacturers here. 
Which Chair is Right for You?
Want to learn more about your quiz results? Head to our blog to find your ideal chair and see why it works for you and your preferences.
Frequently Asked Questions
Can I purchase an item directly from Southern Motion?
Southern Motion does not currently sell directly to consumers. Our products may be purchased from Southern Motion authorized retailers and specific online retailers.
Where can I find a Southern Motion retailer near me?
You can find a retailer in your area by using our retail store locator here. You can also search for Southern Motion furniture online.
Are ALL Southern Motion products located on the website?
Yes. Southern Motion is constantly adding and removing products to keep the website as up to date as possible.
Can Southern Motion provide me with pricing information?
Southern Motion does not establish retail price points for our products. The Southern Motion authorized retailer determines their own advertised, quoted and printed pricing.
How Can I Contact Southern Motion?
Currently, we don't have a customer service phone line, but you can reach Southern Motion by filling out our contact information form here. Once you turn in your form, a Southern Motion representative will get in touch with you.
Now that you're on your way to becoming a recliner expert, it's time to finish your search and bring home the most comfy, stylish, and innovative chair to complete your home. Take time to browse through our various collections and explore the hundreds of recliner chairs, sofas, and sectionals we have to offer!
As the weather warms up, it's time to take the DIY home improvement projects outside into the backyard. There are so many simple and inexpensive backyard ideas to make it the perfect place to spend spring and summer. You can spruce up your patio, plant a garden, invest in some backyard furniture, and much more. These outdoor decorating ideas on a budget will make sure you spend every beautiful day outside this summer.
Build DIY Planters
A great way to save money while beautifying your backyard is to build your own planters. They are relatively easy to put together and then you get to decide what you plant inside them! Choose flowers for some color in your backyard or fruits and vegetables for delicious summer produce. No matter what you opt for, you can't go wrong with this fun yet simple DIY backyard idea.
Cozy Up Your Patio
Whether you have a simple bench, basic lawn chair, or outdoor sofas, adding some pillows to your patio furniture can make your backyard feel like an extension of your home. You can also experiment with colors and patterns in your backyard space. To cushion up your patio, purchase some pillow inserts and covers. Make sure to use outdoor fabric, which is usually water resistant and sun resistant. That means the colors won't fade and you won't ever have to sit down on a sopping wet pillow! 
Build a Fire Pit
A fire pit is an impressive centerpiece in any backyard, not just on summer evenings but also on crisp winter days. It's also one of the best outdoor decorating ideas on a budget.  With some cinder blocks and stones, you're good to go. Of course, you might want to grab some s'mores ingredients while you're at it. 
Garden Vertically
Got a green thumb but less backyard space? A great way to incorporate more plants into your backyard is to garden vertically! You only need a few simple gardening supplies, lots of dirt, and vine-type plants and you're ready to grow! Choose a wall or space in your backyard that needs extra love and you'll be amazed at the impact of your vertical garden within a few months. 
Install Patio Furniture
Patio furniture is a fantastic way to make your backyard look and feel like an outdoor living room. If your patio is covered, you can get even more adventurous with the furniture you put outside. Consider adding a comfortable recliner or accent chair to your covered patio area. It will become everyone's favorite spot! 
Backyard Lighting
There are so many ways to incorporate lighting into your simple DIY backyard ideas. From string lights to rope lights, they can really add some sparkle to your yard. Buy some outdoor string lights to hang over a seating area and string rope lighting to illuminate your walkways. Lights will make the backyard enjoyable even into the later hours of the night. 
Build a DIY Outdoor Bar
With some concrete blocks, wood planks, and simple chairs or stools, you can have an outdoor bar! This bar will elevate any outdoor barbeque area so you can easily enjoy a drink and a snack in your backyard.
Install Paving
Breaking up your backyard into different sections can help you make better use of the space and create more visual intrigues. One way to do this is to install paving on the ground. Add some concrete pavers or gravel and tiles to create a patio in the backyard. This can help you build out a lounging area, barbeque space, or even walkways. Pavers and gravel can be very cost effective, making this a fantastic outdoor decorating idea for budgets. 
Buy Bird Feeders
Hanging bird feeders can help you bring some extra life to your backyard. Hang the feeders by flower bushes or from your favorite tree. You'll be able to watch the visitors all day long. 
Hang a Tree Swing
Hanging a tree swing is a fun addition to your backyard that your little ones will love. Once you're sure it's safe to swing from, it will be a backyard favorite all summer long. The best part? A tree swing is a budget friendly and simple DIY backyard idea.
Use an Outdoor Rug
An outdoor rug can be an effective way to spruce up any patio space. You can experiment with colors, patterns, and textures and make the rug a focal point on your patio. The feeling of a rug outside will make your outdoor space even more comfortable, although this idea works best on covered spaces. 
Plant an Herb Garden
Plant an herb garden in one of your DIY planters for a summer-long supply of fresh herbs for your meals and cocktails! Classics like basil, mint, and oregano make for an excellent starting point. Grab some potting soil and some herb seeds for this simple DIY backyard idea that you will enjoy all summer long. 
Hang a Hammock
To enjoy the open air and summer breeze, hang a hammock in your backyard. Hammocks are ideal for lounging and resting in your backyard, and create another outdoor seating option. Don't have any trees in your backyard? No problem. There are plenty of hammock solutions that don't need a trunk to hang but use stands instead. 
Build a Garden Path
To break up the space in your backyard, create a garden path. You can do this by adding concrete pavers or tiles to lay out the walkway, then add rope lighting to illuminate the path. This is a simple outdoor decorating idea on a budget that will have a huge impact on the look of your backyard. 
Thanks to these outdoor decorating ideas for budgets, you're well on your way to having the backyard of your dreams  without breaking the bank. For more ideas on how to update your home, both inside and outside, read our blog post on DIY home updates.
With a little one on the way, there are so many things to prepare. Don't forget to have some fun decorating your baby's nursery! You can experiment with colors, patterns, furniture, wallpapers, and decor to make it feel comfortable for you and your baby. After all, you'll both be spending lots of time there! 
These baby nursery ideas for small rooms will help make the most of your nursery, even if you don't have a lot of space to work with. 
Choose a Cute Light
The light you choose to hang in the room can add a focal point to your nursery. Overhead lighting will illuminate the room effectively without taking up precious floor space and give your baby something fun to look at from their crib. This baby nursery idea for small rooms is an excellent opportunity to experiment with styles that you might not normally gravitate towards! 
Dress Up the Changing Table
Make the changing table more exciting by adding some artwork around it. This will add some color to the walls and make the corner extra cute. If you're looking for neutral nursery ideas, adding some prints around the changing table will allow you to experiment with vibrant colors and patterns.
Choose Fun and Functional Furniture
Your nursery is sure to have a few pieces of furniture: a crib, a chair, a little dresser, and maybe a few other tables or stools. To maximize a smaller space, make sure this furniture is functional. For example, choose a stool or futon that doubles as a storage solution. Depending on the color scheme you decide on, furniture pieces can also be an effective way to incorporate color into the room. 
Find a Comfortable Chair
When it comes to furniture, finding a comfortable chair for your nursery should be priority number one. Okay, maybe priority number two after deciding on a crib. Consider adding a rocking chair to the corner of the room where you can rock with your baby. You can also take a more comfortable, space-effective route with one of Southern Motion's swivel gliders. Available in different patterns, these pieces can really bring your baby's nursery to life and make for a great baby nursery idea for small rooms.
Since many of us are spending more time than ever in our homes and working on projects around the house, home improvement gifts for Mother's Day are perfect for showing Mom just how much you care. These gifts can range from large-scale projects to easy DIY Mother's Day gifts. Whichever you choose for Mother's Day 2021, your Mom is sure to appreciate the extra effort and thoughtfulness behind these unique ideas. 
Large Home Improvement Gifts for Mom
There's always work to be done around the house from laundry and dishes to vacuuming, which means we don't get around to the bigger home improvement projects. These tasks take more time and money, but if you're willing to put in the hours and hard work, you can offer something to your Mom that she may have been dreaming of getting fixed. 
Install a Backsplash 
Backsplash tiling can make a surprisingly large impact on the look and feel of your kitchen and with so many different styles of backsplash tile to choose from, you can make sure that it suits Mom and her kitchen perfectly. 
If you don't have any tiling experience but you still want to do the work yourself, don't worry. You can try peel-and-stick glass tiling for a cost-effective and time-efficient solution. Set aside a few hours one afternoon while your Mom is out and make her kitchen look like new with a simple yet professional-looking backsplash.
Remodel the Cabinets
If a backsplash isn't your speed or it just doesn't need replacing right now, another way to refresh your Mom's kitchen is to remodel the cabinets. Since this is a larger project, chat with her about the colors and styles she likes before getting started. The results should make every day feel like Mother's Day (at least, in the kitchen for a little while).
Repaint and Restore
A fresh coat of paint can have a huge impact on your home. If your Mom has been talking about wanting to repaint the kitchen with a new shade or refresh the living room with a new color, now is the perfect time to do it for her. Just make sure she likes the color first! You can take a look at our guide to choosing the right color palette for a living room to help you make some suggestions. Once you're ready to start painting, be sure to check out these handy tips!
Invest in New Furniture 
Pitch in with your siblings and treat Mom to a new piece of furniture. A high-quality piece will last for years, making it a fantastic gift for Mother's Day 2021 and beyond. No matter whether your Mom would enjoy a pretty accent chair to go with her interior design style or a recliner with massage and heat technology, you can find the perfect piece for her needs and preferences at Southern Motion. Since furniture demand is currently very high and special orders are taking longer than normal, use our retailer locator to find Southern Motion furniture near you.
Medium-Sized Home Improvement Gifts for Mom
Sometimes big projects can be daunting, but there are many other ways to do something nice for Mom! You can treat her to one of these more accessible home improvement gifts on Mother's Day 2021.
Create a Coffee or Tea Cart 
If your Mom is a coffee or tea drinker, consider creating an at-home coffee cart for an easier DIY Mother's Day gift. Simply put up some shelves or free up some counter and cabinet space for a new coffee maker and a mug. Stock up on Mom's favorite coffee or tea and arrange everything so it's cute and functional. Your Mom will be able to think of you every time she makes herself a delicious hot drink! 
Reorganize Closets
Ah the closets, a constant project. And a project that no one really wants to do, which makes doing it all that much more meaningful. Put aside a few hours to reorganize your Mom's closets with helpful storage solutions that will make it easier for her to enjoy her clothes and accessories each and every day. Shelves, shoe racks, hangers, and in-closet dressers can make storing and finding clothes a breeze. 
Do a Deep Clean of the House
A deep cleaning can make a big difference to how a home feels, but getting in all the nooks and crannies of the house isn't something we all have time to do each week. Powerwashing, dusting in the forgotten places, cleaning the oven and the stove, and going the extra mile with a deep clean will be a great gift for Mom that she will be grateful for. Take a look at our spring cleaning tips here!
Plant a Garden 
Mother's Day 2021 falls on May 9th, which is the perfect time to plant a garden for summer. With warmer weather and longer days, plants and flowers are something Mom can enjoy for months to come. Plant some of her favorite flowers outside in the backyard or in planting boxes on the patio. If backyard space is tight, a kitchen garden with cooking herbs offers a fun and useful form of plant decor. 
Easy DIY Mother's Day Gifts
Even if you don't have the time to invest in some serious home improvement, you can always try these easy DIY Mother's Day gifts to show your Mom how much you care. 
Self-Care Package
There are so many ways to practice self care at home. Make Mom a self-care package with all the items she needs to truly pamper herself this Mother's Day. You can fill a basket with face masks, bath salts, wine, chocolate, and anything else she likes to show her just how well you know her. 
Fingerprint Mugs 
If you're coordinating a gift for Mom with your little ones, fingerprint mugs are an adorable way to decorate a white mug with a lasting memory. Using dishwasher-safe, permanent paint that you can wash off little hands, let your children's creative side run wild. These mugs are a sweet and easy DIY Mother's Day gift that would make a great addition to a homemade coffee cart!
Jewelry Organizer
If your Mom is a jewelry fan, consider making a homemade jewelry organizer. A DIY jewelry organizer will declutter her dresser space, create a beautiful decor piece, and make for a thoughtful gift. There are many different ways to display jewelry, depending on the types of accessories your Mom wears. You can add small hooks to a space in the wall or in a closet for beads, create a hanging display for necklaces, or personalize a jewelry box for rings and earrings. 
No matter how you choose to celebrate Mom on Mother's Day 2021, any of these gifts are sure to make this year's celebration a special one. For more ideas for home improvements that you can work on as a family, take a look at these DIY home updates for making an older house look like new.
Your personality is what makes you, you. What better way to embrace who you are than to reflect your personality in your personal home style? Whether you're updating or redecorating your home, you can include decor items and furniture pieces to support your personality and interior design preferences. Read on to discover the possibilities of personalized interior design based on your personality type.
Which Personality Type Are You?
To determine the interior design that best aligns with your personality, find out which of the 16 Myers Briggs Personality Types you are if you don't already know. Each personality type has unique characteristics that can translate into your design preferences and personal home style. Once you know your personality type, you're ready to create an interior design based on your personality!
Architect personality types are imaginative and strategic thinkers with a plan for everything. They are rational and quick-witted, but also partake in nonstop analysis of everything around them. These personalities are best with a home design that allows room for play. A mix of old and new styles, different textiles, vibrant patterns, and a twist of the unconventional is perfectly suited to this personality type. Southern Motion's Diva Chair makes a great starting point.
Logicians are flexible thinkers who enjoy taking an unconventional approach to life. They are inclined to experimentation and creativity, stemming from their innovativeness and intellectual curiosity. To allow their imagination to run wild, this personality type should make sure their home has a space dedicated to creativity, such as a studio or home office space. Take a look at our tips on setting up a home office.
A Commander is someone who thrives off accomplishment and momentum. They are natural-born leaders and embody charisma, confidence, and authority. Ruthlessly rational, Commanders stop at nothing to achieve their goals. An industrial aesthetic lends itself well to the no-nonsense personality of Commanders. The unfinished look may seem uncomfortable at first, but furnishings like Southern Motion's Grid Iron Sofa can make the space feel sleek. 
Advocates are thoughtful and imaginative people. They have a deep sense of individualism, idealism, and integrity. They take pride in their ability to achieve their goals. Advocates sometimes speak with great passion and conviction, but are also quietly creative. Their thoughtfulness should translate into their personal home style with a modern, curated design full of intentionally-selected pieces. Just be sure to check out these decorating faux pas.
Debaters are bold and creative. They love deconstructing and rebuilding ideas with their great mental agility. They are goal-setters and ardent achievers with effortlessly quick wit. To embrace their big personalities, a Debater's personal home style is eclectic with bold designs and vibrant colors. Their homes reflect their personal tendencies and passions through artwork, colorful design, and thoughtful decor. These color palette tips can help with a new living room design.
A Mediator is typically quiet and shy, but they often have vibrant and passionate inner lives. They make up a small portion of the population, but their caring nature and deep empathy makes for strong connections with their loved ones. To feed their gentle, caring soul, a shabby chic interior design and open floor plan will be the ideal personal home style. A neutral-toned piece like Southern Motion's Dynasty Sofa can be the perfect centerpiece.
Protagonists have big ideas and strong values. They are natural born leaders full of passion and charisma that help others find their passions and achieve their goals. To showcase these passions, they should focus on hanging artwork and photographs throughout their homes. Framed pictures can add something special to their interior design, allowing Protagonists to feature the stories and individuals most important to them. Read these tips on how to hang art.
The Campaigner is a free spirit. They are the life of the party because of the deep connections and strong bonds they have with those around them. Campaigners tend to live carefree and enthusiastic lives and a Bohemian style will play to this inner boldness. Embracing rich colors can cultivate this personal home style. An accent piece like Southern Motion's Daisy Chair can help showcase a free spirit and fun outlook on life! 
A Logistician is an observant individual who values integrity and practicality. They are tirelessly dedicated to those they love and value rules and traditions. They are determined to achieve their goals and will hold back none of their time and energy completing tasks. Considering their practical nature and determination, a straightforward minimalist design will best align with their no-fuss preferences. This living room decluttering list can keep items in the home to a minimum.
Defenders are typically introverted, but they are also efficient and responsible. Their analytical abilities are excellent and they have superb people skills and strong relationships. The best personal home design for this personality type includes open spaces in living rooms and kitchens that facilitate conversation and communication. A large sofa like Southern Motion's Showstopper Sectional can help with accommodating friends and loved ones. 
Executives thrive on tradition and order and have a strong moral compass. They embrace honesty, dedication, and dignity, and take great pride in bringing people together. Their personal home design should be modern, as this will ensure order and organization, but also allow for entertaining and connecting with others. Take a look at this guide to arranging two sofas in the living room to make the most of your space and decor. 
A Consul is someone who cares deeply about those around them and enjoys supporting their loved ones. They are social butterflies who thrive on interaction, but also take the time to form strong connections. This personality type enjoys hosting social gatherings and entertaining, as they are extroverted and outgoing. Their personal home design should allow them to host their guests easily. Steal these celebrity decor ideas to create a stylish and inviting home!
Virtuosos are individualistic and inquisitive with lofty goals and an inclination towards exploration. They are spirited, curious, and tactical thinkers. These bold and practical experimenters do best with a personal home style that fosters their curiosity. Mid-century modern design will bring a twist of the unconventional into the home while feeding their inner curiosity. Southern Motion's West End Sectional would be the perfect fit for a mid-century modern home. 
Adventurers have a unique preference for aesthetics and design that push the boundaries of social conventions. They enjoy testing the boundaries of what is "traditional" and experimenting with beauty and behavior. This personality type is subject to constant change and growth on the daily. Art deco design and plant decor is the perfect way to foster creativity and experimentation in the home. You can find your perfect house plant in this quiz.
Entrepreneurs enjoy being the center of attention. They are energetic and make impulse decisions, but are confident enough to tackle any obstacles that come their way. Entrepreneurs are spontaneous and the life of the party and their homes are likely the go-to spot for social gatherings. A larger piece like Southern Motion's Fandango Sectional is ideal for a living room designed for entertaining. 
The Entertainer is spontaneous and energetic and likes to live in the moment. Their excitement and generosity is contagious and will light up any room they enter. Their personal home style should be bold and colorful with an energy that can match their own. This quiz will guess your entertaining style based on your interior design preferences, so you can create the right kind of space for your future gatherings.
Now you know the personal home style that naturally aligns with your needs and preferences, you can look for the decor and furniture pieces that will make your house feel more like your home. Take a look at the Southern Motion Collections to develop an interior design based on your personality type!
The time has arrived. The 2021 spring-summer Pantone color chart has been released. The colors are bold shades with natural hues and vibrant tones that the experts from the Pantone Color Institute have compiled for the Pantone color 2021 trend report. These striking colors are sure to spruce up any home design, and just in time for a spring refresh. 
Read on to learn more about this year's color choices and how you can easily incorporate them into your interior design.
And the Colors Are… 
The 2021 Pantone list of spring-summer colors includes ten hues, each with their own unique descriptions. These colors are unconventional for spring and summer, but they complement one another in unique, nature-inspired ways. Pantone's list of hues feature warmer, orange tones, paired with some cooler blues and greens, muted purples, and a vibrant shade of pink. 
The Pantone list from left to right:
PANTONE 14-1050 Marigold

PANTONE 15-4020 Cerulean

PANTONE 18-1248 Rust

PANTONE 13-0647 Illuminating

PANTONE 18-4140 French Blue

PANTONE 13-0117 Green Ash

PANTONE 16-1529 Burnt Coral

PANTONE 16-5938 Mint

PANTONE 17-3628 Amethyst Orchid

PANTONE 18-2043 Raspberry Sorbet



Leatrice Eiseman, Executive Director of the Pantone Color Institute, explained that these flexible colors work year-round, but we love how they make us think of longer, warmer days. The Pantone color chart was chosen for the combination of unique shades and uplifting natural elements, reminiscent of spring flowers and luscious plants. The vibrant hues paired with warm earthy tones can bring an authenticity to any space or design for a mood-boosting yet relaxing vibe.
4 Ways to Incorporate the Pantone Color Chart into Your Home 
While we expect to see these colors on the runways of New York Fashion Week 2021, why not incorporate these statement-worthy colors into your home design with these simple Pantone color chart tips? There's no better time to refresh your home than during the spring and summer months!
Accent Chairs and Sofas
A great way to incorporate a vibrant color palette into your home is by featuring some accent pieces. Consider an accent chair to make a statement with a color from the Pantone 2021 color list. 
An armchair in PANTONE 16-1529 Burnt Coral will bring a warm hue that creates an inviting feeling in any space. For a cooler spring-summer tone, a PANTONE 16-5938 Mint armchair or loveseat will refresh and restore your living room. Feeling brave? Get a sofa in PANTONE 13-0647 Illuminating. This color will bring a splash of energy to your space that is sure to brighten the room all year round.
Pillows
Throw pillows are a fantastic way to incorporate pops of color without investing in large pieces of furniture. It's as easy as purchasing a pillow cover, putting it on, then throwing it on your couch. Plus, this is a great way to include multiple shades of color to build a richer interior design. 
If you have a neutral-toned sofa, add some PANTONE 18-4140 French Blue and PANTONE 18-2043 Raspberry Sorbet pillows. Break up the vibrant shades by throwing a PANTONE 14-1050 Marigold into the mix. Pillows inspired by the bold Pantone colors of 2021 will brighten up your couch and add a hint of color that will transform your space and your mood. 
Rugs 
Placing a rug in your living room is another easy way to add color to your space and tie your interior design together. The color can be a subtle choice from the Pantone list, but the impact will be immense. A rug in PANTONE 13-0117 Green Ash will bring a gentle splash of color to any room and is sure to cool and soothe the space. 
Paint
One of the most effective ways to refresh a space and incorporate color? Paint the walls. A colorful coat of paint on the walls can bring a space to life. Whether you lean towards the cool, traditional spring colors, the unconventional earthy tones, or the bright, vibrant jewel shades, the Pantone 2021 color palette offers inspiration for every paint color. 
Try PANTONE 18-4140 French Blue on the walls of your living room for a bold splash of color that creates a dreamy sense of spring afternoons. You can also take a look at these ideas for the perfect spring and summer decor for more paint inspiration.
Refresh Your Home This Spring
Welcome the warmer months with unique spring and summer interior design trends. Choose a balance of warm tones and cooler shades from the Pantone 2021 color palette and add them to your space. Your home is sure to feel fresh and new, especially with these tips on how to design the perfect interior design color palette. 
National Cleaning Week is almost here! Starting on March 28th, this is a great opportunity to do a spring cleaning of the house. As the weather gets warmer and the days get longer, a clean home will feel even better. Here are some spring cleaning tips and tricks that are sure to refresh your home and make sure you have the ultimate spring cleaning experience. 
Restock on Cleaning Supplies
Cleaning can be a hassle, especially if you want to do a deep cleaning. So first things first, make yourself a spring cleaning supply list. Hopefully you've already got a stockpile of some essential cleaning products lying around, but if not, make sure you have these essentials: 

Vacuum

Mop

Toilet brush 

Towels

Scrubbing brush

Duster

All-purpose surface cleaner

Toilet bowl cleaner

Wood and/or tile cleaner

Mirror and window spray



For eco-friendly cleaning supplies, castile soap, vinegar, and baking soda will be your best friends during your spring cleaning of the house. You can also take advantage of reusable spray bottles and washable towels instead of paper towels. Some other essentials are toilet bowl cleaner, an all-purpose cleaner, mirror and window spray, wood cleaner, and anything specially made for the surfaces in your home. 
Set Yourself Up for Cleaning Success
Once you've gathered everything on your spring cleaning supply list, you're ready to start cleaning! For a smooth spring cleaning of the house, there are a few things you can do to make the rest of your cleaning even easier. 
Dust
From dangerous particles of chemicals to pesky allergens, dust isn't just a bad look — it can also affect your health. Dusting is one of the quickest and healthiest ways to refresh your home, so grab a duster and go over your house. Make sure you're reaching up into shelves, on top of books, and lamps as dust will accumulate more than you realize. The difference will feel great and create an ideal foundation for additional cleaning.
Vacuum
For a clean home and even cleaner floors, plug in your vacuum and do a once over of your entire house. Vacuuming will make the rest of your cleaning even easier (especially the mopping) by getting rid of dust, crumbs, and everything else that accumulates on the floor. You can even take it a step further and deep clean your carpet and rugs.
Clean Your Windows Inside and Out
Using a window cleaner, wipe down every window in your home from inside and outside. Clean windows will let in all of the beautiful spring light and make your home feel fresh and bright. 
Take a Close Look at the Kitchen
Your kitchen is probably in need of a deep cleaning — especially if you started cooking as a quarantine hobby. Follow these spring cleaning tips and tricks for a kitchen that feels brand new.
Stove Top
When cooking on your stove top, grease, food, and grime can build up, which makes your cooking space less hygienic. For safe food preparation and to prevent contamination, it's important to clean your stove top regularly and to do a seriously deep clean from time to time. Depending on what type of stove top your kitchen has, you might have to clean it a little bit differently. Read the directions on your cleaning products and get scrubbing! 
Oven
Chances are, your oven could use a deep cleaning as well. Tackle this job when you're spring cleaning the house. Take out the oven racks and wipe those down, then scrub away any grease or drippings from cooking that accumulates at the bottom of your oven. 
Floors
After cleaning your kitchen and deep cleaning your stove top and oven, be sure to mop the floor. With all the action your kitchen sees, there are sure to have been some spills that wiping and vacuuming alone won't fix. Use a cleaning solution made for your floors so they really sparkle.
Brighten Up the Bathroom
Your bathroom, like the kitchen, is another space that needs regular cleaning. But every once in a while, a deep cleaning can really refresh the space and make it feel like new. Here are the best spring cleaning tips and tricks for your bathroom.
Sink Area 
Wipe down your sink, the basin and any counter space you might have. Lots of bacteria can accumulate here, so use a heavy-duty cleaner from your spring cleaning supplies list. Polish any faucet and knobs for a clean shine and wipe down the mirror. Water spots accumulate very easily in the bathroom, but you can use a soft towel and a surface spray to get rid of all of those marks. 
Shower and Tub 
Using a gentle (but sturdy enough) brush, scrub the floors and walls of your bath and shower space. If you have tiles in your shower, make sure you're getting into the grout to clean even the little spaces. Rinse off cleaning products with water or a wet towel to avoid residue. If you have a shower curtain, check the cleaning instructions to see if you can throw it in the washing machine. If not, you may want to replace it as you're spring cleaning the house.
Toilet 
Using a toilet brush and toilet bowl cleaner, scrub your toilet bowl. The toilet should see regular cleaning, but a good scrub can really do a world of difference. Make sure you also wipe down the seat, lid, and the rest of the toilet for a deep clean.
Freshen Up Your Bedroom
Don't forget your bedroom when you're spring cleaning your house! Waking up in a fresh, clean space is the perfect way to welcome spring.
Bedding
The rest of your bedding needs cleaning too, not just your sheets. Tackle the bulkier items we all like to avoid: the pillows, comforter, and duvet. A good clean will do wonders for your health and wellness. Just make sure to check the tags on your bedding before throwing them in the washer. 
Closet
Your closet can always use some good organizing. Go through what you've got hanging and folded in drawers, and reorganize if need be. If you have clothes you no longer wear or need, consider donating them or recycling them. Decluttering is a great practice for your entire home, not just your closet, so be sure to read our tips on decluttering your living room space, too!
Curtains and Drapes
Many window treatments, like curtains and drapes, are machine washable. If they are, toss them in the wash. The fresh laundry smell will fill up any room where they hang. As with the spring cleaning tips and tricks for bedding, take some time to check the label on your curtains before throwing them in the washer as they may need to be professionally cleaned.
A spring cleaning of your house will be sure to make spring feel even warmer and brighter. Don't forget to keep your furniture clean too! Check out our guide to removing stains from every type of furniture for more spring cleaning tips and tricks.
Noticed a dirty mark on your favorite piece of furniture? Never fear. This furniture stain removal guide will help you take the correct course of action when you spot a stain, no matter what type of fabric you have in your home. Let's get started!
What to Do Before Removing Stains from Furniture
When you see a stain on your furniture, it's easy to panic and attack the area with every stain removal product you can find. Avoid scrubbing stains at all costs, as this can cause stubborn spills, such as red wine and ink, to spread. You should also hold off from using any stain removal products until you've checked the fabric tags or manufacturer's cleaning instructions.
These are the cleaning codes and what they mean:
X: Vacuum or light brushing only. Must be professionally cleaned.

S: Dry cleaner detergent only. Do not saturate. Do not overwet.

WS: Use mild detergent with a

steam vacuum

or a dry-cleaning detergent. Do not saturate with liquid.

W: Clean only with water-based shampoo or foam upholstery cleaner. Do not overwet.
Stain Removal Guide for Each Type of Upholstery
Once you know what you can and cannot use to remove the stains from your furniture, try the following tips to help you clean the specific fabric of your furniture.
Microfiber
Microfiber is known for being durable. Of course, that doesn't mean you won't end up with some stains on your favorite pieces over the years. This type of upholstery is relatively easy to clean but microfiber blends vary, so double-check the fabric tag to ensure the correct cleaning approach. Generally speaking, the most effective way to remove stains from your microfiber furniture is with a few items you probably have around your home.
Stain Removal Products You'll Need:
Clean cloth

Spray bottle

Light-colored sponge

Distilled water

Dry brush
Stain Removal Techniques:
Use a clean cloth to blot the area and lift out any loose dirt.

Spray the stain with distilled water and scrub with a light-colored sponge until dry.

Brush the area in a circular motion with a dry brush to re-fluff the microfibers in that spot.
Synthetic Fiber
Synthetic upholstery includes polyester, olefin, acetate, acrylic, and nylon. These materials are often used to imitate the qualities of natural fibers for a more cost-effective piece of furniture. Given the variety of synthetic fibers, you should always check the fabric tag and care labels on your furniture. Your cleaning method should be safe and simple.
Stain Removal Products You'll Need:
Vacuum cleaner upholstery attachment

Dry brush

Clean cloth

Warm water

Mild detergent
Stain Removal Techniques:
Use a vacuum cleaner upholstery attachment to remove debris from the area.

Brush the stain with a dry brush to remove more stubborn debris.

Add mild detergent to warm water and spot test the solution on an unseen part of the furniture.

If the detergent does not damage the material, use it to wet a clean cloth and dab the stain.
Cotton and Linen
Cotton and linen are both natural fabrics that you may be able to treat in the same way. Check the cleaning instructions, especially for linen furniture covers, as they may require professional cleaning or even be machine-washable. If there are no specific instructions, try this suggestion for removing stains from your cotton or linen furniture.
Stain Removal Products You'll Need:
Vacuum cleaner upholstery attachment

Mild detergent

Soft cloth
Stain Removal Techniques:
Use a vacuum cleaner upholstery attachment to remove dust and debris.

Add a small amount of mild detergent to warm water and spot test on your furniture.

If the solution doesn't damage the fabric, wet a soft cloth and dab the stain.
Leather and Vinyl
The fact that leather and vinyl are stylish and easy to clean makes these upholsteries even more popular. Whether your furniture is genuine leather or a fabulous faux, the key to removing stains from this kind of furniture is to keep it natural. Harsh chemical products that aren't specially designed for these fabrics can leave the material stiff, dry, and less comfortable. 
Stain Removal Products You'll Need:
Warm water

Non-detergent soap

3 clean cloths
Stain Removal Techniques:
Add

2 tablespoons of non-detergent soap

per 1 gallon of warm water.

Wet a cloth with this solution and wipe the stained area.

Wet a second cloth with water only and re-wipe the area.

Use a dry, clean cloth to remove any residue from the furniture.
Wool
Wool is waterproof and long-lasting, but that doesn't make it stain-resistant. You may be able to remove stains from your furniture by taking off the covers, turning them inside out, and throwing them in the washing machine—but only if this is specified in the cleaning instructions. If this isn't an option, try these tips.
Stain Removal Products You'll Need:
Vacuum cleaner upholstery attachment

Water-based detergent for wool

2 clean cloths
Stain Removal Techniques:
Use the vacuum cleaner upholstery attachment to remove debris from within the fabric.

Add the detergent to warm water and wet a cloth with the solution.

Dab the stain with the damp cloth. Avoid scrubbing.

Wet the second cloth with water only and dab the area to remove the cleaning residue.
How to Keep Your Furniture Stain-Free
Do you have young children, pets, or a love of entertaining? 
If you answered yes to any or all parts of the question, then your upholstery may be at a greater risk of stains. While we've offered plenty of tips on how to remove stains from furniture, you can also take measures to stop paint, muddy feet, or food spills from wreaking havoc on your furnishings. Of course you should always check with your retailer for more warranty and cleaning details before using any stain-resistant solutions.
For complete peace of mind, you need furniture fabrics that have been designed to resist stains, right from the start. Southern Motion's Smart Solutions fabrics provide long-lasting protection without sacrificing style or comfort. These strong and stain-resistant fabrics are available for all motion groups and recliners, so you can relax in your living room for many years to come. Take a look at the Southern Motion collections to find the right furniture for your lifestyle.