How to Increase Natural Light in Your House
By Tara Hickock
Bringing natural light into your home is a bright idea, both emotionally and economically. It can elevate your mood and help your house feel happier and more welcoming. Using the sun's power can save you money by cutting down on your electricity bill. Use these home decorating tips to learn how to increase natural light in your house and make your home a bit brighter.
Lighter Colors
From ceilings to floors and everything between, bring in the light by choosing light colors. You'll brighten up any room with a lighter paint color. Shades of white, gray, or beige are good choices. You'll also want to go with gloss: Higher gloss paint will reflect more light than matte paint. Ceilings are usually white for several reasons. First, a white ceiling makes a room appear taller and bigger. White also reflects light, making your room brighter. Choose blond, gray, or natural hardwoods and tiles for the floors rather than darker varieties. Lighter rugs can also brighten up a darker floor.
Neutral Furniture
Lighter-colored furniture will help a room look lighter and brighter. Similarly to the room color, light and neutral furniture will help reflect light to add even more brightness. Choose neutral upholstery and add pops of color with pillows, rugs, and accessories. Switch dark lamp shades for lighter ones to brighten the room, both when the light is on and off. For larger furniture especially, lighter fabrics can help keep the room feeling open and bright.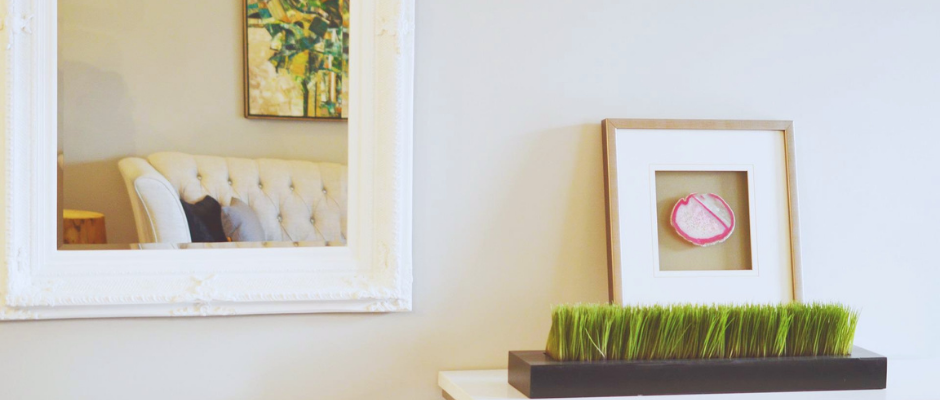 Reflective Surfaces
On top of light-colored walls and furniture, shiny surfaces also reflect light, so use this to your advantage throughout your home. Utilizing your wall space is a great way to maximize your interior design and increase natural light in your house. Put some mirrors on your walls to make the space look bigger and brighter. Use glass or shiny ceramic backsplash tiles in the kitchen for a reflective effect.
Trim Trees and Bushes
Keep your landscape neat and tidy so that surrounding light can come inside. There's only one thing worse than having a large, unkempt tree in front of your picture window: having a neighbor's tree or shrubs blocking the light. If that's the case, offer to help them trim their overgrown trees and bushes. Point out that pruning trees and shrubs keeps them healthy.
Wash Windows
The first reason to wash your windows is simple: Clean windows are more attractive than dirty ones. A bit less obvious? Dirt on your windows can filter sunlight and allow less of it into your home. Not only does that affect brightness, but it can also affect warmth as well. With clean windows, your house will feel warmer in cold weather and brighter throughout the year.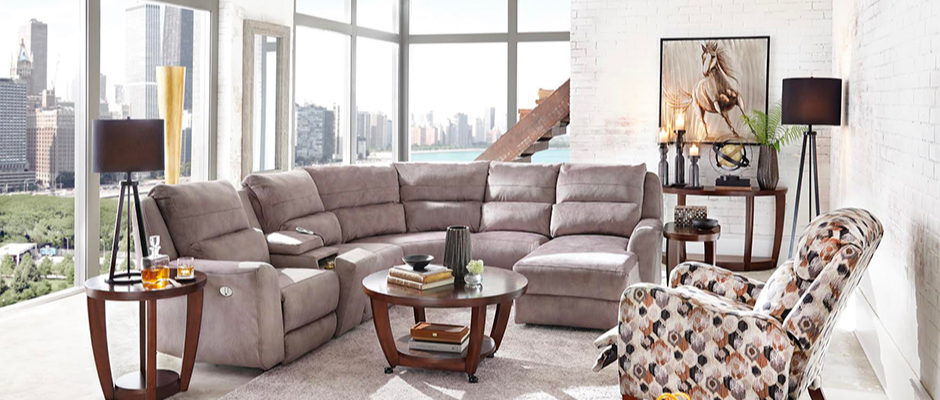 Skip Heavy Window Treatments
Consider skipping the curtains and keep your windows uncovered. This is especially true in a darker room or a room with a dazzling view. Can't stand bare windows? Try light and airy curtains instead of heavy, overbearing ones. Some windows will need coverings for privacy, insulation, or sun blockage so you can sleep. Choose blinds or shades you can adjust depending on the time of day.
Add Windows
It's expensive, but adding windows is an excellent way to bring in more light if you're looking to do some home renovation. If that's not in your budget, add storm doors or choose a door with windows. Consider an on-trend minimalist design if you're in the market for a patio door. You can get what amounts to a glass wall, allowing for lots of natural light and lovely views. Another option: skylights or solar tubes.
Learning how to brighten a room comes down to a few things: neutral colors, open spaces, and windows. Natural light in the home can be a practical and attractive design element in your living space. It can also save money by cutting your heating bill and lowering the need for artificial light. So let the sunshine in and enjoy being in the natural light with these home decorating tips.
Tara Hickock is an interior designer who also designs and decorates outdoor living spaces. Her designs focus on bringing the outdoors inside to give homes a natural touch. She recently remodeled her own home and created a screened-in sunroom for her guests to enjoy the outdoors, even in winter.
The home is a place where people can make positive changes with some simple home renovation ideas. Making positive changes to your home can add appeal and value, whether you're planning to sell soon or are simply boosting the appeal and value for living there yourself. In order to do this, you'll need to know which home projects are easy to DIY and which will require professional help for the best results. Read on for more information about making positive changes in your own space through home renovation!
A Guide to DIY or Hire Out
There are a number of home issues that can be fixed easily with a DIY approach. If you're uncertain about tackling renovations on your own, research each project online or ask a contractor for advice. You can also learn a ton by watching YouTube videos. For many projects, you'll need to work safely and make sure that any tools or equipment is clean and in good condition. Also, consider whether each project would need permits to be completed properly.
Always assess if a home project will be a DIY task or if a professional will provide proper-quality work. For example, doing some light yard work like gardening and planting flowers could be a fun DIY day. But if your property is in need of a fence, you're best off connecting with a fence company in your area. Before meeting with a contractor to get a quote and discuss your needs, you can evaluate companies by reading reviews online. Websites like Angi make it easy to find reputable contractors and also find cost estimates.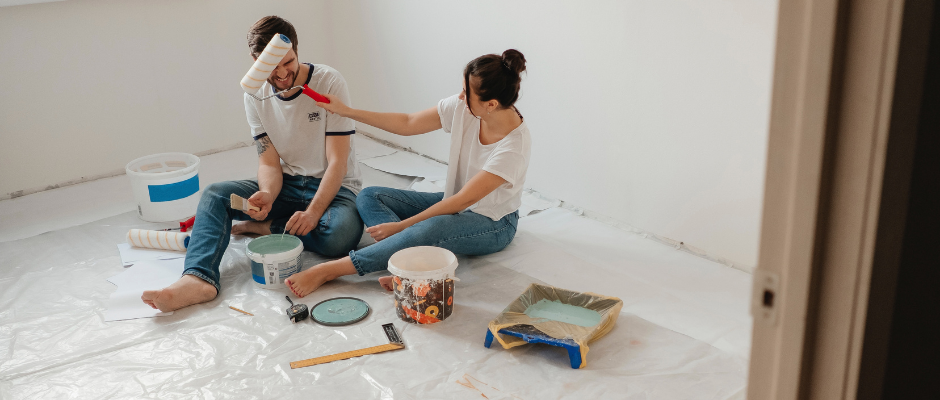 Good
DIY Home Projects
Painting: It's simple to paint your own home interior and exterior, but make sure that you choose the right kind of paint for your project. Different types of paints are made with different materials, so it's important to know what each one is best for. Ask your local paint store pro which paints to use on walls, ceilings, trim and different rooms. You'll also want to consider versatile colors that will enhance the flow, lighting, and furniture of your home.
Update Your Furniture: While not attached to your home, the furniture you choose can change your home's appeal almost instantly. Whether you're replacing old, worn-out furniture or going for a whole new style, you'll feel refreshed with your new pieces like sofas and accent chairs that will freshen up your space! Your furniture can also play a huge part in staging your home if you are considering selling down the road.
Installing Vinyl Plank Flooring: Sometimes, all it takes is some new flooring to spruce up a space. For a no-fuss, modern look, vinyl plank flooring is an excellent choice. It comes in tiles and planks that are typically easy to install yourself. They're also very cost-effective in the $1-2/sq. ft. range and are very durable, meaning you'll get to enjoy your home renovation for years to come.
Sprucing Up Your Home Office: If you work from home, you want to create a home office space that promotes focus and productivity. Clean your office window to allow for more natural light to enter, and pick up a comfortable chair with lower back support. This is also a great place to do some of that DIY painting mentioned above – choose a color that feels fresh and invigorating.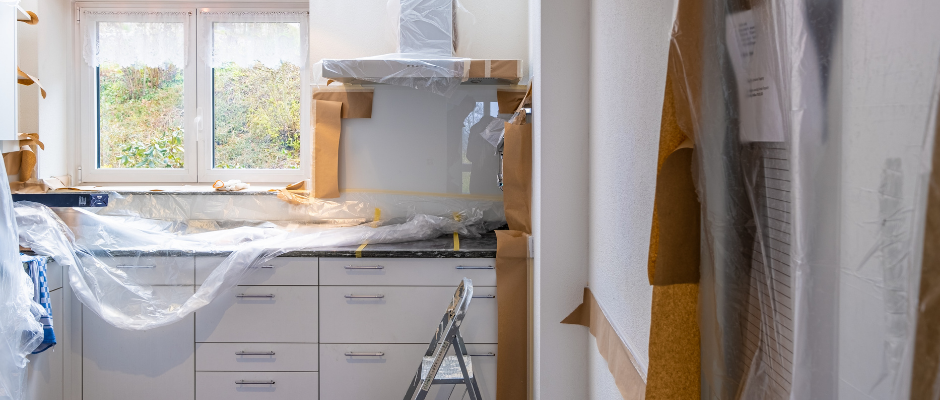 Hire These Home Renovations Out
Countertops: While you can save a lot of money by purchasing materials and doing the work yourself, hiring an installer is always the safest route when it comes to countertops. With precise measurements and heavy materials, a contractor will ensure your countertops are installed without any damage.
Electrical Work: While you can consider doing small jobs like light fixtures, it's always best to hire a pro for more serious projects. Electrical can get very confusing and be a costly fix if you complete the rest of your renovation to find out later your electrical isn't working properly.
Roofing: Fixing the roofing of your house can be a tricky task, and installing it incorrectly can cause big issues, so don't put yourself at risk without the proper tools. Instead, hire a proper roofer to fix any issues for a safe and proper home renovation.
Considerations: Selling Your Home
When you're making improvements to your home, look for things that can help boost your property's overall value. If you know you plan to sell sometime soon, pay attention to what buyers want. You can use online tools to check comparable sales in your area to see which features are getting the best offers. This is also a great opportunity to see how other houses on the market are styling their interiors and exteriors while on the market. Use these examples to help inspire your upcoming home renovation ideas. Also, take before and after photos and keep receipts for the changes you've made for tax benefits. 
In Summary
Home renovations can make a world of difference in your home, but when you're planning them out, consider how they'll impact the value of your property. You'll also want to prioritize the health of your home by paying close attention to issues such as mold, pests, and leaks. It's also important to consider the ROI of each renovation. Be sure to consider whether your job will be negatively affected if a professional doesn't do the work. While DIY home projects can be fun, you can end up costing yourself a lot of money when you try to sell your house if the work isn't up to snuff!
Did you know there are over 20 different types of sofas? Most people don't realize there's quite a long list. Most sofa styles are categorized by their size, arm and back shape, and function. From traditional style to mid-century modern, there are plenty of styles and functions to choose from that best fit your comfort needs and interior design taste. Not sure which sofa style is the best for you? We'll help you navigate the world of sofas and let you know what the most popular sofas styles are so you can find the perfect fit for your living space.
Reclining Sofa
Reclining furniture has come a long way from your dad's favorite reclining chair. Now, both modern and classic sofa styles can come with reclining features that make these types of sofas so popular. These sofas are perfect for those looking to create a comfortable living room experience perfect for relaxing, watching movies, or socializing. Some even come with cup holders and center consoles to store items such as remotes and wireless chargers.
Mid-Century Modern Sofa
Simple, clean lines are what define the mid-century modern sofa style. This popular sofa style often features tapered legs and minimalist features reminiscent of design from the 1950s and 1960s. On top of adding comfort and function to the room, this classic often works well as a focal point in your space, especially when paired with a bold-colored fabric or with sleek leather.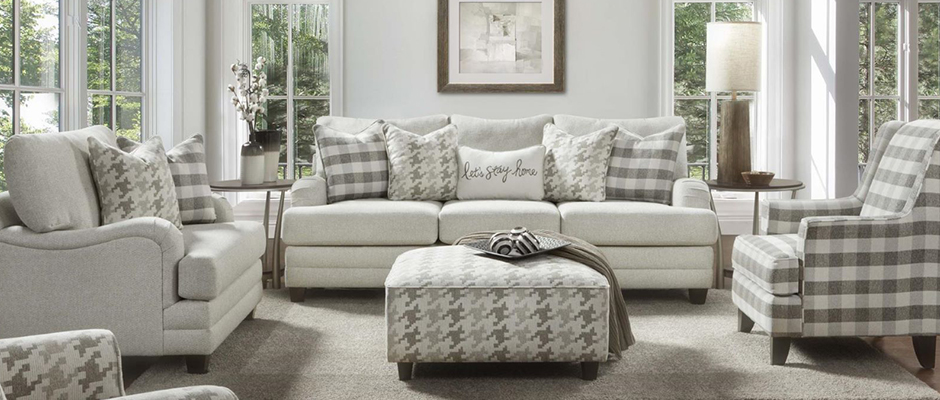 Traditional Style Sofa
The traditional three-seat sofa is the classic sofa style that comes to mind most often and it's one of the most popular. These sofas come in a wide array of colors and covers, including leathers, and give you plenty of style options to fit your design preferences. Some have removable cushions and some even have reclining mechanisms! Traditional sofas pair well with two-seat sofas and accent chairs to add extra seating options in the living room.
Camelback Sofa
As the name implies, this sofa style's main design feature is a "hump" in the center of the back. The back is higher in the center than it is on the sides, adding a bit of elegance to the look of your room. The traditional design of the camelback makes it perfect for a more formal living room. Depending on your living room's decor, this classic sofa style looks great with a subtle print fabric, neutral colors, or a pop of color with velvet.
Chesterfield Sofa
Perhaps one of the most recognizable classic sofa styles, the Chesterfield sofa suggests elegance and dignity. Defined by its tufted back and large rolled arms that are the height of the back, the Chesterfield design will never go out of style. Choose a luxurious velvet or a strong leather to give your living room an extra boost of comfort and style perfect for reading your favorite novel or sitting by the fireplace.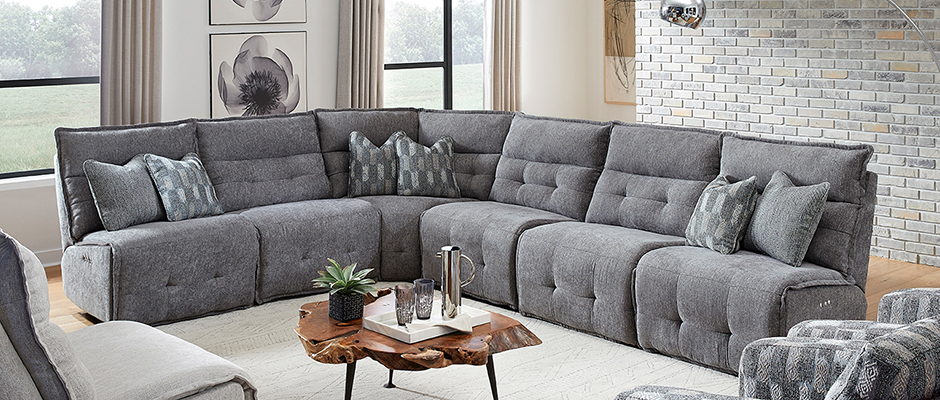 Sectional Sofa
Sectional sofas are one of the most popular sofa styles. Sectionals are made of multiple independent pieces and can often be arranged in different configurations, making them easy to fit into different room layouts and optimize your space as much as possible. This type of sofa is desirable to people who want a lot of seating. Whether you're looking to entertain guests or have a troop of children, sectionals are a practical and versatile sofa style.
Cabriole Sofa
This classic sofa style's most recognizable quality is the exposed, carved wooden frame and legs that give any room a subtle formal look. The arms and back are generally equal-height and the arms curve inward. Cabriole sofas can range from sleek designs to more ornate decorations often found on antique pieces. Recently, the Cabriole sofa style has forgone the exposed frame and adopted a more casual design.
Choosing between different types of sofas might seem overwhelming at first with so many to choose from, but it gets easier once you know the functions, styles, and designs you're looking for. From casual, everyday sofa styles to more formal and classic sofa styles, you're now "in the know" about the most popular sofa styles of today. Keep these styles in mind when you're shopping for your next sofa to create the living room of your dreams!
Whether you're moving to a new city nearby or traveling across the country, relocation requires a lot of time and energy. By the time you unpack all of your belongings, you're going to want to settle into your new home as soon as possible. From cool home improvement ideas to getting to learn your new town, prepare yourself for the big move with these helpful tips!
Cover the Essentials
After you move to a new city, you want to make sure you have all of the necessities in order before you start getting too comfortable. Follow this to-do list to ensure you avoid inconveniences as you acclimate to your new neighborhood. 
The DMV 
The last thing you want when you first move to a new town is to deal with expensive fines or penalties. As soon as you get a spare hour or two, find the nearest DMV so that you can update your driver's license, registration, and license plates. 
Basic Utilities 
Shortly after you arrive in your new town, take time to research the local resources in your area. Connect with utility companies to get your electricity, water, gas, and internet up and running. 
State-Specific Costs 
Consider yourself lucky if you move to a new city within the same state! If you relocate out of state, it's crucial to familiarize yourself with the state-specific costs you'll need to pay. Get a plan together for how you will pay state taxes, including sales, property, and income tax.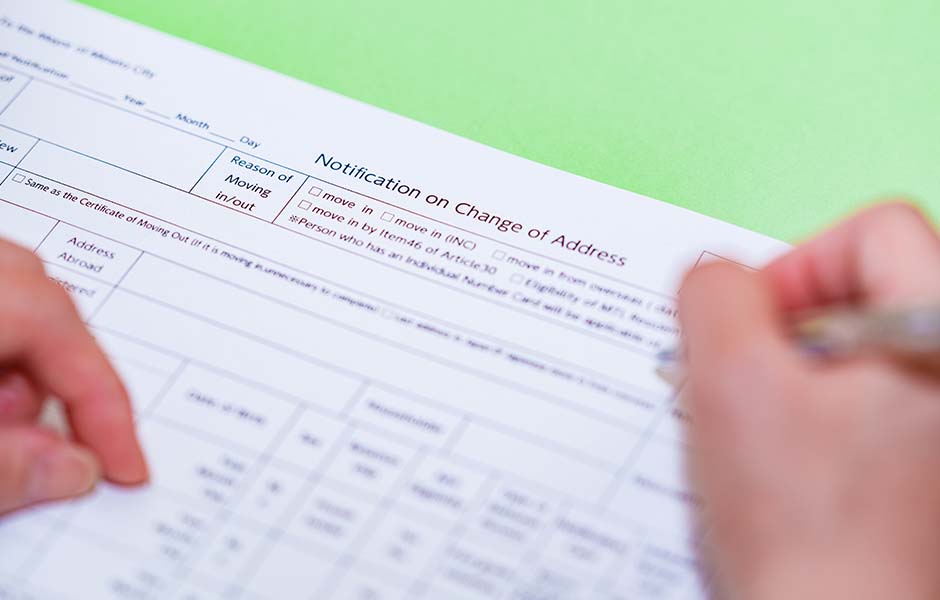 Address Updates
Settling into a new home also means you have to go through the tedious process of changing your address for just about everything. Consult with your banks, creditors, post office, subscription companies, and any other relevant institutions that need your most current address. 
Start Making Improvements
Once you get all of the fundamentals taken care of like getting your new driver's license and changing your address, it's time to focus on home sweet home! Consider these cool home improvement ideas that are simple, yet go a long way.
Lawn Care 
What better way to amplify your home's curb appeal than with a fresh, green lawn? Hire a lawn care service to spruce up and maintain your landscaping. 
Entryway
Set the tone of your home right at the front door! Give your front door a fresh coat of paint, put up new house numbers, and think of any other ways you can make your property's exterior more appealing. A welcome sign and evergreen wreath will add that warm touch of charm too!
Interior Updates
Does your space have a couple outdated elements like old wallpaper or popcorn ceilings? Whether you tackle the work yourself or hire professionals, try to renovate these areas at a pace that works for you.
As you walk through your space and make a list of projects, consider cool home improvement ideas such as restoring old paint jobs, refinishing hardwood floors, and replacing toilet seats.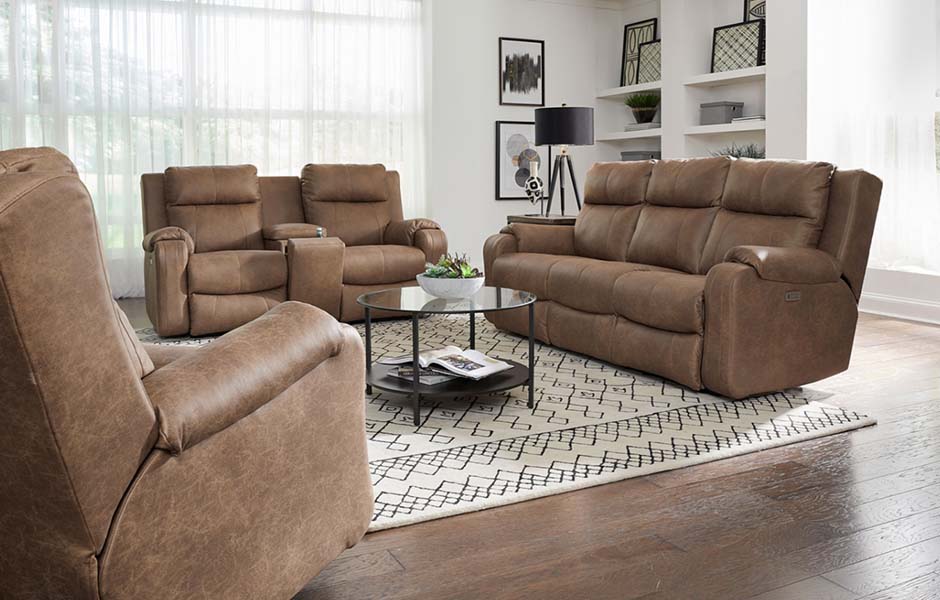 Furniture
A house isn't a home without comfortable, stylish furniture! Along with any pieces you brought during your move, invest in a few quality furnishings that complement your new space. 
Southern Motion offers a wide variety of reclining sofas, sectionals, and chairs that come in hundreds of fabrics and colors. From the heat therapy and massage features of the SoCozi™ collection to the innovative technology of Zero Gravity, you're guaranteed to find motion furniture fit for your lifestyle.
Learn Your Town
After gaining some traction on cool home improvement ideas and projects, set aside some free time to see what your new city has to offer! Here are some helpful ways to settle into your new hometown.
Get Social
One of the best ways to settle into a new home and city is by getting to know your neighbors and fellow residents. Not only can neighbors be a great resource for learning about your town, they can also turn into meaningful friends! 
Go big and throw a housewarming party, take a walk around the neighborhood, or talk to residents to get a feel for local events, historic sites, and other attractions your new city offers. Find ways to be social and you won't regret it!
Explore the Area
Hop in the car and take a drive through your new city to explore all of the restaurants, coffee shops, and shopping malls at your disposal. If you don't have a car, you can always do some research beforehand and use public transportation options like trolleys and subways.
In addition to exploring your town to find recreational shops and restaurants, you'll also want to research fitness centers, medical facilities, pharmacies, and other essential establishments.
Moving to a new city is rarely easy, but if you prepare beforehand and take steps to settle in after you arrive, you can make the process go more smoothly. As you get ready to relocate, learn about packing tips for moving.
Have you ever sat back and taken in the beautiful sight in front of you after you've cleaned and decorated your house? There's a sense of pride you often feel after you've tidied up your home, which makes the effort that much more worth it. 
From entertaining guests to personally enjoying time in your own space, there's many reasons why it's good to know how to organize your home and keep it clean. Add to your bag of tricks by learning some more quick cleaning tips and home organization hacks you can use throughout the year!
Contents
How to Prepare Your Home for the New Year
Winter is the most magical time of year. The cozy nights and crisp days offer the perfect opportunity to check that your home is in tip-top shape and ready for the colder months. Take a look at these home maintenance tips to find out how you can maintain and prepare your home for the New Year.
Home Maintenance Winter Checklist
Add Floor Mats to Entryways
During the wet winter season, the entrance to your home is often covered in piles of thick coats and wet shoes. As well as giving you more mess to clean up, mud, ice, and salt from your winter clothes is bad news for your floors. Instead of letting your floors get damaged, invest in floor mats for your entryway. Place one mat inside and one mat outside for the best results.
Look for Air Leaks
If you're feeling a draft, a key home maintenance tip you should follow is finding and fixing any air leaks in your home. Drafts can make your home feel less comfortable and they'll also make your heating less efficient, costing you extra money.
Pay close attention to windows and doors. You can fill these gaps with caulk and weather-stripping. Got a crack in a foundational wall or around faucets and air vents? Be sure to seal these cracks, as they may be letting in air. If you're still feeling cold, you can also look into improving the insulation in your home.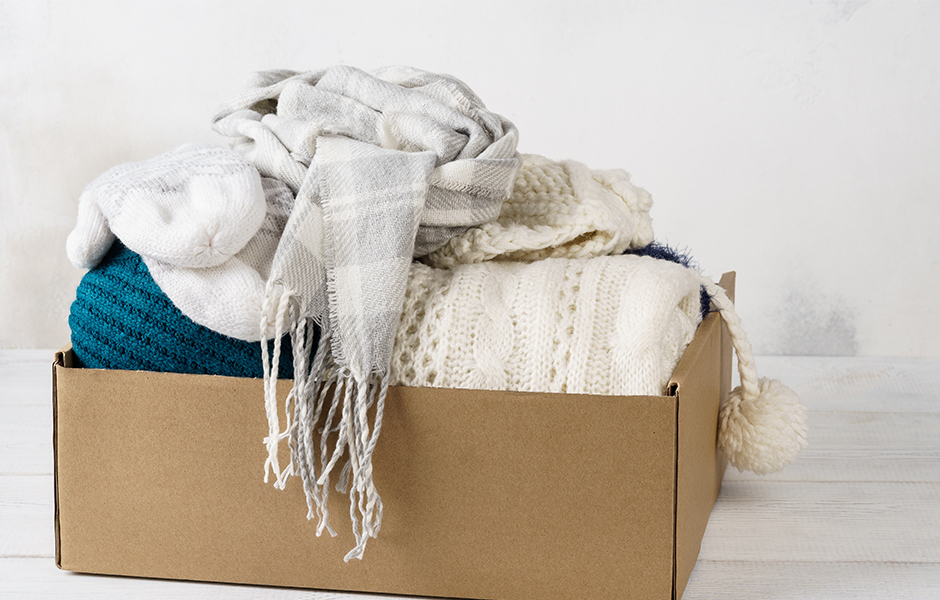 What to Purge and Update During Winter 
Some items in the home need to be maintained over the winter months, but other things should go all together! The beginning of the year is a great time to reflect on what you really need in life and cut down on the clutter. Prepare your home for winter by refreshing these commonly forgotten items.
Old Winter Clothes
We've all got that drawer of odd gloves and ragged scarves we've kept over the years. You may even have a box or closet filled with moth-eaten jackets. 
Our winter tip is to go through all your old winter clothes. You may find some great items that you'd simply forgotten about and can start wearing again. You will probably also find a lot of items you no longer want. These clothes should go to charity and not back in the attic where they aren't keeping anyone warm.
Outdated Furniture
Nothing prepares a home for winter like a fresh new interior. We spend more time indoors during these months, so why not create a space where you can relax and unwind? If your furniture is sagging, stained, and out of style, you might want to consider updating it for something more comfortable.
Donating furniture that no longer fits your lifestyle is a great way to support the less fortunate. Check with your chosen organization to make sure your furniture is in an acceptable condition, although oftentimes the pieces can be reused in some way.
Want more inspiration for your New Year's makeover? Head to our blog to see more home maintenance tips!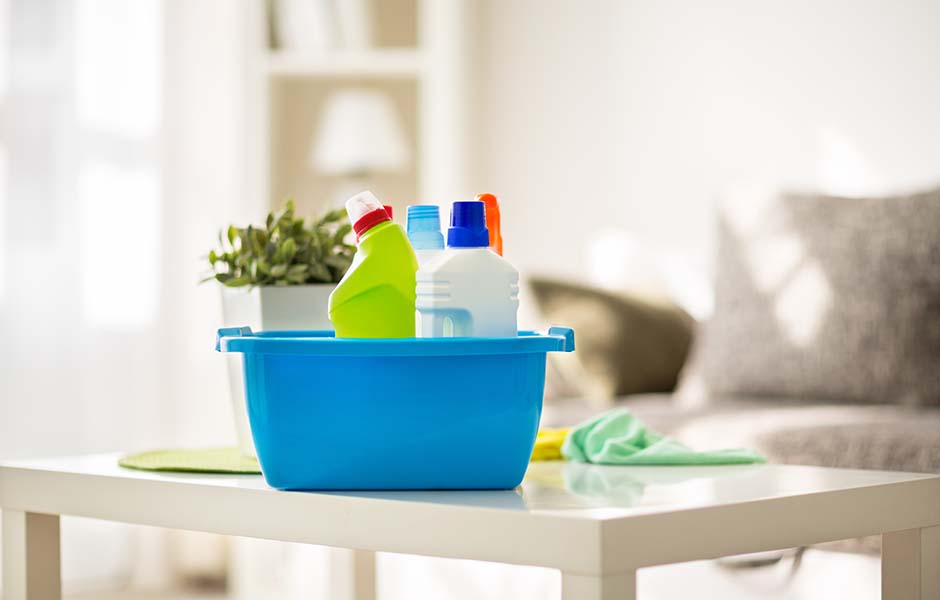 Spring Cleaning Tips & Tricks to Refresh Your Home
As the weather gets warmer and the days get longer, a clean home will feel even better. Here are some quick cleaning tips and tricks that are sure to refresh your home and make sure you have the ultimate spring cleaning experience. 
Take a Close Look at the Kitchen
When cooking on your stove top, grease, food, and grime can build up, which makes your cooking space less hygienic. For safe food preparation and to prevent contamination, it's important to clean your stove top regularly and to do a seriously deep clean from time to time. Depending on what type of stove top your kitchen has, you might have to clean it a little bit differently. Read the directions on your cleaning products and get scrubbing! 
Brighten Up the Bathroom
Using a gentle (but sturdy enough) brush, scrub the floors and walls of your bath and shower space. If you have tiles in your shower, make sure you're getting into the grout to clean even the little spaces. Rinse off cleaning products with water or a wet towel to avoid residue. If you have a shower curtain, check the cleaning instructions to see if you can throw it in the washing machine. If not, you may want to replace it as you're spring cleaning the house.
Freshen Up Your Bedroom
Your closet can always use some good organizing. Go through what you've got hanging and folded in drawers, and reorganize if need be. If you have clothes you no longer wear or need, consider donating them or recycling them.
These few ideas only touch the surface of how to organize your home during a spring cleaning! If you'd like more quick cleaning tips, read through our blog post.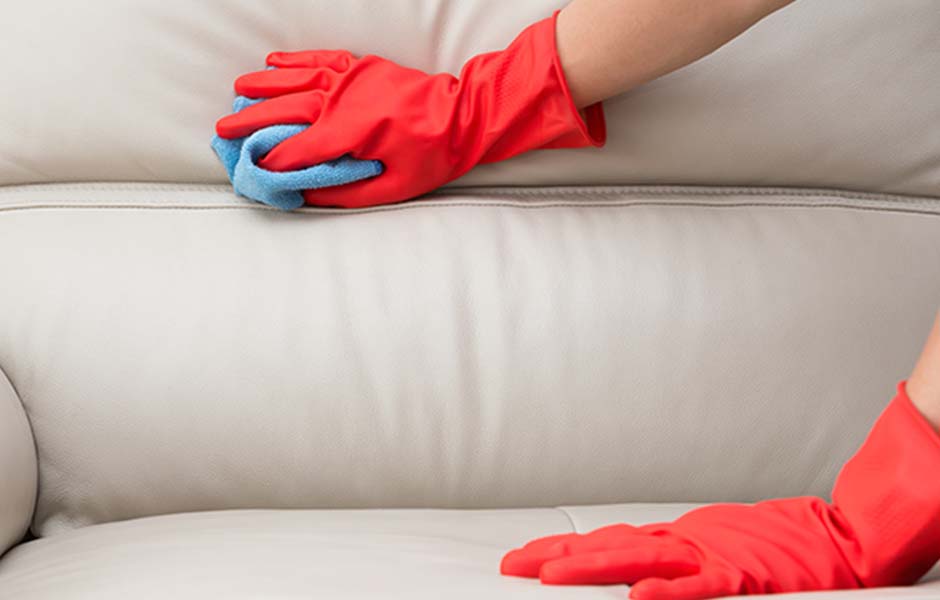 Your Furniture Stain Removal Guide
Noticed a dirty mark on your favorite piece of furniture? Never fear. These quick cleaning tips will help you take the correct course of action when you spot a stain, no matter what type of fabric you have in your home. 
Microfiber
Microfiber is known for being durable. Of course, that doesn't mean you won't end up with some stains on your favorite pieces over the years. This type of upholstery is relatively easy to clean but microfiber blends vary, so double-check the fabric tag to ensure the correct cleaning approach. Generally speaking, the most effective way to remove stains from your microfiber furniture is with a few items you probably have around your home.
Stain Removal Techniques:
Use a clean cloth to blot the area and lift out any loose dirt.

Spray the stain with distilled water and scrub with a light-colored sponge until dry.

Brush the area in a circular motion with a dry brush to re-fluff the microfibers in that spot.
Synthetic Fiber
Synthetic upholstery includes polyester, olefin, acetate, acrylic, and nylon. These materials are often used to imitate the qualities of natural fibers for a more cost-effective piece of furniture. Given the variety of synthetic fibers, you should always check the fabric tag and care labels on your furniture. Your cleaning method should be safe and simple.
Stain Removal Techniques:
Use a vacuum cleaner upholstery attachment to remove debris from the area.

Brush the stain with a dry brush to remove more stubborn debris.

Add mild detergent to warm water and spot test the solution on an unseen part of the furniture.

If the detergent does not damage the material, use it to wet a clean cloth and dab the stain.
Cotton and Linen
Cotton and linen are both natural fabrics that you may be able to treat in the same way. Check the cleaning instructions, especially for linen furniture covers, as they may require professional cleaning or even be machine-washable. If there are no specific instructions, try this suggestion for removing stains from your cotton or linen furniture.
Stain Removal Techniques:
Use a vacuum cleaner upholstery attachment to remove dust and debris.

Add a small amount of mild detergent to warm water and spot test on your furniture.

If the solution doesn't damage the fabric, wet a soft cloth and dab the stain.
Don't see your furniture fabric above? From wool to leather and vinyl, visit our complete blog to learn more stain removal techniques!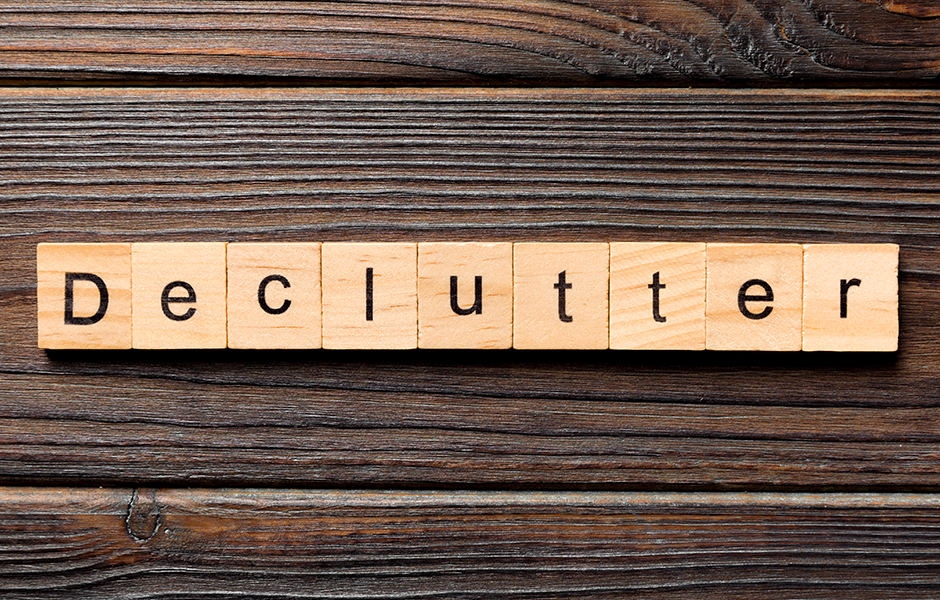 The Ultimate Living Room Decluttering List
The living room is one of the most important areas of the home to clean out and organize, but sometimes it can be tough to know where to start decluttering. Get help with this simple living room decluttering list with tips for keeping an uncluttered living room the whole year round.
Take Care of Tech Accessories
First go through items like TV remotes, earbuds and headphones, video game controllers, charging cords, and any other accessories and make sure they are in good working order. For an uncluttered living room, try these creative storage tips for all the items you want to keep:
Store remotes upright in a decorative pencil cup, wide-mouthed vase, or jar

Use end tables with storage drawers to corral tech and accessories when not in use

Place decorative lidded storage bins on top on entertainment centers or end tables to house tech gear in style

Create hidden DIY pockets or panels with durable fabric pieces and Velcro strips on your furniture

Consider investing in a wireless charging station to cut cord clutter
Decluttering Papers and Mail
Papers and mail can be a source of living room clutter, especially if you don't have a designated home office. Create areas to keep paper and mail contained, so they don't create clutter. This could be as simple as a storage drawer with a divider for incoming and outgoing mail, or a hanging mail organizer. 
For families, use standing files or desk organizers and designate a place for each family member's papers. A corkboard or magnetic whiteboard are other simple solutions for how to organize your home.
Taming Toys
Toys can take over the living room for families with young children. To keep the area clean and clutter-free, first go through your children's toys and determine which can be tossed or donated. 
Once the collection is pared down, choose one small decorative bin or basket for the living room that kids can keep favorite toys in, and then store the rest of their toys in their rooms or playrooms. Cube shelving or storage is another smart solution — just use cloth bins or woven baskets to keep the toys out of sight.
There's much more to read within our ultimate decluttering list! Discover more home organization ideas for small spaces and large spaces here!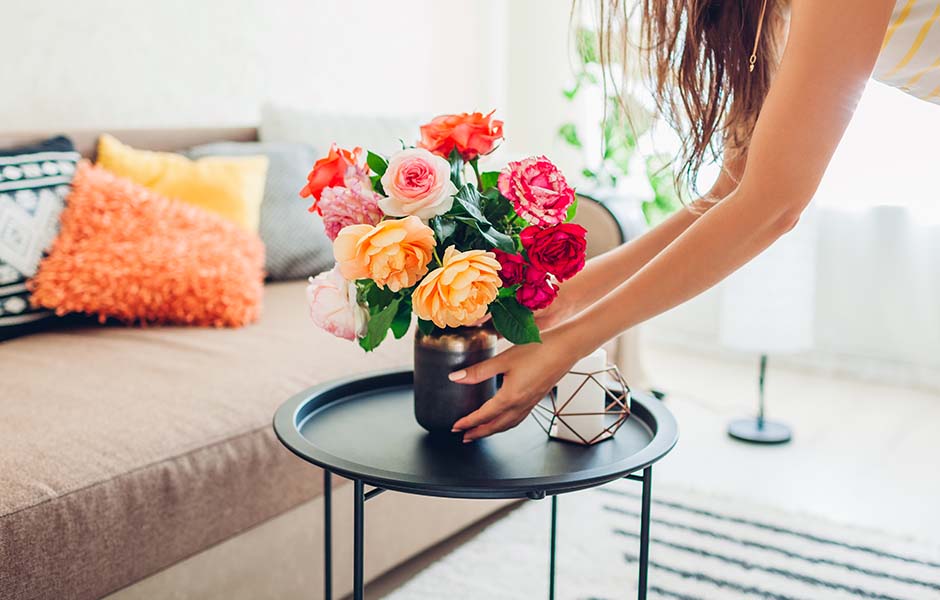 Keep Your Home Clean & Organized Over Summer Break
Summer break offers a wonderful opportunity to spend more time with your family and enjoy all that the warm weather brings, but it also means that regular routines go out the window. If you're already tired of cleaning up after everyone, we're here to help. With a few quick cleaning tips and tricks, you can learn how to organize your home and relax all summer long.
Set Up a Simple Daily Cleaning Schedule
If you're looking for ideas on how to keep your home clean and organized during summer, start by dividing up chores between your family members. Make a simple chart with daily tasks and enlist the help of the kids. They can help with watering the garden, sweeping the porch or patio, or folding beach towels. 
To make the chores less mundane, set a timer so the kids can try to beat the clock to get the job done. At the end of the week, consider a special treat like an ice cream outing to reward the whole family.
Create Beach Bags for Each Member of the Family
Going out for a swim often leaves the house cluttered with all the beach or pool paraphernalia. One secret to keeping a clean house in the summer is to have these items organized in advance. Consider making up a beach or pool bag for each member of the family. 
Stock each bag with a towel, sunscreen, flip-flops, sunglasses, sun hat, and a water bottle. Have a rule that each person is responsible for grabbing their own bag when it's time to go — and for taking care of it when returning. It doesn't take long for kids to hang up their swimsuit and towel and rinse out their water bottles. Hang temporary hooks in the entryway for each person's bag to make it a breeze to keep things organized.
Create an Area to Organize Summer Games
One of the best secrets to keeping a clean house is to have a home for everything, so designate areas for all your summer yard games — and make sure your family puts them back after every use. 
Hang sturdy hooks on the wall of your garage or mudroom for items like baseball bags and tennis rackets. Use old laundry baskets, hampers, or storage bins to house items like balls, Frisbees, and squirt guns. Have pets? Set up a small area for Fido's outdoor toys near the family sports and game gear, too.
Keep adding to your summer organization list by visiting our blog for more tips!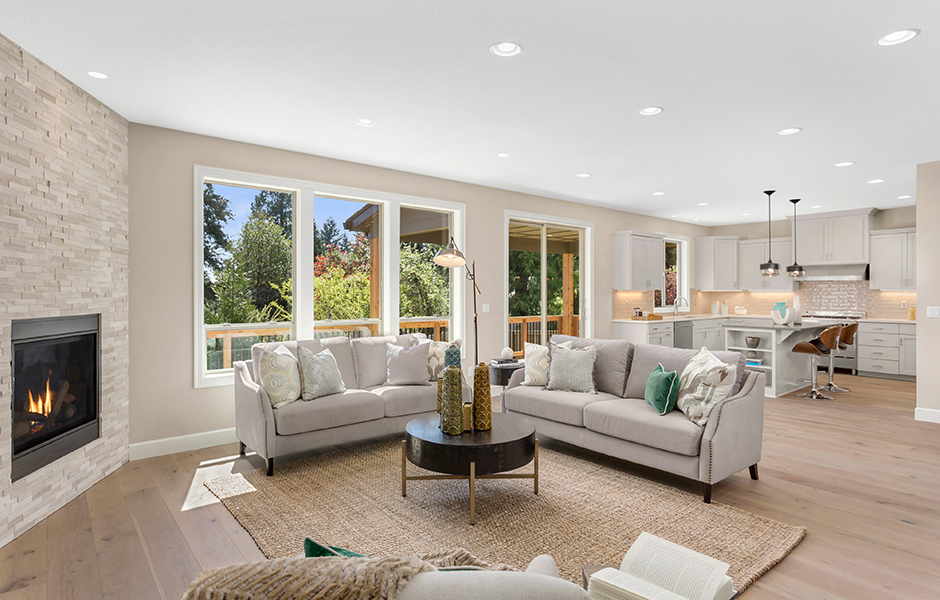 Your Guide to Arranging Two Sofas in Your Living Room
Whether you're having a dinner party, Christmas celebration, or game night, you'll often find yourself relaxing in the living room at the end of the night. Long conversations and sweet memories are made in this room, so it only makes sense that you'd want to have plenty of seating for family and friends — and sometimes, one sofa just doesn't cut it. 
Before you bust out your spare dining chairs, consider incorporating two sofas in your living room and check out these seating arrangement options!
Two Sofas Facing Each Other
Arrangement Highlights:
Best for entertaining and formal conversation

Works well in large open floor plans, narrow rooms, and square or rectangular spaces

Creates a symmetrical design
Two Sofas at a Right Angle 
Arrangement Highlights:
Best for casual lounging and media rooms

Works well in larger living rooms with plenty of space

Creates a cozy and inviting atmosphere 
Two Sofas at a Wide Angle
Arrangement Highlights:
Best for casual lounging and entertaining large parties

Works well in large, open-concept living rooms, especially those with an irregular shape

Creates a comfortable, wide open space
After you've established which arrangement is best for two sofas in your living room, it's time to decide on sofa designs and color combinations. Follow our guide to make sure you pick the best options!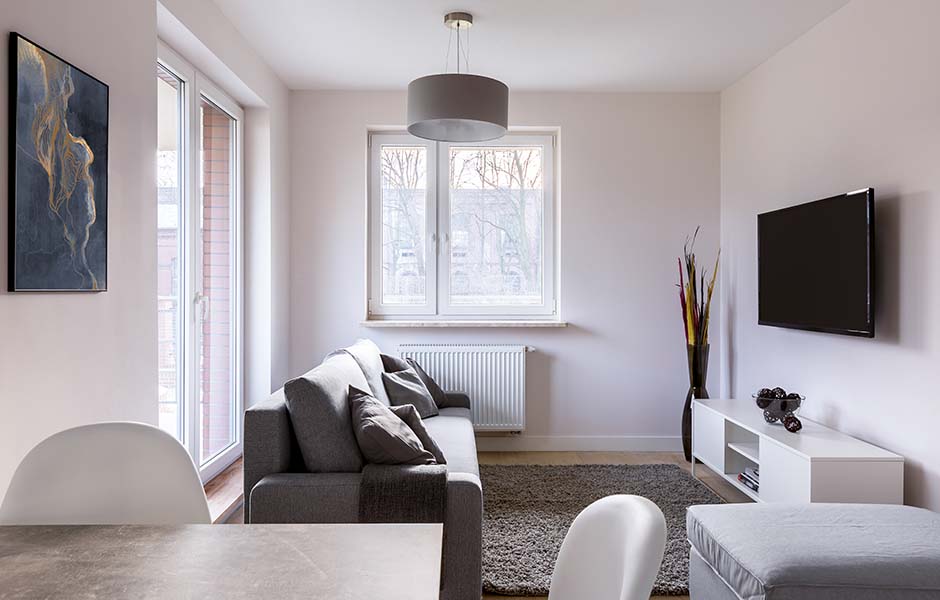 Ways to Maximize Living Space in a Small Home
Having a small living room doesn't mean you can't still enjoy style and functionality in the heart of your home. With the right approach to small living room layouts and furnishings, you can create a space where you love spending time with friends and family. Here's home organization ideas for small spaces that can help you achieve your dream living room setup.
Make Use of All the Space
There are a few small living room layout ideas to keep in mind when organizing a small space, starting with the furnishings. Don't push furniture up against the walls, which can emphasize the limited space. Even with a small living room layout, you should have a few inches to spare so you can float your furniture away from the walls.
As well as keeping furniture from in front of any windows, you can simplify window treatments to let in as much light as possible. Getting plenty of natural light in the room can give the impression of more space. While the square footage of your living room floor may be limited, you may be lucky enough to have high ceilings. Use lots of shelves to remove storage and organizational items from the floor and show off the unique space!
Opt for Multi-Purpose Furniture
Multi-purpose furniture is a game changer when it comes to home organization ideas for small spaces. This type of furniture can help you get everything you need into a small living room layout without cluttering the room. You can choose pieces with built-in storage, such as ottomans. Ottomans can also be used as coffee tables, extra seating, and foot rests quickly, easily, and stylishly. If your living room doubles as your spare room when your relatives are in town, you can even consider adding a daybed to the space for a practical and playful addition. 
Switch Out a Furniture Set for a Sectional
A sectional may be a large piece of furniture, but with just that one piece, you can seat all your friends and family in a small living space. A stylish sectional can also work as a statement piece while offering a cozy seating option.
Choose Furniture with Small Dimensions
You can also choose small living room furniture as a home organization idea for small spaces. Antiques are a great option for small living room layouts, as they come from time periods when rooms were typically smaller. Swap one large coffee table for a few small antique coffee tables or choose lower furniture to create the illusion of higher ceilings — and more space —in your home.
For a comprehensive guide to maximizing space in your small home, check out our blog post!
Organizing and cleaning your home is quite a labor intensive task, but with these quick cleaning tips and tricks, you should have all of the necessary tools to get the job done well! Once your home is beautiful and tidy, consider upgrading your furniture with Southern Motion reclining furniture.
From stress at work to the physical demands of daily life, being an adult is tough! After you've put in hours of work at your job, taking care of the kids, and grocery shopping, it's the most rewarding experience to come home and relax in your living room. Rather than settle on your average sofa, think about investing in living room recliners. 
Living room recliners have been around for years and are a staple furniture item in many homes across America. Not only are they comfortable as can be, recliners have a variety of medical benefits as well. Read on to learn about how motion furniture can improve your health and quality of life!
Benefits of
Living Room Recliners
1. Increased Mobility
According to the Center for Disease Control and Prevention (CDC), mobility issues impact 1 in 7 adults. Having limited mobility can be discouraging, but the best reclining furniture can help ease your discomfort while at home.
Southern Motion lift recliners are the perfect option if you struggle with mobility issues. With the touch of a button, your lift recliner can go from flat on the floor to a 35-degree angle to help lift you out of the chair and into a standing position. This provides a safer and more secure way to move without putting any undue stress on your back or joints. Not only will transferring in and out of your chair be easier, you'll feel much more empowered and independent being able to handle the task without assistance from loved ones.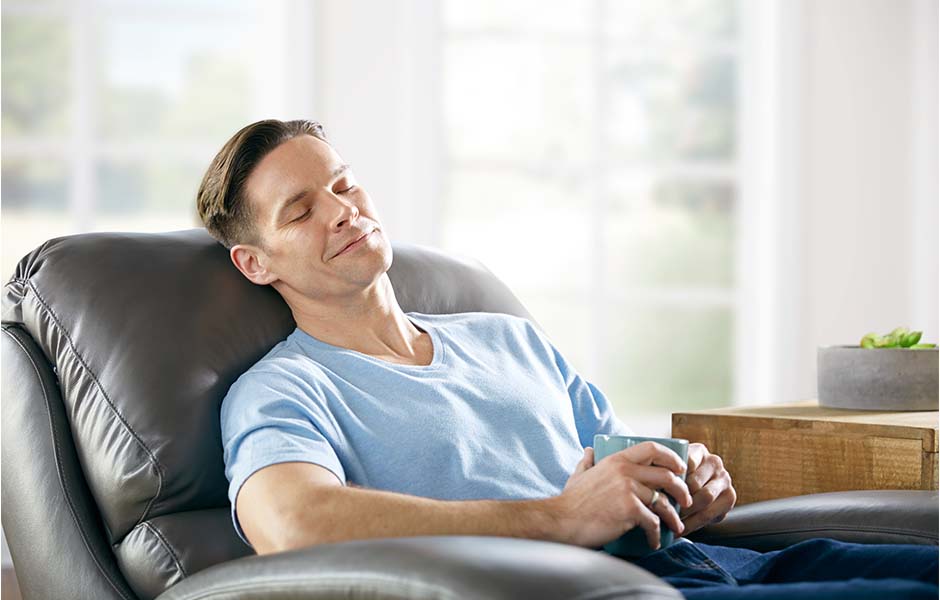 2. Better Circulation
Did you know that sitting for long periods of time can wreak havoc on your legs and joints? Gravity affects blood flow and when your weight isn't evenly distributed, your joints are affected. Because of this, it's important to choose the most comfortable living room chairs and sofas that improve your circulation and increase blood flow. Motion furniture, particularly Southern Motion's Zero Gravity collection, are designed to solve this problem.
Our Zero Gravity chairs work by evenly distributing your bodyweight, reducing the stress on different areas of your body. This helps to optimize blood circulation and give you the ideal angle for relaxation.
3. Lumbar Support
As you decide on the best reclining furniture for your needs, don't overlook therapeutic lumbar support as a key feature. It's important to choose chairs with lumbar support because they have the potential to reduce back pain. Along with these benefits, therapeutic lumbar support can aid in:
Proper spinal cord alignment

Promotion of proper posture

Reduction for risk of injury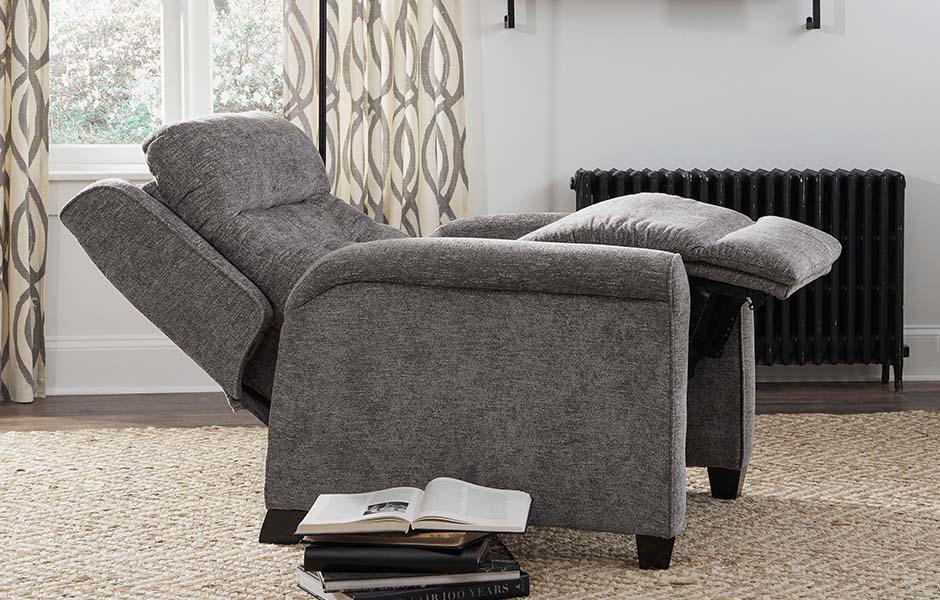 4. Pain Relief
If you suffer from back or neck pain, living room recliners may be a natural remedy you can use right at home. Heat therapy and massage features (like those found in Southern Motion's SoCozi™ collection) work to revitalize your body and eliminate any pressure points.
In addition to heat therapy and massage features, recliner chairs can reduce body pain or aches through weight distribution. As a recliner evenly distributes your weight, it increases blood flow. This eases any pain and prevents swollen, stiff joints.
5. Stress Relief
Lastly, the ultimate benefit from having a recliner is the way it reduces stress. There are three different types of stress: emotional, mental, and physical. Each type of stress affects the body and causes significant tension. Your body needs relief from these stressors, which is where recliners come in. 
The best reclining furniture relaxes both your mind and body through features made for your comfort and ease. Deep tissue air massage, power reclining, and lumbar support are just a few of the features that can work to renew your health and lower your stress levels.
Recliners have been around for ages and now you know why! With multiple health benefits and unbeatable comfort, living room recliners are made for much more than Dad's Sunday night football games. Whether you're simply looking for a chair you can melt into at the end of the day, or need something to improve your circulation, take a look at Southern Motion's recliners that fit all of your furniture needs.
What better way to wrap up the holiday season than with a New Year's Eve party? Impress your guests with a home full of glitz and glam by creating your very own party accessories like balloon wall displays and sparkly garlands. Get a jump start on your party prep with these DIY New Year's Eve decorations! 
1. Bubbly Spheres
Take to the ceiling for this cheap New Year's decoration! All you need to make these hanging spheres is foam balls and baking cups. Whether you choose a white and gray color scheme or keep it classic with gold and black, your guests are sure to pay you compliments as soon as they see these dazzling orbs.
2. Party Horn Garlands
Garlands aren't just for Christmas! Put a unique twist on party horns by stringing them into a garland for display rather than play. You can hang your garland from the ceiling, use it for table decor, or simply fashion it on the wall with other accessories. 
Make sure your party horns tie in metallic colors so they're shiny and eye-catching!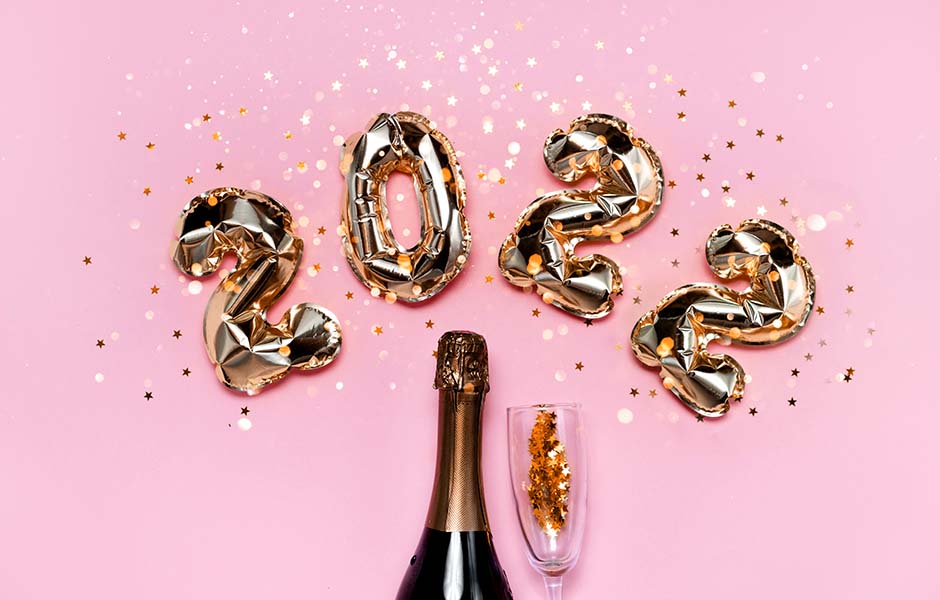 3. Metallic Balloons 
When it comes to party decorations, the simplest ideas can be the best ones. Head to the store and buy a large bundle of metallic-colored balloons to disperse throughout the main room of your party. Gold and silver are ideal, but don't hesitate to branch out with other color themes.
For an extra touch of fun, glue pom poms to the bottom of each balloon and add colorful dot stickers on the balloon itself. 
4. Glittery Champagne Bottles
It doesn't get much simpler than champagne bottles coated in glitter. This DIY New Year's decoration is great for last minute parties because it can be done in a flash. As an alternative to champagne, use apple cider bottles instead. 
5. Sequined Star Stirrers
Every party needs drinks, which makes these sequined star stirrers a hit with guests! DIY New Year's decorations are all about sparkle and these stirring sticks certainly don't disappoint.
6. Painted Stemware
While plain champagne glasses are elegant, it's nice to bring them to life for special occasions like New Year's. For this DIY New Year's Eve decoration, mimic the bubbliness of champagne by painting metallic dots onto your stemware. Start off by painting them close together at the stem while gradually spacing them out as you work your way up.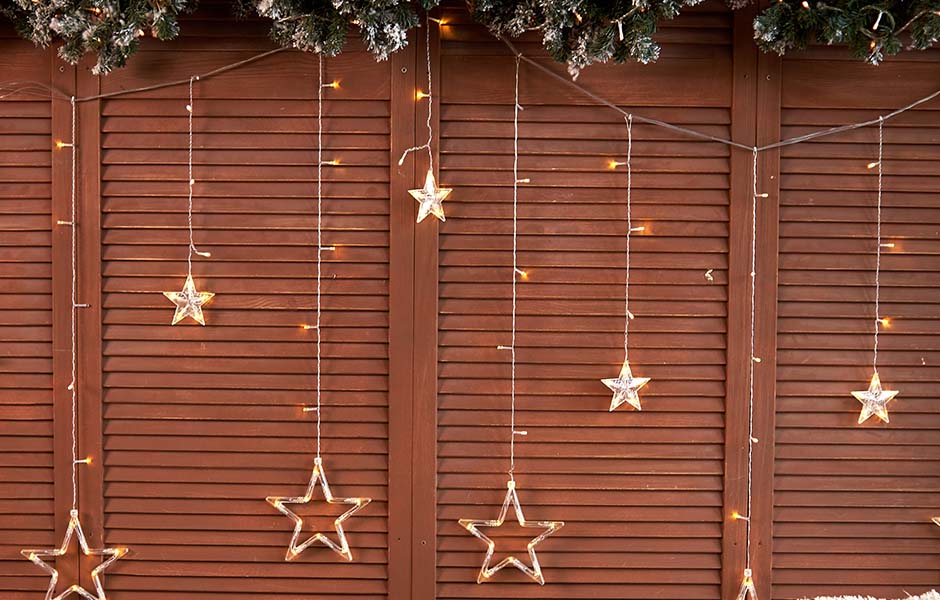 7. Glowing String Lights 
Give your home a warm glow with the help of twinkly string lights. While these can be displayed anywhere (window, dining table, countertops), string lights look especially festive framed around mirrors. Buy string lights in the shape of stars to perfectly match the holiday motif. 
8. Noisemaker Centerpiece
Have any leftover noisemakers? Put them to good use in a DIY New Year's centerpiece. A bowl of candy, gold and silver pipe cleaners, wooden skewers, and hologram paper are among the few supplies you need to complete this craft. While you can use any candy you'd like, Hershey's kisses look the best with their metallic wrapping. 
9. Giant Wall Confetti
Who said confetti is only meant popping? Bring splashes of color to your celebration with giant wall confetti. The best part about this DIY New Year's Eve decoration is that it's easy to make. Gather different colored paper, a circle template, scissors, and Blu Tack to transform your ordinary walls into a fun focal point.
10. Moon Piñata
Piñatas aren't just for kids! Create a DIY moon piñata for your party. Hang it from your ceiling and complete the nighttime ensemble by surrounding it with golden stars. 
For a good laugh, you can always fill it with party favors or candy and have your guests break it open at the end of the night.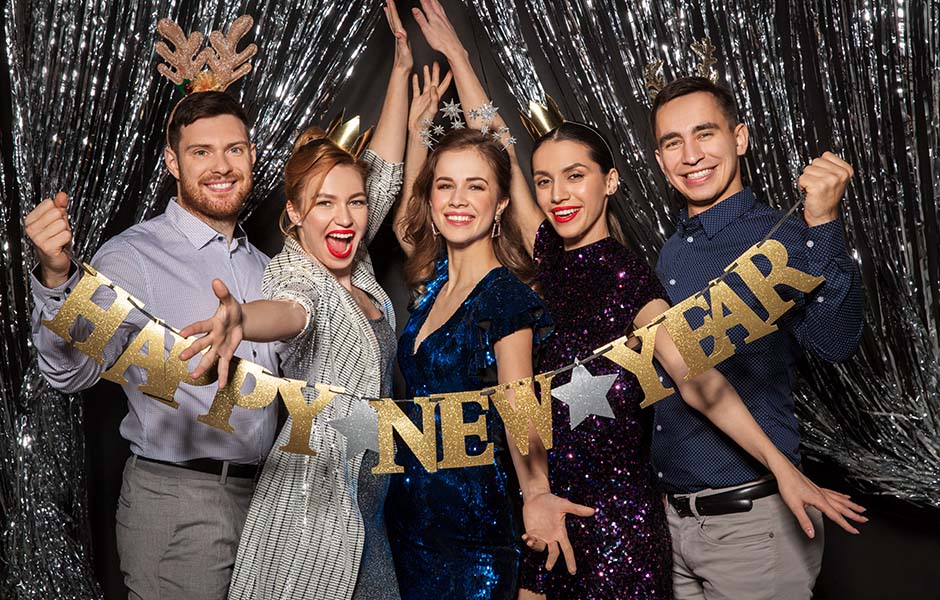 11. Metallic Fringe Backdrop
Party guests go wild over photo booths, so why not create your own? All you need for this cheap New Year's decoration is a metallic fringe backdrop, a couple fun props, and guests ready to pose!
12. Tinsel-Wrapped Numbers
Your New Year's extravaganza isn't complete without big, sparkly numbers representing the upcoming year. Try tinsel-wrapped cardboard in gold, silver, black, or whatever colors you'd like. Showcase your dazzling display where everyone will be gathered at the stroke of midnight, and the photos are sure to be epic!
13. Balloon Wall Display
Take your balloon decor to the next level with a spectacular wall display. While there are plenty of professionals you can hire for the job, creating a beautiful balloon display can easily be done yourself. Make a balloon arch for your photo booth or create a brilliant backdrop for your horderves table—the options are endless. 
If you aren't sure where to start with ideas, you can find lots of inspiration for this DIY New Year's decoration online.
14. Origami Paper Stars
If you're a fan of origami, this craft is made for you! Stars are an iconic motif of New Year's, so it's no surprise that they make for adorable decorations. 
Because of their sturdiness, brown paper bags from the grocery store work great for these origami stars. Top them off with metallic-colored paint and sequins that give them just the right amount of shimmer.
15. Golden Bow Tie Garland
The best DIY New Year's decorations can be made with everyday household items. For this project, use bow tie pasta to string together a one-of-a-kind garland. Coat your bow ties in glitter and use sparkly twine or string to bring it all together.
With the help of these simple party decor ideas, your New Year's celebration is sure to be one for the memory books! After the dust settles and the holidays come to an end, learn how to prepare your home for the new year with DIY projects, home maintenance tips, and more. 
While it's tempting to purchase the prettiest sofa you see online, it's very unlikely that you'll be satisfied with that product long term. From style and material to functionality, there are many key factors to consider when it comes to buying a new sofa. Avoid common buyer mistakes and learn how to choose the right sofa by following these tips! 
1. Take Your Measurements
There's no point in falling in love with gorgeous furniture that won't fit in your living room! Before you begin your search, take measurements of your space and be sure to write them down for future reference. 
Along with measuring the spot where your sofa will sit, it's crucial to measure entryways, walkways, door frames, and other clearances. This will ensure that you don't have any problems transporting the furniture throughout your home.
2. Factor in Your Lifestyle
One of the most common mistakes you can make when buying a new sofa is not considering your lifestyle. A couple that has no pets or children, for example, will have much different needs than a family with two toddlers and a dog.
Think about how your sofa or sectional will be used on a daily basis and ask yourself questions like these:
How much wear-and-tear will my sofa be exposed to?

How many people will it need to seat day-to-day?

Is my primary concern comfort and functionality or style and design?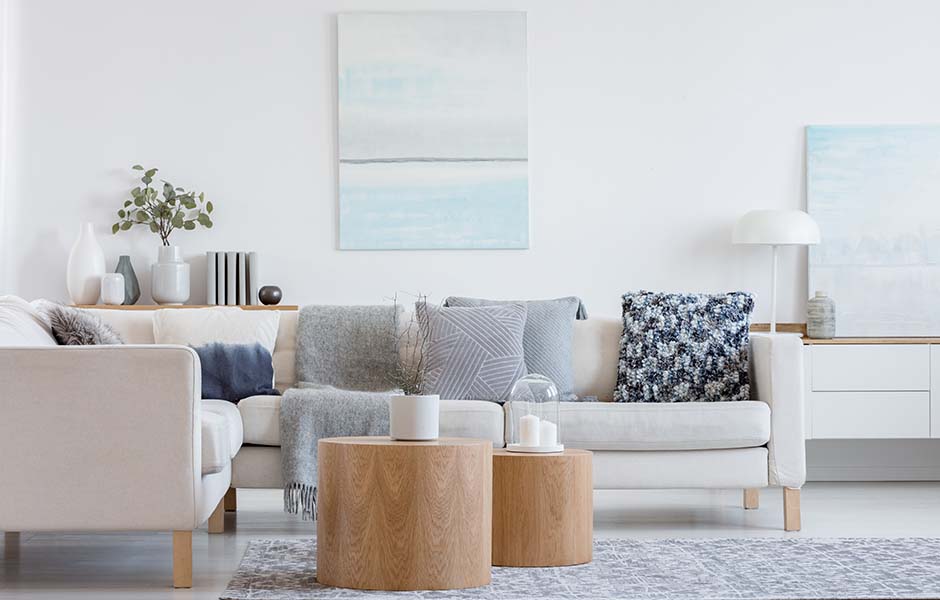 3. Think About Sofa Orientation
If you're wondering what to consider when buying a new sofa, be sure to add "sofa orientation" to your list. Furniture arrangement is just as crucial as measuring your space, particularly in smaller homes with less room for experimentation. 
Think about appearance (from every angle), available space, and how those two work in conjunction with your sofa. For a little more guidance, here are a few questions that will help you narrow down your search:
What parts of the sofa or sectional will be on display?

Does your sectional need to be right arm facing or left arm facing?

Will a symmetrical sectional fit in your space?

Will your furniture be tucked against a wall, in a corner, or out in the center of the room?
4. Be Strategic with Your Material Choice
Most often, retailers will offer a wide variety of material options for each of their sofas or sectionals. Use this to your advantage by choosing a fabric that is right for your needs. Do your research beforehand and think about your lifestyle as you come to a decision. 
If you have children and pets, you may want to lean more towards performance fabrics like leather and other materials made from synthetic fibers. These are great options if you're focused on durability and stain resistance.
Linen, wool blends, damask, and velvet are a few other popular fabrics to research.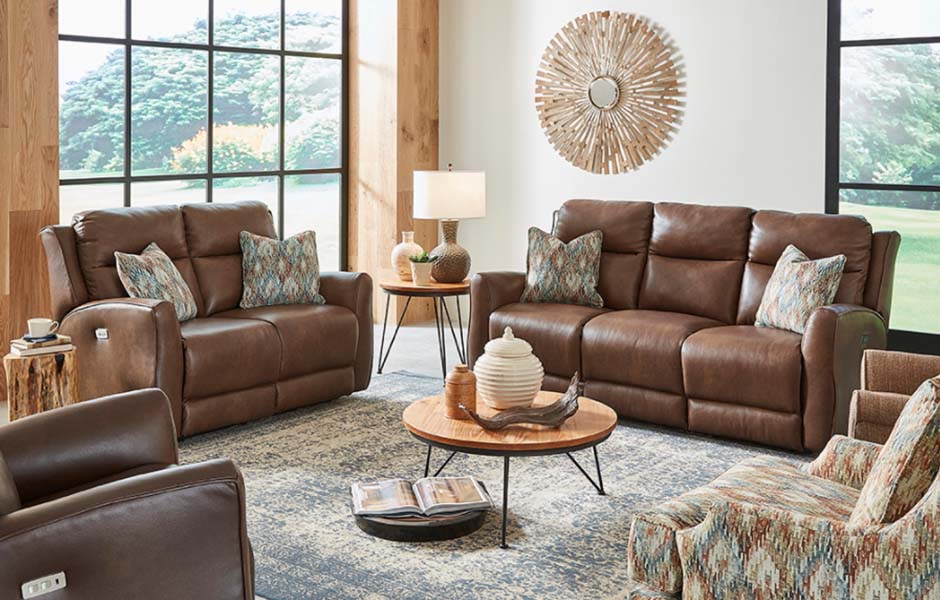 5. Test for Comfortability
You shouldn't have to sacrifice comfort for style. As you shop around, take the time to test the comfortability of each product to make sure they're as cozy as they are beautiful. From the cushions to the reclining features, don't be embarrassed to try out every function as if you're at home!
Sofas like Southern Motion's Wonderwall and Colton are fantastic examples of the balance between innovative functionality and comfort. Our collections infuse luxurious, plush cushions with top-of-the-line features like wireless charging, heated massage, and motion.
6. Stick to Your Color Palette
Your living room furniture should incorporate your home's overall color palette to ensure cohesion within your space. When buying a new sofa, have in mind complementary shades that work well in your home. If you currently have a more neutral or monochromatic color scheme, this might be an opportunity to tie in an accent color.
7. Complement Your Design Style
Design style is a major factor when thinking about how to choose the right sofa. Each interior design theme—farmhouse, contemporary, traditional—is marked by specific furniture features. Traditional sofas tend to be distinguished by their ornamentation, dark wood, and luxe upholstery. Contemporary furniture is marked by its geometric shapes and simplicity.
Know your home's interior design style and complement it with seating that infuses key design elements. This will elevate your space and prevent your sofa from looking out of place.
Now that you know what to consider when buying a new sofa, you should feel confident and excited to start your search! If motion furniture is on your list of wants, browse through the various collections that Southern Motion has to offer.
What's one of the best ways to get into the holiday spirit? Decorating your home, of course! Say goodbye to fall and hello to the Christmas season with these simple holiday decorating ideas that transform every part of your home into a winter wonderland!
Living Room
Throw Pillows
Swapping out your ordinary throw pillows for holiday-themed ones is a simple holiday decorating idea you can't pass up! For a bold transformation, choose a few solid-colored pillows in seasonal shades like red, white, green, or gold and pair them with pillows that have designs. From holiday quotes to Christmas motifs like Santa Claus, the combination of holiday colors and designs will give your sofa a brand new look.
Advent Calendar
As you think about how to decorate your living room for Christmas, consider including the classic advent calendar. Not only is this a cute addition to your holiday home, it's a blast for the kiddos as they count down the days until Christmas. To save money, you can even turn this simple holiday decorating idea into a cool DIY project to get the whole family involved.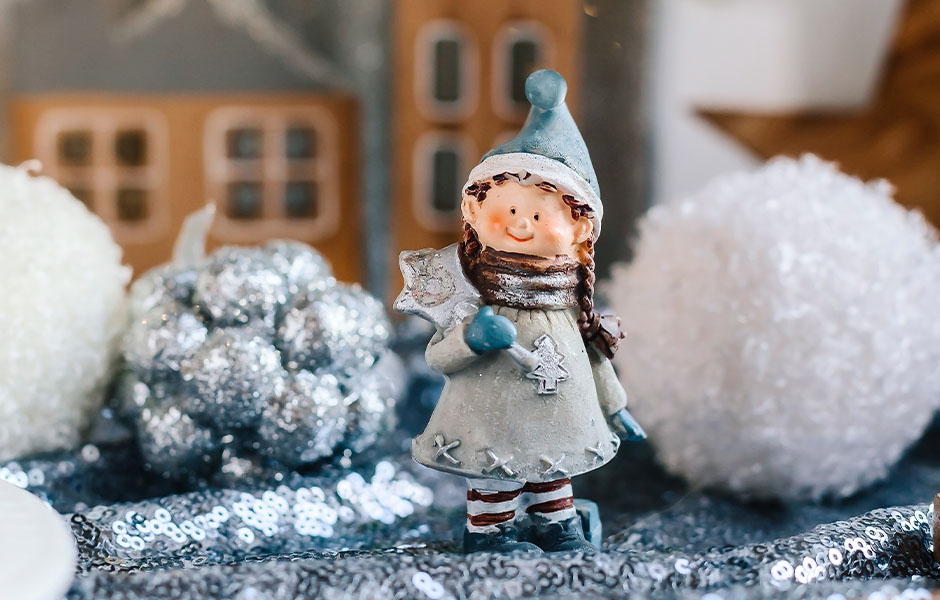 Christmas Display
Whether you choose your coffee table, entertainment stand, or console table, pick a space in your living room to display a fun and festive Christmas scene. From wooden figurines to colorful ceramics, there are hundreds of holiday displays to complement your home's Christmas theme.
Gift Wrapped Books
Need a budget-friendly holiday decor idea? Gift wrapped books are an easy and affordable way to bring cheerful decor to your home during the holiday season. Use leftover wrapping paper to spruce up any books you already have sitting in your bookcase and add a few bows for a bit more sparkle.
Entryway
Mini Tabletop Tree
Who said you can only have one tree during the holidays? Welcome guests into your home with entryway Christmas decor like a mini tabletop tree. Opt for one standout tree or a collection of mini Christmas trees that create a dazzling winter wonderland scene.
Pretty Presents
Take advantage of any unused space on your stairs by arranging wrapped presents in decorative groupings. Not only will it give your staircase a pop of color, it will free up room under the tree for more presents!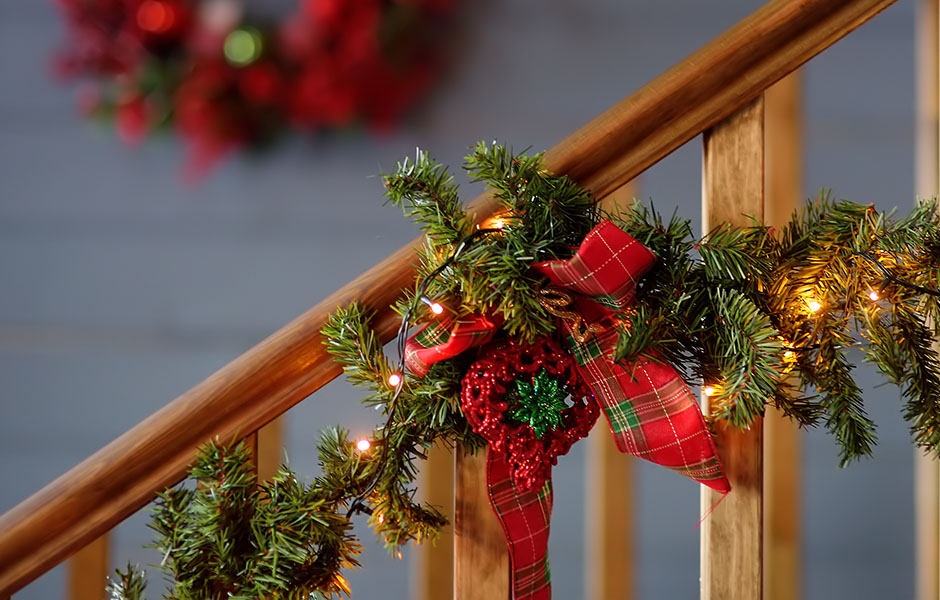 Lined Staircase
The staircase is a perfect place to arrange your entryway Christmas decor. For a timeless look, line your banister with garlands. You can adorn the garlands with faux poinsettias and for bonus points, weave in twinkling lights too.
Eye-Catching Vignette
From holiday signs and figurines to tinsel and Christmas cards, use a variety of decor to create a well-balanced vignette in your entryway. Your foyer table makes a great display area for your arrangement, as well as any benches or chairs.
Kitchen
Wintry Windows
As you're preparing Christmas dinner and drinks for your holiday gatherings, it's nice to have a pretty view to look at. Give your windows the makeover they need by hanging seasonal wreaths, garlands, and other decor like ornaments. 
Festive Florals
Make room for gorgeous floral arrangements in seasonal shades of red, white, and green to bring this Christmas kitchen idea to life! Poinsettias, holly, roses, and pine cones are popular selections for holiday arrangements, but feel free to weave in other greenery that matches your color scheme. To top it off, you can surround your florals with all-white candles for a traditional touch.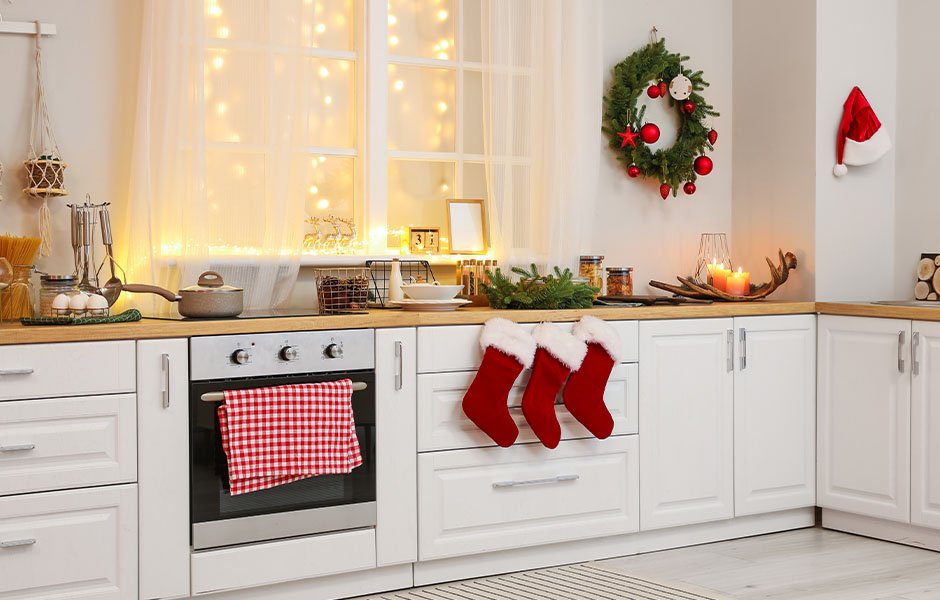 Holiday Kitchen Essentials
It's time to bust out your holiday kitchenware! For this Christmas kitchen idea, switch out your most used supplies and countertop decor to include festive alternatives. Holiday hand towels, pot holders, and soap dispensers are simple and affordable items to replace your everyday kitchenware.
Cute Kitchen Mat
Whether you're a fan of kitchen mats or not, they're undeniably one of the cutest and simplest ways to enhance your space during Christmas. Keep it classic with depictions of Santa and his reindeer or go for a more refined design with seasonal colors.
Dining Room
Striking Ornaments
As you lay out your table runner, greenery, and other decor, consider tossing in a few sparkling ornaments to complete your dining table ensemble. If you happen to have any leftover glass ball ornaments from your tree, nestle them into strands of garland for a vibrant addition.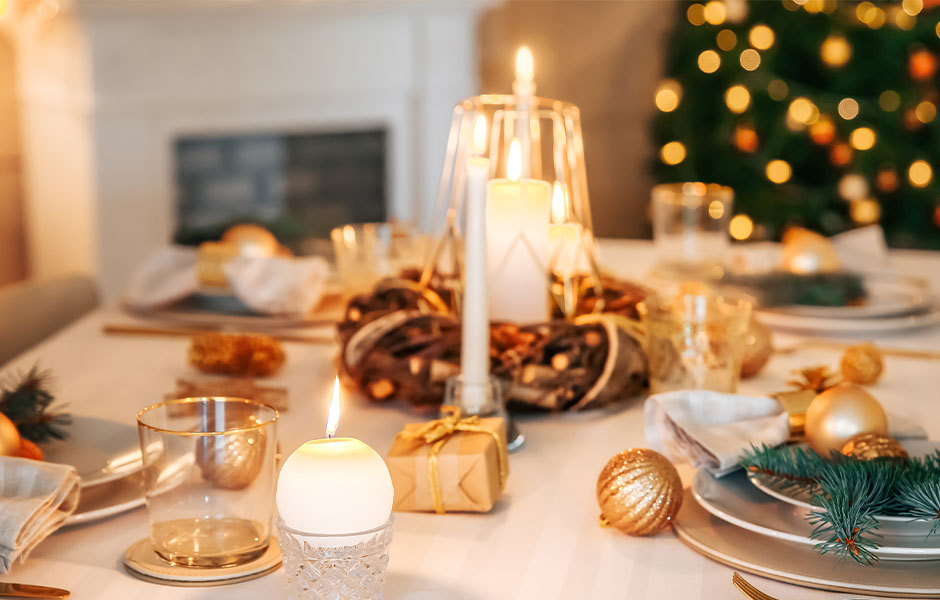 Warm Candles
The holiday season is all about warmth and coziness, which is why candles are a go-to Christmas decorating idea for your dining room. Create an extravagant display with golden candle holders and tapered candles or opt for a more casual design with candle lanterns.
Seasonal Seat Cushions
Seat cushions are a win-win when it comes to Christmas decorating ideas for your dining room. Seat cushions provide an extra layer of festive flair, as well as ensure the comfort of you and your guests. 
If you want to get more use out of them, try to buy cushions that complement your everyday decor. This will make it easier to keep the cushions once the holidays are over.
Mix of Metals
Christmas decorating ideas for your dining room aren't limited to traditional color schemes like red and green. Incorporate the shimmer of metallic decor by mixing in various metals like gold, silver, and bronze. Metallic candle holders, dinnerware, and glassware are a few basic dining room essentials to try. In combination with glowing candles, your metallic accents will look dazzling.
From magical tabletop trees to adorable throw pillows, there are countless ways to enhance your home for the holiday season. For more ideas on how to transform your space for Christmas, read how to Feng Shui your home for the holidays.
When you walk into a home, the flooring is one of the first interior design elements to grab your attention. From terrazzo flooring in the 1970's to mid-tone hardwood used today, it's clear that flooring trends come and go just like many other facets of interior design. 
Whether you're planning for a future home renovation or simply have a passion for interior design, stay up-to-date on the most popular 2021 flooring trends that are taking the country by storm.
2021 Flooring Trends
1. Hardwood Continues to Dominate
Hardwood has remained at the top of the podium for decades now and continues to dominate the home flooring industry. While the demand for hardwood is soaring even after all these years, it's important to know that there are certain elements that distinguish outdated hardwood flooring from its modern counterparts.
To truly follow today's hardwood flooring trends, you need to focus on color and style. Many designers are pushing modern flooring ideas that include cool and desaturated tones (dark browns, grays, white washes, light browns). On the flip side, some warmer tones are also trending as well. Medium wood in shades like honey, copper, and blonde are gaining popularity because of their light and airy feel.
Wide planks, as well as matte and satin finishes are a couple other 2021 flooring trends commonly seen with this material.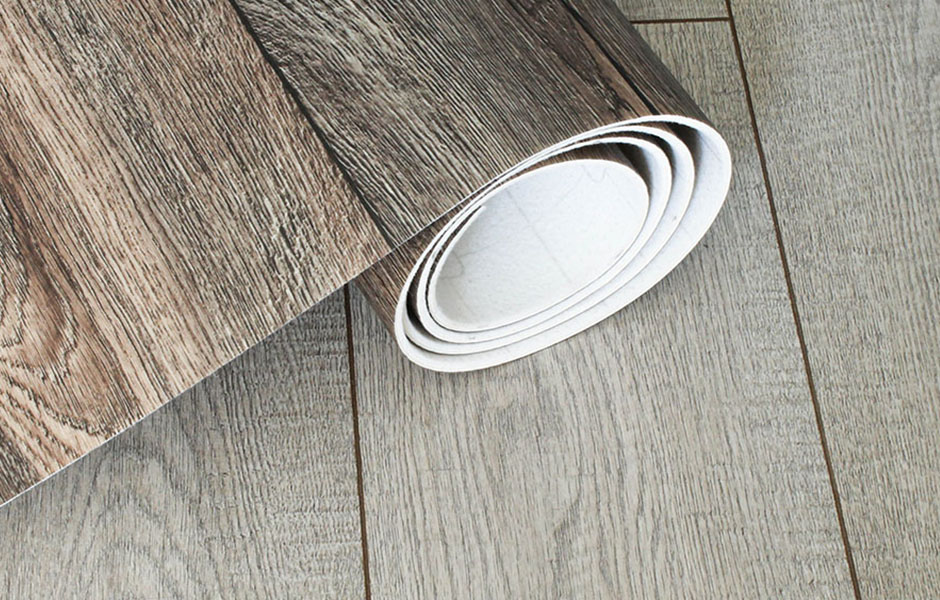 2. Growing Demand for Imitation Hardwood
Because hardwood has a higher price tag, hardwood look-alikes have entered the spotlight. Not only do imitation hardwoods look like the real deal, they cost much less and can be easier to maintain.
Tile planks and engineered vinyl planks are the two standouts for this living room flooring trend. Both of these materials are water-proof which make them great for not just the living room, but other areas that may have moisture like the bathroom and kitchen.
Depending on how real you want your imitation hardwood to look, you can choose options that have embossed grainy textures and distressed styles.
3. Push for Environmentally-Friendly Materials
As with cars, clothes, and food products, there is a major push for environmentally-friendly flooring alternatives in today's society. Green flooring is hot on the market and a great option if you're committed to reducing your impact on the environment.
Wood flooring certified by the Forest Stewardship Council (FSC), non-toxic cork, bamboo, linoleum, and reclaimed wood are a few types of green flooring to consider.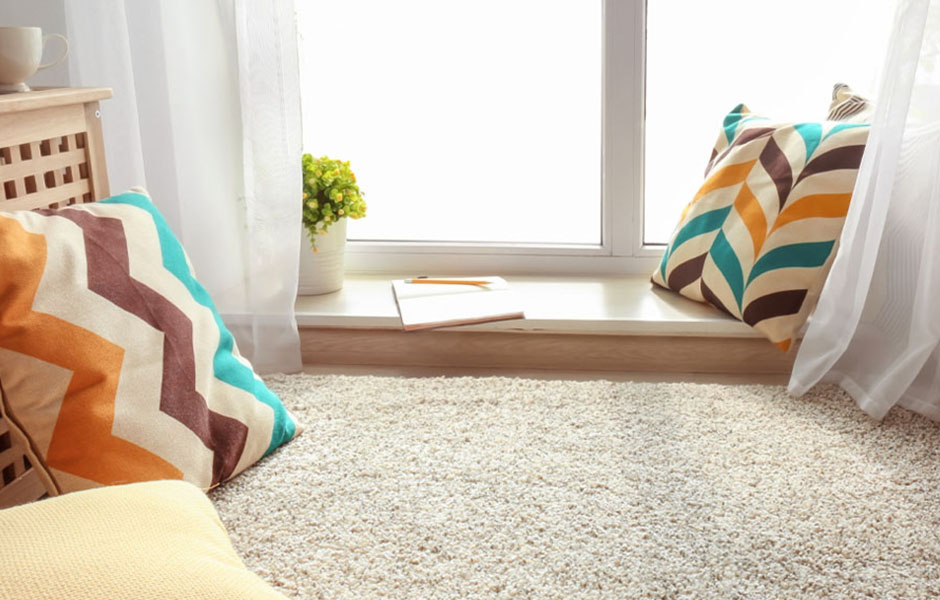 4. Carpet Remains Sought After
Carpet is hands-down a winner for 2021 flooring trends. Accounting for more than 60 percent of retail flooring sales, it seems that carpet will always be a must-have in homes. It offers the softness and warming effect that makes your space feel comfortable and relaxing rather than cold and sterile.
Current carpet trends are favoring flecks of color, more texture, and some pattern. This combination of elements is advantageous in more ways than one. They bring more fashion appeal to your floor, while adding dimension that minimizes the appearance of imperfections.
5. Unique Shapes are In
While you can never go wrong with rectangular subway tile, the most popular flooring trends in new homes are heading in a different direction. Designers are going crazy for unique shapes that bring a fresh and interesting look to interiors. Quirky geometrics and organic shapes, for example, are a good place to start. 
One pro tip to keep in mind when deciding on a striking tile shape is your grout color. If you want your design to pop, choose a grout color with lots of contrast.
6. Designers Love Laid Patterns with Tile
If you want your home's flooring to stand out among the rest, pattern tile is the way to go. What usually comes to mind when you think of pattern tile, is tile with a pattern on it. For this particular modern flooring idea, drop that notion.
Today's pattern tile trend is created strictly by the way that the tile is laid out. For example, you can create a striped pattern with black and white penny tiles by simply laying them out in that fashion.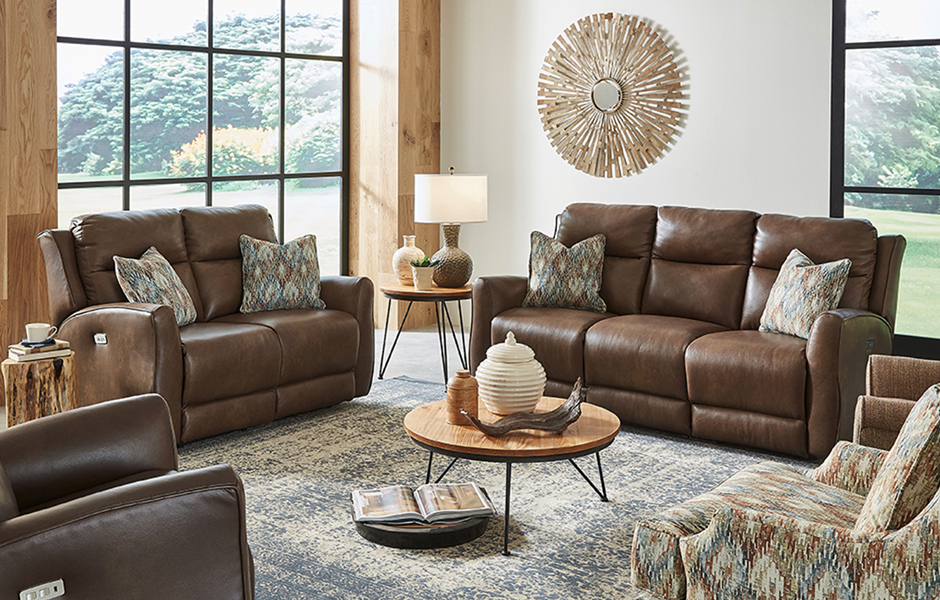 How to Best Complement Flooring with Furniture
Contrast is Key
In order to maximize the overall look and feel of your home's flooring, you need to be strategic with the color of your furniture. The safest way to achieve this is by choosing contrasting colors. For example, if your flooring is light, opt for darker furniture pieces. Alternatively, dark flooring looks good with lighter furnishings.
Creating contrast within your space will not only prevent your room from looking monotonous, it will also help give smaller furniture pieces the chance to shine.
Consider Undertones
For hardwood or hardwood look alike flooring, it's helpful to identify undertones to guide you in furniture color choice. Every real or faux wood flooring option has warm, cool, or neutral undertones that define the space. Here are a few of the most common undertones:
Warm Undertones: Yellow, orange, red
Cool Undertones: Various shades of gray
Neutral Undertones: Both warm and cool shades, or lack of undertone altogether
Once you identify the undertones in your flooring, you can choose sofas, tables, and other furnishings that match in color.
Vary Your Materials
To add more texture and dimension to your space, be sure to choose furniture that varies in material. For example, decor pieces made of woven fabrics, leather, metal, or concrete pair beautifully with hardwood flooring. Including furniture that differs from your flooring material will break up the room and give it a well-balanced look.
There are plenty of modern flooring ideas to choose from, so now it's up to you to decide which one best fits your style preferences! After you've figured out which 2021 flooring trend is meant for you, start thinking about furniture to match by checking out Southern Motion's reclining furniture collections.