Spice Up Your Living Room with These Fall Home Decor Ideas
It's time to pack away your bright summer decor and prepare your home for the upcoming fall season. Transform your space from a beachy oasis to a cozy autumn retreat with these fall decor ideas for your living room!
Copper Blooms
Copper isn't just meant for Moscow Mule mugs, it's actually a popular fall home decor idea. Head to your local crafts store and pick up a few copper pails to create a gorgeous autumn arrangement. Sunflowers, Chrysanthemums, and Pansies are a few vibrant flowers that are sure to bring your copper bloom to life!
Plaid Patterns
Autumn and plaid go together like peanut butter and jelly. Embrace this rustic, farmhouse-style fabric by infusing it throughout your living room. From throw pillows and blankets to drapery and furniture upholstery, there are many ways you can add pops of plaid into your decor. 
One pro tip to keep in mind is color. Stay consistent with your home's overall color scheme and try to find plaid decor that complement each other.
Festive Ottoman Tray
Not all fall home decor ideas need to be bold and dramatic. Turn your attention toward your ottoman tray for a subtle touch of autumn. You can simply infuse rustic colors with everyday decor items like books and candles, or take a more obvious approach with pumpkins and other fall motifs.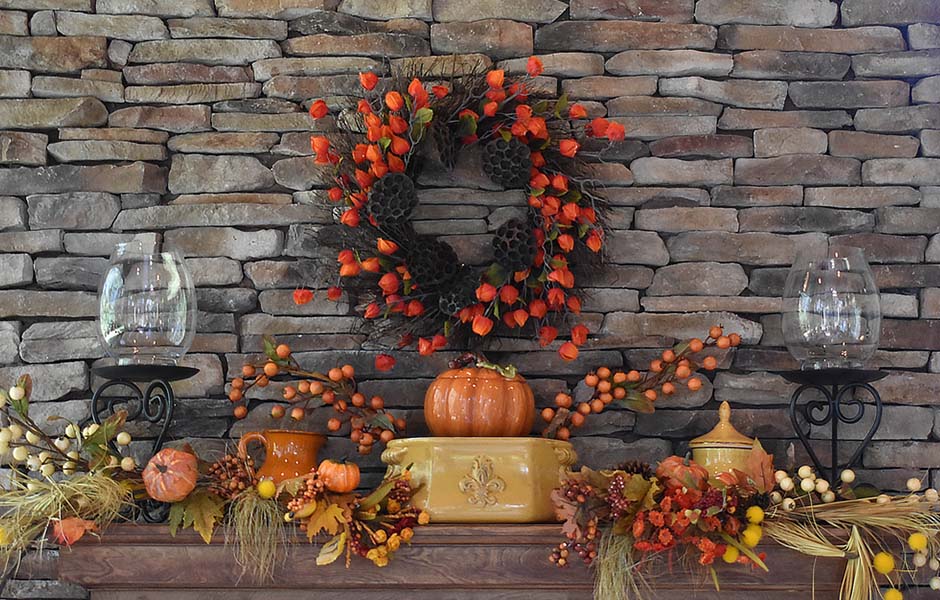 Autumn Mantel
As with other holidays and special occasions, the fireplace mantel is a go-to spot to display fall decor ideas for your living room. There are lots of different ways to go about decorating your mantel, but there are a handful of classic items you won't want to forget.
The most iconic motif of fall is what you want most of all—pumpkins. Gather a handful of faux or fresh pumpkins (different sizes are best) and arrange them along your mantel shelf. A rustic fall sign, seasonal candles, and autumnal plants will tie together the vignette perfectly.
Spooky Fireplace
As you brainstorm fall decor ideas for your living room, decide what kind of vibe you're going for. Do you want to focus on the fall season, Halloween, or a mixture of both? For a Halloween-inspired living room, transform your fireplace into a spooky focal point. Faux cobwebs, spiders, skulls, and books with black covers are a few easy decor items that will make your fireplace hauntingly festive.
Pops of Pumpkin
Put your living room bookcase and shelving to good use with this fall home decor idea! Gather together some faux pumpkins of various sizes and tuck them among other accessories in your shelving. If you're feeling adventurous, you can even spray paint the pumpkins to look more chic or traditional. All-white pumpkins, for example, will make your collection look more modern versus the traditional orange pumpkin.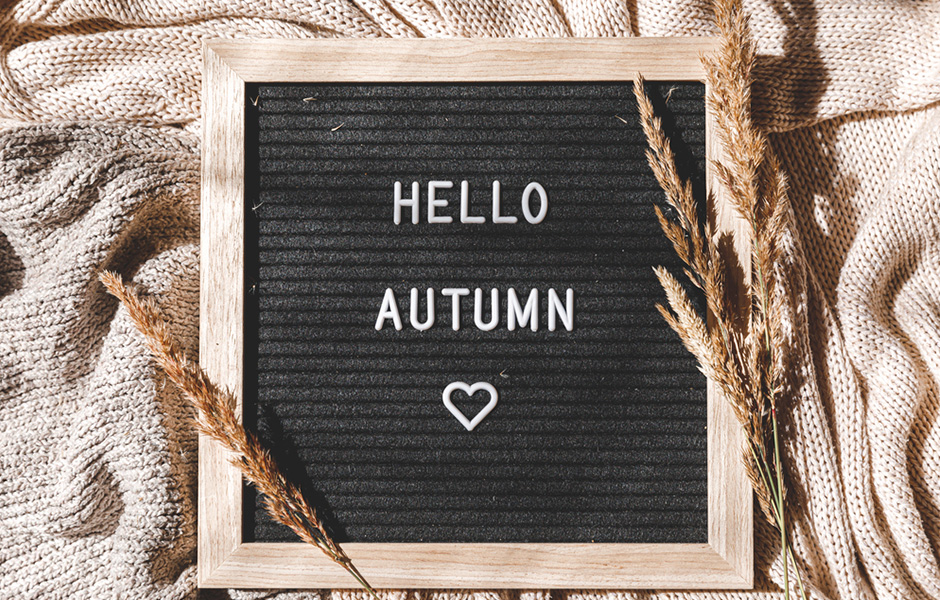 Fall Letter Board
As the seasons change, so should your letter board quotes! From cute fall puns to funny Halloween sayings, there's plenty of inspiration for your fall letter board. Here are some of the top letter board ideas you should try:

Pumpkin spice & everything nice

Leaves are falling & coffee is calling

Give 'em pumpkin to talk about
Trick or treat yo' self

Ghouls just want to have fun

If you got it, haunt it
Rich Fabrics
A simple way to transition your living room from summer to fall is by switching out your fabrics. Rather than using lightweight fabrics like linen and cotton, warm up your space with rich textiles. Velvet pillows, tartan throws, and flannel blankets will not only keep you cozy during the cold weather, they'll also reflect the decor trends of the season. 
Seasonal Color Palettes
While cozy fall decorating ideas like scarecrows and pumpkins are cute as can be, don't underestimate the power of a seasonal color palette. Everyday accessories like your area rug, wall art, throws, and pillows can be swapped out to include beautiful fall shades. You can even paint your living room walls if you feel like having a more long-term change. 
Whether you stick to a seasonal color palette alone or accessorize with festive decor, you're going to love the finished product! Get inspiration for your color scheme with these popular shades:

Mustard

Burnt orange

Wheat

Olive
Emerald green

Caramel

Red

After you complete your living room makeover with these fall home decor ideas, have fun creating these 15 enchanting Halloween crafts for adults!
Who says Halloween is just for kids? Whether you're decorating the house for your grandchildren or a costume party, it's always fun to embrace the spooky season. From creepy crawlers to ghastly ghosts, these Halloween crafts for adults are sure to make your home the most haunted one on the block!
1. Spider Web Plant Hanger
What's better than using decor you already have to create affordable Halloween decorations? If you're a plant lover and just so happen to have plant hangers around your house, give them a creepy crawly upgrade by attaching faux spiders all over the hanger (macrame hangers work best). 
2. Frightening Feather Wreath
Sit down to watch Alfred Hitchcock's movie, The Birds, as you craft up this Halloween decor piece. This Halloween project for adults takes a dark twist on home decor wreaths with its black grapevine twigs, feathers, and faux crow. Be careful walking down the hallway past sundown because this feathery wreath is sure to give you a fright in the dead of night!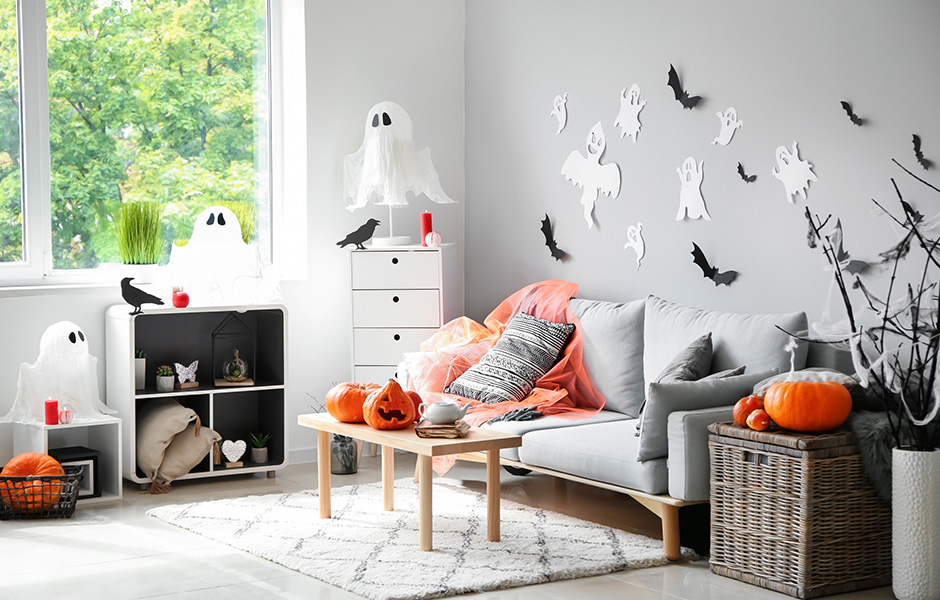 3. Ghastly Paper Ghosts
While paper honeycomb decorations are most commonly used for festive birthday parties and happy holidays, they make for the most ghastly ghost decor too. After you've bought your all-white honeycombs, summon them from the grave by drawing on ghostly faces with black Sharpie. Hang them on your front porch or in your entryway to welcome guests.
4. Spooky Silhouettes
Transform your home into a haunted house with spooky silhouettes. To save space and money, simply remove your current photos from their frames and replace them with cut-out silhouettes of Halloween's spookiest spirits like Frankenstein, the Grim Reaper, and wicked witches. You can also take a more realistic approach with silhouettes of men and women from centuries gone by.
5. Eerie Gallery Wall
Ask the whole family to participate in this DIY Halloween room decor idea! Get the project started by staging an eerie photoshoot to create black and white portraits that will send chills down your spine. Once you have your photos printed, fight every urge to hang them properly because the goal is to curate a disheveled gallery wall with frames touched by spirits!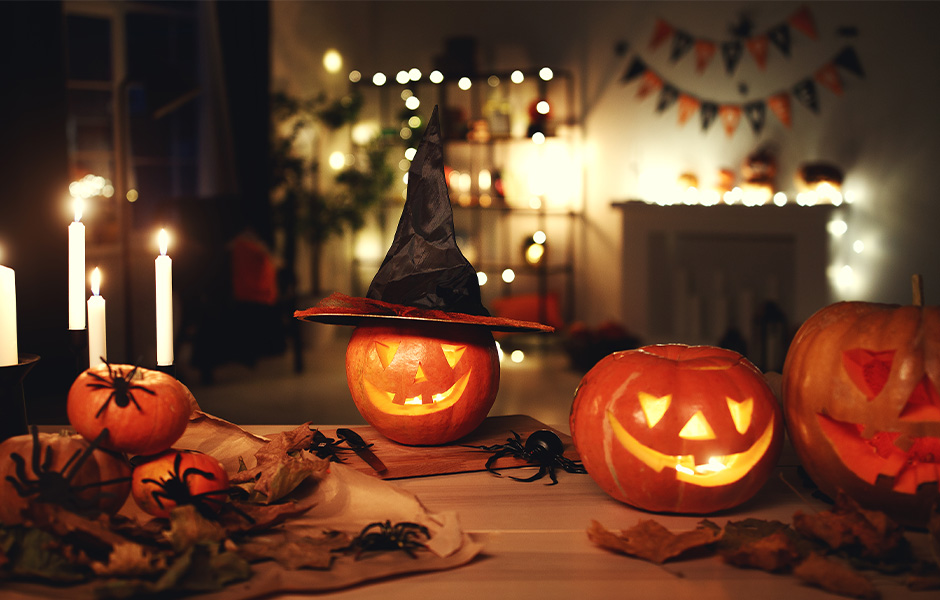 6. Fiery Pumpkins
Get creative with your pumpkin decor by adding a little heat! Carve flickering flames into real or faux pumpkins, light them up with battery-powered candles, and stack them inside your fireplace for a glowing surprise. If you don't have a fireplace, you can arrange them in many other spots like your porch, staircase, or entryway.
7. Webbed Windows
Spider webs are a must when it comes to affordable Halloween decorations, so why not use them on your windows? Take your spooky webs to the next level by adding in bats and spiders too. You can even create frightening shadows by placing candelabras with white tapers on either side of your window frame.
8. Crawling Candles
This Halloween project for adults is as creepy as it is crawly. All you need is mini pumpkins, tea lights, and black pipe cleaners to bring your candles to life. You certainly won't find this kind of decor in stores, so grab your supplies and get started!
9. Ghostly Lawn Decor
Is it ghosts or just your imagination? Play around with optical illusions this Halloween with ghostly lawn decor. Chicken wire, gauzy cheese cloth, liquid fabric starch, and battery-operated fluorescent lights are all you need to make the spirits rise from their graves!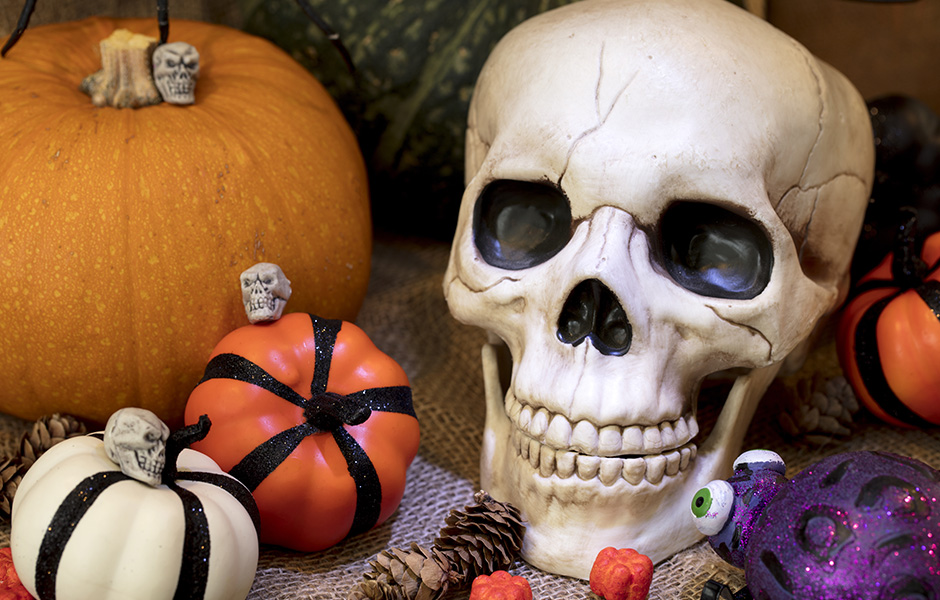 10. Blooming Skull Centerpiece
Take an ordinary skull and turn it into an unearthly centerpiece with this DIY Halloween room decor idea. All you need is a faux skull, real or faux flowers, and a cup to hold your arrangement. Place it on your dining room table and your guests will certainly be enchanted by the sight!
11. Pumpkin Stack
Give your pumpkins some extra pizazz by creating a Jack-O'-Totem this season! The biggest supplies you'll need are three or four faux pumpkins, basic craft items, and a creative vision for your pumpkin faces.
12. Haunted Antique Mirror
Beware of the ghost's reflection when you try this Halloween craft for adults! Give the illusion of a haunted antique mirror with some black spray paint, acetone, and fire. This project does require some protective gear, so follow the steps properly and be safe.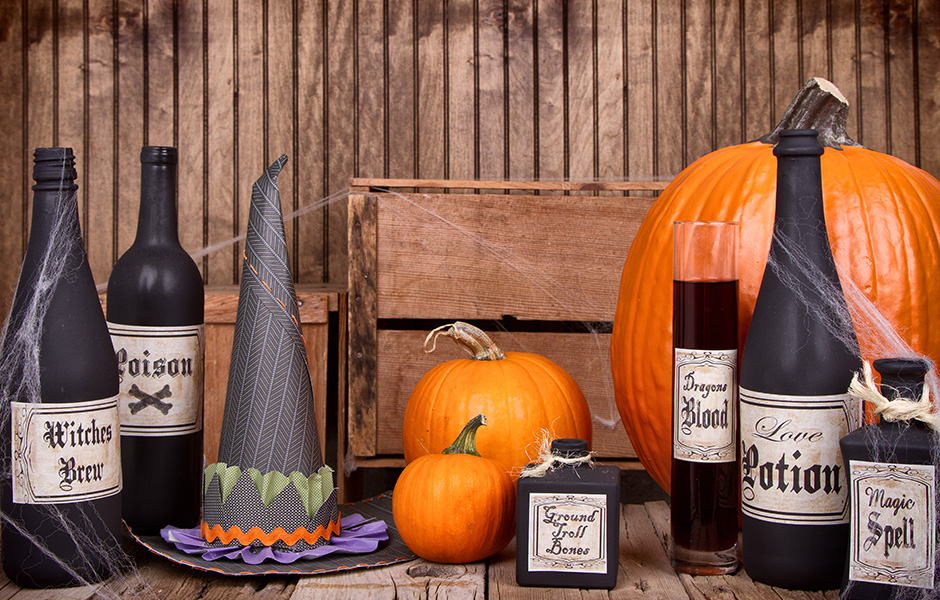 13. Magic Potion Bottles
Want an easy way to incorporate your recycled bottles into your DIY Halloween room decor? Spray paint your bottles matte black, add a handwritten label, and display your mysterious potions on your bar cart or kitchen countertop. 
14. Black Magic Frame
You can't go wrong with vintage frames for your Halloween decor. Rather than pay an arm and a leg for a brand new piece, get crafty and make your very own black magic frame right at home. Spray paint a vintage frame black, add Halloween-inspired calligraphy art, print out some spooky images, and put it all together for a unique Halloween decoration.
15. Batty Staircase
The staircase is a perfect place to display all of the horribly terrific decorations you make this season. If you need some inspiration, try recreating this Halloween craft for adults that weaves flying bats up your staircase banister.
After you've had a day full of spooktacular crafting, enjoy your creepy decor and follow these 6 tips for the best DIY movie night!
Besides the obvious perk of additional seating, accent chairs provide the perfect opportunity to add more style, color, and personality to your home. While accent chairs are a beautiful addition to any space, there are various factors that you must consider as you shop around. From the size of the chair to its upholstery materials, learn how to choose an accent chair that complements your space. 
Match Your Interior Design Style
With so many different types of accent chairs to choose from, it's important to keep in mind one of the most basic characteristics of furniture—their interior design style. Take a walk around your house and decide which interior design category your space falls into. Once you've figured that out, narrow down your search to accent chairs that complement your particular style. 
Be Smart With Placement
Furniture placement is key when learning how to choose an accent chair. Will your chair be situated in the bedroom for occasional reading or in the living room for additional seating? Depending on where you place your chair, the ideal style and type may change. Take into account size, shape, and seat height that complements the placement of your chair and how it will be used.
Pick Complementary Colors
As you might have guessed, color plays a huge role in choosing the best type of accent chair. You can be spot on with functionality and style, but the wrong color can create quite the design faux pas. The best accent chairs follow your home's overall color palette, picking up on accent colors and primary colors.
As you shop online or in the store, it's a smart idea to search for chairs that come in a wide range of colors that can fit your specific color scheme.
Make Sure You Measure
There's nothing worse than going through the process of buying a new accent chair just to discover that it's not a good fit in your home. Save yourself the hassle of returning a perfectly good piece of furniture by measuring first.
Interior designers recommend measuring the room's existing furniture, paying close attention to seat height and seat backs. Use these numbers as reference when you look at different types of accent chairs. The goal is to have your new furniture relatively match in both size and scale. 
Think About Function
Just as you want to consider placement when choosing accent chairs, you also want to think about the purpose or function. In other words, how is your chair going to be used (if at all)? Figuring out the purpose of your chair helps you rule out hundreds of options that won't work.
If you want additional guest seating for holiday parties and game nights, you should focus on living room accent chair ideas with comfortable features like armrests and soft back cushions. 
Alternatively, a statement chair in the entryway has more wiggle room to showcase striking features like straight backs and wooden armrests.
Consider Recliner Chairs
Is comfort and function your main priority when it comes to choosing an accent chair? With multiple features and designs that fit all style preferences, recliner chairs are definitely worth considering. 
Southern Motion's Soho accent chair is a beautiful addition to a farmhouse-style home with its plaid upholstery and classic block legs, while Key Largo's dark and sophisticated design looks stunning in modern spaces.
Materials, Materials, Materials
If you aren't sure what material works best for your new accent chair, shift your focus away from aesthetics and focus on practicality. Here a few questions that will shed light on which fabric and material is best for your furniture:
Will the chair be used for light use or heavy use?

Do you have pets?

Do you have young children?
For chairs in low traffic areas with very little use, your material options are practically endless. Pick what your heart desires and run with it. However, if your accent chair will be exposed to heavy use by kids and pets, durability is the name of the game. Natural and synthetic leather, for example, is better suited for everyday wear and tear.
Once you know how to choose an accent chair for your home, the real fun begins! Start your search by browsing Southern Motion's large collection of accent chairs that come in hundreds of colors and fabrics.
Whether you're decorating an apartment or furnishing your first home, it's an exciting time to see how you can turn a blank canvas into your very own personalized space. While there are no hard and fast rules when it comes to interior design, there are basic principles that can help guide you in the right direction. Read on to learn more about interior design basics like how to choose the perfect color palette, faux pas to avoid, and more!
Contents
What Is Interior Design?
Interior design is defined as "the art and science of enhancing the interior of a building to achieve a healthier and more aesthetically pleasing environment for the people using the space." In other words, interior design defines how a space will look, function, and appeal to your senses.
There are seven basic elements that drive the process of interior design: space, color, pattern, texture, light, lines, and form. A balance of these elements is crucial if you want to create a cohesive, functional space.
Guide to Interior Design for Beginners
If you're new to decorating and furnishing, it's a good idea to break down interior design basics into two steps to make it easier and more digestible.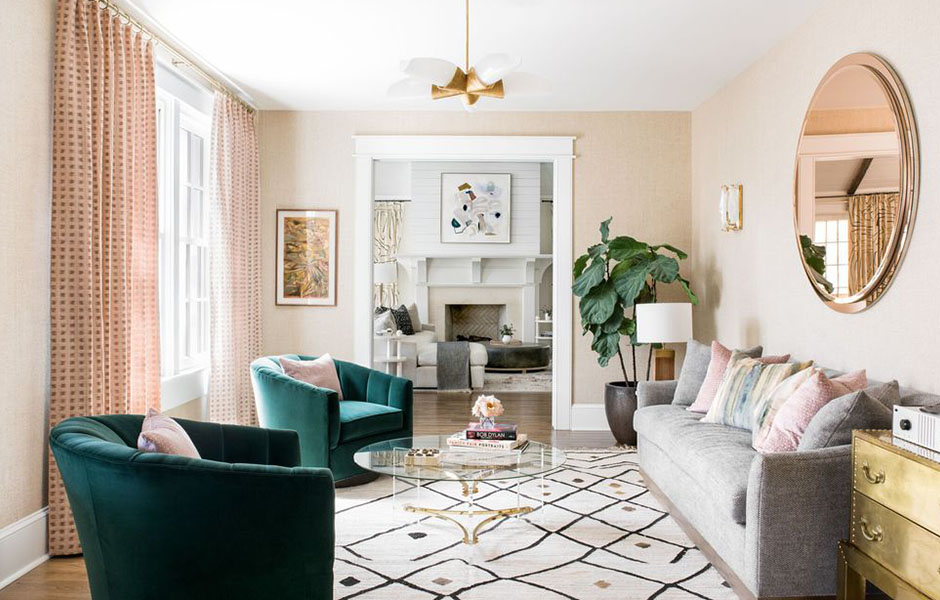 Step 1: Choose Your Interior Design Style
The first important decision you should make is selecting a style for your home interior. By choosing an interior design style to flow throughout your home, you can tie all elements of your space together into a unifying experience.
Modern, traditional, contemporary, and industrial are four of the most common interior design styles used across the world today. 
Step 2: Follow the Principles of Interior Design 
Once you've settled on your favorite type of interior design style, you can begin planning the changes you'll make to your home. There are hundreds of do's and don'ts surrounding interior design, but there's no need to let that hold you back.
Use principles of interior design as a roadmap, rather than rules to follow. Remember, you want your home to look great, but you also want it to reflect your unique personality and suit your day-to-day needs. Here are a few key principles to keep in mind:
Wall Hangings: Place your wall hangings at eye-level to capture attention and bring your room together.
Furniture and Large Items: Place your furniture at least a few inches from the wall to prevent your room from feeling cramped. The size of your pieces should also be consistent with the ratio of your room.
Pattern and Rhythm: Choose a main pattern to anchor your space. This can be in the form of an accent wallpaper, a patterned furniture group, or window treatments. Any additional patterns should complement this first pattern. You can do this by using the same types of patterns but in different sizes. 
Read more about the different types of interior design style and interior design tips for beginners in this blog post.
How to Design the Perfect Living Room Color Palette
Developing a color palette is key to creating a cohesive interior design. Follow these basic steps to create a color scheme that not only fits your personality, but looks amazing as well!

There's lots more to explore when it comes to creating a color palette! From color psychology to the wide array of color schemes, this blog post explains it all.
The Ideal Interior Design for Your Personality Type
What better way to embrace who you are than to reflect your personality in your home design style? Whether you're updating or redecorating your home, you can include decor items and furniture pieces to support your personality and interior design preferences.
To determine the interior design that best aligns with your personality, find out which of the 16 Myers Briggs Personality Types you are if you don't already know. 
Architect personality types are imaginative and strategic thinkers with a plan for everything. They are rational and quick-witted, but also partake in nonstop analysis of everything around them. These personalities are best with a home design that allows room for play. A mix of old and new styles, different textiles, vibrant patterns, and a twist of the unconventional is perfectly suited to this personality type. Southern Motion's Diva Chair makes a great starting point.
A Commander is someone who thrives off accomplishment and momentum. They are natural-born leaders and embody charisma, confidence, and authority. Ruthlessly rational, Commanders stop at nothing to achieve their goals. An industrial aesthetic lends itself well to the no-nonsense personality of Commanders. The unfinished look may seem uncomfortable at first, but furnishings like Southern Motion's Colton Sofa can make the space feel sleek. 
A Mediator is typically quiet and shy, but they often have vibrant and passionate inner lives. They make up a small portion of the population, but their caring nature and deep empathy makes for strong connections with their loved ones. To feed their gentle, caring soul, a shabby chic interior design and open floor plan will be the ideal personal home style. A neutral-toned piece like Southern Motion's Dynasty Sofa can be the perfect centerpiece.
The Campaigner is a free spirit. They are the life of the party because of the deep connections and strong bonds they have with those around them. Campaigners tend to live carefree and enthusiastic lives and a Bohemian style will play to this inner boldness. Embracing rich colors can cultivate this personal home style. An accent piece like Southern Motion's Daisy Chair can help showcase a free spirit and fun outlook on life! 
Didn't see your personality type listed above? Look through our complete list in this blog post.
Find Your Interior Design Style
Now that you know your interior design style, browse through our various collections of sofas, sectionals, and recliners to see which products match your taste!
Decorating Faux Pas to Avoid
There are lots of things you're probably doing right with your home decor, but there are also some common home interior design mistakes that even the most experienced homeowners make. Here are some of the biggest decorating faux pas to keep in mind as you develop your home interior design.
Decorating Faux Pas 1: Having Too Many Colors and Prints
Even if your home interior design leans more toward the eclectic side, you still need to have some cohesion with your overall decorating scheme. Too much variety in color, pattern, and print can leave rooms feeling busy and cluttered rather than clever and imaginative. 
Strive for a color palette of no more than three to four colors per room, using one or two main shades and the others as accents. Also, limit the number of prints or patterns in your home interior design. You can opt for more than one, but look for ways to make the elements flow together.
Decorating Faux Pas 2: Overdoing the Accents
You can't have too much of a good thing—or can you? Even if all your decorative accents are incredibly appealing, it can be a decorating faux pas to cram too many of them together in the same room. 
Choose a few main pieces to highlight and accent so they'll really shine. If you're not in love with the remaining decorations, give them away. If you can't bear to part with them, create an organized storage space for them and rotate  pieces periodically to give rooms a fresh new feel every few months.
Decorating Faux Pas 3: Keeping Outdated Interior Design Details
Whether your home interior design is classic or contemporary, you probably have some outdated pieces or details in your design and decor. Maybe it's a certain rug pattern that was more of a fad or a tired set of upholstered chairs that could use an update. 
Look over your existing decor and overall design with an eye toward what has a timeless feel versus what has come and gone. Sometimes a slight update to existing pieces can do the trick. In other cases, you may want to replace the decor altogether.
Believe it or not, the list goes on! Check out this blog post to read more about common design faux pas that are best left out of your home.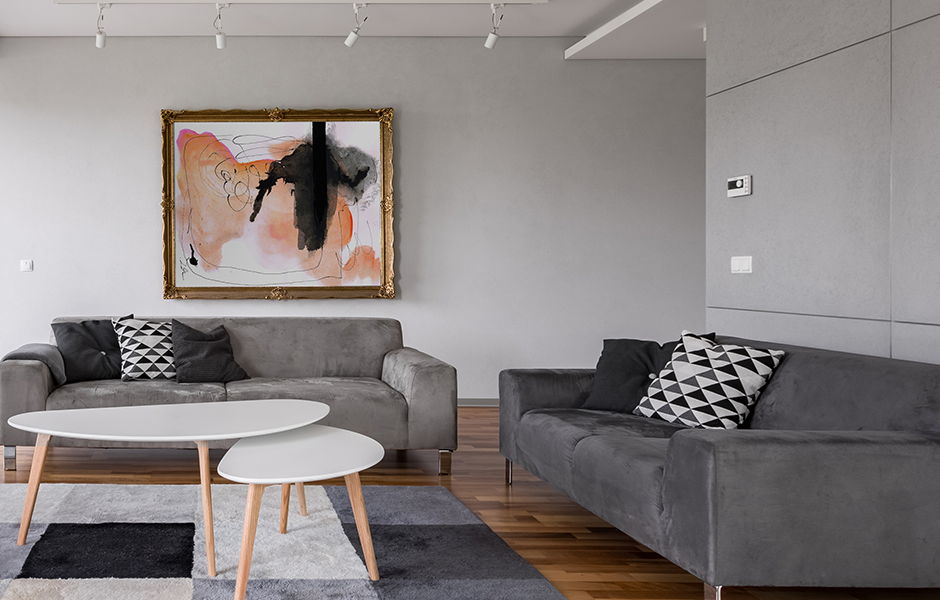 Your Guide to Arranging Two Sofas in Your Living Room
Furniture arrangement plays a key role in interior design basics because it's the foundation for creating a comfortable and functional living space. While there are many ways to furnish your living room, incorporating two sofas is a good option to start with. Follow these tips on how to arrange two sofas in your living room to ensure that the layout is perfect for you and your needs.
Two Sofas Facing Each Other
Best for entertaining and formal conversation

Works well in large open floor plans, narrow rooms, and square or rectangular spaces

Creates a symmetrical design
Two Sofas at a Wide Angle
Best for casual lounging and entertaining large parties

Works well in large, open-concept living rooms, especially those with an irregular shape

Creates a comfortable, wide open space
Two Sofas at a Right Angle
Best for casual lounging and media rooms

Works well in larger living rooms with plenty of space

Creates a cozy and inviting atmosphere  
From complementary fabric choices to arrangement tips, discover how you can take two sofas in your living room to the next level by checking out our blog!
Tips for Eco-Friendly Interior Design
As you consider the various interior design tips for beginners, don't forget about eco-friendly interior design. A green interior design concept can boost your health and well-being, and it's easy to get started. Take a look at these tips on how you can incorporate eco-friendly interior design elements into your home.
1. Shop Green
With eco-friendly interior design on the rise, there are plenty of options for safe and sustainable products. When you shop for new furniture, make a concentrated effort to research each piece before you purchase it. Any sustainable interior designer will source pieces from trusted vendors.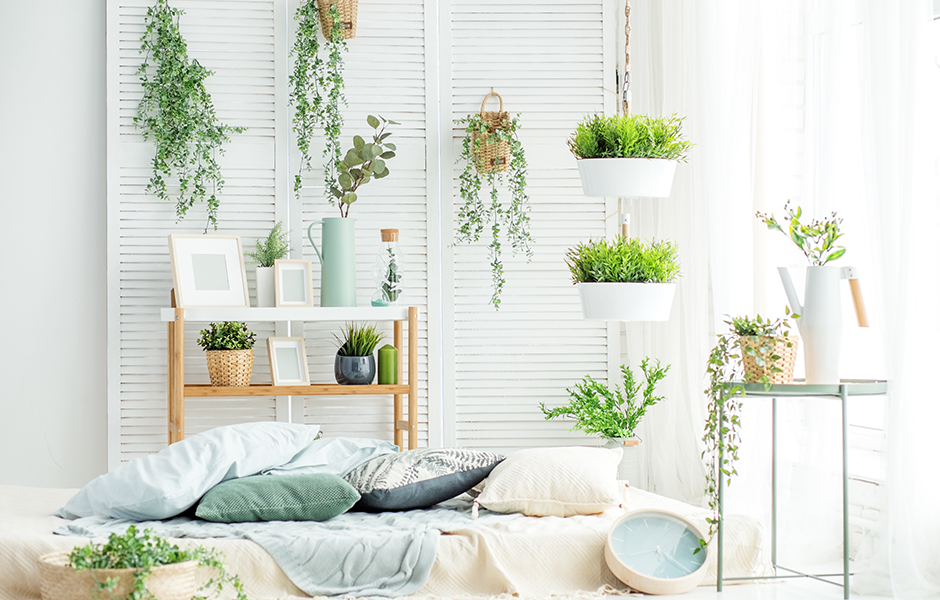 2. Use Water-Based Paint
Look for eco-friendly paints by reading the product labels. "Low VOC" or "low odor" lets you know that the paint is water-based and safer for you and the environment. Keep this tip in mind for other household products like furniture, wood, carpets, cleaning products, and air fresheners that are known to have VOCs, too.
3. Incorporate Efficient Lighting
Depending on what stage of design you're in, there are multiple routes to take in order to create a space with efficient lighting. Natural light and LED light are the two main areas you should focus on.
Want to learn more ways to create an eco-friendly home? Find additional tips within this blog post.
Splurge or Save? Interior Design Hacks to Get the Most Bang for Your Buck
Whether you just bought a new home or want to refresh a current look, it can be tough to find a design you love at a price you can afford. Try some of our simple furniture swaps that can amplify any room.
Buy a Custom Recliner Instead of a Mass-Market Chair
One piece of furniture that's worth splurging on is a custom ordered recliner. Choose your style, upholstery, extra options, and enjoy the recliner made just for you! This interior design hack is a must if you're looking to invest in a high-quality recliner that can last for years.
Buy Designer Look-Alikes Instead of the Real Thing
Sure, designers like West Elm and Pottery Barn have beautiful things, but depending on what you buy, you can find these pieces elsewhere for a lot less. The website Decor Look Alikes shows some of the most common items you can get that look similar to their designer counterparts. Decorative details can also be found at thrift stores, farmers markets, garage sales, and other affordable spots.
Buy an Overlay Instead of Expensive Dressers
Dressers and side tables can get expensive and even though they're useful, they're not a piece you have to spend big money on. As an affordable interior design hack, consider overlays. Overlays are custom-made texture pieces that you can add to the face of dressers, nightstands, and even walls in your home. Check out this gallery to get some ideas that you can do with a simple overlay.
While the world of interior design is vast and there's much to learn, these interior design basics provide a solid foundation for you to start perfecting your design skills. If you think you're ready to begin furnishing your own home interior, find the perfect living room set from Southern Motion!
Besides the obvious family photo or two, it can be tricky to think of ways to decorate the empty wall space within your home. If you're tired of looking at bare walls and aren't having any luck filling them up, gather inspiration with these creative living room wall decor ideas.
1. Tapestry
Tapestries or fabric wall hangings are a unique way to add a splash of color and texture to your space. They're large in size which makes it extremely easy to cover quite a bit of wall space. In addition to that, tapestries are much less cumbersome to hang than say a massive art piece or flat screen TV.
When you choose your tapestry, be aware of its design and how you go about hanging it. Some tapestries resemble more of a "college kid" look, which you most likely don't want. Stay in line with your home's interior design style and give your tapestry a more sophisticated finish by hanging it with a wooden quilt hanger. 
2. Oversized Mirror
Interior designers recommend that you include at least one mirror in every room, which is why this living room wall accent couldn't be more perfect. Not only will an oversized mirror help to fill your wall space, it will also brighten up the room by reflecting sunlight that's shining inside.
Grab a floor mirror if you want the luxury of doing an outfit check throughout the day, or stick to a traditional wall mirror. An alternative option to a single, oversized mirror is an arrangement of small mirrors. A mirror gallery wall is a bold choice that will definitely give your home the "wow factor" you're looking for!
3. Woven Basket Collection
Woven baskets are currently a hot trend in the interior design world and they aren't just used as table accents. Woven baskets also make for a creative living room wall decor idea. Their round shape is a breath of fresh air amidst all the framed photographs and art pieces that tend to have squared edges.
Curate a collection of smaller baskets or consider hanging a couple of statement baskets that are large in size.
4. Floating Shelves
Floating shelves are a go-to living room wall accent if you want a modern touch that isn't too daring or complex. Floating shelves are especially ideal if you like to change up your decor often. Hang your shelves and style them with different decor items throughout the seasons and holidays.
5. Gallery Wall
Gallery walls may seem a bit intimidating at first, but they really are a fun and unique way to dress up your wall space. Take the opportunity to express your personality by displaying a collection that is centered around your interests or hobbies. 
Like the outdoors? Ground your gallery wall with nature-inspired pieces like photographs of your adventures and scenic paintings. 
6. Sporting Equipment
Why store away your sporting equipment when you can make it double as a creative living room wall decor idea? Displaying your equipment is an innovative way to incorporate your personality into your living space, and it makes for a great conversation piece too! 
If you love cycling, think about hanging your bicycles on contemporary wood mounts for an urban look. You can also wall mount your surf boards or casually lean them against one side of your living room wall.
7. Accent Wall
For this particular wall decor tip, you don't need any home decor items like baskets or photographs. An accent wall is another route you can take to spice up your living room with just some wallpaper or paint. Opt for a bold wallpaper with a striking pattern or take on the challenge of painting a beautiful mural. If your artistic skills aren't up to par or you need something more temporary, you can always use removable wall art as well.
Depending on how busy your base is, you can take your accent wall to another level by hanging wall decor that brings a contrast of texture.
8. Bookcase
It's reading time! Whether you pick built-in or free-standing bookcases, this wall decor tip can transform your living room into a polished and refined space. Give yourself the creative freedom to fill the bookcase with a wide range of decor items other than books. Framed photos, plants, folded throws, vases, and small sculptures are just a handful of ideas to try.
9. Statement Art
It's important to remember that your wall doesn't need to be busy with decor to look complete. Keep your living room wall simple and distinct with a statement art piece or two. The combination of bare space and a single art piece creates a striking visual element. 
10. Greenery
House plants are all the rage right now and their use goes far beyond a windowsill accent. Embrace greenery in your living room by hanging or mounting a few potted plants along your wall. Explore bohemian-style greenery with macrame plant hangers or keep it modern with geometric shapes.
Follow these wall decor tips and your living room will transform from bare and boring to balanced and bold in no time! For an extra bit of guidance along the way, check out these 7 decorating faux pas to avoid.
Are you interested in reclining furniture but don't know how to distinguish between the different types of recliners? Recliners, rockers, and chaise loungers for your living room may all provide stylish and reclinable seating, but they are significantly different from one another. Find out all you need to know about these pieces so you can make an educated decision as to which one is right for you and your home.
What is a Recliner?
A recliner is what the name suggests, an arm chair that reclines. Designers and furniture manufacturers continue to make great strides with motion furniture, which now comes in various upholsteries like leather and cloth. Recliners come with both manual and electric options, as well as a range of other features like massage and heat. 
Different types of recliners also offer lumbar support and allow you to rest in a position that is almost as comfortable as lying down. With so many motion furniture options available in the market, how do you know which one is right for you? Before you make any purchases, it's important to know the key differences between popular living room furniture like recliners.
Different Types of Recliners
1. Lay-Flat Recliner
Lay-flat recliners are what most people think of when they think of recliners. These chairs can create a full layout position for ultimate comfort or sleeping. Keep in mind that this category of motion furniture needs about 14 inches of wall clearance to fully recline.
2. Rocker Recliner 
Rocker recliners are a favorite of nursing mothers and those who suffer from insomnia because they are the best recliners for sleeping. Appropriately named, rockers recline on arched tracks that allow them to rock back and forth. Because of the soothing rocking motion, this type of reclining furniture is helpful for those who have trouble falling asleep at night.
3. Glider Recliner
Glider recliners are similar to rockers, with the exception that instead of moving along an arched path, glider recliners move back and forth on a linear path. Gliders like Southern Motion's Willow slide backward and forward in a smooth horizontal motion. If you prefer a more gentle movement, a glider may be the right choice for you.
4. Power Recliner 
Power recliners are similar to traditional recliners, only instead of a manual lever or button, there's a power button to electrically recline your chair. Southern Motion's Safe Bet recliner includes a power option that allows for an infinite range of seating positions. Many recliners are also customizable with other power add-ons like an adjustable power headrest.
5. Lift Recliner
Lift recliners are great for those who struggle getting out of a recliner. These lift-assist recliners make it easier for people with certain disabilities to be more independent in their home. The lift mechanism pushes the chair from a flat-seated position to an upright-angled position that guides the occupant to stand up. Lift recliners are often recommended by physicians for people who have trouble with weak knees, legs, or hips.
6. Push-Back Recliner
Push-back recliners recline without a lever or button, requiring the person sitting in the chair to lean back and exert pressure on the back of the chair. You should consider your physical ability and comfort preferences when considering this piece of reclining furniture. If you don't mind putting in a little effort to recline and stand up, this could be a good option for you.
7. Swivel Recliner
Swivel recliners such as Southern Motion's Diva have a circular base that allows them to swivel left and right. These recliners offer a full range of motion that many prefer over the limited motion of other recliners.
8. Wall-Hugger Recliner
Wall-hugger recliners are great for those with limited space as they only require about four to six inches of wall clearance. They sit up straighter than other types of recliners and often have a limited range of motion. Additionally, wall-huggers have a resting position that is easier to get in and out of.
9. Zero Gravity Recliner
Southern Motion's Zero Gravity collection redefines reclining furniture as you know it. Zero Gravity recliners have a mechanism that provides the capability of obtaining ideal weight distribution to help optimize blood circulation and reduce pressure on the neck, back, and legs. 
Not only do these recliners offer the perfect angle for relaxation, they have been found to have medical benefits as well. Zero Gravity chairs help to:

Ease the heart's ability to send blood and oxygen through the body

Improve lung capacity and function

Reduce swelling in joints

Relieve back pain and reduce spinal compression



10. Chaise Lounger
A chaise lounger is an upholstered sofa in the shape of a chair that is long enough to support the legs. In modern French, the term chaise lounge can refer to any long reclining chair such as a deckchair.
Now that you know the different types of recliners, you should be able to narrow down which options are ideal for you and your home. You can help your shopping process go even smoother by learning more about the best recliners for your lifestyle as well!
This year is a special time for Southern Motion because it marks our 25th anniversary or as we like to say, 25 years in motion. Over the decades, Southern Motion Furniture has made its name as one of the largest furniture manufacturers in Mississippi and beyond, but how exactly did we get where we are today? 
From small beginnings to the expansion of our team and factories, take a trip down memory lane to see how much Southern Motion Furniture has grown throughout the past 25 years.
Humble Beginnings for Southern Motion Furniture
The Creation of Southern Motion
To fully understand the history of Southern Motion, you need to jump back to the 1990's when the company was merely a dream that co-founders, Guy Lipscomb and Larry Todd, were determined to make into a reality. Their business model was simple—manufacture solely reclining furniture and make it the best on the market. 
After settling on the business model for their recliner manufacturing company, Lipscomb and Todd just needed a name. Rather than decide during a brainstorming session or two, Lipscomb stumbled upon the idea when he was shopping with his wife, Sandy. They saw a painting entitled, "Southern Motion," by an artist in Birmingham, Alabama and instantly knew that was going to be the name of the company.
As a result of much hard work and preparation, Southern Motion was finally founded in 1996 in Pontotoc, Mississippi. Production operations began with a small team of just 43 associates. In November of 1996, we ran our first two pieces as an established recliner manufacturer and they were shown at Rooms To Go, a valued dealer that has been with us ever since.
Our Growth Throughout the Years
Southern Motion's First Facility
After Southern Motion Furniture's founding in 1996, the business really started to take off. Producing hundreds of reclining chairs and sofas in our 40,000-square-foot facility eventually became too much to handle and we needed more space. 
In 1997, Southern Motion doubled its facility footprint to 80,000 square feet, but that didn't last long either. By the time 2001 rolled around, the first phase of Plant 1 was complete with a whopping 180,000 square feet of space to build our American-made furniture.
Expanding Operations
With business booming and a high demand for reclining chairs and sofas, Southern Motion decided to take advantage of an opportunity to expand operations into something bigger than ever imagined. In 2005, we included Recline Designs into our portfolio of facilities. This 69,000-square-foot frame mill was just the first of a succession of expansions.
Cushion to Go in 2008 – A 40,000-square-foot poly fabrication mill

Plant #2 in 2010  – A 180,000-square-foot upholstery manufacturing facility 

Plant #3 in 2015 – Started at an old location in Baldwyn, MS and moved in 2017 to our current 742,000-square-foot facility
The Acquisition of Fusion Furniture
As if the production of reclining chairs and sofas wasn't enough to keep us busy, Southern Motion Furniture decided to broaden its horizons by acquiring Fusion Furniture (Fusion) in 2018. Because we already had a solid foothold within the reclining furniture industry, we believed this acquisition to be an opportunity for further growth in a new vertical of living room furniture—stationary furniture. 
Formed on the motto "Where Style Meets Value," Fusion produces stationary sofas, accent chairs, and ottomans to provide stylish, high quality furniture to customers at very competitive prices. Founded in Ecru, Mississippi in 2009 by Bo and Alison Robbins, Fusion Furniture specializes in American-made furniture just like Southern Motion.
Currently, Fusion employs over 600 dedicated associates in four Mississippi-based manufacturing facilities consisting of 700,000 square feet. Together with Southern Motion, the two furniture brands comprise Southern Furniture Industries.
What Southern Motion Looks Like Today
Southern Motion Furniture
After 25 years in motion, Southern Motion has grown into a leading supplier of distinct styles of reclining chairs and sofas.  We serve over 1,500 retailers with more than 2,000 store locations, as well as offer our product online through various e-tailers. With over 1,500 associates and five facilities in Northeast Mississippi covering 1.5 million square feet, Southern Motion continues its quest to build the "World's Best Reclining Furniture."
From our wide array of living room collections like Zero Gravity and Next Level to our innovative furniture features, we have every style of product to fit your needs.
Southern Furniture Industries
Southern Furniture Industries (both Southern Motion and Fusion) has over 35 years combined history in American-made furniture manufacturing. Presently, both brands occupy nine facilities in Northeast Mississippi with a combined total of over two million square feet and 2,100+ associates.
To see what 25 years of hard work, amazing associates, and loyal customers has helped us achieve, take a look at Southern Motion Furniture's current line of products. From sofas and sectionals to accent chairs, you're sure to find the perfect furniture pieces for your home!
It's time to celebrate the red, white, and blue! As you start preparing for the Fourth of July and all of the fun festivities that come with it, think about how your home can be just as patriotic as you. Gather inspiration for your patriotic home decor with these Fourth of July ideas that honor the USA!
Fourth of July Decor Ideas
Red, White, and Blue Table Decor
The dining table is one of the statement pieces of your home, so why not use it for your Fourth of July decorating ideas? Whether you include all three Fourth of July colors or choose to focus on one, the end result will complement your home's overall holiday look. A festive flower centerpiece, American-inspired table runner or table cloth, and patriotic cloth napkins are just a few ideas to consider. 
Fourth of July Garlands
Just as garlands are a go-to decoration for Christmas, they are a must for Fourth of July. Because they're relatively simple to make, garlands are a great DIY craft to help get you and your family in the holiday spirit. Take a couple hours to make your own strands and display them across your house.
American Flag Bunting
American flag bunting is a classic when it comes to Fourth of July decorating ideas. Keep your budget low with paper bunting or opt for quality, cloth bunting if you want Americana-style decor that lasts way past the holiday weekend. Spruce up your home's fencing or hang your American flag bunting along your front porch. 
Honeycomb Paper Lanterns
You can never go wrong with paper decorations for the Fourth of July! They may be temporary, but they add lots of USA flair to your space. Honeycomb lanterns and paper balls are wonderful additions to your patriotic backyard BBQ. Hang them from your trees or back patio for vibrant pops of color. 
Flag Pinwheels
Both a decoration and a fun kid's toy, pinwheels are at the top of the list for patriotic home decor. Place them along your front walkway, within your planters, or across your yard. 
Flag pinwheels can also make for a memorable craft project with the kiddos. Involve them in the decorating process by giving them the chance to create their very own spinning wheels to showcase to all of your guests.
Patriotic Bedding & Furnishings 
No, you don't need to get a massive American flag comforter for this Fourth of July decor idea—unless that sounds amazing to you, of course! Think more along the lines of furnishings like throw blankets, rugs, and pillows. 
For an obvious USA theme, incorporate accents with American flag designs. If you prefer a more subtle approach, you can include furnishings that follow the red, white, and blue color theme of the holiday. This is a great option if you want to adopt an Americana design style that looks good all year round.
Festive String Lights
Light up your home for the Fourth of July with festive string lights in red, white, and blue. Choose from dozens of lighting options that include adorable star-shaped lights, mesh lighting for bushes, and even rope-lighting that comes in the shape of the American flag. 
Take advantage of your entire outdoor area and think about lighting up your fencing, front porch, patio, greenery, and even your house itself.
USA Welcome Mat
An amazing first impression starts right at your doorstep. Dress up your front entryway with a USA-themed welcome mat. Stars, stripes, and a patriotic color palette are all you need for a festive mat to welcome guests into your home.
Holiday-Themed Wreath
Wreaths are a simple and affordable Fourth of July decor idea that add that extra bit of flair to your entryway. Buy one from the store or take on the challenge of a good ole' fashioned DIY project. One of the perks of creating a DIY wreath is that there's no limit to your creativity. Make yours from hydrangeas, pom poms, clothes pins, fabric, or even tinsel and you'll be pleasantly surprised at just how good it looks!
Patriotic Home Sign
Home sweet home! This patriotic home decor idea works both inside and outside your house and is versatile enough to look great all year round. Pick your favorite Americana-style signs and consider how flamboyant you want them to be, especially if you are looking to display them after the holiday is over.
There are many ways to spruce up your home for Independence Day, but these Fourth of July decorating ideas are sure to give you a great start! When you have some down time in between decorating, learn more about ways you can be a patriotic American by buying from local furniture manufacturers in the US. 
Are you in the market for a new recliner? You've come to the right place because buying a recliner (especially the perfect one) requires planning and research. Rather than just picking the prettiest furniture piece in the store, the key to choosing the ideal recliner is combining style, comfort, and functionality. Follow our guide to become an expert on different types of recliners and learn what the best recliner is for your lifestyle!
Key Benefits of Recliners
Besides the obvious perks like style and comfort, recliners have health benefits as well. Here are just a couple ways that quality recliner chairs can improve your physical and mental health. 
1. Lumbar Support
Sitting or standing for long periods of time can wreak havoc on your back, especially if you don't have the proper chair to keep you comfortable. Luckily, recliner chairs have the potential to reduce back pain and improve the health of your spine with the help of lumbar support. Recliner chairs with lumbar support work by distributing pressure from your joints and muscles. This helps to relieve tension and pain.
2. Better Mobility
Many types of recliners also provide assistance for people suffering from mobility issues. According to the Center for Disease Control and Prevention (CDC), mobility issues impact 1 in 7 adults and about every 2 in 5 adults aged 65 and older. Suffering from these issues can be discouraging, but with a lift recliner, you can feel empowered again. With the touch of a button, your recliner can go from flat on the floor to a 35-degree angle to help lift you out of the chair and into a standing position. This provides a safer and more secure way to move without putting any undue stress on your back or joints.
Read more about the surprising benefits of a reclining chair in this blog post.
Common Types of Recliners
As you begin your search to find the perfect recliner chair, you need to learn about all the various types of recliners to narrow down your options. From swivel and rocker recliners to lay-flat recliner chairs, here are the main types of recliners you'll come across on your furniture search.
Learn more about the most common types of recliners and their differences in this blog post.
Recliners for Different Lifestyles
One of the most important factors to consider when buying a recliner is how it aligns with your lifestyle. Because recliners differ in features, some are a better fit for you than others. Take a look at these recliners and see if they match your preferences.
Seniors and People with Physical Disabilities | Power Lift Recliner
Perfect for individuals who have injuries, disabilities, or for people who struggle standing up and sitting down on their own, the power lift recliner is a motorized reclining chair. These recliners lift upward, helping you get out of your chair with ease. 
Lift recliners come in all shapes and sizes. Southern Motion's Shimmer lift recliner offers contour through the arm pads and seat cushions, which can help support any aches and pains. You can also choose from over 300 fabrics and leathers, because practicality and style should never be exclusive.
Families with Young Children | Swivel Gliders
Thanks to their sturdy steel frames, swivel gliders allow you to gently glide back and forth while sitting comfortably. This can be very relaxing for anyone using a recliner, but especially for parents with babies and young children. Southern Motion's Take Note swivel glider is a great example of this kind of recliner. With its swept-back flair arms and sleek barrel back, it's a practical piece of furniture that can lull anyone into a relaxing sleep. 
What's more, with hundreds of special order fabrics and leathers to choose from, you can customize this recliner to match your interior design style or to be more child friendly.
Relaxation and Comfort | Zero Gravity & Next Level Recliners
Whether you suffer from back pain or just enjoy the opportunity to relax at the end of a long day, Southern Motion offers the perfect solutions. 
Need to crank up the therapy? A Zero Gravity recliner could be just what the doctor ordered. By mimicking the position of astronauts in space, these Southern Motion recliners allow you to achieve the ideal weight distribution and reduce the stress on your body. This can help improve blood circulation and lung capacity while reducing joint swelling and back pain.
Southern Motion's Next Level Collection makes the reclining experience even more comfortable and therapeutic. The innovative mechanism allows you to recline with your feet above your heart, as with Zero Gravity, while the extended ottoman provides three inches of extra length in full recline. This optimizes your circulation and takes the pressure off your neck, back, and legs for an unparalleled furniture experience. 

Don't see a lifestyle category that fits you? Read more about the best recliners for your lifestyle to help you make the right decision when it comes to buying a recliner.
How to Choose Upholstery Fabric for Recliners
With tons of options to choose from, it can be difficult to know which fabric is best for your brand new recliner. While there are pros and cons to every type of furniture fabric, there's always a standout option when it comes to complementing your lifestyle and style preferences. Take a look at the most popular recliner fabrics and see which one is ideal for you!
Smart Solutions: A Southern Motion fabric that resists stains so your furniture can remain spick and span! With Smart Solutions, messes wipe right up, leaving no evidence that there ever was one.
Leather: A classy, timeless fabric that requires very little care. Leather recliners are durable and add style to your home for years.
Leather Look: A cheaper alternative to real leather fabric. Leather alternatives are great for families that want the leather look without the maintenance and large price tag.
Fabric: A soft, comfortable fabric that compliments any home's interior design style. Fabric is ideal if you love unique upholstery patterns.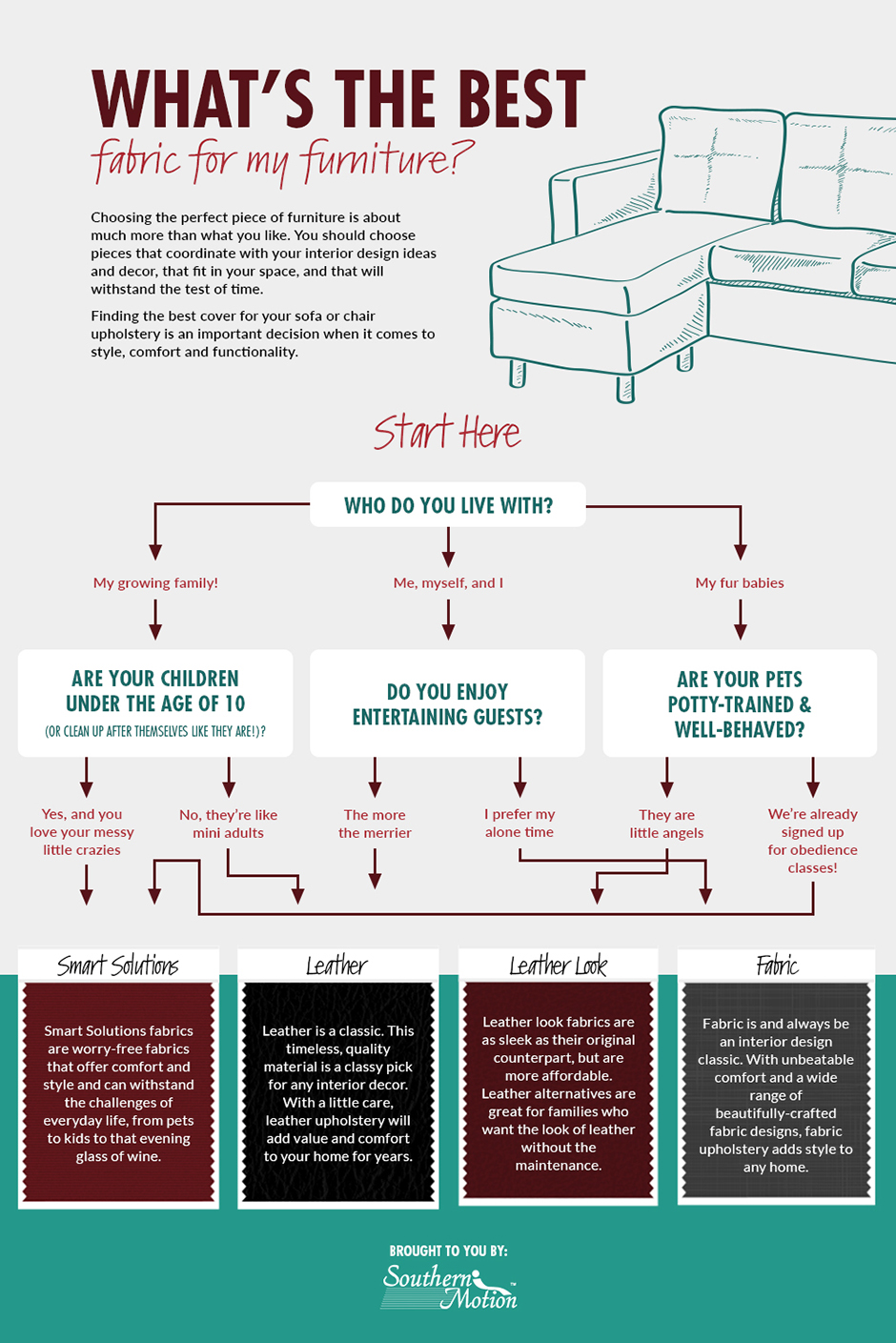 Why Buy from Local Manufacturers?
In today's world, so many products are made overseas, including furniture. Rather than buy a recliner from a factory thousands of miles across the world, give Southern Motion a chance to blow you away with our top-of-the-line products. Besides the style and comfort of Southern Motion furniture, here's why you should buy from local manufacturers like us.
1. Support for the Local Economy
By choosing American-made furniture, you are helping to create more jobs in the US. This can result in huge gains for the economy.
2. Reduced Impact on the Environment
Sourcing and manufacturing furniture domestically ensures a shorter supply chain, fewer carbon emissions, and less fuel consumption. Materials and finished products don't need to be shipped from the other side of the world because they're already here in your backyard!
3. Unique and Innovative Pieces
Mass-produced furniture is made quickly and cheaply, which prevents innovation. If you're looking for a piece that combines unique style and functional comfort, local furniture is the best choice for you.
Along with these advantages, there are even more benefits to shopping locally for your newest furniture pieces. Discover 5 reasons to buy from local furniture manufacturers here. 
Which Chair is Right for You?
Want to learn more about your quiz results? Head to our blog to find your ideal chair and see why it works for you and your preferences.
Frequently Asked Questions
Can I purchase an item directly from Southern Motion?
Southern Motion does not currently sell directly to consumers. Our products may be purchased from Southern Motion authorized retailers and specific online retailers.
Where can I find a Southern Motion retailer near me?
You can find a retailer in your area by using our retail store locator here. You can also search for Southern Motion furniture online.
Are ALL Southern Motion products located on the website?
Yes. Southern Motion is constantly adding and removing products to keep the website as up to date as possible.
Can Southern Motion provide me with pricing information?
Southern Motion does not establish retail price points for our products. The Southern Motion authorized retailer determines their own advertised, quoted and printed pricing.
How Can I Contact Southern Motion?
Currently, we don't have a customer service phone line, but you can reach Southern Motion by filling out our contact information form here. Once you turn in your form, a Southern Motion representative will get in touch with you.
Now that you're on your way to becoming a recliner expert, it's time to finish your search and bring home the most comfy, stylish, and innovative chair to complete your home. Take time to browse through our various collections and explore the hundreds of recliner chairs, sofas, and sectionals we have to offer!
As the weather warms up, it's time to take the DIY home improvement projects outside into the backyard. There are so many simple and inexpensive backyard ideas to make it the perfect place to spend spring and summer. You can spruce up your patio, plant a garden, invest in some backyard furniture, and much more. These outdoor decorating ideas on a budget will make sure you spend every beautiful day outside this summer.
Build DIY Planters
A great way to save money while beautifying your backyard is to build your own planters. They are relatively easy to put together and then you get to decide what you plant inside them! Choose flowers for some color in your backyard or fruits and vegetables for delicious summer produce. No matter what you opt for, you can't go wrong with this fun yet simple DIY backyard idea.
Cozy Up Your Patio
Whether you have a simple bench, basic lawn chair, or outdoor sofas, adding some pillows to your patio furniture can make your backyard feel like an extension of your home. You can also experiment with colors and patterns in your backyard space. To cushion up your patio, purchase some pillow inserts and covers. Make sure to use outdoor fabric, which is usually water resistant and sun resistant. That means the colors won't fade and you won't ever have to sit down on a sopping wet pillow! 
Build a Fire Pit
A fire pit is an impressive centerpiece in any backyard, not just on summer evenings but also on crisp winter days. It's also one of the best outdoor decorating ideas on a budget.  With some cinder blocks and stones, you're good to go. Of course, you might want to grab some s'mores ingredients while you're at it. 
Garden Vertically
Got a green thumb but less backyard space? A great way to incorporate more plants into your backyard is to garden vertically! You only need a few simple gardening supplies, lots of dirt, and vine-type plants and you're ready to grow! Choose a wall or space in your backyard that needs extra love and you'll be amazed at the impact of your vertical garden within a few months. 
Install Patio Furniture
Patio furniture is a fantastic way to make your backyard look and feel like an outdoor living room. If your patio is covered, you can get even more adventurous with the furniture you put outside. Consider adding a comfortable recliner or accent chair to your covered patio area. It will become everyone's favorite spot! 
Backyard Lighting
There are so many ways to incorporate lighting into your simple DIY backyard ideas. From string lights to rope lights, they can really add some sparkle to your yard. Buy some outdoor string lights to hang over a seating area and string rope lighting to illuminate your walkways. Lights will make the backyard enjoyable even into the later hours of the night. 
Build a DIY Outdoor Bar
With some concrete blocks, wood planks, and simple chairs or stools, you can have an outdoor bar! This bar will elevate any outdoor barbeque area so you can easily enjoy a drink and a snack in your backyard.
Install Paving
Breaking up your backyard into different sections can help you make better use of the space and create more visual intrigues. One way to do this is to install paving on the ground. Add some concrete pavers or gravel and tiles to create a patio in the backyard. This can help you build out a lounging area, barbeque space, or even walkways. Pavers and gravel can be very cost effective, making this a fantastic outdoor decorating idea for budgets. 
Buy Bird Feeders
Hanging bird feeders can help you bring some extra life to your backyard. Hang the feeders by flower bushes or from your favorite tree. You'll be able to watch the visitors all day long. 
Hang a Tree Swing
Hanging a tree swing is a fun addition to your backyard that your little ones will love. Once you're sure it's safe to swing from, it will be a backyard favorite all summer long. The best part? A tree swing is a budget friendly and simple DIY backyard idea.
Use an Outdoor Rug
An outdoor rug can be an effective way to spruce up any patio space. You can experiment with colors, patterns, and textures and make the rug a focal point on your patio. The feeling of a rug outside will make your outdoor space even more comfortable, although this idea works best on covered spaces. 
Plant an Herb Garden
Plant an herb garden in one of your DIY planters for a summer-long supply of fresh herbs for your meals and cocktails! Classics like basil, mint, and oregano make for an excellent starting point. Grab some potting soil and some herb seeds for this simple DIY backyard idea that you will enjoy all summer long. 
Hang a Hammock
To enjoy the open air and summer breeze, hang a hammock in your backyard. Hammocks are ideal for lounging and resting in your backyard, and create another outdoor seating option. Don't have any trees in your backyard? No problem. There are plenty of hammock solutions that don't need a trunk to hang but use stands instead. 
Build a Garden Path
To break up the space in your backyard, create a garden path. You can do this by adding concrete pavers or tiles to lay out the walkway, then add rope lighting to illuminate the path. This is a simple outdoor decorating idea on a budget that will have a huge impact on the look of your backyard. 
Thanks to these outdoor decorating ideas for budgets, you're well on your way to having the backyard of your dreams  without breaking the bank. For more ideas on how to update your home, both inside and outside, read our blog post on DIY home updates.