How to Use the Spring-Summer Pantone Colors of 2021
The time has arrived. The 2021 spring-summer Pantone color chart has been released. The colors are bold shades with natural hues and vibrant tones that the experts from the Pantone Color Institute have compiled for the Pantone color 2021 trend report. These striking colors are sure to spruce up any home design, and just in time for a spring refresh. 
Read on to learn more about this year's color choices and how you can easily incorporate them into your interior design.
And the Colors Are… 
The 2021 Pantone list of spring-summer colors includes ten hues, each with their own unique descriptions. These colors are unconventional for spring and summer, but they complement one another in unique, nature-inspired ways. Pantone's list of hues feature warmer, orange tones, paired with some cooler blues and greens, muted purples, and a vibrant shade of pink. 
The Pantone list from left to right:
PANTONE 14-1050 Marigold

PANTONE 15-4020 Cerulean

PANTONE 18-1248 Rust

PANTONE 13-0647 Illuminating

PANTONE 18-4140 French Blue

PANTONE 13-0117 Green Ash

PANTONE 16-1529 Burnt Coral

PANTONE 16-5938 Mint

PANTONE 17-3628 Amethyst Orchid

PANTONE 18-2043 Raspberry Sorbet



Leatrice Eiseman, Executive Director of the Pantone Color Institute, explained that these flexible colors work year-round, but we love how they make us think of longer, warmer days. The Pantone color chart was chosen for the combination of unique shades and uplifting natural elements, reminiscent of spring flowers and luscious plants. The vibrant hues paired with warm earthy tones can bring an authenticity to any space or design for a mood-boosting yet relaxing vibe.
4 Ways to Incorporate the Pantone Color Chart into Your Home 
While we expect to see these colors on the runways of New York Fashion Week 2021, why not incorporate these statement-worthy colors into your home design with these simple Pantone color chart tips? There's no better time to refresh your home than during the spring and summer months!
Accent Chairs and Sofas
A great way to incorporate a vibrant color palette into your home is by featuring some accent pieces. Consider an accent chair to make a statement with a color from the Pantone 2021 color list. 
An armchair in PANTONE 16-1529 Burnt Coral will bring a warm hue that creates an inviting feeling in any space. For a cooler spring-summer tone, a PANTONE 16-5938 Mint armchair or loveseat will refresh and restore your living room. Feeling brave? Get a sofa in PANTONE 13-0647 Illuminating. This color will bring a splash of energy to your space that is sure to brighten the room all year round.
Pillows
Throw pillows are a fantastic way to incorporate pops of color without investing in large pieces of furniture. It's as easy as purchasing a pillow cover, putting it on, then throwing it on your couch. Plus, this is a great way to include multiple shades of color to build a richer interior design. 
If you have a neutral-toned sofa, add some PANTONE 18-4140 French Blue and PANTONE 18-2043 Raspberry Sorbet pillows. Break up the vibrant shades by throwing a PANTONE 14-1050 Marigold into the mix. Pillows inspired by the bold Pantone colors of 2021 will brighten up your couch and add a hint of color that will transform your space and your mood. 
Rugs 
Placing a rug in your living room is another easy way to add color to your space and tie your interior design together. The color can be a subtle choice from the Pantone list, but the impact will be immense. A rug in PANTONE 13-0117 Green Ash will bring a gentle splash of color to any room and is sure to cool and soothe the space. 
Paint
One of the most effective ways to refresh a space and incorporate color? Paint the walls. A colorful coat of paint on the walls can bring a space to life. Whether you lean towards the cool, traditional spring colors, the unconventional earthy tones, or the bright, vibrant jewel shades, the Pantone 2021 color palette offers inspiration for every paint color. 
Try PANTONE 18-4140 French Blue on the walls of your living room for a bold splash of color that creates a dreamy sense of spring afternoons. You can also take a look at these ideas for the perfect spring and summer decor for more paint inspiration.
Refresh Your Home This Spring
Welcome the warmer months with unique spring and summer interior design trends. Choose a balance of warm tones and cooler shades from the Pantone 2021 color palette and add them to your space. Your home is sure to feel fresh and new, especially with these tips on how to design the perfect interior design color palette. 
The temperatures may have dropped, but that doesn't mean you can't enjoy a warm and fuzzy feeling as you think about the winter months. With the right winter home products, you can create a cozy safe haven you never want to leave. Read on for our top winter essentials that can transform the winter blues into a dreamy winter experience.
1. Fuzzy Slippers
Hardwood and tiled floors create a beautiful interior design aesthetic, but in the winter months they are extra cold underfoot. Instead of adding carpets or rugs to every room, invest in a snuggly pair of slippers. House shoes with a thick sole and fleece lining will keep your feet nice and warm. For added convenience, look out for slippers that are machine washable. This can help keep these winter essentials fresh and fluffy for a daily treat for your feet.
2. Sheepskin Rugs
Adding rugs to every room in your home can get expensive. What's more, you probably won't want to have your cool floors covered with thick textiles in the warmer months. Fortunately, if you're the owner of a snuggly pair of slippers, you only need to add rugs to specific parts of your home. Place a cozy sheepskin rug on the floor next to your bed. As well as creating a charming winter vibe in your bedroom, this winter home product will prevent you from getting a shock in the morning as you step out of bed and onto the cold floor!
3. Bed Linens
While we're on the topic of winter-worthy bedrooms, don't forget to make your bed as warm and inviting as possible. The shorter days of the year offer the perfect time to rest and relax. Invest in a thick comforter and fleece throw blanket. These bedroom winter essentials won't just keep you warm — they'll also add some texture to your room. Be sure to choose bed linens in soothing colors, such as blue and gray, to help you get into the right mindset for sleep.
4. Electric Blanket
An electric blanket is a cost-effective way to warm up your space without turning up the heating or using a space heater. No matter whether you're reading in bed or working at your desk, this winter essential can keep you warm and snuggly. This can be a real treat if you have any aches and pains that get worse in the winter. Look out for blankets with different heat settings. If you intend to keep your blanket on as you fall asleep, you can also find models with timers.
5. Living Room Throw
You might not feel the cold enough to buy an electric blanket, but that doesn't mean you won't enjoy a fuzzy blanket in your living room. Keep a faux fur or quilted throw on your sofa so you can snuggle up with your favorite people. These winter essentials make movie night even more fun and reinforce your interior design thanks to the wide variety of styles and colors of blankets available.
6. Scented Candles
Candles are the ultimate winter essentials for your home. No matter what your favorite part of winter is, you can find a candle that embodies that experience. From evergreen trees to spiced apple cider, there's a candle for every fragrance. Candles also provide low ambient lighting that gives your home a cozier and more relaxing feel. They're just what you need for your own winter wonderland at home!
7. Tea Collection
It's important to stay hydrated during the winter months, but with the cooler temperatures, you might not feel so thirsty. One way to get plenty of water and warm up at the same time is to prepare more tea. Choose tasty tea selections and make your tea break an enjoyable winter ritual. Blends with spices such as cardamom, cinnamon, and ginger can help boost blood circulation, while green, rooibos, and rosehip teas have antioxidants that can help you fight off winter colds. These natural ingredients are winter essentials that will delight your taste buds and improve your well-being.
8. Mug Warmer
After you go to the trouble of making a warming cup of tea, don't let it go cold! A mug warmer doubles as a hot plate and a coaster for your drink. Simply place your mug on the warmer between each sip and you can take your time over your hot beverage. It's the perfect winter home product for when you're reading a book, enjoying a movie, chatting with friends, or even working at your desk.
9. Slow Cooker
The winter pace is slower and more relaxed, so why not apply the same approach to your food during the colder months? A slow cooker makes it easier to prepare warming meals, like soup and melt-in-your-mouth meat dishes. Save some cooking time by letting this winter home product take on the hard work. All you have to do is add the ingredients in the morning and you'll have a family-sized meal ready for dinnertime. Many slow cookers have non-stick coatings, which makes clean-up just as easy.
10. Dryer Balls
Gone are the days of hanging your laundry outside to dry. The winter months mean you'll be using your dryer more than ever and your clothes are also thicker and heavier at this time of year. To make your dryer more efficient, add wool dryer balls to your load. Believe it or not, these inexpensive winter home products can help speed up the drying process and ensure fewer wrinkles in your clothes! You can also add your favorite essential oils to the dryer balls to make your laundry smell incredible. These winter essentials for the home are much more environmentally friendly and effective than your usual dryer sheets.
11. Heat Therapy Chair
At the end of a busy winter day, there's nothing better than a relaxing massage or a comfortable, warm chair. With Southern Motion's SoCozi™ Collection, you can enjoy both experiences, right in your living room! Relax, restore, and renew with a professional massage chair complete with reclining technology and heat therapy. This winter essential for the home helps you unwind and stimulates circulation so you can enjoy the colder months more than ever.
Every year brings us new interior design trends and this year has been no different. Of course, not all trends are created equal. Some concepts may offer timeless style to your home, while others only deserve their 15 minutes of fame. From 2020's interior design color trends to furniture choices, we've rounded up the most fashionable ideas of the year. The question is, which ones are in and which ones are already out? We want you to be the judge.
Take a look at these top interior design trends from 2020 and let us know your favorites by casting your vote!
Designing your home like a Hollywood star doesn't have to break the bank. Create a home interior fit for the big screen with these Southern Motion look-alike furniture pieces.
Celebrity Style Icons
There are countless celebrities with luxury home decoration ideas, so it can be overwhelming to decide which style is best for you. Luckily, we have a list of celebs from sports to music and acting whose unique interior design styles cover a wide range of trends. Start getting inspiration for your home decor makeover by taking a look at these celebrity style icons, their home interior design ideas, and the Southern Motion look-alike furniture pieces that match perfectly.
Singer-songwriter John Legend and model Chrissy Teigen are a power couple America absolutely loves. It's only fitting that these two celebrity style icons have an LA home to die for. If modern interior design is your thing, this couple's luxury home decoration ideas are the perfect inspiration for you. With floor-to-ceiling glass windows, sleek design, and extensive wood cabinetry, their space screams contemporary. Just as you think the whole house is completely modern, they incorporate a dark brown leather recliner and cream-colored sofa that add just the right amount of comfort and warmth. 
Chrissy Teigen and John Legend have a family of their own, so it goes without saying that their home interior design ideas are family-friendly. However, the overall contemporary theme may be better suited for young couples looking to entertain or older couples without young kids. Southern Motion's Saturn Recliner is a simple addition to your home that closely resembles the decor found in this celebrity couple's home. The fact that this is a zero gravity recliner will give your home a unique modern touch.
Sheryl Crow's home in Nashville, Tennessee is a southern-style oasis. From wood floors and walls to leather couches and chairs, this celebrity style icon has home interior design ideas as beautiful as her hit songs. Because her home is in the heart of Tennessee where temperatures can get high, these luxury home decoration ideas are best suited for warmer climates.
If you're looking for an inviting and cozy interior that makes your house feel like a home, Crow's style is a good choice for you. She uses brown, tan, and white as a common theme throughout each room. You can start to recreate Crow's rustic dream house by bringing in Southern Motion's Titan Sofa. The plush materials and earth tone creates the comfortable country theme seen in Crow's home.
If you're a Game of Thrones fan, you'll definitely recognize this celebrity style icon. Nikolaj Coster-Waldau's Hollywood 
Hills home follows the minimalist and modern Scandinavian design trend. With white walls, black accents, and light wood, his home interior design ideas create an airy, relaxed atmosphere. The light colors and modern touches make Coster-Waldau's home decor a great addition for couples or families with older kids.
Going along with the rest of the house, most of the furniture is light in color and made of soft, cozy fabrics. Southern Motion's Metro Motion Sectional fits comfortably within this celebrity's style because of its warm tones and woven fabric.
The 1980s music scene wouldn't have been the same without John Mellencamp and his famous songs "Hurts So Good" and "Jack and Diane." This celebrity style icon killed it on stage and is now killing it with his home interior design ideas. Mellencamp's industrial-style studio in New York's SoHo area is an artist's fantasy home. Exposed brick, dark hues, steel furnishings, and leather couches mix together to create a moody theme fit for singles and sophisticated couples. 
Rich woods and darker brown tones can be seen throughout the loft, making Southern Motion's Essex Motion Sofa a fitting look alike for your home. The dark brown leather of this Next Level Collection encapsulates the lavish, SoHo atmosphere of Mellencamp's New York studio and easily resembles his brown leather couch.
Best known as executive producer of the medical drama series "Grey's Anatomy," Shonda Rhimes also doubles as a celebrity style icon. If you're wanting to recreate a LA celebrity home with a 1920s vintage theme, Rhimes is your girl. She takes luxury home decoration ideas to a whole new level with her vibrant hues, marble floors, chandeliers, dark wooden tables, and oriental area rugs. 
Although her home looks as extravagant as you can possibly get, she makes sure her furnishings are family-friendly. Fabrics are easily cleaned and tables don't get water stained. This is exactly why her home interior design ideas can work for families, singles, and couples alike.
Bring a touch of 1920s design to your home with Southern Motion's Key Largo Sofa. It embodies the style of Rhimes' living room decor thanks to its classic roll arms. While this piece may look stationary, it actually reclines and is available in the Smart Solutions fabrics. This makes it a stylish yet functional piece of furniture.
There's no doubt you'll score a touchdown with Tom Brady and Gisele Bündchen's luxury home decoration ideas because their LA mansion is something you only see in movies. Even though the home's exterior paints a picture of grandeur and opulence, the interior is eco-conscious and simple throughout. With neutral colors inspired by building materials and furnishings made with natural materials like old leather and Belgian linen, there are occasional accents of blue and green to bring in some color.
The warm tones, soft fabrics, and simplicity of this home's interior design ideas make it ideal for entertaining guests. Whether it be a BBQ or Superbowl party, everyone is sure to feel relaxed. Southern Motion's Prestige Accent Chair has all the elements that this celebrity couple uses within their home.
Another Grey's Anatomy star who has marked herself as a celebrity style icon is Ellen Pompeo. Her vacation house in the Hamptons is a "modern barn" as she calls it. The home has a black and white theme, with alternating colors on the walls. A mixture of dark, woven furniture and light wooden furnishings give the space a modern feel and bring contrast to each room. There's the subtle color accents (teal, mustard, pink) in her bedding, chairs, and flower decor pieces. The occasional brown leather chair brings a rustic undertone to the home as well. 
Pompeo's home is clean and simple which makes it versatile for any person or event. You can host a brunch, invite over family friends with children, or enjoy a night full of cocktails because these home interior design ideas are both beautiful and practical.
Southern Motion's West End Sofa from the Elevate Collection is the ultimate look-alike option because of its rich color and soft fabric options. Not only is it modern, it's also comfortable. This combination is just what Pompeo achieves in her Hampton's home.
Now that you have look-alike furniture options, you can start your interior design makeover so your home looks like it belongs in the Hollywood hills! For more furniture ideas, discover the best recliner for your lifestyle.
Eco-friendly interior design aims to reduce the effects of harmful living by improving indoor air quality. It also helps to minimize the impact that our home purchases have on the environment. As a result, sustainability, energy-efficiency, and inclusion of all-natural materials are just a few themes you see throughout eco-friendly interior design. The Environmental Protection Agency estimates that most Americans spend approximately 90% of their time indoors, where the concentrations of pollutants from our home decor are often two to five times higher than typical outdoor concentrations.
Eco-friendly interior design can help us reduce our carbon footprint, but this movement doesn't only benefit the planet. A green interior design concept can also boost your health and well-being, and it's easy to get started! Read on to learn more about eco-friendly interior design and tips on how you can incorporate them into your home.
5 Tips for Eco-Friendly Interior Design
1. Shop Green
With eco-friendly interior design on the rise, there are plenty of options for safe and sustainable products. When you shop for new furniture, make a concentrated effort to research each piece before you purchase it. Any sustainable interior designer will source pieces from trusted vendors.
Another aspect of eco-friendly interior design is purchasing furniture that's guaranteed to last for years. Choose pieces made from solid wood like oak, walnut, or maple, and upholstery made from leather, wool, and cotton. These natural materials are usually more durable and less harmful to the environment. Whenever you're unsure of which textile to purchase, check to see if it's made out of high-quality recycled or organic materials.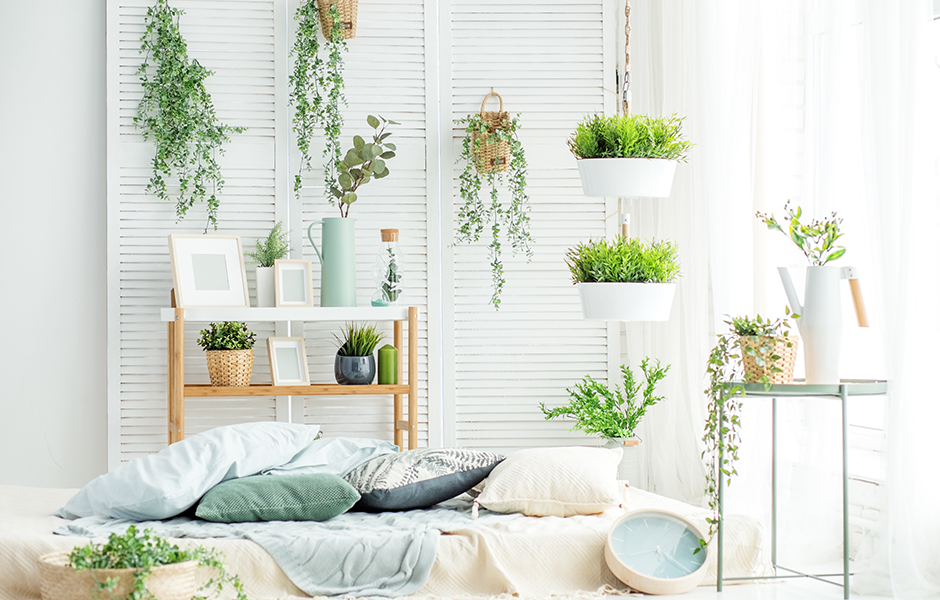 2. Harness Plant Power
One of the easiest and most affordable ways to foster eco-friendly interior design is by bringing plants into your home. Plants offer an attractive touch to any room in your house and they help to purify and filter your air by producing oxygen. This reduces the polluting effects of any harmful material in your home that you may or may not be aware of. 
By including plants in your environmentally-friendly interior design, you'll be in line with one of the hottest trends in decor. You'll also have the chance to develop a healthy new hobby. No matter whether you have a green thumb or not, you can find the perfect plant for your home and take pride in looking after it. Take our quiz to learn which plant would be ideal for your lifestyle!
3. Try Smart Landscaping
Although it may seem contrary to the name, eco-friendly interior design focuses on the outside of your home as well. Landscaping is a huge factor when it comes to being sustainable, so one tip to follow is creating a yard that is water-conserving. Don't let the term "water-conserving" scare you because it's not as limiting as it may sound. There are a bunch of different approaches you can take to make it happen.
Choosing drought-tolerant plants is a great place to start. Beard Tongue, Aloe, Fountain Grass, and Pride of Madeira are just a few hardy plants that can withstand little water. In addition to plants, you can set up a drip irrigation system, reuse greywater, and reduce your lawn as much as possible. If you live in the right kind of climate, a desert-themed landscape is one of the trendiest and eco-friendliest designs right now.
4. Use Water-Based Paint
Many paints contain VOCs that evaporate at room temperature. These chemicals have been tied to health problems like headaches, throat irritation, nervous system disturbances, and even cancer. Luckily, you can include water-based paint into your eco-friendly interior design to lessen your exposure to these harmful chemicals. 
Look for eco-friendly paints by reading the product labels. "Low VOC" or "low odor" lets you know that the paint is water-based and safer for you and the environment. Keep this tip in mind for other household products like furniture, wood, carpets, cleaning products, and air fresheners that are known to have VOCs, too.
5. Incorporate Efficient Lighting
Depending on what stage of design you're in, there are multiple routes to take in order to create a space with efficient lighting. Natural light and LED light are the two main areas you should focus on.
Natural Lighting
If you're designing your home from scratch, it's a great idea to have your living room and kitchen face north where they will get the most exposure to natural light. If you're past the point of construction, some easier fixes include installing energy-efficient windows and doors that reduce air leakage and provide secure insulation. 
Don't forget to take advantage of your curtains as well. Trap in heat and warmth during the winter by keeping your curtains open during the day to let in natural light. Once night hits, close the curtains to conserve that heat. Follow the opposite method during summer to keep cool. This eco-friendly interior design tip is perfect for conserving energy and lowering your utility costs.
LED Lighting
While natural light is a simple and free way to brighten up your home and save energy, it can only get you so far once the sun goes down. 
Say goodbye to incandescent light bulbs and hello to LEDs. LED lighting is the most popular energy-efficient light source on the market and for good reason. These lights don't contain mercury vapour and they last approximately 100,000 hours. To make it even better, LED lights use 90% less energy than other light bulbs. They are slightly more costly, but the long-term benefits far outweigh the initial investment.
The first step to becoming sustainable and energy-efficient is by utilizing eco-friendly interior design. Whether you start small with energy-efficient light bulbs or go big with furniture purchases and landscape design, you are helping the planet and yourself! For more eco-friendly inspiration, take a look at 7 ways to freshen up your home with plant decor.
Making your house a home means customizing your interior to your style preferences. From a rustic feel to transitional vibes, the sofas and loveseats available through Southern Motion's Next Level collection can emphasize your favorite design style.
Next Level reclining sofas and chairs can help you create your ideal interior design style. They can also provide a unique relaxation experience. Each of the sofas, loveseats, and recliners in this collection allow you to optimize your circulation and reduce the pressure on your neck, back, and legs. They also provide three inches of extra length in full recline, ensuring infinite comfort every time.
Take a look at the infographic below to see how these versatile Southern Motion furniture groups can be paired with different interior design styles. No matter your style, you can take your interior to the next level of comfort and sophistication with Southern Motion.
Southern Motion
Next Level Recliners,
Sofas, and Loveseats
Top Gun
A traditional interior calls for classic design. Southern Motion's Top Gun offers oversized cushions, polyfoam arm pads, and intricate stitching for years of relaxation. You can even add power recline and power-adjustable headrest options for extra comfort. There are hundreds of fabrics and leather options to choose from, so you can make sure your sofas and loveseats complement your living room. 
Essex
The Essex bridges the gap between comfort and style. Thanks to its oversized back cushions and quilted channels, you can enjoy incredible support as well as a sleek look. These Southern Motion sofas and loveseats come in a variety of different covers to pair with urban modern details. You can also add power recline, power adjustable headrest, and SoCozi massage systems to create a truly modern living room addition.
Showstopper
If you have a minimalist interior design, your sofas and loveseats should make a statement. The Showstopper has everything you need. This customizable Southern Motion collection can be configured to fit any space and is available with power recline, power-adjustable headrest, and SoCozi air massage systems. The soft bustle backs and sculpted arms help ensure the perfect balance of style and comfort.
Grid Iron
Are you looking for a unique group of sofas and loveseats? Inspired by automotive influences, the Grid Iron works well with a transitional decor. The sectioned back creates statement lines and luxurious comfort by allowing you to sink into rich cushioning. These Southern Motion recliners are also available with power recline and power adjustable options.
Metro
A farmhouse chic interior needs furniture that combines coziness with refinement. Southern Motion's Metro checks both of these boxes with its comfortable tailored boxed back, crisp lines, and sophisticated arm treatment. The side profiles of these sofas and loveseats are ideal for open concept living, helping you bring a welcoming feel to a spacious living area.  
Choosing sofas and loveseats that will stand the test of time is not easy. You need to balance high-quality comfort with your personal needs and style. Southern Motion's Next Level collection makes all this possible. Take a look at the living room groups here.
Plants can breathe life into any indoor environment, but it can be hard to know where to start with a new plant decor. Luckily, you don't need a green thumb to take advantage of this fresh trend. With suggestions and tips on how to arrange indoor plants, this list will provide you with plenty of inspiration for your entire home.  
7 Plant Decor Ideas
1. Eclectic Plant Pots
No matter whether you're bringing artificial plants or fresh flowers into your home, you'll need vases and pots. While it might be tempting to buy containers that match the existing style of your rooms, modern plant decor works best with a more eclectic approach. Use a variety of pot sizes, colors, and textures to show off each of your unique plants. If you're feeling especially creative, you can recycle canisters, bottles, and glasses for a truly one-of-a-kind look.
2. Macrame Plant Hangers
If there's one plant decor trend that keeps going strong, it's macrame plant hangers. These devices don't just display your plants, they also bring together your whole living space by working your ceiling into your decor. Ideal for bohemian-chic interiors, cozy corners, and large window spaces, macrame plant hangers are easy to buy and craft. One of our favorite plant decor ideas is to create clusters of hangers in different lengths, colors, and styles. 
3. Potted Plants as Bookends
When you're new to plant decor, it can be tricky to decide how to arrange indoor plants without making them look cluttered. Instead of moving all your belongings around to make space for your plants, why not incorporate them into your existing setup? Using potted plants as bookends on your mantle, shelves, and window sills is a fun yet subtle way to add plant decor to your living room. 
4. Indoor Herb Garden
The kitchen is a great place to try out your favorite plant decor ideas. This design trend lends itself to food preparation, especially in the form of an indoor herb garden. Decide which herbs you use most frequently in your meals and buy a whole herb plant instead of just the sprigs or dried versions. Basil, thyme, chives, parsley, and dill are just some of the herbs you can consider and they're all easy to look after. Once you've chosen your herb plants, you can set them on your kitchen window sill, on your counter, or even add a planter to your wall. These plants look appealing, add extra freshness to your food, and save you a few dollars every week!
5. Bathroom Jungle
Revamping your bathroom can be a time and money-consuming home renovation project. Fortunately, there are a few plant decor ideas that can instantly upgrade the ambiance. Use hanging plants above your bathroom window to create some privacy, while ensuring that your plants get all the sunlight they need. Boston ferns are a perfect choice, as they love heat and can help purify the air. If you have a smaller bathroom, add air plants to any available space. These cute plants can almost get by with just the humidity in the room, which makes them very low maintenance.
6. Plant-Themed Wall Murals
Let's be honest, not everyone can or wants to take care of live plants. The good news is you can still get on board with plant decor without doing any gardening. In addition to artificial plants and flowers, wall murals are a great way to bring the outdoors inside. Inject a pop of color with green, leafy designs or go for something more complex with a floral-pattern print. If you have a real affinity for plant decor, you can even go a step further and create an accent wall with plant-themed wallpaper.
7. Fresh-Cut Flowers and Fronds
Just like wall murals, fresh-cut flowers and fronds require minimal effort but can really pack a punch as part of your plant decor. All you need to do is choose your favorite vases and cuttings. Although you need to switch out these blooms more often, this gives you the opportunity to tweak your decor according to your mood and the season. It's a fun and cheap way to keep updating your interior design.
Give your entire home a fresh look with plant decor in your living room, kitchen, and bathroom. It's an easy and attractive look that doesn't have to involve any extra maintenance. If you're still trying to find the right interior design style for your home, take our helpful quiz!
As we cuddle up during the winter months, our fireplaces not only come in handy for keeping us nice and toasty, they also take center stage as one of the focal points of our homes. Now that the holidays are over, take your festive decor down and jump-start your 2020 home decor with these modern fireplace decorating ideas.
1. Alive with Art
A super quick and easy way to style your fireplace is to add a few art pieces on top of the mantle. Grab your favorite pieces, such as a framed painting or even a small sculpture, to brighten up the room and the transformation is done!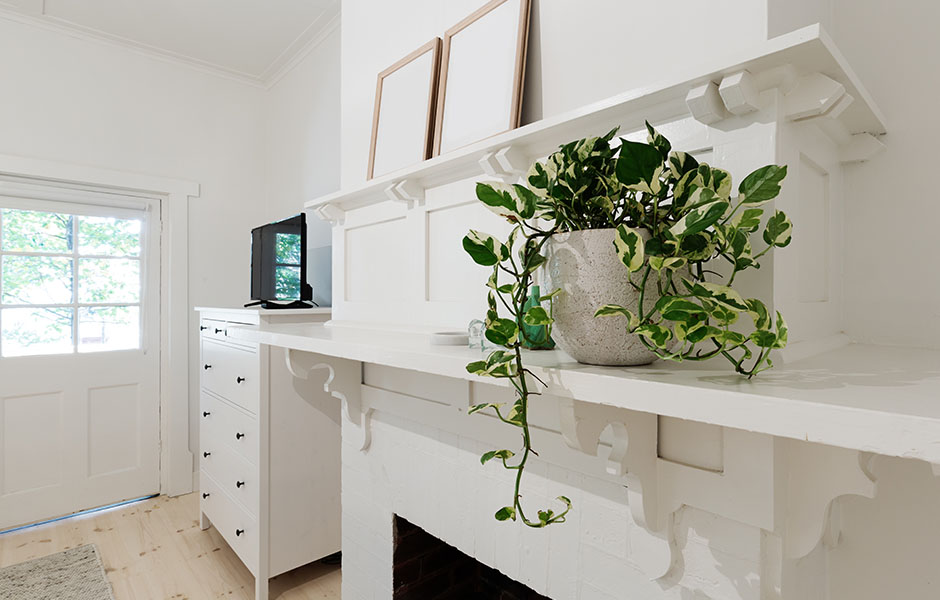 2. Fresh and Green
While plants and a fireplace may not be the most obvious decor pairing, they go together like two peas in a pod. Plant decor is super trendy right now, so framing your fireplace with plants leaves you with a cutting edge look. You can cluster potted plants of different sizes on the floor of the fireplace or on the mantle (the latter might be best if you have pets). If you don't use the fireplace, consider placing plants inside the hearth as well. Don't shy away from fake plants if you want low-maintenance decor that gives the same effect. Note: If you choose to decorate with live plants, research their care tips to make sure they will be able to survive in this setting.
3. Black and White
The harsh contrast of black and white is another decor trend we're seeing this year. You can incorporate this modern fireplace decorating idea quickly and cheaply if that's what your goal is. For those that have a low budget, you can purchase any white and black decor pieces (art, mirrors, pottery, candles) and create a contrast by placing them above and below the mantle. If you have a higher budget, painting, tiling, and adding wallpaper are more intense options to consider. For example, you can tile your fireplace with black tile and paint the background wall white.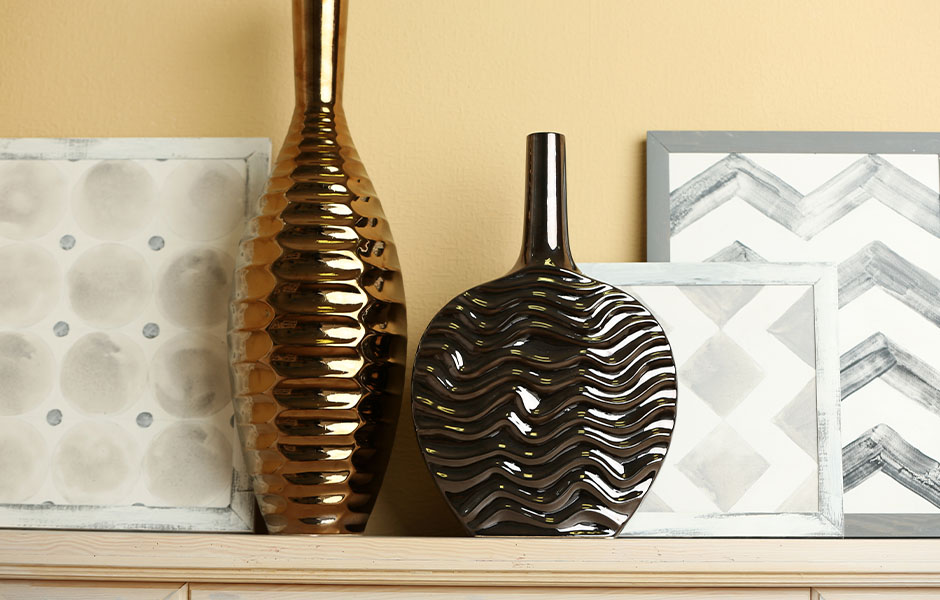 4. Display a Collection
If you like to collect things, put them to use for this modern fireplace decorating idea. Whether it's pottery or antiques, utilize your mantle to showcase your collection in a place where everyone can enjoy it!
5. Big and Bright
Mirrors are a bold statement piece and 2020's motto is "go big or go home." Modernize your fireplace by placing an oversized mirror above the mantle. This is also a great trick for brightening up your room because mirrors reflect natural light.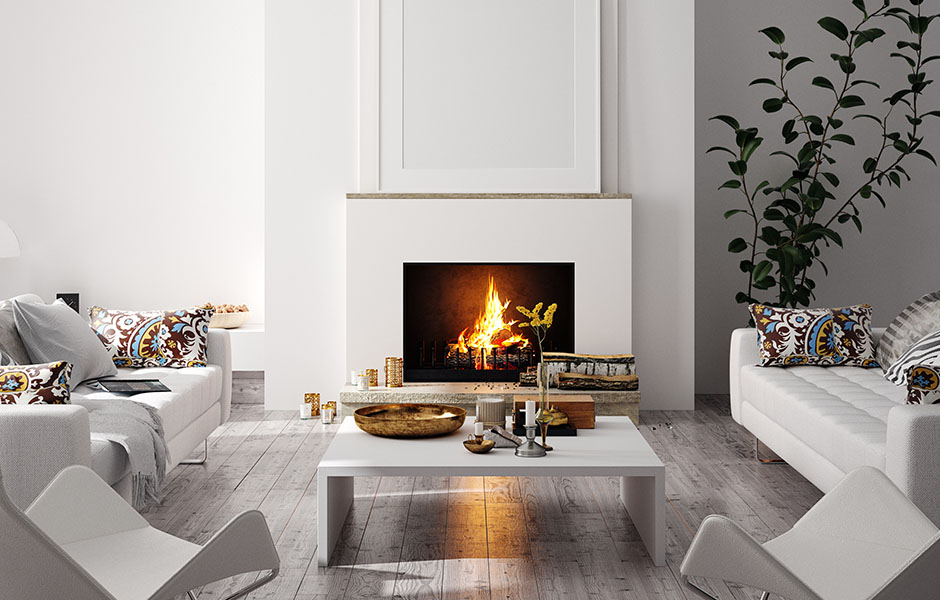 6. Scandinavian Style
Keep your modern fireplace decorating idea simplistic and light by following Scandinavian style. This Nordic interior design trend uses light neutral colors like gray and white, clean lines, and minimalism. Put them all together and your Scandinavian-style fireplace will transform the room into a bright and airy space.
7. Boho Meets Minimalism
Nothing says modern more than minimalism. If this is your kind of style, mix in a little Boho design and apply the magic to your fireplace. Picture a white wall, a couple candlesticks, one pottery piece, and a big modern art painting. So simple and easy!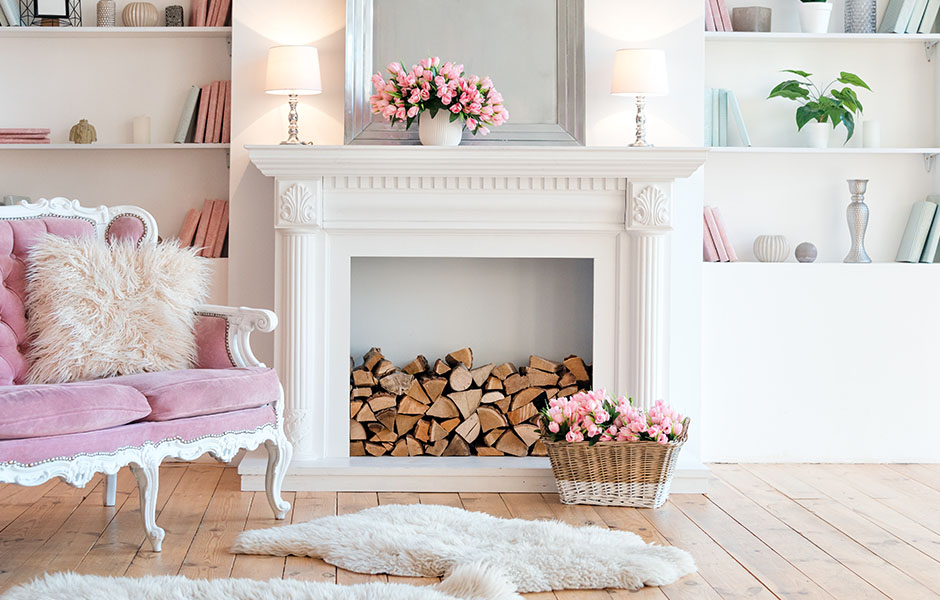 8. Feminine and Fabulous
If contrasting colors and minimalism doesn't float your boat, you can use this modern fireplace decorating idea to stay trendy. Channel the feminine and fabulous vibe by rocking these three things: gold, color, and fun patterns. For example, decorate with gold-potted plants on your mantle, brightly-colored books along shelving, and patterned tile around the hearth.
9. Higher Heights
For those of you that are looking to completely change the design of your fireplace, this modern fireplace decorating idea is made for you. Floor-to-ceiling fireplaces are totally in and they make for a pretty spectacular focal point. Big, bold, and tall is the name of the game and color is really up to you. The sheer size of a floor-to-ceiling fireplace draws attention, so staying in the neutral color range isn't going to lessen the impact.
There you have it! Now, pick your style and start off 2020 fresh and modern with these modern fireplace decorating ideas. If you want to make big moves this year and change up your entire living room, check out how to design the perfect living room color palette!
As the seasons change, so do our lifestyle choices. We switch up our clothes, the Starbucks drinks we buy, our weekend activities, and, let's not forget one of the biggest changes of all, our interior design. The satisfaction of having your home decor match the current season is, for some of us, an unmatched feeling. As we cozy up into winter, let's take a look at our favorite 2019 winter interior design trends for your home.
Winter Interior Design Trends
Plaid
One of the most iconic and evergreen winter interior design trends is plaid. Incorporating plaid into your winter decor allows you to transport your visitors to a cozy place in the country which is absolutely perfect for the season. While this trend has been popular for years, it has been elevated to a more modern level in 2019. This season, we're seeing tonal plaid that consists of two colors layered to create a more geometric, crisp motif. Whether it be a cozy plaid accent or some wingback chairs, plaid is a great interior design trend if your goal is to create a down-home, cozy feel for you and your guests.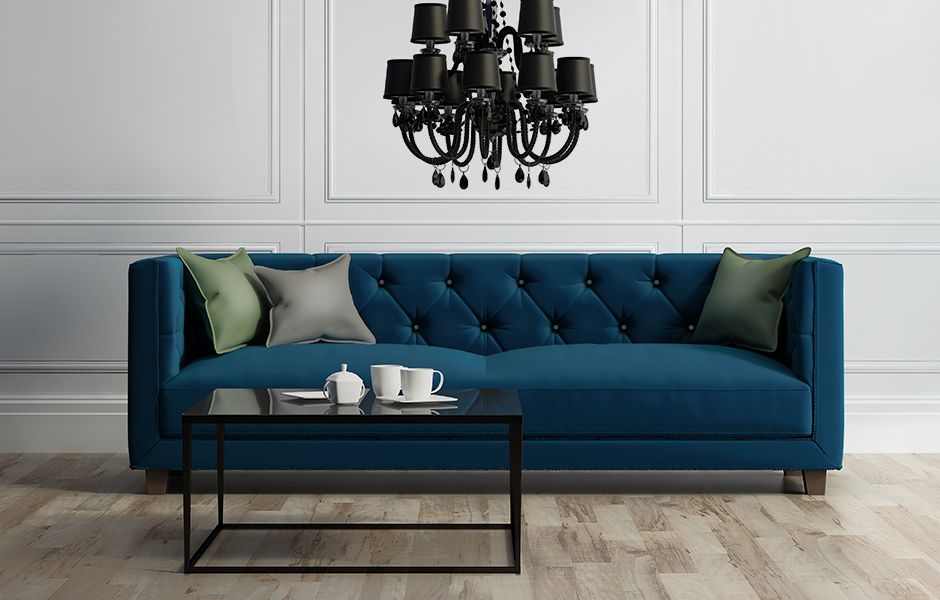 Velvet
This year's velvet interior design trend is one that's hard to take your eyes off of. This year, dramatic colors take center stage and from chartreuse to deep navy, velvet pieces adorn living rooms and bedrooms to create a sophisticated, rich, luxurious look. In addition to the visual beauty of this material, its texture is also quite satisfying. With the temperatures starting to dip lower and lower, having cozy and plush fabric to sink into is a must. Chairs, benches, and pillows are just a few easy ways to incorporate the fabric into your home.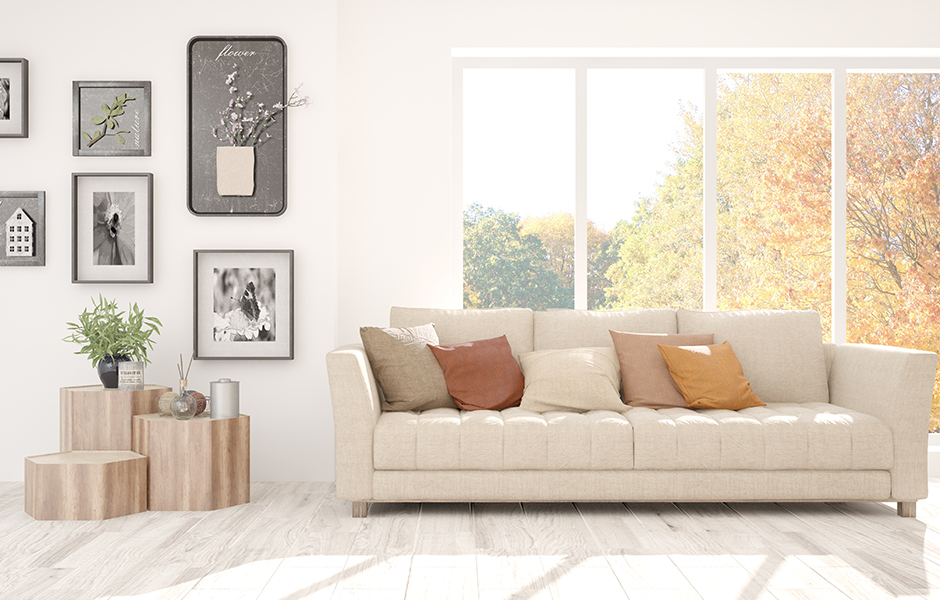 Softness & Woods
In addition to velvet and plaid, one other fall trend to consider for your seasonal redecorating is softness and woods. Organic shapes, soft textures, and natural materials are especially popular this season. This Scandanavian-inspired fall trend creates a soothing, calm atmosphere in your home, which is exactly what you need for those relaxing fall nights. Check out our Key Largo or Silver Screen sofa to see a couple of great examples of furniture that follows this trendy style.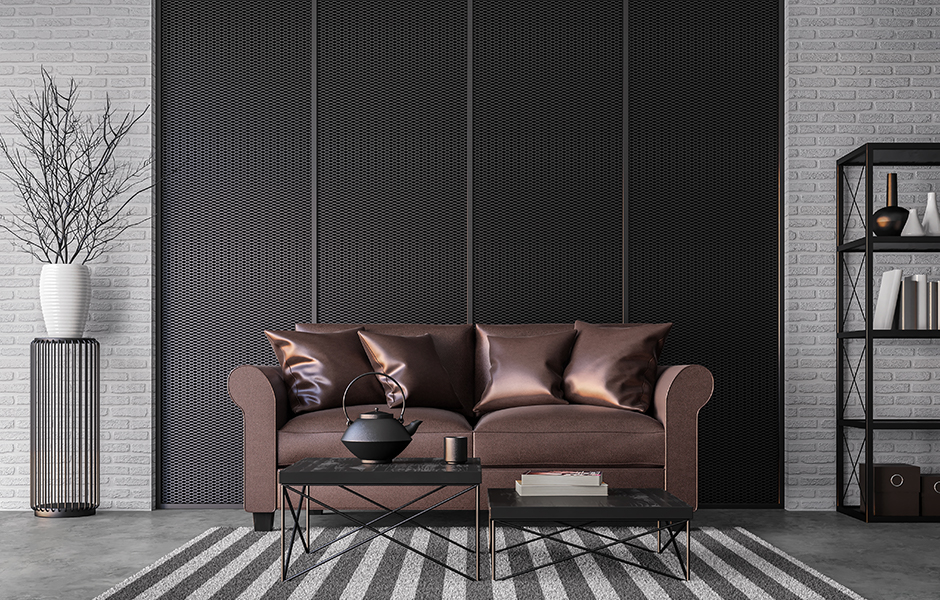 Dramatic Neutral
This winter interior design trend is one that truly encapsulates the season, reflecting the darkness of night and lightness of snow. You can incorporate this trend into your home by having a high contrast of black, white, and other neutral tones. This simple, chic, and sophisticated look draws attention to the room right away. When you style your home with this design, make sure to throw in metal accents. Including multiple textures is a must for it to be successful; adding texture ensures that the room doesn't fall flat and instead looks beautiful and elegant.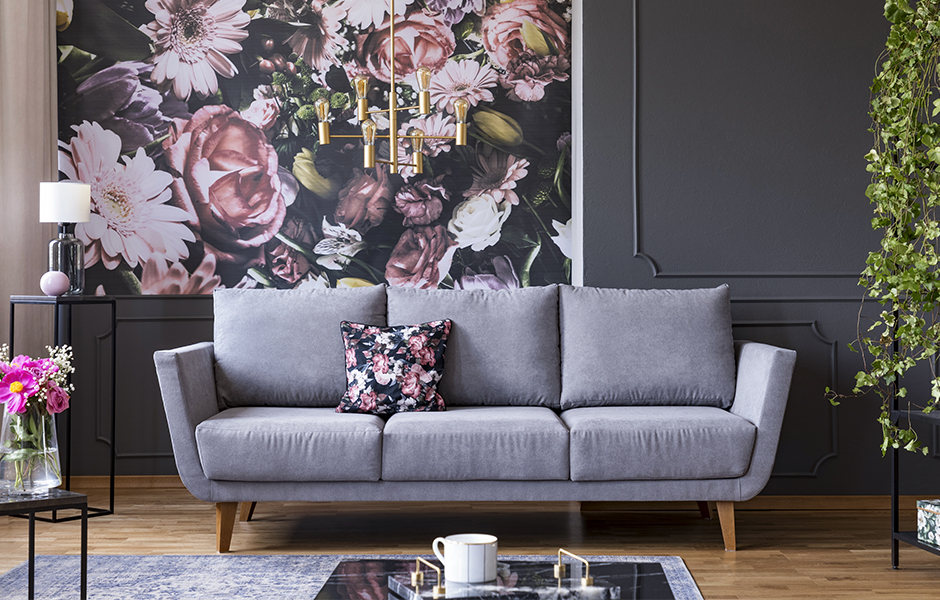 Large Scale Wallpaper
Wallpaper isn't a new interior design trend, but we're loving large scale wallpaper this winter. Whether you want a bold look with botanical prints or a more subtle solid color, freshen up your home with this winter interior design trend. If the thought of committing to wallpaper is a bit scary, there are plenty of peel-and-stick options out there for you to try. Take a look at Etsy's selection and you'll find beautiful pieces that make each room in your home unique.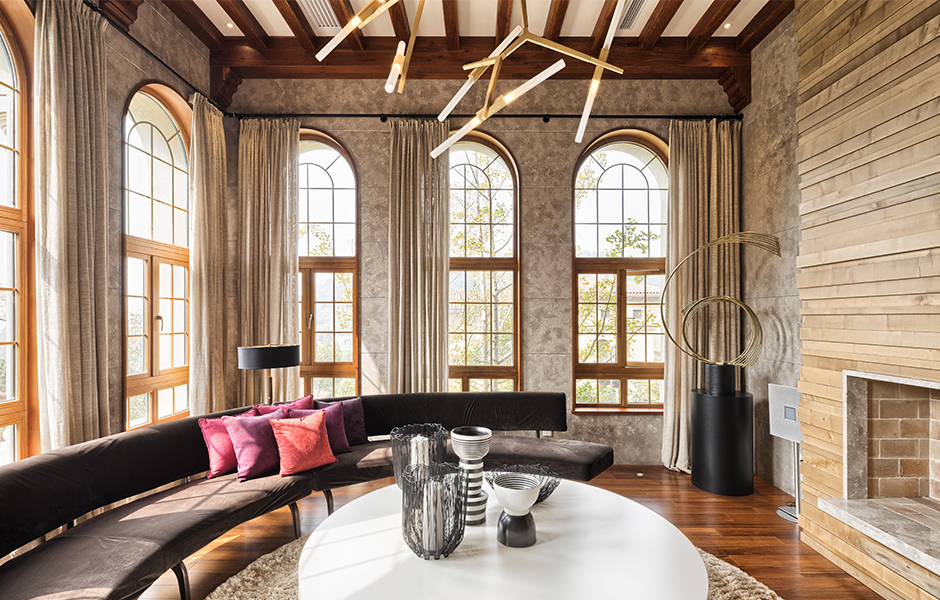 Round Furniture
The last of our favorite winter interior design trends is round furniture. This is one trend that you must look into trying; it's an easy change that can apply to a variety of decor pieces. For someone looking to start slow, consider adding a round table to your dining room or maybe a set of round armchairs to your living room. The shape makes the room feel more relaxed and comfortable, compared to the harsh lines of square and rectangular furniture. A quick online search will show the endless possibilities of round furniture that would be the perfect addition for your home this season.
If you're looking for more insight into your interior design style and what overall look is best for you, take our interior design quiz to find out! You'll be decorating your home like a professional in no time.
Our new Zero Gravity line of recliners are more than just well-styled pieces to add to your home. They feature some of today's leading furniture technology to bring you the many benefits of zero-gravity relaxation. Let's learn more about what zero gravity recliners are, the science behind them, and their many benefits.
What are Zero Gravity Recliners?
Despite the name, zero gravity recliners aren't going to float off into space (even though zero gravity technology was designed by NASA scientists and mimics the posture of astronauts during space missions!). Zero gravity refers to the recliner's ability to obtain the ideal weight distribution to optimize blood circulation, reduce pressure on your neck, back, and legs, and give you the perfect angle of full relaxation.
This reclined position is different than in a traditional recliner because it evenly distributes your bodyweight throughout the chair, which reduces the stress on different areas of your body.
Learn more about zero gravity recliners in the infographic below:

The Science Behind Zero Gravity Recliners
As mentioned above, zero gravity recliners were inspired by the position astronauts had to take during liftoff on space missions. During this intense and sudden increase in gravity, the astronauts needed to be in a safe position so escaping the Earth's gravitational pull didn't put too much stress on their bodies. The reclined "zero gravity" position allowed them to distribute the stresses of takeoff safely.
While this zero gravity position can be beneficial on its own, we have also combined our leading massage technology to further enhance this therapeutic experience. We married our Zero Gravity recliners with our leading SoCozi technology, which is a consumer favorite because of its revolutionary comfort and benefits. Our exclusive EXP™ technology was developed through a partnership with Cozzia, a leader in massage technology. This advanced system utilizes the latest in air cell design, heat therapy and lumbar support to relax the body and mind, improve health and renew energy — creating a massage experience like no other.
The Benefits of Zero Gravity Recliners
Zero gravity recliners are relaxing, but they also tote many other important health benefits. These include:
1. Improved Blood Circulation
One of the most obvious benefits of zero gravity recliners is that they can help improve your blood circulation. This is because when you're elevated in the zero gravity position, your heart can easily pump blood throughout the body. When your heart doesn't have to pump as hard, your whole body functions better.
2. Improved Lung Capacity and Function
Speaking of helping your whole body function better, another benefit of zero gravity recliners is that they can improve lung capacity and function. Not only will your lungs receive the blood that they need because of your improved blood circulation, but they will also function better because of the position itself. Your diaphragm helps your chest expand, which lets your lungs fill up with air. When you're in a zero gravity position, your diaphragm can expand even more, meaning that your lungs can bring in more oxygen. These deep breaths are perfect for relaxation and bring more oxygen throughout the body. Deep breathing and relaxing in your zero gravity recliner can make you feel like a whole new person.
3. Reduced Joint Swelling
Improved blood circulation can also help reduce joint swelling and pain from conditions such as arthritis. According to the Northwest Float Center, which is a spa where people can float weightlessly in water, "patients in floatation chambers report significant improvement in muscle and joint pain, whether the pain is the result of injury, genetic predisposition, or is caused by stress." A similar effect has been noted from zero gravity recliners.
4. Reduced Back Pain
If you suffer from back pain, a zero gravity recliner might do you some good. Because your weight is evenly distributed, you aren't putting as much stress on your lower back as you do when you sit in a normal chair, stand, or go about your everyday life.
5. Reduced Spinal Cord Compression
Throughout the day, we put a lot of pressure on our backs and spinal cords. Whether you're sitting for 8 hours a day at work, slouching in your car during your daily commute, are running errands, or standing on your feet all day, our backs go through a lot. All of this can lead to spinal cord compression, which can cause pain or stiffness in the neck, numbness in the legs, hands, and arms, and other symptoms. Zero gravity recliners help relieve this compression by taking the weight off of your spine.
Some Amazing Zero Gravity Recliner Results
All of these benefits are amazing and have the potential to change lives and our Zero Gravity line already has. One of our loyal customers, Mimi, was diagnosed with stage 4 colon cancer in 2003. She underwent chemotherapy, which was extremely hard on her body and caused her to have peripheral neuropathy. Peripheral neuropathy is a result of damage to the nerves outside of the brain and spinal cord and can cause weakness, numbness, and pain, usually in your hands and feet. After trying her Zero Gravity recliner, this is what Mimi had to say:
"I just want to tell you how much this recliner has helped me. I have only had it for two days and my ankles are not swollen and my neuropathy is so much better. The needle-like pain and tingling in my feet and the pain I was having at night with my feet has decreased and I'm sleeping so much better. The last two nights I have been able to sleep almost pain-free from both the neuropathy and edema (the abnormal accumulation of fluid in certain tissues within the body)."
This is an amazing story and things continued to get better for Mimi. She continued to email us and three weeks later, she hadn't taken her regular pills to treat her condition. Her recliner became her "new place to sit all the time because it's so comfortable and helpful for [her] feet."
We are passionate about creating motion furniture that's not only comfortable and stylish, but that makes a difference in the lives of our customers and their families. We're excited about the future of zero gravity and can't wait to see it help more people. Choose the best recliner for your needs by browsing through our Zero Gravity collection.